Is Thierry Henry's return "dangerous" for Arsenal & can Andy Carroll fire Liverpool past Newcastle??
Comment & analysis round-up
Quote of the day: "If we are going to be a one-man band then we have no chance, we are knackered. Steven will help because he's got goals, he's got charisma and he's got presence. He's got the lot, but we can't throw everything on to Steven. We can't just say Steven is coming back, he's going to be the one to do this or that. Every one of my players is well capable of doing their own job and scoring goals. It's just a great credit to the lads that they have done as well as they have without Steven. An awful lot of people, ourselves included, know how great a player he is. If we have been playing well without Steven — and we have — then it makes us even stronger that he's back. Where is that going to take us? I think Russell Grant is your man for that!" – Kenny Dalglish.
Runner-up: "Liverpool's home form has been disappointing. They will be under pressure now to get back to winning ways after investing a lot of money and they are expecting to compete. They are a very good side and I'd expect them to have a stronger second half than they did in the first half of the season." – Alan Pardew.
Today's overview: The big transfer story of the day concerns Thierry Henry's imminent return to Arsenal. With the move set to be completed in the next 48 hours and the Frenchman to wear the number 12 shirt, the doubters pipe up.
Robin Scott-Elliot wonders if you should ever go back and Steven Howard says the move could be "dangerous" for Arsenal.
The other main focus of the day is on Liverpool's clash with Newcastle this evening. Louise Taylor portrays Andy Carroll as a little boy lost whilst Harry Redknapp predicts the former Toon striker will come good at Anfield.
In the Daily Mail we learn that Chris Smalling could be out for three months, the Mirror run the predictable "Barcelona want Bale" story whilst The Guardian suggest it will be a quiet transfer window.
Elsewhere, Jack Warner has revealed some FIFA corruption, Carlo Ancelotti will be confirmed as PSG boss today and Wayne Rooney is building a museum in his house – for his medals.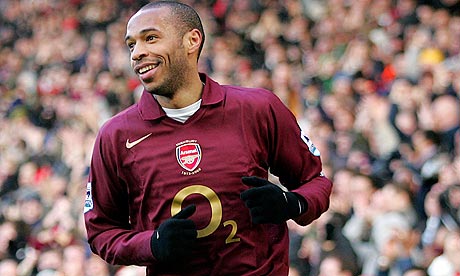 Thierry Henry set for Arsenal return: Sami Mokbel reports that "Thierry Henry has told Arsene Wenger he wants to accept Arsenal's contract offer and play for them again. Sportsmail exclusively revealed on Thursday that the Gunners had proposed a two-month loan deal for the striker. And the 34-year-old, who is Arsenal's all-time leading scorer with 226 goals, has told Wenger he wants another stint at the club where he is idolised. Sportsmail understands Henry will wear the No 12 shirt. His old No 14 shirt is currently taken by Theo Walcott. Officials at the Emirates were on Thursday night waiting for the all-clear from his parent club, New York Red Bulls, before completing the paperwork."
The Daily Mirror add "Thierry Henry has sensationally been handed a two-month deal to return to Arsenal on loan from the New York Red Bulls. The Gunners' record goal scorer is expected to sign within the next 48-hours, after training with the club for the last fortnight. The news is expected to delight Arsenal fans who remember Henry scoring 226 goals in 370 appearances for the club. The deal will allow Henry to potentially play in seven Premier League games, including a January 22 date with Manchester United and, what could be his swan song, against arch rivals Tottenham in early March. The Frenchman will also be eligible to play against AC Milan in the last-16 of the Champions League."
David Hytner says the French striker is less "egocentric" now than when he left Arsenal." "The notion of Henry as a cheerleader on the bench does not sit easily with the memories of him in his va-va-voom pomp, when he was arguably the finest player in the country, an explosive package of pace, skill and ruthlessness who celebrated by sliding on his knees after putting opponents on theirs. Henry scored 15 times in 29 games for the Red Bulls last season but he is obviously no longer the same player. Nobody, least of all himself, would want him to sully his Arsenal legacy. A section of the club's dressing room would be caught in two minds were Henry to return on a permanent, longer-term contract. Privately, one or two of them wonder why Ian Wright was not selected for the statue and there is the media circus that may accompany Henry. But the prospect of a quick fix appears to suit, with the positives vying for prominence. Wenger needs temporary cover for Marouane Chamakh and Gervinho, who are bound for the Africa Cup of Nations, and Henry may also offer an emotional lift."
Robin Scott-Elliot wonders if you should ever go back. "If the 34-year-old does return – a two-month deal has been mooted – Wenger will be looking for him to make at least a similar impact to the one Henrik Larsson managed during a brief loan spell with Manchester United four years ago. There was a weight of expectation on Larsson, who for all his prolific scoring in Scotland and elsewhere had to dispel doubters south of the border, but for Henry it would be all the greater because he would be doing what legend has it no one ever should: going back. But revisiting former stomping grounds is a well-trodden footballing path – and one that actually has led to many happy returns."
Steven Howard says the move could be "dangerous" for Arsenal. "The question is whether the arrival of such an iconic figure as Henry might impact on Van Persie — a man revelling in his role as the star around whom everything in the Arsenal team revolves. The mere presence of a player still worshipped by Arsenal fans could have a psychological effect on the delicate mechanism that is a footballer's brain. The king is dead, long live the king is the old mantra and law of succession. Yet the king is back at court. The way Van Persie responds will say a lot about his maturity. Ditto Henry."
Liverpool v Newcastle: Louise Taylor writes of Andy Carroll ahead of tonight's Premier League match. "Those who liken Carroll to Michael Ricketts – the former Bolton Wanderers striker who, a decade ago, briefly took Premier League defences by storm, won an England cap and then swiftly disappeared almost without trace – conveniently ignore a significant difference. While Ricketts concedes he fell out of love with football, Carroll's friends are vehement that, if a certain immaturity, homesickness and lack of match fitness have undeniably held him back, disinterest and disengagement are definitely not among the £35m man's problems. Perhaps a sometime England international who, despite registering 11 goals in 19 appearances for Newcastle early last season, had only been playing Premier League football for five months when he was bundled into Mike Ashley's Anfield bound helicopter is as much in need of regular first-team action as decent left wing crosses from Stewart Downing."
Harry Redknapp predicts success at Liverpool for Carroll. "Kenny Dalglish has an unshakable belief in £35million buy Andy Carroll and rightly so. Because we all know when the England striker gets a decent run in the Liverpool side, the goals that made him such a high-priced target will flow. Statistics can tell you anything you want to hear in football but what they don't reveal is the ability, commitment and desire a player possesses. Pessimists will point to Carroll's big fee, snigger at his goalscoring record since he left Newcastle and come up with some pointless old rubbish. But Reds boss Dalglish knows the bigger picture will tell the true story of a striker many, many clubs wanted to sign and I'm pretty sure he will have the last laugh."
Ian Herbert profiles the return of Steven Gerrard. "Behind the scenes, in those tense sections of his exchanges with television crews generally consigned to the cutting room floor, Dalglish has been relentlessly dampening down expectations. Only last week, he was privately bemoaning the way that talk of Gerrard's positive training sessions can translate into a 'setback' TV story when Gerrard is not subsequently on the teamsheet. Few topics irritate this irascible manager more. The reason is because Liverpool need Gerrard more than they dare admit. He was the player who plonked himself down next to John W Henry at lunch when the new Americans shipped up at Anfield last year, and who provided the owner's wife, Linda Pizzuti, with her most exhilarating moment as a Liverpool supporter – a front-row directors' box seat for his 14-minute hat-trick against Napoli. But he has not matched that night since and has been absent at a time when the goals he provides have been painfully hard to come by. Even Luis Suarez has been less prolific than Dalglish would like, with 12 goals in his first year at Anfield comparing unfavourably with Emile Heskey's 21, albeit in fewer starts. Of course, the absence for the remainder of this season of the injured Lucas Leiva also quickens the need for a restored Gerrard."
Chris Smalling out for three months: Chris Wheeler claims an exclusive in the Mail. "Manchester United fear key defender Chris Smalling could be out for three months with glandular fever. Smalling, 22, missed the Boxing Day win over Wigan with what was thought to be a heavy cold, but the illness is more serious and he will remain on the long list of United players currently sidelined through injury or illness. The acute stage of glandular fever — usually involving flu-like symptoms and fatigue — lasts up to two weeks, but sufferers cannot do strenuous exercise for at least two months. For a professional footballer, it will be longer. That would be a huge setback for Smalling and United, already without Darren Fletcher, Nemanja Vidic, Ashley Young, Tom Cleverley, Anderson, Jonny Evans, Fabio Da Silva and Michael Owen. Former Liverpool and Sunderland physio Mark Leather believes United's £10million signing from Fulham could be out for three months if his illness is confirmed by the club."
Sir Alex at 70: Presumably there will be a fair few articles on Ferguson's 70th birthday tomorrow. Paul Hayward gets the ball rolling. "Ferguson has one huge advantage. Work, for him, is Carrington at 7am: a university of energy and talents. It is the audacity of Phil Jones with the ball at his feet or the impishness of Danny Welbeck. For Ferguson, with all his trophies, life is always being renewed, right in front of him, by a team built in his image. He will need a better reason than a number on a birth certificate to walk away from the sustaining joys of management."
Barcelona want Bale: John Cross copies and pastes from the Spanish papers, "Barcelona have made Gareth Bale their No.1 target next summer – but set a £25m price limit. Coach Pep Guardiola thrashed out a hitlist with director Andoni Zubizarreta for new left-sided players, which also includes Valencia's Spain international Jordi Alba and AC Milan's Thiago Silva. But Bale, 22, is the top priority and it is Guardiola (right) who insisted the Spurs flier is the player he most wants. Barcelona are also preparing a player plus cash deal with £20m and a range of younger players on offer to Spurs. They are also trying to clear the decks by selling midfielder Seydou Keita and full-back Maxwell to raise extra cash."
For the second day running, James Lawton writes about the Welsh winger, wondering whether "trophies are the way to judge greatness." "Does Ferdinand think that a manager who hoarded success, one like his own Ferguson, would have tolerated the indiscipline of Gazza for longer than it took him to understand that he was, tragically, incapable of holding himself together? No one is saying that Bale is a certainty to avoid the pitfalls of injury and pressure or that there may not be weaknesses in his nature that a season as one of the most expensive players in the history of football might not explore quite seriously. No, the contention here is simply that he has already displayed a talent that is both hugely exciting and technically superb – and maybe, just maybe, the like of which we may not have seen since the unforgettable George. If this is madness, make me a bunk in the loony bin."
Chelsea: John Cross also has transfer gossip involving Chelsea: "Andres Villas-Boas has insisted he needs THREE more major signings to rebuild Chelsea. And the Blues owner Roman Abramovich has promised to back his manager with an incredible £150million transfer budget. Villas-Boas (right) has already landed Gary Cahill from Bolton and the England defender will join in a £7m deal after the transfer window opens in the new year. Villas-Boas will then target a midfielder, a right-back and a striker – and the money will be made available to him just as soon as he needs it."
Transfer gossip: QPR have made a £7million bid for Rangers striker Nikica Jelavic. (Mail)
West Ham want Cardiff midfield ace Peter Whittingham for around £3million. (Sun)
Fulham set to bid for Carlton Cole. (Telegraph)
January transfer window: Jamie Jackson suggests there will be little action in the upcoming month. "Transfer spending by Premier League clubs in the January window may be less than half of last season's record £225m total, according to the football finance experts Deloitte. With the window due to open at midnight on Saturday, the forecast is that factors including Uefa's financial fair play (FFP) regulations and the negotiation of the next television deal will severely affect the overall outlay. Dan Jones, a partner in Deloitte, said: 'We would be surprised, but have been in the past of course, if gross spending was more than 2011 given that was a record year by some margin [£225m]. Neither do we expect spending to fall to anywhere near as low as the 2010 levels of £30m in January. The most likely scenario is somewhere between the 2008 and 2009 levels of circa £170m and the 2004-07 mark of around £50-£60m – ie, say £100-£140m.'"
Fabio Capello blasts those pesky foreigners: Jason Burt leads in the Telegraph with "Fabio Capello has called for drastic action to be taken to prevent leading football clubs "stealing" young players from around the world in a high-profile intervention that could have far-reaching ramifications on future transfer deals. Premier League clubs such as Arsenal, Manchester United and Chelsea — who signed Cesc Fabregas, Gerard Pique and Gaël Kakuta respectively — have all in the past been accused of what Capello termed a form of talent theft that has been exploited throughout Europe. The issue is one that Capello feels passionately about and could also, if new rules are implemented, benefit the England team. One of his frustrations during his time as England manager has been the dearth of young, English players coming through. Capello lamented that little more than a third of players in the Premier League were eligible for England — as opposed to 60 per cent in Italy – and was irritated that some younger ones were being held back by the dominance of imports."
Jack Warner reveals FIFA corruption: AP bring news that will surprise very few. "Jack Warner, the former Fifa vice-president, has claimed that he acquired the World Cup television rights for Trinidad & Tobago for as little as $1 in 1998 after helping Sepp Blatter get elected as president of football's world governing body, according to reports. Warner, who resigned from Fifa in June when he was being investigated for alleged bribery by the organisation, claimed he acquired the rights via a Mexican company for the 1998, 2002, 2006, 2010 and 2014 editions, AP reported last night. Warner also claimed that he refused to endorse Blatter in last June's presidential election despite being offered the rights to the 2018 and 2022 World Cup, again for a nominal fee."
Carlo Ancelotti to be confirmed as PSG boss today: The Daily Mail report "Paris St Germain have called a press conference for Friday amid widespread reports Carlo Ancelotti is set to be appointed as their new coach. Ancelotti was pictured with PSG officials in the French capital on Wednesdsy as speculation grew he was on the verge of signing a two-and-a-half year contract to replace Antoine Kombouare. That would mean a return to the touchline for the Italian for the first time since he was sacked as Chelsea boss in May."
Reviews of 2011: Robbie Savage tries to work out who his player of the year was. "When he's on song, City are always in business. In tight games, he's the one who can unlock doors with a moment of magic, and even in the most congested midfield he always seems to find himself half a yard of space. Quick feet, great technique, good finisher… he's got the lot. It will take a special player to deny him Footballer of the Year, which brings me on to van Persie. Where would Arsenal be without him? I'll tell you where – mid-table. Going nowhere. There is no such thing as a one-man team in football, but van Persie is the closest thing I've seen to one at a big club."
Wayne Rooney builds a museum: The Sun reveal that "Wayne Rooney has had a MUSEUM built in his £5million mansion — to house his bulging haul of trophies. Man United ace Roo, 26, spoke of his huge collection of footie memorabilia during a webchat with fans. Treasures at his home in Prestbury, Cheshire, include four Premier League medals, two League Cup medals, a Champions League medal and countless Player Of The Year awards."
Click here for more Premier League betting tips
---