Is Messi on par with Pele and Maradona, cash-strapped Man United are linked with Benzema, Di Maria & Vucinic & Spurs eye goalies Asenjo & ­Schmeichel
Comment & analysis round-up
Quote of the day: "He's like a PlayStation. I think he can take advantage of every mistake you make. Barcelona are a very good side but of course they have Messi who can make the difference at any moment in the game. He is very young but he can achieve a lot. There are not many players who can score four goals like he did. He has six or seven great years ahead of him and he can become unbelievable. Touch wood nothing happens to him… We have to recover quickly to fight for the Premier League and focus completely now on that… Messi scored four fantastic goals and is a phenomenal player in a great team. At the moment I would say he is the best player in the world." – Arsene Wenger.
Runner-up: "After a good season last year, the team needed certain reinforcements and keep the squad together, but circumstances dictated that we had to sell players and everything got messed up. The sale of Arbeloa, Hyypia and Alonso was an important loss. Alvaro was a player who did a vital job for us, always played to a high level and his flexibility was a huge bonus. Sami may not have played every week but he was a 10 out of 10 on and off the pitch, bringing calm to the ground and having everyone's admiration. And Xabi … players like Xabi are very rare. He was the team's engine and you know that when you change an engine, it takes time to work again." – Fernando Torres.
Today's overview: There is one issue which permeates across the paper divide this Wednesday as the English press bow down to Barcelona's Leo Messi. And the fight is on for who can write the loftiest appraisal after the Argentine bagged a magical four goal haul to dump Arsenal out the Champions League.
Starting things off slowly, Kevin McCarra appeared to adopt shock tactics concluding "Without Messi this would have been a close and absorbing match, ludicrous though it sounds. He pulled off quite a trick in making the remainder of an outstanding team look lesser beings but even the best of them must know the luck they enjoy in being part of his retinue."
Ratcheting up the Messi love-in was Dominic Fifield. "When Messi is in this mood he is as unplayable as he is untouchable… To gawp at his 21-minute hat-trick here was to acknowledge that even the slightest optimism the Premier League club could have taken from their admirable first-leg comeback was ridiculously misplaced. The hope the hordes of Londoners carried to Camp Nou was treacherous… Arsenal could point to defensive errors from their own awkwardly assembled back-line as having contributed, but the finishes still took the breath."
Injecting some statistics into the mix, Ian Chadbrand continued to wax lyrical over Barca's main man. "The boy is just 22 and is simply defying credibility. Once again here, he extended his conjuror's repertoire. Hat-tricks? Old hat; this was his fourth in three months. Four in a game? Ah, something new, an indication that the seemingly unimprovable is still improving… With 38 goals now this term, he has already equalled last year's tally."
From statistics to poetry, as Glenn Moore talks of Messi's performance as a work of art. "In the context of Arsène Wenger evoking JB Priestly and suggesting this tie would be football art, watching Barcelona's celestial No 10 slice Arsenal apart in the Nou Camp last night felt like the game's equivalent of seeing Laurence Olivier's Hamlet, Orson Welles directing Citizen Kane, or Pablo Picasso painting Guernica. It was bewitching genius at thrilling work."
David Pleat flagged up Arsenal's frailties as contributing to Messi's joy on Tuesday night. "Comparisons across generations are always difficult but Di Stefano, Cruyff, Best, Pele and Maradona would all have admired Lionel Messi's brilliance last night. It was tempting, however, to wonder whether things might have been different had Arsène Wenger been able to call on a man-marker. Unfortunately for the Arsenal manager he did not have the tools to do the job and Messi came short, went wide and ran beyond. He found crazy freedom."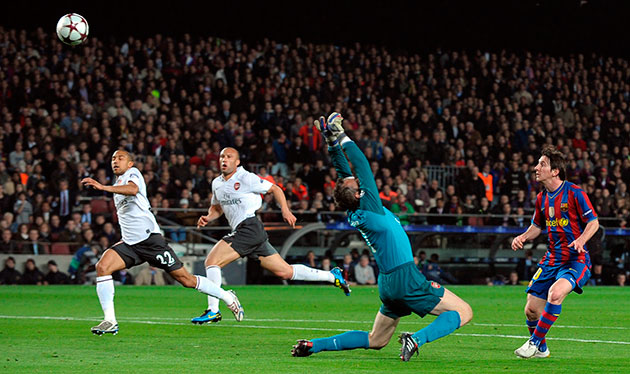 But how good is Messi in the wider history of football?
Matt Hughes believes LM10 is amongst the greatest. Ever. "In just four seasons as a first-team regular he has eclipsed the achievements at Barcelona of his compatriot, mentor and national team coach, Diego Maradona. A successful World Cup this summer could catapult him alongside Maradona as a living legend."
Under the brilliant headline "Rivaldo, Stoichkov, Ronaldo, Cruyff: were you watching?" Matt Dickinson also sets about looking at where Messi sits on football's overall totem-pole. "The debate may now be taken into other realms, such as where Messi stands in the all-time pantheon. Still below his compatriot, Diego Maradona, who was not only the maestro in successful teams; at Napoli and for Argentina, Maradona was the team. Of recent greats, he sits below Zinédine Zidane, too, in that Messi does not aspire to be the conductor of his side, simply the dazzling virtuoso."
Joining in with placing Messi on a pedestal was Oliver Kay, who also found time to celebrate Xavi too. "While such an emphatic defeat in Europe usually means post-mortem time for an English club, it would take a philistine to overlook the brilliance of the little maestro, who, at the age of 22, is beginning to challenge the accepted wisdom that Pelé and Diego Maradona stand alone atop the pantheon of truly great footballers… Messi belongs on another level entirely, as does Xavi Hernández, criminally underrated by comparison. Xavi, once again, passed the ball magnificently and at a pace that Arsenal simply could not handle. The statistics at the end showed that 95 of Xavi's 105 passes had found their target. Samir Nasri, his closest equivalent in the Arsenal team, was successful with 20 out of 31."
Bravely, one or two scribes attempted to analyse the match from an Arsenal point of view, and Jason Burt criticised the Gunners tactics at the Nou Camp. "Maybe Arsenal should — perish the thought — have gone direct. Or at least more direct; moving the ball quicker, turning defenders. Pushing Walcott out to the touchline was brave as it opened up space inside him, but with Abidal not always as disciplined as he could have been, with the goals raining in, long diagonal passes into the wide green turf beyond him may have worked."
In a backhanded critique of the Gunners, Mark Fleming denied Arsenal the defence of youth against Barca. "Wenger has spoken at length about the inexperience of his side, but it was Barcelona who were the more youthful last night, with a front three of Messi (22), Pedro (22) and Bojan Krkic (19)."
Yet the harshest criticism of Arsenal came from Steven Howard in The Sun, who placed the Gunners' defence in Spain under the microscope. "It is no one's fault other than Wenger's that he had to choose between Mikael Silvestre and Sol Campbell to play alongside Thomas Vermaelen. He should have made sure long ago he had a centre-half of suitable quality as back-up. And don't talk about Johann Djourou… The bottom line is Arsenal would have been well beaten had they even been able to field their strongest team such is the all-round brilliance and in-depth strength of Pep Guardiola's side. Sure, the building of a new stadium has restricted Wenger in the transfer market but it's not as if he has been unable to spend any money at all."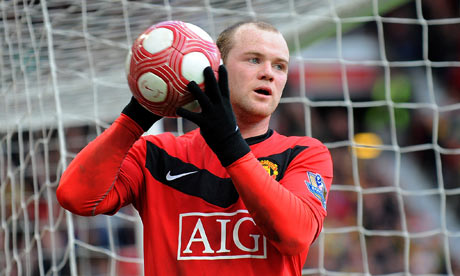 Roon-he or wont he? There is almost a pantomime environment glossing over tonight's Manchester United-Bayern Munich quarter-final as the issue of whether Wayne Rooney will be involved continues to focus attention.
Walking the tightrope of uncertainty, Daniel Taylor chugs "Sir Alex Ferguson is planning to go into Manchester United's Champions League quarter-final against Bayern Munich without Wayne Rooney but will give the England striker as long as possible before making a decision."
Far less charitable, Mark Ogden paints the picture that Rooney's inclusion is now a mind-game. "Rooney's absence from an open training session… on Tuesday morning had suggested that the 24 year-old's audacious attempt to be fit for the quarter-final second leg against Bayern had faltered. But Rooney, who drove his car into Carrington before undergoing an outdoor session on a mountain bike, is understood to have then taken part in a football session later in the day."
Car-gate then explodes in the Daily Mail, after Simon Cass uses his tabloid license to fart the headline "Wayne Rooney is driving Manchester United boss Sir Alex Ferguson crazy to put him on the bench for crunch Bayern Munich tie." "Ferguson has forbidden Rooney to drive for fear it could hinder recovery and the striker, driven by Michael Carrick, trained alone and still seemed troubled by the ankle."
Tackling the tougher prediction of whether United can progress past Bayern, James Ducker lays out his fears. "A season that promised so much only nine days ago suddenly stands on a precipice. The omens do not exactly bode well. On the six occasions they have trailed after the first leg in the Champions League knockout rounds, United have progressed only once, against Roma in the quarter-finals three years ago."
Martin Samuel joins in the doom-mongering of United wondering whether Fergie's management career could end on a low note. "What if Manchester United fail to win this season and miss the major prizes for the next two years? It happened between 2003 and 2006. Will Ferguson cling on until his luck changes, or will he leave on reduced terms? What if Manchester City are the dominant force in English football by then? Nobody would wish Ferguson's time at Old Trafford to end with a whimper but to believe the narrative is entirely in his hands, and guarantees a bang, does his contemporaries a disservice. As Bayern Munich and Chelsea ably demonstrated, there are other stories unfolding, equally powerful, equally urgent and needing to be told. Ferguson will not get it all his way."
Transfer Tactics: Would anyone really expect Sir Alex Ferguson to confide his transfer policy to the media?

According to the Guardian, "Sir Alex Ferguson has ruled out a summer spending spree at Manchester United… Karim Benzema has been heavily linked with Old Trafford, given Ferguson tried to sign him from Lyon last year. The French striker has since failed to make an impression with Real Madrid. A goalkeeper may be needed, given that Edwin van der Sar will celebrate his 40th birthday next season." Elsewhere, in a throwaway line in a pathetic no-name article in the Daily Mail, we're spoonfed the garbage that United "have been linked with a multi-million move for Benfica's Argentine star Angel Di Maria."
Shifting to north London, Jeremy Wilson detailed how "Wenger reacted to a chastening Champions League defeat on Tuesday night by admitting that he must add to his squad… Wenger is close to confirming the free transfer of Bordeaux forward Marouane Chamakh and will also make a new centre-back one of his main priorities during the summer."
Staying with transfer policies at large, Lance Harvey announces that "Mike Ashley, the Newcastle United owner, is willing to sanction a summer spending spree to ensure survival in the Premier League… Ashley and the club's managing director, Derek Llambias, believe £20m to £25m is a healthy budget for a club looking to consolidate its Premier League position." That war-chest shrinks dramatically in The Sun where Steve Brenner claims "Chris Hughton will be given £15million to make Newcastle a Premier League force again."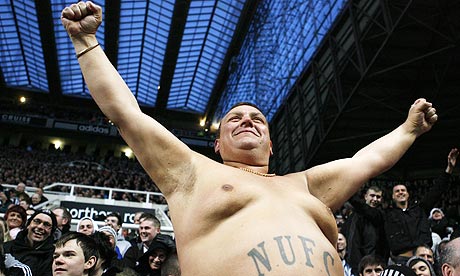 Simon Bird also gets involved with Newcastle's transfer policy, suggesting that dead wood will be shifted out of the club to raise extra funds. "A budget of no more than £20million will be provided, plus whatever Hughton makes in sales… Hughton may lose out-of-contract Nicky Butt, saving £3million a year in wages, and release Fabrice Pancrate. Leon Best is vulnerable to a cull after making no impact. Alan Smith, also on £3million year, cannot make the Championship squad at the moment and could go for £3million. Fabricio Coloccini, rated at £7million and on £4million a year, may also be cashed in on while his stock is high."
Consolidation is the buzz word of the day for Birmingham. John Curtis reports "James McFadden, the Birmingham City striker has hinted he would like to renegotiate his contract with the club… Defender Liam Ridgewell and midfielder Sebastian Larsson are technically out of contract in the summer but again City have two-year and one-year options respectively they could take up."
Transfer Lies: Dipping into the red-tops, The Sun spew the gossip that "Manchester City are ready to spark a cross-city battle [with Manchester United] for £24million-rated Mirko Vucinic," before also reporting "Tottenham will need £5million to land Atletico Madrid's Sergio Asenjo."
The issue of Spurs buying a new keeper mushrooms in the Daily Mirror where it's reported that "Harry Redknapp is ready to spend £2million on Kasper Schmeichel – and loan him back to Notts County." And the Daily Star throw their weight into the picture, adding "Birmingham and Blackburn will battle it out with Tottenham boss Redknapp to sign County stopper ­Schmeichel in the ­summer close season."
In other news Darren Lewis links Kanu with Al-Ahli, while James Nursey scribbles "Neil Warnock has told QPR he wants to sign NINE players this summer as he plans to spend up to £10million… His targets include Scunthorpe striker Gary Hooper, who has hit 14 goals this term. And Warnock also intends raiding his old club Crystal Palace for Julian Speroni, Nathaniel Clyne, Darren Ambrose and Neil Danns. QPR also have seven loan players but the club are only interested in keeping Adel Taarabt from Tottenham and Arsenal's Jay Simpson."
---
GAMBLING CAN BE ADDICTIVE, PLEASE PLAY RESPONSIBLY