Is it the end for the January transfer window? And can Aston Villa challenge for the title?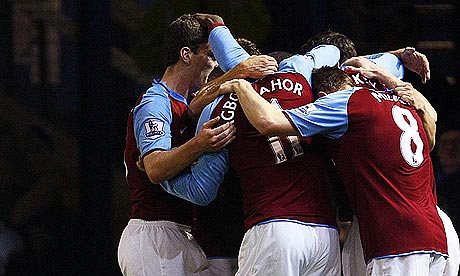 Comment & analysis round-up
Quote of the day: "I'm not questioning the integrity of referees, yet you should always feel that there's a level playing field. A yellow card instantly comes out for our players and he (Styles) hasn't got a clue what his name is. It's not something you have to be a lip-reader to do; referees genuinely are on first-name terms with some of these players. We had Mr Styles at Chelsea. It was, 'Frank (Lampard) this and Frank that'. It's almost as if refs want to be friends of the stars. I hope it doesn't come across as paranoia. I find myself sometimes feeling, when we play the likes of Peterborough (as they did in the FA Cup third round), a team lower down the pecking order currently than we are, that it's almost as if the referees try to help them along. Surely, if we play Manchester United that would work in the same way. But I don't feel it. Maybe officials, because they've had to referee Manchester United for so long they get used to it and there's a feeling they know their players better and we're just a newly promoted team. Our game got delayed and the referee gets to call me and Sir Alex into the corridor to have a chat, I don't think he even saw me and yet it's 'Sir Alex this' and 'Sir Alex that'. I firmly believe the management styles of officials needs to improve on the football pitch, sometimes you wonder if the equilibrium is right in the way the game is being officiated. I would just like referees to referee what they see with their eyes and respect the players as the players should respect the referee." – Tony Mowbray.
Runner-up: I don't think Roman Abramovich or the Sheikh at Man City know the history of the clubs. You hear people are going to pay this or that, it's Monopoly money but it's become part of the game. Someone comes in from abroad and gives you loads of money but doesn't know what you're doing or what the structure of the club is. You worry that these people come in, use the club as a toy and then walk away leaving it in whatever state they want. I wouldn't swap my chairman [Peter Coates] for anyone. Peter will sit and talk to you for hours about players and the history of the club. It's good to have a chairman who has been brought up in this area and understands the history of the football club. He's a massive supporter of the club, I don't think you can say that about Abramovich or the Sheikh, whoever he is, at Man City." – Tony Pulis.
Today's overview: It is a busy Friday morning as reaction pours in to a full set of Premier League fixtures in midweek and of course, there are just days left of the January transfer window.
Amazingly, the main gossip surrounding the transfer window comes in the Daily Mail who bring the "exclusive" that the January transfer window may be no longer, Peter Ferguson writes: "Premier League clubs are to discuss closing the January transfer window for good – a dramatic move that could put England's elite on a collision course with UEFA and FIFA. The ill-feeling stirred up during the current window, with managers publicly condemning rival clubs for unsettling their players, has strengthened the belief that allowing transfers all year round would be a better option."
Of course, one man still dominates. Richard Williams (Guardian) starts the ball rolling: "Benítez is not so much carrying the can as embodying the flaws that appear to be undermining Liverpool's challenge."
Lots of columnists ask questions today, Ian Herbert in The Independent: "The Liverpool manager has form when it comes to getting his own way at a club, but has he lost the plot this time?" James Ducker in The Times asks "can Liverpool bounce back from meltdown?" Matt Lawton (Daily Mail) joins in the chorus: "What on earth is baffling Benitez up to at Liverpool?"
Looking ahead, Henry Winter in the Daily Telegraph pinpoints Liverpool's clash with Real Madrid in a piece titled "Champions League defeat could be Real turning point for Kop against Rafael Benitez."
If Benitez is the current fall-guy of the Premier League, Sir Alex Ferguson is undoubtedly the winner and Simon Barnes writes of the Manchester United manager in The Times. "The season turns before our eyes and it has done so because one team were hateful bullies and therefore winners by a considerable margin; while the other team were merciful and so they were deemed to have failed. We find ourselves celebrating nastiness and criticising mercy." Jamie Redknapp in the Daily Mail also asks "how do you stop Manchester United from winning the Barclays Premier League now?"
There is however some bad news for United with Gabriele Marcotti in The Times reporting that "Sport, the Catalan daily newspaper, reported yesterday that Jorge Mendes, the Manchester United forward's agent, has signed a long-term agreement with Real Madrid worth about £91 million. The deal reportedly includes a penalty clause that would force Ronaldo and his agent to pay Real €20 million (about £18 million) if he does not appear at the Bernabéu at the start of next season."
So, if Liverpool can't win the title with Benitez and United are running away with it, it leaves Kevin McCarra in The Guardian to back Aston Villa to challenge. "O'Neill's strategies seem to function, considering that Villa have scored only one goal fewer than United in the league this season. We ought to be glad that someone is striving to smash the cartel at the top of the table. For his part, O'Neill will be overjoyed if the menace posed by Villa is overlooked for a while longer."
Steven Howard in The Sun, follows up the new Charles N'Zogbia row at Newcastle to try and analyse the crisis on Tyneside. "As they say, football is all about opinions. And the opinion on Tyneside is the only way a Toon side with one point from 15 will beat the drop is because Middlesbrough, Portsmouth and Hull are trying just that bit harder to claim the third relegation spot themselves."
Whilst Spurs have reportedly given up on bringing Robbie Keane back to the club, they may have, according to the main story in The Sun, started a whole new "tap-up storm." Also on Keane, Ian Wright in The Sun urges him to leave now. "I tell you what I think is really 'crazy' — leaving £20million-worth of striker in the form of Robbie Keane on the bench. That sounds pretty loopy to me."
There is a whole host of transfer news today including that Manchester City have appeared as favourites to sign Carlos Tevez, Kevin Nolan is all set for a move to Newcastle, El-Hadji Diouf will rejoin Sam Allardyce at Blackburn and Spurs have offered Bent and cash for Roque Santa Cruz. Although City will apparently make a final 18.5 million pound bid for the Paraguayan striker.
Also on the Premier League, Salomon Kalou's celebration is explained and The Sun apologise to Sir Alex Ferguson.
The Guardian also pull out a whole varied set of comment pieces today including Scott Murray on the trailer for The Damned United, Owen Gibson argues that England's 2018 World Cup bid has already been marred and Harry Pearson analyses how to promote the FA Cup.
In other news, David Beckham has been "dramatically linked to a possible buyout of Leyton Orient," Fabio Capello has compromised on England friendlies and Jeff Powell in the Daily Mail picks his 10 best Brazilians.
---
GAMBLING CAN BE ADDICTIVE, PLEASE PLAY RESPONSIBLY