Is Hargreaves a £15m mercenary, AVB vs Hansen, Arsenal's Per is "a big lump" (Lawrenson) & Anzhi eye Grant, Lampard & Arshavin
Comment & analysis round-up
Quote of the day: "Manchester United is disappointed with Owen [Hargreaves'] remarks. The club gave him the best possible care for three years and is as disappointed as anyone he was not able to play a part in the team's success at that time. It has shared all the medical records with Manchester City and is comfortable with the actions taken by its medical staff at each step of his many attempts at rehabilitation. United does not acknowledge any validity in the comments Owen is alleged to have made. Manchester United has some of the best sports medical staff in world sport, who have made a significant contribution to United's on-pitch success in recent seasons." – a statement from Manchester United.
Runner-up: "I think people are obsessed with Andy Carroll. I don't understand the paranoia with Andy. People talk about him like they know him. They don't know him. They talk about his lifestyle. What lifestyle? Everybody is obsessed with Andy Carroll. But everyone will be treated in exactly the same way here, whether they are the most expensive or the cheapest. The price tag is irrelevant. If we get someone in on a Bosman, does that mean he is rubbish? Should he not play because we haven't paid money for him?" – Kenny Dalglish.
Today's overview: Fights are aplenty across the backpages this Saturday.
First up there is the Hargreaves backlash. Aside from the fierce response Sir Alex gave in his Friday presser to the accusations of medical negligence at Old Trafford, both Des Kelly and James Latwon stick their oar in to label the Kraut/Canadian/Brit something of a mercenary.
Danny Fullbrook and Martin Lipton continue the warring footing by reporting that AVB and Alan Hansen are at loggerheads.
Moving on, it's the same old story for both Arsenal. Several scribes consider whether a new exit of stars will occur this summer from the Emirates, whilst Mark Lawrenson and Jaime Jackson stickl the boot into the Gunners defence. The Daily Mail go a step further as they forward a couple of names who they believe could replace the Professor in the Arsenal hot-seat.
It's another difficult Saturday for David De Gea, who is again tarnished with taunts of being scrawny and weak by a couple of hacks in the red-tops.
In other news striker Carlos Tevez and Michael Owen receive their share of plaudits, and we end we gossip surrounding Russian outfit Anzhi's next plans to continue their world domination.
Manc Medical Mess: It's day 2 of non-forsenic tabloid examinations on whether Manchester United's medical staff screwed up Owen Hargreaves knee and now Sir Alex has spoken for the accused.
Quoting the Red Devils boss verbatim, Neil Custis boomed "Alex Ferguson has blasted Owen Hargreaves for his criticism of Manchester United's medical staff. And former Red Devils midfielder Hargreaves, now at rivals City, was also accused of talking rubbish by United about his treatment at Old Trafford… United were considering legal action as boss Fergie launched a staunch defence of his backroom team. He said: 'I've got a great medical staff. Do you think Alex Ferguson would have a bad medical staff? Do you think I would allow that? Absolutely no chance.'"
The Mail's Ian Ladyman had his article summed up in his headline. "Hargreaves is talking rubbish: Ferguson hits back at claims of former United midfielder."
Des Kelly explained why he was disappointed with Hargreaves' comments. "Hargreaves made a mistake claiming they experimented on him like a 'guinea pig' behind the scenes and somehow exacerbated his injuries. He is a personable and bright man and while he has reason to be bitter over the fact that his treatment failed at United, he should have let his football do the talking for the time being. Any criticism of the club was always going to inspire accusations of ingratitude when you remember he received between £10m and £16m in salary at Old Trafford despite being effectively crocked for three out of four seasons."
The suggestion that Hargreaves has now turned into a mercenary is continued by James Lawton. "Hargreaves' complaints were certainly coming from another world. A world in which the value of Hargreaves' contract over four years – and on which he played just six minutes in the final 33 months – was estimated at £15m. One, also, which cost United £384,615 for each of his 39 appearances. Against such a background of financial security it is not so easy to see that Hargreaves was one of football's casualties as he fretted over all the lost opportunities to play the game that he wanted to be at the centre of his life."
AVB vs Alan Hansen: The gutter press fight over who can make the biggest  story out of a who-gives-a-shit war of words between Andre Villas-Boas and Alan Hansen.
Danny Fullbrook leads the hyperbole hacks vomiting "Villas-Boas last night launched a fierce attack on TV pundit Alan Hansen. The Match of the Day critic labelled the Chelsea manager "naive" and "stupid" for the way he set up his team at Old Trafford last weekend when Chelsea lost 3-1. Villas-Boas admits he was shocked by the strength of criticism from a former player who has won so much in the game… [AVB:] 'People like him judge it just on the result. They take the easy way out. People get results with a certain lack of flair and everybody criticises and says it's against the culture of good football. And when it does the other way round, you say they are naive. When it's football people, I find it very surprising. People like that go against their own principles."
A war akin to the Battle of the Somme is talked up by Martin Lipton. "Chelsea boss Andre Villas-Boas has launched an all-out verbal assault on pundit Alan Hansen for branding his side 'naive and ludicrous' in their defeat at Manchester United. Villas-Boas has brooded all week on Hansen's newspaper criticisms of his team's approach in the 3-1 loss, which saw United open up a five-point lead over their opponents. Now, the Portuguese has hit back, telling Hansen to think before condemning Chelsea in future… Villas-Boas' thin-skinned and prickly response to a criticism that had passed many by will be noted by Chelsea's title rivals."
Arsenal's Never-Ending Anguish: Heaping bad news of Arsenal is a daily event in the papers this season, as this Saturday is no different.
The Sun stick the needle in reporting "Arsenal suffered a massive setback last night after Jack Wilshere was told he will be sidelined until 2012. The England midfielder, 19, will have an ankle op on Monday and has been warned he will not play until the New Year."
Charlie Wyett jumps on the Arsenal bashing bandwagon to talk up rumours of another upcoming exodus. "Arsene Wenger admits Arsenal could lose FIVE stars next year because the Gunners cannot compete financially. Skipper Robin van Persie, Theo Walcott, Thomas Vermaelen, Andrey Arshavin and Johan Djourou are in the final season of their contracts… Wenger was unable to promise that the star quintet will stay — although he may be happy to ditch Arshavin and Djourou."
Staying with the topic of Arsenal losing more stars, John Cross fails to include the Swiss defender in his pie-in-the-sky report. "Arsene Wenger admits Arsenal face major battles to avoid losing another FOUR players next summer. Robin van Persie, Theo Walcott, Thomas Vermaelen and Andrey Arshavin will all have one year left on their contracts at the end of the current season… Bayern Munich and Inter Milan are keen on new Gunners captain Van Persie… Arsene Wenger is watching 22-year-old Valencia midfielder Dani Parejo."
In a fresh angle Mark Lawrenson slams the Gunners defence. "Per Mertesacker looks a big lump and maybe Wenger fears his judgment was wrong for signing him. Arsenal played a zonal system at Blackburn and I cannot think of an English team that has made it work. It can succeed in Spain where they don't bomb the ball into the box, but not here. With zonal defending, you mark the space not the man. But if one player loses his discipline then the whole chain breaks down."
Jaime Jackson unleashes a tirade of stats to show up the Arsenal rearguard. "If some defences are poor, other defences are poorer, and the statistics show that Wenger's has been the worst in this area during the past three seasons. Since the 2009-10 campaign his side have shipped the most goals from set pieces: 51, which represents 52% of all conceded (they have allowed 47 from open play). Manchester United's tally is 24, Chelsea's 32, and Tottenham Hotspur's 29… Their goal difference of minus eight is the poorest in the division. All of this is fuelling the accusation that despite having Pat Rice, the right-back in Arsenal's Double-winning side of 1971, and Boro Primorac, a former Yugoslavia central defender, as his lieutenants Wenger is reluctant to take advice either internally, or externally, or ease his control over training."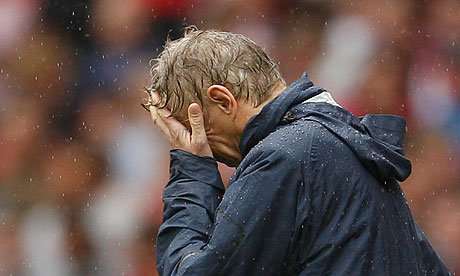 Replacing Wenger: The Daily Mail stick their head above the parapet to forward their suggestions of who could replace the Professor at the Emirates. "[Matt Lawton:] If Wenger does leave in the summer, Arsenal should look no further than Carlo Ancelotti. The Italian adores English football and has a proven pedigree for building great teams that win trophies playing beautiful football… [Ian Ladyman:] Wenger's time at Arsenal has run its course. It is generally claimed that Arsenal play good football. They don't… Replacing him would be an enormous task. David Moyes deserves a chance at a top-four club and is a lover of passing football."
Demonising De Gea: Every since he touched down in the Premier League the papers have looked to question the ability of David De Gea. Today is no different
A bitchy Jeremy Cross plays the role of a mixer writing "the Spanish keeper has made a shaky start to his United career following his £18m ­summer switch from Atletico Madrid… Tony Pulis' men have forged a reputation for taking no prisoners on home soil and have targeted 20-year-old David De Gea as one of United's weak links."
Beating the dodgy De Gea drum louder was David Anderson. "Manchester United boss Ferguson is wary that De Gea will have never seen anything like the aerial bombardment the Potters will chuck at him in Saturday's teatime game – and has even told his players to buffet the Spaniard in training this week to try to prepare him… Fergie has also put the 6ft 4in keeper on a work-out regime, under the guidance of senior fitness coach Tony Strudwick, to beef up his lanky frame, as he is worried he is being outmuscled."
Manchester City: Terry Venables farts a dramatic fiction to paint Man City on the verge of a Euro calamity. "Roberto Mancini said Carlos Tevez would have to wait for his Champions League chance at Manchester City. But I don't think City can afford to wait any longer if they want to keep their European dream alive. The City boss must recall Tevez for their clash at Bayern Munich on Tuesday… If they do not muster a decent result at the Allianz Arena their dream could be over before it has even started. Defeat would leave City with a mountain to climb to make it into the knockout phase. That is why Mancini must recall his Argy striker at the expense of Edin Dzeko."
Countering El Tel's Tevez love-in, David Anderson tells Carlos that he is on the fringes at Eastlands. "Carlos Tevez's fall from grace continues at Manchester City, with boss Roberto Mancini admitting he is not even his THIRD choice striker. Mancini says Mario Balotelli is now ahead of the Argentinian in his pecking order, because he is more versatile. The news is the latest blow for Tevez, who has lost the captain's armband, his status as City's star man and his place in the Argentina squad in the last few weeks."
Eyes On Everton: Brian Reade tells the Toffees to go after Michael Owen. "Everton, who Owen's dad played for and he supported as a boy, are crying out for a proven striker they don't have to pay a fee for. Unlike his miserable time at Newcastle, Moyes will have Everton challenging for Europe, playing decent football to feet. And Owen won't have to move an inch from his stables. As for burning bridges with Liverpool fans, they no longer exist because he took a flame-thrower to them when he moved to Old Trafford. Rather than kidding himself he's shoving his critics words back down their throats by trotting out meaningless stats and scoring meaningless goals, wouldn't it be better if Owen showed he can still do it where it matters, in the Premier League, on a regular basis?"
Transfer Lies: The Sun fart that "Avram Grant is tipped to take over next season at super-rich club Anzhi Makhachkala. The ex-Chelsea boss could be joined in Russia by targets Andrey Arshavin and Frank Lampard."
The Sun gleefully report that "Arsenal have got their own back on Barcelona's ex-president Joan Laporta — by signing his son… Arsenal have snapped up midfielder Guim Laporta, 14, from the Nou Camp." Staying with the Gunners, the Mail add that Arsenal are keeping tabs on Brighton's highly-rated central defender Lewis Dunk.
Elsewhere rumours fly that Jonas Gutierrez could be the next high-profile star to quit Newcastle, and Lomana Lualua is hopeful of sealing a deal at Blackpool after training with them this week.
Best football betting tips & free bet offers
Click here for more Premier League betting tips
---