Irresistible Arsenal are lauded, Chelsea incriminated in another dodgy deal, Pompey screw-up Europa League paperwork & Arsenal track Zidan while Man City target Poli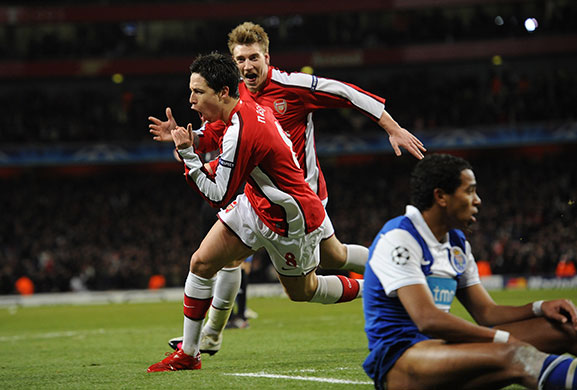 Comment & analysis round-up
Quote of the day: "If I don't smile tonight, I will never smile. We controlled the game, we played our fluent football and our positive start with the early goals gave us the needed belief. Over the 90 minutes, we controlled 80. For the 10 that we didn't control, we suffered. They had a few chances at the start of the second half. But overall, we controlled the game, scored some great goals and we were good to watch. We did what we like to do. We won with style and we always went forward in a convincing way. At the start of the season, no one expected us to be where we are at the moment. We have mental strength, good desire and good quality but it's important that we continue to improve. There were still some weak moments that we can deal with better during the game. Before we speak about beating United or Barcelona, we have to improve. But we have a chance." – Arsene Wenger.
Runner-up: "The big sympathy I have is for the Liverpool supporters because they are a fantastic lot. Liverpool are in a mess. The owners, being American, I don't think they feel what we [as fans] feel. I'm really, really sorry for their supporters. We went to Anfield earlier in the season and there's absolutely no atmosphere and no heart at all at present. The supporters feel that and I think the players are starting to feel it." – Wigan chairman Dave Whelan.
Today's overview: It's all about Arsenal this Wednesday as the north Londoners produced a devastatingly good performance to dismantle Porto in the Champions League and the fourth estate stand up this morning to pay their dues.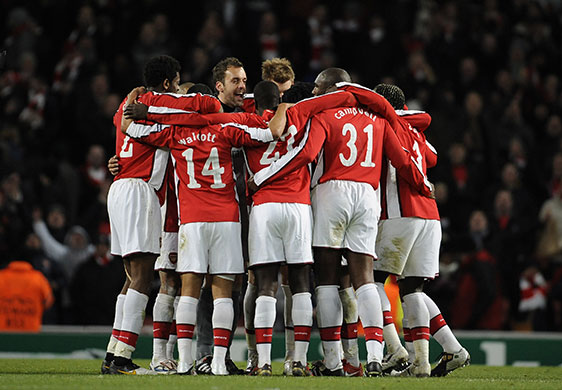 Spreading the love was Kevin McCarra. "Arsenal were so effective that they probably deprived themselves of the accolades that should be their due… The Russian Andrey Arshavin devastated Porto here and the France international Samir Nasri notched a goal of remarkable virtuosity… There was therapy for Nicklas Bendtner… It was the freshness of the football, at this advanced stage in the campaign, that will hearten Wenger most as he considers the quarter-final."
As if bewitched, Oliver Kay couldn't help himself gush over Arsenal's brilliant performance. "It may well be that Arsenal's football is too beautiful. It may well be that they lack the more prosaic, earthy qualities that will be needed to elevate them towards their goals in the Champions League and the Barclays Premier League, but when you witness a performance such as this, the high point coming in the 63rd minute when Samir Nasri scored a contender for the goal of the season, Arsenal's allure can begin to feel irresistible."
Next in line to wax lyrical was Sam Wallace. "Arsene Wenger had asked his team for a result last night that was against the odds. They gave him a performance from the gods… [It was] the kind of night when all those grandiose promises that Wenger has made about this young team of one-touch artistes ring true and no-one at the Emirates minds that Arsenal have not acquired a tough holding midfielder or a £30m centre-forward. If they keep playing like this Arsenal will be in danger of winning something."
Henry Winter chose to view Arsenal's win in light of their significant absentees. "What particularly pleased Wenger was that Arsenal were strong from back to front despite lacking the spine of William Gallas, Cesc Fabregas and Robin van Persie. From start to finish, Arsenal were terrific, playing with pace, intelligence and imagination, particularly when the ball was in the magical sway of Andrei Arshavin, a box of fireworks that kept exploding in Porto's face."
The Sun's Charlie Wyatt is then rolled out to make a public apology on before of the red-top to Nicklas Bendtner. "The Sun today unreservedly apologises to Nicklas Bendtner after his stunning treble sent the Gunners storming into the Champions League quarter-finals. We may have inadvertently given the impression Bendtner could not hit a cow's Arsenal with a banjo after his misses against Burnley. But last night the giant striker proved he is the greatest ever striker to grace the Emirates with the first treble of his career to crush Porto."
Martin Samuel took time out to flag up the awful night for Porto right-back Fucile. "[Fucile] had a game that brought to mind the experience of Arsenal understudy goalkeeper Lukasz Fabianski in Portugal two weeks ago. For the first goal, he took out his goalkeeper, Helton, yet left Andrey Arshavin and Nicklas Bendtner unmolested; for the second he passed straight to Arshavin who set up Bendtner again, and his foul on Emmanuel Eboue gave Bendtner his penalty third."
And then comes the party-pooper, as surly Scot Patrick Barclay attempts to temper the Arsenal love-in. "The three minutes that began with Samir Nasri's goalline clearance and culminated in his glorious goal changed much. Not, though, the face of Arsenal's season: they remain a better bet for the English title than the European, if less than favourites for either."
Flipping forward to tonight's Manchester United-Ac Milan match, Kevin Gardside delivers a succinct nutshell as to why United are favourites. "Pato's vulnerable hamstrings are a severe handicap for Milan. His willing legs are often the counterpoint to Ronaldinho's default indolence. Once Scholes had affected his own miracle, scoring off his standing leg in Milan, United ripped through the second half gears. With Rooney harnessed to an axis turning on Darren Fletcher and Ji-Sung Park, logic points to another zip-wire assault on Milan's ageing defences."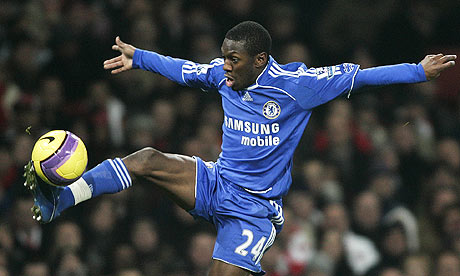 There is a sense of deja vu (think Kakuta) as we ask could Chelsea be docked points for off the field transfers irregularities?
Top scribe David Conn delivers the headline news that the Pensioners could be in serious hot water over the sale of SWP to Manchester City. "The Football Association is considering whether Shaun Wright-Phillips and Chelsea could face charges for dealing with an unlicensed agent, Mitchell Thomas, when Wright-Phillips moved to Stamford Bridge from Manchester City in July 2005. The investigation by the FA follows the outcome of a case brought by the Law Society against a solicitor, Timothy Drukker, who signed off the paperwork in the Wright‑Phillips deal but paid Thomas part of the £1.2m fee which Chelsea paid him. If the FA does find that Thomas, the former Tottenham Hotspur and Luton Town defender, was involved in negotiating the deal, they could bring charges against Wright-Phillips and Chelsea. Penalties range from warnings to fines and even points deductions."
In a supplementary article, David Conn stresses how the FA are looking to jump on unlicensed agents. "The FA has become increasingly determined in recent years to clamp down on activity by unlicensed agents, who have not passed the required exams and do not have the necessary insurance. Clubs and players are now absolutely forbidden from dealing with unlicensed agents for any part of a deal, a rule drawn so tightly as to effectively prohibit anybody who does not have a licence or is not a qualified solicitor becoming involved even in preliminary inquiries."
Pompey fans would be forgiven if they were found tearing their hair out today, as the Independent reveal that even if the south coasters win the FA Cup there will be no European football next season. "Portsmouth will not be eligible to play in the Europa League next season should they reach the FA Cup final, as they have not applied for a Uefa club licence. Paperwork and accounts must be submitted to Uefa to enter European competitions, but as the Fratton Park side entered administration last month, they were not in a position to lodge an application before the 1 March deadline."
Onto the transfers.
In a throwaway line in Jeremy Wilson's report on Nicklas Bendtner's hat-trick against Porto the hack suggests that the Gunners could be signing two new strikers this summer. "With Mohamed Zidan, Egypt's best player in the match against England last week, claiming interest from Arsenal and Bordeaux's Marouane Chamakh expected to join on a free transfer during the summer, Bendtner's contribution was also another timely reminded of his wider assets."
Next, the Daily Mail adopt their usual cowardly no-name approach to fart how "Chelsea have reopened negotiations with Nicolas Anelka over a contract extension which would see the France international stay at Stamford Bridge until 2013… News that Chelsea's hierarchy are ready to negotiate with Anelka will come as a further blow to Joe Cole. There has yet to be any movement on a new deal for Cole whose current contract expires in the summer."
A second no-name Daily Mail article barks claims Manchester City are targetting Sampdoria's 20-year-old midfielder Andrea Poli while " Emmanuel Adebayor meanwhile insists he is happy to stay despite interest from AC Milan." And staying at Eastlands, John Cross bleats "big spending Manchester City are tracking Sporting Lisbon defender Daniel Carrico."
According to Martin Samuel, Liverpool's Javier Mascherano could be set to jump ship to Barcelona. "Barcelona's interest in him is well known and if he leaves he will no doubt couch his departure in terms that are consistent with his desire for substance and grandeur. We know the reality, though.  Liverpool have history, yes, but Mascherano also fears they may be history unless the financial fortunes improve, and he has no desire to spend another season skirmishing in the Europa League — or even contemplating it."
Lastly, the Mirror link Kevin Doyle with Aston Villa, Fulham, Everton and Sunderland should Wolves go down, while Ian Murtagh chugs "Newcastle want to make Spurs midfielder Jamie O'Hara their first summer signing as they prepare for life back in the Premier League."
---
GAMBLING CAN BE ADDICTIVE, PLEASE PLAY RESPONSIBLY