Irons slammed for antisemitic Spurs chants, Chelsea's quiet Clattenburg sorry, Man United eye Adel, Arsenal & City want Zaha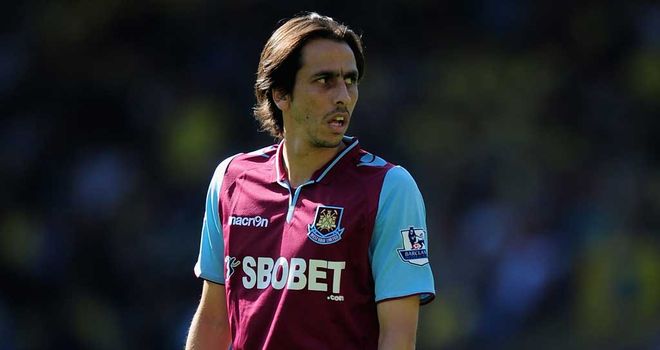 Comment & analysis round-up
Quote of the day: "I have a great relationship with the West Ham United supporters, from my first spell at the club and again now I am back on loan here. This why I was very disappointed to hear some of the songs yesterday and it was embarrassing. But we need to remember that it was made by a minority group of fans and I'm sure the FA together with West Ham United football club will do everything to find and punish them." – Yossi Benayoun.
Runner-up: "The lad [Spurs fan Ashley Mills] is much better and will be discharged soon. We talked about the incident. I told him Lazio fans are not racist and what happened to him and his friends had nothing to do with football. "We have always tried to disassociate ourselves from racist behaviour." – Lazio's president Claudio Lotito.
West Ham Slammed For Anti-Semitism
We will investigate from top to bottom and the minority will be punished (David Gold, Mail) Like many of the people around me in the directors' box at White Hart Lane I didn't hear or see any of the reported inappropriate behaviour during Sunday's game with Tottenham. If I had then I'm sure I would have been mortified. We have a clear stance towards any kind of discriminatory behaviour at West Ham — it will simply not be tolerated… I am very proud of my Jewish heritage and have always been made to feel welcome at West Ham since I started watching them as a young boy back in  the 1950s.
You're filth! Harry leads attack on West Ham yobs as FA and club launch probe (Mail) Harry Redknapp has warned English football is in danger of a return to the dark days of the Seventies after the disgraceful scenes at White Hart Lane on Sunday… Redknapp, who also spent nearly four years in charge of Spurs, said: 'We don't want to go back to what we had with all the violence in the Seventies — we can't have that again. When they get in a group it's filth. It's disgusting and people are supposed to stand there and take it.'
Antisemitic chants are sickening – and West Ham fans must show they care (Guardian) The irony is that West Ham is a club who have a Jewish heritage, albeit not as pronounced as Tottenham's, whose fans call themselves the Yid Army to counteract the jibes. The co-chairman, David Gold, is Jewish, they have had a Jewish manager, Avram Grant, they have a Jewish player, Yossi Benayoun, and there are many Jewish supporters. Spurs are seen as The Jewish Club, but not every Spurs fan is a Jew and not every Jew is a Spurs fan. Some will say that Spurs fans are asking for it by calling themselves Yids; again this simply feels like a roundabout way to justify the abuse.
There is a certain hypocrisy over our use of the 'Y-word'… but intent is the key (Dan Louw, Independent) It is slightly ironic that we should be the victims of actual violent racism on Thursday and then for the West Ham fans to effectively try to exploit that on Sunday. A small number of West Ham fans have sung anti-Semitic songs for some time but Sunday was a lot worse than I've ever seen or heard it before
Chelsea: Mending Broken Clattenburg Fences, Manager Issues
Chelsea finally hold peace talks with referee Mark Clattenburg (Guardian) The Chelsea chairman, Bruce Buck, held face-to-face talks with Mark Clattenburg yesterday as the Premier League club took the first significant step towards brokering peace with the referee following the controversy of the past four weeks.
Chelsea's secret ref summit as Clattenburg is readied to take charge of Blues game (Mail) Chelsea held secret peace talks with Mark Clattenburg and his 15 elite referee colleagues on Monday. Bruce Buck, the Stamford Bridge chairman, travelled to the National Football Centre at St George's Park in a bid to repair the damage caused by the false accusations of racism that were levelled against Clattenburg.
You've shot yourself in the foot this time, Roman (Ian Wright, Sun) Can you imagine any top-level manager in the world sitting there now and thinking: "I can't wait for that Chelsea job to come up?" Not unless they were ready to walk in and know right from the off it was as likely to prove a fast-track to a hefty pay-off rather than trophies. The whole situation leaves me distinctly uncomfortable. If you're trying to build a new Roman empire you need the right generals in place to do it. But the way Abramovich has acted, there will come a day he finds the top men aren't too keen to join up any more.
The Damned United II? Rafa Benitez is not quite Clough at Leeds but he is facing his biggest challenge yet (Martin Lipton, Mirror) Chelsea are, simply, in a morass of self-doubt and Benitez will get far less latitude from the fans than any of his predecessors. Even Avram Grant arrived with less visceral personal bile being directed at him than that which Benitez has received over the past five days. Of course, it was always going to be difficult on Sunday: the Di Matteo exit wounds still fresh, the chants in support of the departed manager a stark contrast to those directed at his successor. Yet it is hard to believe it will get that much easier for Benitez, no matter what he does on the training ground at Cobham and how that is translated into performances on the pitch.
Arsenal: We Want Wilshere
Wilshere opens talks over £50,000-a-week Arsenal deal… as Wenger prepares to make him captain (Mail) Jack Wilshere is on course for a bumper new contract as Arsene Wenger starts preparing the midfielder for the Arsenal captaincy. Sportsmail understands preliminary discussions regarding a deal extension, which will see the 20-year-old net a significant increase on his £50,000-a-week deal, have taken place.
Villa: Bent Out Of Shape
Paul Lambert calls tune at Villa and Bent cannot make chorus line (Guardian) It is, of course, the manager's prerogative to pick whoever he wishes – something that Lambert pointed out – but even if he decides that he wants to start without Bent, would it not be in Villa's best interests if the striker bought to keep them up two years ago was at least available to come on from the bench? And if Lambert has decided to get rid of Bent, which is the natural conclusion many have drawn (even if the manager has never said that is his intention), what is the current situation doing to Villa's negotiating position when the transfer window reopens? It is, after all, difficult to see how Villa can play hardball over Bent's valuation when he is not among the 18 names on the manager's team-sheet.
Transfer Lies
Adel'll do for Fergie (Sun) Alex Ferguson is weighing up a shock move for QPR's maverick midfielder Adel Taarabt… Ferguson knows Taarabt is still a work in progress but also recognises that, on his day, he is capable of running a game against the best sides the Premier League has to offer.
Battle of Wils (Sun) Arsene Wenger will fight Roberto Mancini to sign England new boy Wilfried Zaha… Arsenal sources insist Wenger is confident of a January transfer window deal even though Zaha has two years left on his Crystal Palace contract. Gunners hope an initial bid of just over £10million, plus a variety of achievement-based add-ons, will do the trick.
Fergie to step up £15m Baines hunt after admitting defeat in race to bring in Chelsea star Cole (Mail) Sir Alex Ferguson will revive his interest in Everton defender Leighton Baines after conceding defeat in his move for Ashley Cole.
Manchester United are watching Italy defender Ogbonna (Mirror) Manchester United boss Sir Alex Ferguson is chasing Torino's Italian international centre half Angelo Ogbonna to bolster his leaky defence.
We're on the Loic out (Sun) Spurs, Liverpool and Newcastle are on red alert after Marseille said they might sell striker Loic Remy, 25, for £10million.
Manchester City latest to add Willian to their shopping list (Mirror) Manchester City boss Roberto Mancini has joined the race for Shakhtar Donetsk's brilliant Brazilian attacking star Willian.
Manchester City hold talks with Daniele de Rossi over £25m January move (Star) Starsport understands the 29-year-old held talks with the club about a January transfer.
Arsenal tracking Reading starlet Sean Morrison (Star) Imposing centre-half Morrison, 21, only made his Premier League debut this month. But he has already made a big impression in his six league and cup appearances this season – including a Capital One cup tie against the Gunners – and caught the eye of Arsene Wenger's scouts.
---
GAMBLING CAN BE ADDICTIVE, PLEASE PLAY RESPONSIBLY