Inter Milan chase Fabio Capello, Mourinho wants Maicon & Di Maria at Real Madrid, Arsenal target Powell & Koscielny (who?) & Cardiff move for Bellamy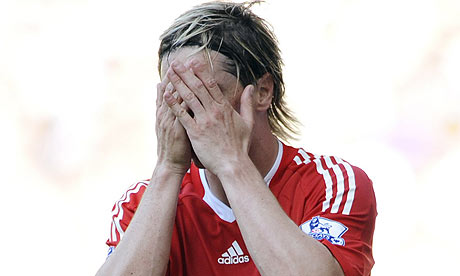 Comment & analysis round-up
Quote of the day: "My future is the World Cup and after we will see. But my future now and hopefully for the next two months is Spain and the World Cup. I don't know [if the departure of Gillett and Hicks would help the club improve]. Hopefully. It is one of the [things] that we need in order to improve. I know what the situation of the club is. I talk to the chief executive [Purslow] and Rafa [Benítez] every week and I am aware about the situation. I do not know what the situation is right now because I am trying to stay apart from that and be focused on the national team. When the World Cup ends we'll see what happens." – Fernando Torres.
Runner-up: "I'm disappointed [with Moores] because I think we've done everything we can to improve the club in so many ways from the way it had been run before. We have a great management team led by Christian Purslow [the managing director], the commercial director Ian Ayre has done a great job and we have a strong finance director in Philip Nash. We've grown our sponsorships from £40 million annually under the last years of Moores's ownership and this year we'll be doing close to £100 million… We've tried to make Liverpool as professional a club as possible. The new stadium is fully designed now and the global financing markets are back, so with the change of ownership coming we will be able to have a new stadium built and we have a great board. We will sell the club. We are not going to sell it to the wrong group and we're not going to sell it for the wrong price. We are going to take our time, do it in a very thoughtful way and try to find the right steward to own Liverpool FC. We're hoping to sell before the end of the calendar year and we don't anticipate it will be done before the beginning of next season. I have said £600-£800 million is not an unrealistic value range, but the market is the market and we'll see." – Tom Hicks.
Today's overview: Managers on the move dominate the backpages this Thursday, as Inter Milan look to snare Don Fabio.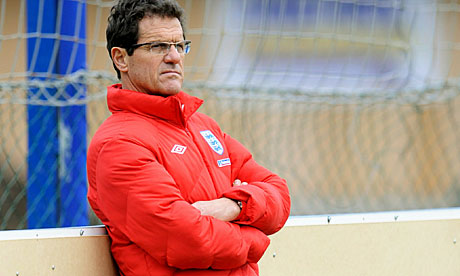 Get The Gaffer: Dominic Fifield announces how "Internazionale are intent upon luring Fabio Capello back to Serie A after the World Cup, though the Football Association is confident the England manager will reject the Italian club and honour the remaining two years of his contract. The Inter president, Massimo Moratti, is understood to have identified the 63-year-old as his "ideal candidate" and first choice to replace Jose Mourinho at the Champions League winners. Real Madrid dismissed Manuel Pellegrini [Wednesday] evening."
On the Capello story the Telegraph add "Moratti tried to sign Capello when he was manager at Juventus and is now ready to offer him a salary package well above his current £6 million a year."
That report is trumped by Matt Barlow in the Daily Mail who farts "Inter Milan are prepared to offer Fabio Capello £9million a year and a huge transfer war chest in an attempt to capture the England manager." John Cross, in the Daily Mirror, manages to spew out the largets number of all though as the hack scribbled "Inter are ready to break the bank to land Capello as a replacement for Jose Mourinho at the San Siro with an annual contract worth €12million. With Italy's favourable tax rules, that would equate to more than double Capello's current salary."
Delving a bit deeper, Gabriele Marcotti reveals how Real Madrid appeared to actual announce Mourinho as their new boss despite the Special One still being under contract at Inter. "The curious bit was that Pérez was announcing the appointment of a man yet to be released by his employer. Mourinho remains coach of Inter, having failed so far to free himself from his contract, which expires in 2012… It does appear extraordinary that this matter was not resolved in advance, as Real, Mourinho and Inter all now face potential embarrassment. Either this was all some kind of colossal misunderstanding — in which case you can only wonder how so many highly paid executives armed with mobile phones and BlackBerrys could miscommunicate so crassly — or one of the parties involved (or all) is trying to push their luck."
On a different tangent altogether, Darren Lewis chatters that "Paul Ince has emerged as a shock candidate to succeed Avram Grant at Portsmouth after secret talks with the club's administrator."
Bashing England Fans: Writing an excellent op-ed in the Telegraph, Brian Moore thumbs over the different moods in England during World Cups. "On the one hand you will have the know-all-know-nothings. Pessimists at heart they will become most expert on the topic on which they are least qualified to comment. Indolent lard-arses will criticise players' fitness levels; some with the tactical nous of a radish will berate Capello for his use of one system over another; with the miracle of hindsight many more will tell you they knew it all along. On the other side of the national divide will be those who approach their support as a faith. As is the way with zealots they will be less entertaining but messianic in their proclamations for "Ingerland". As a mantra they will urge, if not demand that we "get behind the lads" whatever the results or level of performance. They will laud quite ordinary players as "world-clarse" and display wilful ignorance concerning anything that might suggest England are not the best team in the world – oh, and by the way, anyone not in agreement is a traitor."
England's Final 23: According to Dominic Fifield, only one of Joe Cole and Adam Johnson will board the plane for South Africa. "[Cole] appears to be in direct competition with Adam Johnson, a player whose experience at this level amounts to five minutes against Mexico on Monday, to become England's wildcard selection. Capello intends to play all four of his Chelsea contingent against Japan on Sunday though, and when asked specifically about Cole, he implied the midfielder may start on the bench. Perhaps the manager knows enough about the player not to need reminding at the UPC Arena. Alternatively, Johnson may have first chance to stake his claim from the start."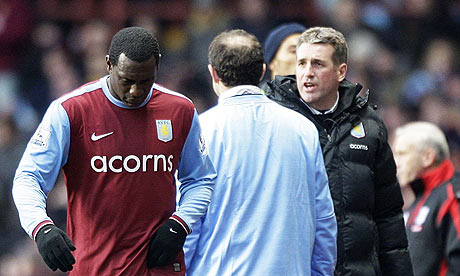 From left-field Tony Cascarino begins laying into Emile Heskey and questioning his role in the England set-up. "I don't understand what a manager as clever as Capello is thinking by going with Heskey no matter how well Crouch might play. It's bizarre. I don't want to sound down on Heskey, because he's got lots of good qualities, but too many negatives surround him as an international player. He's not the right fit for England at this tournament. Here we have a striker whose scoring record is more like a centre half's. A player coming off an awful season for his club, where he's played second fiddle to John Carew. Heskey's Barclays Premier League record for Aston Villa this season? Sixteen starts, fifteen substitute appearances, three goals. He must be lacking confidence, or he's not human."
A well-known West Ham fan, Martin Samuel calls for Scott Parker to get his chance to play for England. "Parker scores because he is the best midfield tackler in Capello's extended England squad and if Barry is injured what is required is a destroyer who can break up play and use the ball simply. Parker would be more suited to this role than Carrick, James Milner or Tom Huddlestone, the trio Capello deployed against Mexico. All three are better passers but, as long as Parker is not tempted into over-ambition, this need not matter."
Misery on the Mersey: Following the quote of the day, Sid Lowe concluded that "Fernando Torres cast doubt on his Liverpool future when he passed up the opportunity to commit himself to the club… The Guardian understands the 26-year-old has sought reassurance before committing his future."
Adding to the feeling that Liverpool's insecurities are set to continue, Tony Barrett reported that "Tom Hicks has rejected calls for him to sell Liverpool swiftly and at a reasonable price. The Texan said that it could be up to 18 months before a sale is complete and reiterated that he values the club at up to £800 million."
It a separate article, Tony Barrett explains how the impasse at Anfield is introducing a culture of fear on Mersyeside. "Benítez would like guarantees that any money brought in from player sales will be ploughed straight back into squad replenishment, but, with the crippling interest payments that hang over the club taking priority, he is unlikely to get them… Most fans are desperate to see a change of ownership and they all want the manager, whoever that may be, backed in the transfer market. But the overwhelming feeling is one of fear about what the future holds for the club, given the debts and precious little sign of a benevolent billionaire to ride to Liverpool's rescue."
Far more aggressive was Tony Evans. "'"The truth is,' Hicks said brazenly, 'that Liverpool is much better off than it was three years ago.' So, as the Americans say, let's do the math. Debt on takeover: £44 million. Debt now: £351 million. Three years ago, Liverpool had just narrowly lost a Champions League final. Now they have not even qualified for next year's competition. Then, they were able to go out in the summer and sign Fernando Torres. During this close season, the Spain striker may get fed up with the infighting and underachievement and head off out the door. Who could blame him if he did. Liverpool are better off as in the phrase 'better off dead.'"
Sign Them Up: Starting in Spain, Rory Smith revises Real Madrid's current transfer targets. "Moves are already believed to have begun to sign Maicon, the Inter and Brazil full back. It is thought the Portuguese would also be keen to see Real complete a deal for Angel di Maria, the Benfica winger valued by his club at £30 million. Despite speculation suggesting Mourinho may move for a host of Premier League players upon completing his move to Madrid, it is not believed any of Frank Lampard, Didier Drogba, Steven Gerrard or Fernando Torres feature on his list of primary targets."
Peter Lansley summerises a busy day at St Andrews after "Alex McLeish yesterday completed the £6 million signing of Nikola Zigic, the 6ft 8in Valencia striker, and then told Birmingham City fans to keep thinking big… Birmingham remain in the hunt to sign Charles N'Zogbia, the Wigan Athletic winger, for about £8m."
In an article offering little new information on the future of Cesc Fabregas, Jeremy Wilson reveals the want-aways in Arsenal's backline. "Wenger must also deal with considerable uncertainty in other areas of his squad, with William Gallas nearing the deadline of the end of May that was set by Arsenal for him to commit his future to the club. Mikaël Silvestre is also likely to leave, while Sol Campbell is stalling on the offer of a further one-year deal. Campbell is seriously considering signing for Celtic and has already held talks with their manager, Neil Lennon."
Staying with the Gunners, Simon Cass bleats "Arsenal are weighing up a move for 16-year-old Crewe midfielder Nick Powell. Wenger has been alerted to the potential of the England Under 16 midfielder by scouts and he is poised to make a move for Powell after reports of his exploits with the national team in France." The Daily Mail add that "Arsenal are interested in Lorient's £8m-rated centre back Laurent Koscielny, 24, who is eligible to play for for Poland and France."
The Daily Mail claim West Ham must double £5m offer to clinch signing of Everton striker Yakubu, also that "West Brom have finalised a deal for midfielder Steven Reid and will follow up with the capture of Spanish centre half Pablo Ibanez," and that Galatasaray are ready to bid £5m for Rangers defender Madjid Bougherra.
In a never-gonna-happen story, Alan Nixon claims "Cardiff City are making an astonishing move to bring Craig Bellamy 'home' – and the Manchester City ace may help the amazing bid… While Tottenham and Everton were lining up for a signing war it appears Bellamy's heart is set on Cardiff and the Championship."
The Mirror claim that Chelsea forward Franco Di Santo is a target for FC Twente,while also printing that Barcelona could be back in the frame to sign Javier Mascherano from Liverpool.
Lastly, The Sun's Rob Beasley jumps all over Ashley Cole following his divorce from Cheryl Tweedy, spewing "Chelsea are facing a desperate battle to hang on to tormented star Ashley Cole. The England defender faces the bleak prospect of becoming public enemy No 1 next season following his bitter split from national sweetheart Cheryl Cole… That has alerted Europe's biggest clubs – and especially new Real Madrid boss Jose Mourinho… AC Milan, Roma and Bayern Munich are also said to be monitoring events."
---
GAMBLING CAN BE ADDICTIVE, PLEASE PLAY RESPONSIBLY