"Ince is not a victim of a vendetta… no more than he is under threat because he is black" – Martin Samuel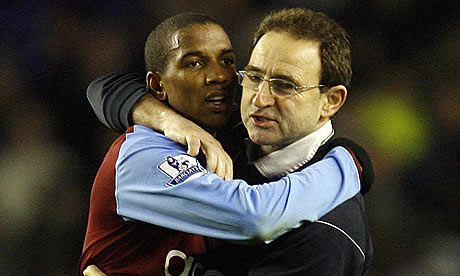 Comment & analysis round-up
Quote of the day: "It was an incredible goal from an incredible, world-class footballer. It was sensational and an extraordinary finale. I work with Ash [Ashley Young[ every day and he produces finishes like that, but he is the sort of fellow that can produce on the big day. He is only eight and a half stone wet through but he has the heart of a lion and he is getting better. He is a world-class player. I know I'm eulogising him here but he is world class and he makes things happen. The expectations now from myself, the players and the supporters is that he can always make something happen and here he did." – Martin O'Neill.
Runner-up: "Myself and Derek [Riordan] were hitting shots from 40 and 50 yards in the warm up. He calls the shot a 'squiggle,' it's something he has been showing the boys how to do at training in the last couple of months." – John Rankin.
Today's overview: There is a mixed bag this Monday, as the two hot topics remain Sunderland's search for a new manager and the mounting pressure building on Blackburn's Paul Ince.
David Pleat waxes lyrical over Aston Villa's win at Everton yesterday calling the match "remarkably fierce theatre; neither trainer seen, tackles galore, incidents and pace a plenty as Villa grabbed victory in a compelling game."
Martin Samuel dishes out some hard truths to Paul Ince, writing that "Ince is not a victim of a vendetta against former Manchester United players, no more than he is under threat because he is black" but rather he is in trouble because of the threat of relegation. Alan Hansen comes to the support of the Rovers' boss, arguing "Ince has to allay suspicions that he has lost the dressing-room and his players have to fight for the cause. Blackburn have a great chance of staying up and yet the same is true of the vast majority of teams in the bottom half of the table. Steven Howard also delivers a message of support to Ince, writing "I hope Ince survives. But he would be well advised to let his team do the talking between now and the New Year."
But the Guv'nor is not the only manager feeling the chill this Monday, Mike Norrish reporting on Felipe Scolari that "home defeats against Liverpool and Arsenal have raised question marks about whether Scolari can deliver the success Roman Abramovich demands."
On the vacant manager's job at Sunderland, George Caulkin lists a host of candidates for the job including "Sam Allardyce, Alan Curbishley, Gérard Houllier, Avram Grant, Peter Reid, Martin Jol, Lothar Matthäus and Felix Magath and the odds on Jol, the Hamburg coach and former Tottenham Hotspur manager, plunged on Saturday." Peter Reid is quoted by Simon Jones and Arindam Rej as publicly putting his name in the hat for a return to Sunderland, while Rob Stewart however rules out Alan Curbishley, saying "he is not interested in taking the helm at the Stadium of Light."
In other Premier League news, Jason Burt fills in some blanks on the potential Pompey takeover, writing "it is understood the South Africans, who are being advised by the agent Pini Zahavi, which means a return to Fratton Park for former Chelsea manager Avram Grant is likely should they succeed." And Cristiano Ronaldo is put through the wringer by Sam Wallace for his self-substitution on Saturday – "He behaved like the worst kind of diva and you have to worry that last night's award ceremony in Paris will only make the ego even larger."
The Daily Mail pour cold water on the story linking Robbie Keane with a return to Spurs reporting "Sportsmail understands that Premier League rule L19 says a player cannot return to his former club within 12 months of leaving."
On footballers in the public eye, Simon Burnton tears into Wayne Rooney's new TV show commenting "for Rooney, a camera is his kryptonite; he withers pathetically in its presence," while Moritz Volz outs how because of "the likes of David Beckham and Ronaldo (Cristiano, not the hungry one with the teeth), "manscaping" is no longer frowned upon by chaps who like to view themselves as men's men. By the way, manscaping is the fine art of trimming one's pubic hair — a bit like landscaping."
Finally, on European football, Rob Hughes praises Barcelona ("the attack is as brilliant as ever, yet the convincing aspect to the new Barça is the way that every player runs to win back the ball wherever it is temporarily lost") while Gabriele Marcotti turns focus on Hoffenhiem, who despite losing at Bayern Munich on Friday night are providing "an alternative blueprint for success. One based on infrastructure, coaching and tactics. That alone makes them special, whatever may happen."
---
GAMBLING CAN BE ADDICTIVE, PLEASE PLAY RESPONSIBLY