"In English football now, managers could probably be replaced by stuffed teddy bears without their club's league position changing" – Simon Kuper
Comment & analysis round-up
Quote of the day: "Maybe [Kolo Toure] was a bit bored, a bit tired of being with the same people every day, in the same atmosphere. He needed a change and you could see it in his face he was not really, really happy in his last period at Arsenal. With Cesc, the same could happen but he has a lot more to offer Arsenal yet. Kolo gave everything to this club and won titles. He gave 100 per cent. With Cesc, this season we'll see the best of him and he'll help us win something. Then he'll be happy to be here and will do what he wants to do." – Manuel Almunia.
Runner-up: "There are no big 'I ams' here anymore. We are Championship players now and you can't have that swagger when you are Championship… Alan [Shearer] spoke to us when he left at the end of last season. He said he would be back and, this time, he would be doing it his way. I guarantee if he was manager now all our big players who've left – Obafemi Martins, Sebastien Bassong – would still be here." – Steven Taylor in a interview with the Guardian.
Today's overview: Manchester United and Chelsea prepare for Sunday's Community Shield, affording the hacks an opportunity to pen their early season thoughts on two of the Premier League's front-runners.
The article of the day comes from Simon Kuper, who attempts to debunk the theory that managers – even Sir Alex – make a difference.
"Chelsea will face Manchester United in the Community Shield, but the game will also be cast as a clash between their managers… The obsession with football managers is misguided. Hardly any of them make any difference to results. The institution of manager is something of a con-trick. Ferguson and Ancelotti are best understood as marketing tools. The fact is that players' salaries alone almost entirely determine football results. Stefan Szymanski, economics professor at Cass Business School, studied the spending of 40 English clubs between 1978 and 1997, and found that their spending on salaries explained 92 per cent of their variation in league position. The team that pays most, wins."
On United, Oliver Kay begins by comparing and contrasting Rooney to the departed Ronaldo. "Three years ago Ronaldo and Rooney were synonymous, two young players, 21 and 20, with immense potential and that, whereas the Englishman has gradually attained or come close to world-class status, his Portuguese team-mate went stratospheric." Henry Winter continues to shovel the weight of expectation on Rooney, scrawling "Rooney will be brought in from the cold, in from his selfless left-sided duties and told to give United the central penetration and prolific presence of Ronaldo."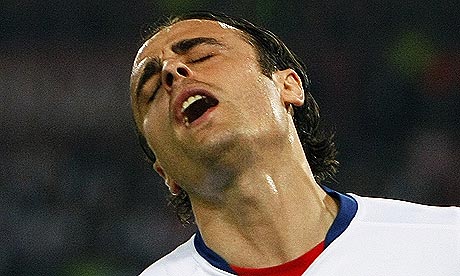 Daniel Taylor picks on Dimitar Berbatov and questions his ability to step up to the plate. Calling Berbatov the "Bulgarian equivalent of Ringo Starr," we learn that "out of the 119 goals that United scored last season, Berbatov and Rooney combined directly to score only two of them."
Tim Rich talks down United's chances of victory on Sunday from a purely historical point of view. "The new Wembley has yet to see a commanding performance by Manchester United. In five games, they have only scored once – Ryan Giggs's goal against Chelsea in the Community Shield two years ago. Ferguson acknowledged the lack of panache United have displayed, arguing the slow pitch is the likeliest culprit."
Shifting over to the Blues, Kevin McCarra bullishly lays down the challenge for Carlo Ancelotti. "Ancelotti must handle the weekly expectations of the Premier League if he is to be considered a success."
On Chelsea's aging squad, Jamie Jackson observes the important work which Bruno Demichelis will add to Stamford Bridge. "Ancelotti's best piece of business may have been to bring Demichelis… If he can replicate his work at the Rossoneri, where he was the visionary behind Milan Lab, the 61-year-old could prevent Roman Abramovich from spending millions on transfers while potentially extending the careers of Terry, Lampard and company."
The Guardian's Premier League previews continue this Saturday with Louise Taylor's focus on Hull. "The cold harsh reality is that, without a new goalscorer, Hull could be back in the Championship next spring and Phil Brown unemployed by Bonfire Night."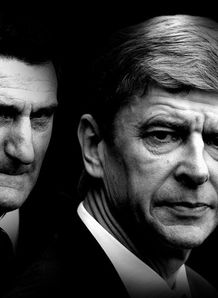 Reacting to the Arsenal-Celtic Champions League draw, Paul Doyle offers his sympathy to the Bhoys. "Like the mustard dickie bow in Lidl's bargain basket, this was the tie that absolutely no one wanted. But it has been foisted on Tony Mowbray and now his Celtic team, like Steve McClaren's FC Twente last year, are not just what you call underdogs, but massive underdogs." Graham Spiers also reacts to the draw noting that "cynical observers believe that Tony Mowbray's side could face a hiding at the hands of their English opponents, given the vast gulf in spending power between the two clubs."
Swimming against the tide, Mark Lawford talks up Celtic's chances of progressing past Arsenal. "[Celtic's] record against English sides in Europe is excellent – just three defeats in 14 matches."
At the end of his tether even before a ball has been kicked, George Caulkin continues the sport of Newcastle bashing. "There is only one kind of sense to be made of it: nonsense… Newcastle play their first match in the Coca-Cola Championship away to West Bromwich Albion this evening and the unreality of events will soon become… well, reality. Players have been left to rot or organise themselves." Paul Kelso is equally sour ahead of the Toon's new season. "Rudderless and paralysed by uncertainty, Newcastle begin their first season in the second tier of English football in 16 years, mired in a crisis entirely of their own making."
Staying in the Football League, Glenn Moore previews the meeting of Derby and Peterborough this Saturday. "Were managers to wear tracksuits bearing their names across the back, spectators in the Toyota Stand would view one of the more evocative sights: Clough v Ferguson. That is, of course, Nigel v Darren, scions of two of the most successful managers in the game, each twice winners of the European Cup."
As standard, we close out with the transfers rumours.
Kicking off with a confirmed signing, Sandy Macaskill reports on Aston Villa's capture of Habib Beye from Newcastle. "Beye's presence with give O'Neill some much needed experience in the back line, following the retirement of Martin Laursen at the end of last season."
The Times summerise that Sunderland are closing in on Wigan's Lee Cattermole as well as noting that Jerome Rothen is on the verge of joining Blackburn. Keeping with the Mackems, Rob Stewart details how Sunderland have shifted focus on Portsmouth defender Sylvain Distin instead of City's Richard Dunne.
Over in the Independent we learn that Celtic have been linked with Indian international Sunil Chhetri and Luca Toni is poised to join West Ham on loan. Keeping with the Hammers, The Sun report that Eidur Gudjohnsen is still on the Eastenders' radar, while The Mirror announce that Manchester City have switched their attention to defender Matthew Upson.
Finally, spouting their usual tripe by way of a faceless and baseless article, the Daily Mail fart "Everton and Tottenham are back on the trail of Inter Milan striker Victor Obinna, with Spurs keen to do business for around £3m." Elsewhere in the Daily Mail we learn that LIverpool have been told to cough up £12m for Hull's centre-half Michael Turner.
---