"In Asia, almost everyone wants to gamble, and in almost every country sports betting is illegal" – Declan Hill
Comment & analysis round-up
Quote of the day: "The guy [a Villa fan who threw a 50p coin at Portsmouth yesterday] has to be nicked. And hopefully he'll be banned for life. I was lucky it hit the linesman and not me. What have I done to deserve something thrown by a coward and a moron? Clubs have to do more to stop this kind of thing, but they're scared of the fans. When Sol Campbell was abused the other week, I didn't see any reaction from Tottenham. Hopefully, Villa will condemn it in the strongest terms." – Harry Redknapp.
Runner-up: "I want to be on the pitch every week playing. At my age I shouldn't be having the problems I'm having… There have been times when it was the lowest point in my career, not going out on the pitch in ideal shape. You're not playing every week, not training every day — that's the difficult part. I've seen plenty of specialists. You try to take a few things off each of them and see what helps. At the moment we're still searching a bit but we're working with the physios every day… Obviously we've lost a few players but with those we've brought in I think we're a better squad. At the end of the day it's about clicking and we haven't done that yet. It's not through any lack of effort or problems in the camp. If the team needs me and the manager needs me, even if in my head I'm not in the ideal position, or preparation is not ideal, it's something I will do – just go out there." – Ledley King.
Today's overview: The Sundays do not disappoint with several headline grabbing stories offering food for thought this weekend.
The Sunday Telegraph continue to lead the way with news on the ongoing investigations into match-fixing in England. Duncan White splashes with news of more match-fixing claims – "The games in question are a Premier League game in 2007, a League Two match in 2006 and a Premier League game in 2001." The Sunday Telegraph then call on Declan Hill, an expert in the subject of the illegal Asian gambling market, to shed more light on the whole industry ("In Asia, almost everyone wants to gamble, and in almost every country sports betting is illegal"). And in a second article, Declan Hill provides an extract from his book into match-fixing, in which he had an interview with a match-fixer – "we offer them £150,000 for an hour and half's work. Do you think they will turn that down?"
Next up, Colin Mafham claims Juande Ramos is finally set for showdown talks with Damien Comolli. Trouble is also brewing with fellow North London side Arsenal, Aidan McGee reporting that Cesc Fabregas has turned down an improved contract.
There are several good opinion pieces to trawl through. Rob Sheppard reacts to news that the FA are planning to set up a new organisation to fast-track home ground managers, slamming the idea.
Yet most of the op-eds cover England. Paul Wilson notes how Emile Heskey has benefited from a new lease of life given to him by Fabio Capello, Ian Bell is full of praise for Don Fabio and the way in which he has turned round England's fortunes, while Rod Liddle argues that while WAGs can be annoying, we should not blame them for England failure at the last World Cup.
Breaking news coming out of Old Trafford, according to Aidan McGee, is that Sir Alex is ready to offload Owen Hargreaves. And staying with the champions, Patrice Evra sits down with Duncan Castles to discuss life at United.
There are also a couple of other interviews in the papers. Jonathan Wilson speaking to Shunsuke Nakamura about his time at the Super Hoops, which is set to end in January, and Steve Tongue has a natter with Julio Baptista about his time at Arsenal and his life since.
Duncan White splashes with news of more match-fixing claims in the Sunday Telegraph, with three more matches now under investigation. "The games in question are a Premier League game in 2007, a League Two match in 2006 and a Premier League game in 2001. It is understood that all three were accompanied by unexplained betting swings on the Asian handicap market. Speaking under strict guarantees of anonymity, the source who reported the fixtures to the police said: 'I went to the FA with one of these games roughly two years ago. It took them four months to come back to me even though I could have furnished them with all the information the following day. When they did get back to me I found there was little they could do – they didn't have the jurisdiction. That's why I think this is a matter for the police.'"
The Sunday Telegraph then call on Declan Hill, an expert in the subject of the illegal Asian gambling market, to shed more light on the whole industry. "I spent four years investigating these markets and the fixers who try to rig them… The fixers are not known for their gentility. Each night before I went to bed, I would rearrange the furniture in my hotel room and unscrew the light bulb. I calculated that if anyone came in, they would either barge straight in, switch the light on, and shoot me or creep in slowly in the dark and kill me while I was still asleep… The Asian gambling world is like the days of Prohibition in the United States. The gangsters control a "sin" that almost everyone wants to do. In Asia, almost everyone wants to gamble, and in almost every country sports betting is illegal. The money generated for the criminals is enormous. A recent study in the American journal Foreign Policy estimated the entire Asian gambling industry, both legal and illegal, at $450 billion a year (the Asian pharmaceutical industry is worth roughly $106 billion a year)… Like Capone's Chicago the money in this market is so large that it corrupts almost every institution it touches."
Declan Hill then offers the Sunday Telegraph an extract from his book into match-fixing, in which he had an interview with a match-fixer. "Hill: You can't bribe a player in a European league, they get paid too much money… Fixer: That is a common mistake. People see the amount of money that is paid in transfer fees but that does not go to the players. You have to approach their agents, that is the way to get to the players. Say they get £50,000 a week. Then we offer them £150,000 for an hour and half's work. Do you think they will turn that down? It is very easy to get them to say yes. But all the leagues in the world, EPL, Champions League, World Cup, they can be fixed. I had players on XXXX, XXXX and XXXX [names three EPL teams]. You say these are great teams? They are ——–. We can bribe them. You think because the clubs make big money in the transfer, that it means that the players won't take a bribe. That is not true. They will take the money."
In the Sunday Express, Colin Mafham claims Juande Ramos is set for showdown talks with Damien Comolli. "Tottenham boss Juande Ramos is preparing for showdown talks with the man he blames for ruining Spurs' season – sporting director Damien Comolli – and the players are right behind him… Ramos will wait until he has solved Spurs' crisis on the pitch – then he will speak out against the way his strike force was ripped apart, which is sure to have far-reaching repercussions on the way the club is run in future."
Trouble is also brewing with fellow North London side Arsenal, the NOTW's Aidan McGee reporting that Cesc Fabregas has turned down an improved contract. "Cesc Fabregas has rejected new £90,000-a-week contract talks at Arsenal — paving the way for him to quit the Emirates at the end of the season. Spanish giants Barcelona and Real Madrid have been put on alert after Fabregas turned down the chance to renegotiate his existing deal. The Gunners want to offer Fabregas a £35,000- a-week pay hike plus a two-year extension to his deal, which runs until 2014."
In the NOTW, Rob Sheppard reacts to news that the FA are planning to set up a new organisation to fast-track home ground managers, slamming the idea. "What England need is to allow managers to grow organically as Capello did, a slow track, if you like, to accumulate the required experience. Too often, top potential talent has been wasted for the very reason they have been fast-tracked. Chris Waddle (Burnley), Alvin Martin (Southend), John Barnes (Celtic) are examples of players who got managerial jobs without any coaching miles and lost them fairly swiftly. Bryan Robson, Terry Butcher and Peter Reid fared a bit better but are way off the radar when it comes to anointing the next England boss while Glenn Hoddle got the top job way too soon. So the notion of fast-tracking ex-internationals like Gary Neville, Alan Shearer or even Stuart Pearce would seem ridiculous."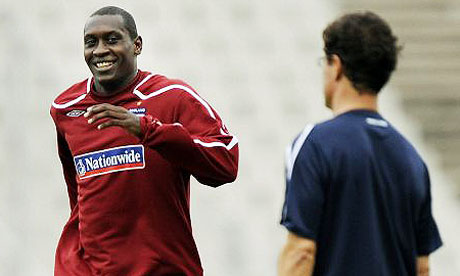 Paul Wilson (Observer) notes how Emile Heskey has benefited from a new lease of life given to him by Fabio Capello. "A manager only has to work that trick once or twice for his players to believe in him until kingdom come. Capello is already well in credit, which may explain why his players are now renouncing all previous messiahs and sitting at his feet in the manner of disciples. You want miracles? How about Heskey saying he fancies a return to the Champions League and no one bursting out laughing? No matter how much weight he has lost, no matter how much he enjoys working with Steve Bruce and playing with Amr Zaki, Heskey could not have made a statement like that at the start of the season without attracting the attention of men in white coats. When he said it in Minsk, people immediately started linking him with Liverpool… His past two England away games have been simply monumental and all because he has a coach who has boosted his self-belief."
Keeping on the same theme, the Sunday Herald's Ian Bell is full of praise for Don Fabio and the way in which he has turned round England's fortunes. "Capello has persuaded Wayne Rooney to rediscover the scoring habit by the simple expedient of playing him just behind the once-scorned Emile Heskey. The coach has applauded Gerrard's honesty and effort while appearing to solve the mystery, if mystery it is, of how you field the Liverpool star alongside Frank Lampard. Capello has even found a use for David Beckham. Thirty odd minutes over four games isn't much, but enough if you can use – and who cannot? – a specialist kicker. England have confidence again, and there is nothing irrational about that. They have confidence, indeed, without the ego, the sense of entitlement, that has marred their efforts for so long. Capello's training methods and businesslike attitude have drawn good reviews, but the apparent masterstroke has been simplicity itself: no one is guaranteed a game."
After a week in which Rio Ferdinand has been lauded for his comments, Rod Liddle (Sunday Times) argues that while WAGs can be annoying, we should not blame them for England failure at the last World Cup. "It seems a thin excuse to me, blaming the missuses and their insatiable appetites for expensive chav clothing. Obviously, women can be hugely annoying, but the important thing is to ignore them and sooner or later they'll go away… I was under the impression that the Wags were invited along to the England camp to dissuade the players from spit-roasting the local slappers, then vomiting over them. You can imagine the excuses if they hadn't been there: I missed that penalty against Portugal because I was racked with guilt about throwing up over Helga last night."
The breaking news coming out of Old Trafford, according to Aidan McGee (NOTW), is that Sir Alex is ready to offload Owen Hargreaves. "He has cost Manchester United £1million per league start since his £17m move from Bayern Munich in July, 2007. Hargreaves, 27, has started just 17 Premier League matches and the United boss believes his form has been patchy when he has played. The midfielder's 16-month spell at United has also been blighted by knee problems. Fergie has now lost patience and would sell in January if the offer was right. But he does very little business during the winter transfer window so a £15m summer move looks certain."
Left-back Patrice Evra has cemented his position in the Manchester United team, and he sits down with the Observer's Duncan Castles to discuss life at the champions. Evra: "I remember when I played against Barcelona people told me, 'Messi, Messi, he's a great player.' I didn't say to nobody but in my head I was thinking, 'If I'm training against Cristiano, why can't I play against Lionel Messi?' It helps you a lot, you feel like you are a good defender because when you stop a player like Cristiano Ronaldo in training you feel more confident. I can play against every winger or striker. The secret is just to get close, to not let him have the first touch. If he goes quickly with the ball it is very difficult to stop a player like Messi or Cristiano. You need to get in strong and close. Not foul, but strong and close."
The Sunday Telegraph's Jonathan Wilson speaks to Shunsuke Nakamura about his time at the Super Hoops, which is set to end in January. Nakamura: "I played football in Yokohama for a long time, and was brought up there. I want to return a favour, no matter how small it may be… I would like to go home while I am still in good condition… They're [Celtic fans] amazing. Their cheers change in response to the play. A good tackle or a good interception, even small things like that brings great applause or cheers. That makes the players feel happy and realise how important these small moments are. They've been doing that for 10 – I suppose 100 – years, and they'll keep on doing that because the level of support is high, which encourages the players to raise their game."
The interviews keep coming, and in the Independent on Sunday Steve Tongue has a natter with Julio Baptista. Baptista: "I loved being in London, it was one of the big experiences of my life to live there. A big metropolis, like the centre of the world, I really enjoyed it and I am eager to come back. I think I played a lot of minutes considering it was a team that was runners-up in the Champions' League the year before. I wasn't fed up and don't regret it at all. I learnt a lot of things from Wenger, one of the top-class coaches in Europe today, and I wanted to stay. But in the end Real Madrid didn't want to do business with Reyes, so it could not be. My best memory was to score four goals at Liverpool."
---