"I'm being accused of running some sort of international football slave trade… Not only is that a sickening allegation and an appalling insult to all of us, it's a physical impossibility" – Ian Wright
Comment & analysis round-up
Quote of the day: "We had a meeting with Manchester United and they made us an offer about this player. We discussed the offer once but United [realised the position] and said: 'It is not possible to make a deal with you as you do not want to sell.' They said, 'fair play,' and it was closed but the player went in secret to Manchester City. Our letters to City said it was not possible to sign him as he was our player. City have played him anyway but they can't. It's forbidden. He has a contract with us and can't have a contract with two clubs. We told them that." – Rennes technical director, Pierre Dreossi.
Runner-up: "Thank you, Mr Bilic. No more. It is the best. I have no need to motivate my players after this. He prepared the game. He tried to provoke a reaction. It is fantastic assistance. Thank you. I'm very happy for this because I don't need to motivate my players for the match. I will simply tell them to remember what Bilic said." – Fabio Capello.
Today's overview:The truth is that there is little England news to report ahead of the match with Croatia on Wednesday night. But that hasn't stopped the papers from shovelling a pile of nonsense to a media-hungry nation.
Red-top hack John Cross does his best to create a story where none exists, controversially headlining his piece "Croatia defender Josip Simunic says even his side's reserves will beat England." Obviously Simunic never said anything that antagonistic, only saying "Our strength is our spirit in the squad and strength in depth. We have players who can come in and be as good technically as many other countries in the first team. We are very tight and together as a group. We still believe we can get a result and cause another upset."
Reacting to a problem which has yet to happen, James Lawton turns on England fans who are set to boo Eduardo during tonight's match. "A substantial section of the new England's supporters at the new Wembley… are certain to spell out the maturity of their patriotism by jeering incessantly at the 'foreign cheat' Eduardo da Silva… The bile tends to be reserved exclusively for the opposition. Wembley, unfortunately, has developed the nasty habit of seeking out villains wherever they can be found and, it seems, with the threat of permanent unpleasantness."
It is left for Ian Herbert to warn of the dangers of over-confidence. "We've been here once before, underestimating the Croats… All of which creates a sense of déjà  vu – Croatia arriving, two years on, to face a potentially overconfident England and garnering all the motivational strength available to make fools of them."
Glenn Moore wonders why England have only kept three clean sheets in eleven matches under Capello. "England have not fielded the same back four in successive matches since the spring of 2008… Add in the changes wrought by substitutions, the need to adapt to a new goalkeeper since Rob
Green took over from the injured David James, and alterations in the midfield personnel, and it is hardly surprising that England's defence has been porous."
Sticking his neck on the line, Gabriele Marcotti defends Glen Johnson. "Simply put, I don't think there's an English right back out there who has more tools than he has. Does he switch off occasionally? Absolutely. But mental errors are something which can be worked on and cut out. It's far more difficult to teach somebody the athletic and technical skills to be an outstanding right back: and Johnson is top-drawer in both areas."
Fight. Fight. Fight. A day after the Daily Mail suggested that Ian Wright had set up an African football academy in order to make money out of kids, and The Sun's columnist hits back.
Wright: "I'm being accused of running some sort of international football slave trade, callously trading young kids around the world to make a penny here, a penny there. Not only is that a sickening allegation and an appalling insult to all of us, it's a physical impossibility. All the kids at the academy have to be registered to Cape United. The club are not permitted to move any of those players until they reach the age of 18. In other words when they are young adults, free to do whatever they want in the world… And even if, somewhere very far down the line, someone does make a bit of money from this academy, where's the negative in that?… Is that really such a bad thing? Does that sound like anyone is being raped or exploited?"
Keeping with the child-snatching saga, and Ian Herbert EXCLUSIVELY writes that "Manchester City were told that teenage defender Jérémy Hélan was contractually bound to the French club Rennes a month before dismissing the claims and signing him for their academy… While Kakuta's pre-contract agreement offered the possibility of a proper contract, Hélan's agreement guaranteed a two-year deal if he represented the France while at Clairefontaine. Hélan, now 17, was France's Under-16 captain, a year before Kakuta."
And Manchester United are also in the firing-line, Mark Ogden reporting that while the Paul Pogba affair bubbles in the foreground, "United could be the subject of a Fifa investigation into the transfer of 16-year-old Italian defender Michele Fornasier… With Italian clubs unable to sign players until their 16th birthday, Fiorentina were unable to secure Fornasier to a binding contract prior to United's move and, as such, the grounds of their complaint to Fifa remain unclear."
The Times call in legal expert Rosemary Bennett to analyse the subject of contracts for under-16s. "European Union law makes clear that, just like any other class of worker, footballers cannot sign legally binding employment contracts until they are 16 years old… Pre-contract agreements are a solely French tradition, unheard of in other leading footballing nations such as England and Italy. That will not help French clubs to convince EU judges that the contracts are fair and in the spirit of the community."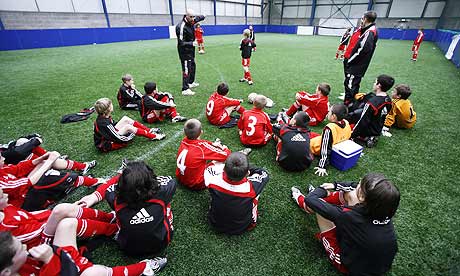 Also taking a step back is David Conn, who uses his energies into exposing the inadequacies of the English academy system at large. "Professional clubs, rich as oligarchs, trawling for boys their own coaches know are too young, giving scant opportunities to the few who come through, while waving their wallets to likelier lads in other countries. It is a system crying out for reform, from top to bottom."
The aggressiveness continues with Martin Samuel's character assassination of Lord Triesman for his proposal to link club spending to turnover. "Linking spending to turnover cements
superiority, it does not undermine it. The Champions League is worth a minimum £30m each year to the English qualifiers. So if everybody can only spend what they generate, then Chelsea, Liverpool, Manchester United and Arsenal will not only have better gate, television and sponsorship revenue than the rest, they will also have £30m more from UEFA. So they will qualify for the Champions League every year to guarantee extra spending power. Success will be pre-ordained."
Lastly, the transfer gossip continues to flow unabated.
Matt Parker claims Sunderland are planning moves to muscle in on Lucas Neill. "Steve Bruce will offer Lucas Neill £40,000 a week to solve Sunderland's injury crisis. The Black Cats boss has resurrected his interest after the Aussie full-back's move to Atletico Madrid hit the rocks." Over in the Daily Mail a faceless article spuriously announces "Brazil striker Luis Fabiano has not ruled out a future move away from Sevilla, alerting Premier League rivals Manchester City and United."
---
GAMBLING CAN BE ADDICTIVE, PLEASE PLAY RESPONSIBLY