"If you leave aside the fluke of Istanbul, Liverpool have been in serious decline for at least a decade" – Simon Barnes.
Comment & analysis round-up
Quote of the day: "It's now the owners' turn. They have to sign players so that this does not happen again. If we want to compete with United and Chelsea we need a much, much more complete squad. We need more genuinely first-class players and we can't let our best players leave." – Fernando Torres.
Runner-up: "We have to apologise for the way we performed. It was a very bad night for Liverpool and we can't disguise that, we had to do more against a side from a lower league. We have to accept Reading deserved it. But, at the same time, we have got to look at ourselves and the way we performed was not acceptable." – Jamie Carragher.
Today's overview: Liverpool and the woes surrounding Rafa Benitez dominate this morning with the Spaniard's days at Anfield seemingly now numbered. There is also analysis of why the transfer window has been so tame.
Simon Barnes analyses the state of the Liverpool Empire. "Unbeatable Liverpool have been beaten again. They are the team who once had the secret of all sporting empires: continuity. They had a sound boardroom, a judicious succession of managers steeped in the same great tradition and a dynasty of players. It seemed inevitable that Liverpool would carry on for ever: a 1,000-year Reich, the natural champions of England and Europe. Now look at them. They are not suffering a dip in form, they are continuing to deteriorate. If you leave aside the great and glorious fluke of Istanbul, when they won the Champions League in extraordinary circumstances, they have been in serious decline for at least a decade. While rivals gloat and Liverpool supporters adopt their default position of self-pity, one poor result follows another with dreadful inevitability. I suppose the results are not bad for a half-decent Premier League side, which is what Liverpool are. But they are a calamity for a great sporting empire, and that is what Liverpool were."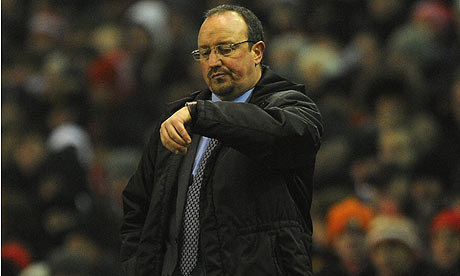 Also in The Times, Oliver Kay writes of the "darkness" around Rafa Benitez. "These are dark times for Liverpool and Benítez. Whenever it seems there is light at the end of the tunnel, it turns out to be the headlights of an approaching juggernaut. Yesterday's bulletin on the injuries to Steven Gerrard and Fernando Torres, ruled out of action for a fortnight and six weeks respectively, was typical of their season — not least because it was an accident waiting to happen, given previous prognoses — and typical of the manner in which the foundations of the team have crumbled over the course of the campaign."
Matt Lawton feels Rafa Benitez is "a broken man… just like his ragged Liverpool team." "Benitez is too stubborn to admit the problem is with him but he looked like a broken man when he gave his post-match press conference on Wednesday night and his team looked broken, too. So much so that, for all their desire to resist it, a less indecent proposal to Hiddink might not be too far away." Also in the Mail, Andy Townsend argues "There are too many players who don't seem to have that big-match temperament or the ability to play for a massive club like Liverpool who have so much tradition." 
Ian Herbert blames "bad deals and risky tactics" for Benitez's woes. "Now Benitez is in a dreadful place, Wednesday's triple injury blow compounding the sense that Liverpool may drift into mid-table in the weeks ahead. The club's pitiful season has presaged some hard analysis of his judgement in the transfer market – questionable indeed, at an outlay of £227m in his five years, £145m of that spent under Tom Hicks and George Gillett's ownership. Enough of the big buys have generally performed. It is the mass of players in the £3-7m bracket which are the killer: Luis Garcia, Fernando Morientes, Momo Sissoko, Daniel Agger, Craig Bellamy, Jermaine Pennant, Lucas Leiva – the list goes on."
Alan Hansen pinpoints the match at Stoke on Saturday as key for Benitez. "If Benítez were managing any club other than Liverpool, he would be a goner, but that is not the way that they do things at Anfield. Results are the ultimate criteria for judging managers, however, and even though I don't think Liverpool will get rid of Benítez, if they lose again at Stoke on Saturday, maybe something will have to give."
Throwing yet more pressure on Benitez, the lead story in The Sun suggests some possible replacements: "as the pressure mounted, Alex McLeish and Guus Hiddink emerged as contenders for Rafa's job." The Sun also find time to laugh at the Merseyside giants who had advertised "tickets for the FA Cup fourth-round clash with Burnley hours BEFORE their humiliating KO by Reading."
The Daily Mail also trumpet Guus Hiddink for the Liverpool job. "The Dutchman, who was a huge success during a four-month spell at Chelsea last year, is set to leave his job as coach of Russia and has told friends he would relish the challenge at Anfield."
Paul Hayward feels Kenny Dalglish could "be the man to cool fans' fury." "The sense that Merseyside's most illustrious player has unfinished business in the Anfield dug-out is deepened by those echoes of nearly 20 years ago. Among senior figures in the red half of town there is a belief that Dalglish would answer Liverpool's distress flare in a caretaker capacity should the club's American owners decide that paying Rafael Benítez off would be cheaper than a further acceleration in the team's decline."
Tony Evans points the finger away from Benitez and at Liverpool's American owners. "Think Liverpool's form on the pitch is ugly? Well, the team's performances are just a metaphorical blackhead. Squeeze the pimple and the pus starts flowing. A rancid river runs under the surface at Anfield."
As a result of the mess at Liverpool, Steven Howard argues that Steven Gerrard should leave Anfield. "With Rafa Benitez powerless to motivate the poorest squad in 40 years at Anfield – few would begrudge Gerrard a move away from Liverpool. As he joins up with England for the World Cup, United and Chelsea players will be reflecting on a season spent contesting football's glittering prizes. What tales of derring-do will Gerrard be able to regale them with? The interesting, previously unvisited places he visited in the Europa League?"
Due to the crisis at Liverpool, analysis of last night's Carling Cup semi-final first leg is thin on the ground. Tim Rich fears for Sam Allardyce and Blackburn. "Allardyce appeared on Ewood's big screens just before kick-off, giving a preview of a night on which Blackburn's season could comfortably have been said to rest, looking rather more downbeat than usual. It is almost 13 months since his arrival at Blackburn and if he has achieved what was asked of him by repairing the shambles of Paul Ince's brief rule, he has found it harder to push on." Martin O'Neill hailed James Milner after Villa's win.
Before we get to the transfer gossip on day 15 of the January transfer window, Kevin Eason looks at why so little is happening. "Clubs' spending on players this month could be the lowest since the introduction of the transfer window seven years ago as teams struggle with massive debt and soaring player wages, experts predicted last night. Only £7 million changed hands in the first 14 days of the window, according to Geoff Mesher, the head of the forensic sports industry team at KPMG, the accountancy firm, compared with £58.8 million in the first fortnight of January 2009."
Jason Burt in the Telegraph adds to the frugal feeling by calling for prudence in the transfer market. "With its television money and revenue streams football has often behaved as if it is immune from recession. That has bred an impression of recklessness instead of being satisfied with organic growth. If that's being reined in, however temporarily, it may make for unexciting headlines but a better future."
The Sun have a host of transfer rumours: Ryan Babel is set for Birmingham, Arshavin urges Pavlyuchenko to leave Spurs, Vladimir Weiss could be heading to Hull on loan and Sunderland face competition from AC Milan for Guy Demel.
The Times lead their Window Watch with quotes from Lucas Neill following his surprise move to Galatasaray. Neill: "It is going to be wonderful, it will be a challenge for me. I have had some fantastic years in England and I have a lot of people to thank along the way. It is very sad to be leaving England and it is sad to be leaving Everton. It is a little bit of a shock, but I am absolutely delighted that Galatasaray will be my next team. I was very shocked, I didn't instigate a move, but once negotiations started it became clear I would have to look after myself and my family."
The Daily Mail bring some questionable suggestions including Manchester United chasing Porto's Rolando and Real Madrid tracking Crystal Palace forward Victor Moses. The Daily Telegraph predict a battle between Manchester United and Manchester City for Marek Hamsik.
The Daily Mirror bring their own transfer "news" including Blackburn are after Gary O'Neill, Sunderland are chasing Salvador Cabanas and Kieron Dyer looks set to be the latest West Ham player to retire. All the papers report that Paul Hart has been sacked as QPR boss after just five games.
With Wayne Rooney tipped by Sir Alex Ferguson to be a star at the World Cup, Neil Custis in The Sun claims "Wayne Rooney's contract demands could end his career at Manchester United. There is a huge gap between what the striker wants and debt-riddled United can afford. Rooney will have two years left on his current deal in the summer when United have agreed to renegotiate. Rooney's camp want to leave talks until after the World Cup as the England striker's stock could be even higher with a good tournament behind him."
Harry Pearson sheds his comical eye over Sir Alex Ferguson's demeanour. "These days, whenever I see Sir Alex making that characteristic gesture of running his right hand through his hair to maintain his parting, it seems more and more affecting. It is like watching a man putting on a clean shirt and tie during the zombie apocalypse, a touchingly hopeless attempt to restore some dignity while humanity destroys itself and the living dead chew on the carcass. I just feel sorry for Sir Alex Ferguson. I can't alter that. It's just the way it is. Though obviously half a dozen straight wins and a big-money buy during the transfer window will sharply return things to normal, I'm sure."
Amy Lawrence hails Europe's lesser lights for breaking through. "Tales of the unexpected are not, however, so uncommon in Europe's lesser leagues. Last season there was the arrival of Rubin Kazan and Wolfsburg, new names on the honours list in Russia and Germany, while Bordeaux and AZ Alkmaar triumphed in France and Holland after a lengthy spell on the periphery."
And finally, we end with the news that Vinnie Jones is set to launch a new career for himself, as comic book hero.
---
GAMBLING CAN BE ADDICTIVE, PLEASE PLAY RESPONSIBLY