"If there was a trophy for the most spoilt, ungrateful supporters, Arsenal would not be finishing a fourth campaign empty-handed." – Matt Dickinson
Comment & analysis round-up
Quote of the day: "However much English teams reach finals or semi-finals, I'm sorry, I do not buy it. And I don't buy it because of the players they have out on the pitch, rather than because of the style they adopt. The vast majority of them have been brought in from abroad. There are very, very few Englishmen playing in the big English clubs. You only have to look at the Chelsea, Arsenal, Liverpool and Manchester United squads to realise that. The English national team – missing out on the last European Championships – and football in general suffers as a result of them signing so many foreign players. Doing this weakens the competition because it is impossible for every player they sign to play." – Johan Cruyff.
Runner-up: "There are good chances that Adebayor will arrive this summer. We will get a strong defender in and rely on the recovery of Alessandro Nesta, and Mexes is a good player with plenty of experience in our league. As for Ronaldinho, I remain convinced that he will prove an excellent investment. I would like him to stay and play more." – Silvio Berlusconi.
Today's overview: Only at Newcastle United!
With the Magpies staring Championship football smack in the face, Daniel Taylor dangles dreams of grandeur in front of Toon fans writing "Newcastle United could play themselves out of a £140m takeover if they are demoted from the Premier League this weekend. A consortium made up of multi-millionaires from the United States and the Middle East wants to buy out the club's unpopular owner, Mike Ashley, but only if Newcastle pull off a last-day escape from relegation."
From nowhere England suddenly have a goalkeeper crisis (Manuel Almunia anyone?).
Dominic Fifield reporting "David James has been ruled out of next month's World Cup qualifiers against Kazakhstan and Andorra after Portsmouth announced that the veteran will undergo surgery on a shoulder injury tomorrow." Looking at who is left to pick from, John Ley observes how "of the 20 Premier League goalkeepers who started over the weekend, only three are English: [West Ham's Robert] Green, Newcastle's 35-year-old Steve Harper and Blackburn's Paul Robinson, who has been out of favour."
Keeping with England, yesterday saw the launch of the 2018 World Cup bid, but the campaign has already hit a small snag. As reported by Matt Scott, "Richard Barnbrook [a member of the far-right BNP party], was allowed to attend the official opening of its World Cup bid… His presence served only to emphasise the lack of black representation on the top table at the launch."
Turning to Arsenal, and there appears to be a real effort by several hacks to convince readers that Arsene Wenger really doesn't want to rely on his kids, preferring to splash the cash. But his hands are tied.
David Hytner starts off the spin shouting "it has been a source of angst to Wenger that his transfer budget has been restricted. He has tried to look on the bright side, extolling the virtues of shrewdness, but he feels it has been asking the impossible to piece together a team on a ­relative shoestring to rival his 'Invincibles' of 2003-04." Kevin McCarra follows suit barking "those who know Wenger are adamant that he is not really so ascetic as to shun any notion of signing footballers who have the strength as well as the technique to complete a team that has lately been brushed aside by United and Chelsea. Perhaps he is no longer in the mood to take the heat off the directors."
Jason Burt sticks to the standard lines, however, the thrifty Wenger is a stickler for splashing the cash. "The issue of transfer funds is also confusing. Arsenal directors insist more money is available than Wenger has either asked for or is willing to spend, while he has implied that such spending would be reckless and endanger the club's financial viability." While, for Sam Wallace, "Arsene Wenger is not considering seriously a job proposal from Real Madrid presidential candidate Florentino Perez, but the Arsenal manager is understood to be disillusioned at the prospect of another cut-price summer transfer budget."
But could The Professor walk from the Emirates? Matt Hughes allows himself to be a mouthpiece for Wenger's threats, writing "Wenger's apparent expression of interest in the Real Madrid job was the talk of the club and the training ground, with several members of his entourage privately articulating the fear that he may be ready to walk away." If Wenger were to leave, Matt Dickinson would have little sympathy arguing "there has been something uncommonly shrill about the Arsenal fans this season. Indeed, if there was a trophy for the most spoilt, ungrateful supporters, Arsenal would not be finishing a fourth campaign empty-handed."
Chelsea have hit another stumbling block in securing Carlo Ancelotti's services, Matt Hughes penning how the Blues "are reluctant to recruit the Italian's trusted assistants, Mauro Tassotti and Filippo Galli… the club would prefer him to work alongside their existing coaching staff of Ray Wilkins and Paul Clement." Not so, according to the Daily Mail, who deliver the news that "Carlo Ancelotti is set to be confirmed as Chelsea manager. AC Milan have lined up Marco van Basten to take over at the San Siro, clearing Ancelotti to replace Guus Hiddink at Stamford Bridge. And high on the Italian's agenda will be whether to make an approach for Argentina striker Carlos Tevez."
Loud-mouth Ian Wright rants about why Phil Brown's Hull, and not Shearer's Newcastle, should be relegated. "Brown has got above his station and I've lost all respect for him. To have the players out on the pitch at half-time at Manchester City was very disrespectful. It was also a crazy thing to do. Some of the senior players were not happy about it and I'd have certainly been furious if I was out there."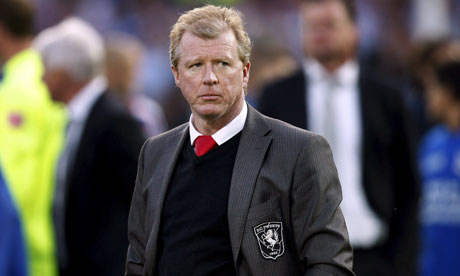 Was 2008/2009 the year of redemption for British football managers? Richard Williams thinks so, arguing "where British managers are concerned, we are beginning to glimpse the green shoots of recovery… One day, perhaps, the Brolly Wally will return to restore his reputation in the Premier League, as Roy Hodgson, Sam Allardyce and Harry Redknapp have done this season." Staying with old red-face, Leander Schaerlaeckens explains why Steve McClaren would be foolish to be tempted by the Ajax job – "Van Basten left [Ajax in] a mess and, somehow, despite being allowed to buy 10 players for record sums, managed to leave it short of talent in every line. Building this side into a winner would take years and, let's be honest, years McClaren will not spend in the Netherlands."
The Guardian have their regular European round-up articles, Sid Lowe reports on all things Spanish, Raphael Honigstein says "in Wolfsburg, they can start to plan celebrating their sensational title win but supporters will also fret about the day after tomorrow… Wolfsburg could lose their magic trident of Zvjezdan Misimovic, Edin Dzeko and Grafite, who have all-but-won the league for them this season." Lastly, Paolo Bandini reports on Inter's Serie A win and how "Inter's players, who watched the Milan game together at the team's Pinetina training complex, were out celebrating in Milan's Piazza Duomo until past two in the morning, but still romped past Siena 3–0 at San Siro. Which is not to say that none were suffering."
Onto the transfers, where the Daily Mail print as a matter-of-fact that "Stewart Downing, Tuncay, Afonso Alves and Robert Huth will lead the exodus from Middlesbrough if the club are relegated at West Ham on Sunday. Liverpool are favourites to sign Downing, valued at around £10million, although Tottenham and Aston Villa will also join the fight."
The Daily Mail continue to peddle nonsense in an effort to sell more papers, including linking Wolfsburg Edin Dzeko with "Arsenal, Manchester United, Everton and Blackburn but Spurs are in the driving seat after watching him score nine goals in four games this month." While, staying in the pseudo-tabloid, Neil Ashton prints "Jose Mourinho will battle it out with AC Milan this summer for the £24m signature of Arsenal striker Emmanuel Adebayor."
According to Neil Moxley, "Steve Bruce has thrashed out a £21.5million deal with Real Madrid for Antonio Valencia – but challenged Sir Alex Ferguson to match the valuation if he wants the Wigan winger." John Edwards reports how "Brazil defender Luisao, 28, looks like being the next big-name arrival at Manchester City, following a recommendation from Robinho." While Alan Nixon claims "Manchester City boss Mark Hughes is stepping up his bid to bring former United hero Diego Forlan back to the Premier League."
Finally, Nick Harris meets former Evertonian and now ex-con Mark Ward who, having just been released from prison, is trying to get his life back on track. "Ward's book, From Right-Wing to B-Wing: Premier League to Prison, is certainly candid, from his broken home in Huyton via Everton rejection as a youth and the non-league back to the big time. There are escapades and run-ins with numerous well-known names, inside and outside football. The book also highlights how much attention players now get; and how easily they used to be able to dodge press attention."
---