"If private football clubs make a hash of things, it shouldn't be the business of ministers – football is not vital to the economy" – Len Shackleton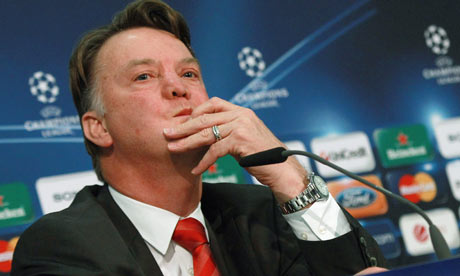 Comment & analysis round-up
Quote of the day: "I'm not afraid of anybody. I'm never afraid and never have been. My players are not afraid of anybody either. We respect his [Rooney's] qualities, but, as a team, we can handle him. We also have qualities. I think Sir Alex [Ferguson, the United manager] and his players are maybe a bit afraid of my players. Rooney is a super-footballer and he isn't that old. He is now very difficult to keep out of the game, but it is important not to concentrate on one player." – Louis Van Gaal.
Runner-up: "Personally, I think it is a great idea… that the supporters invest in a club because they at the end of the day defend the club's identity. They are always there. They are always watching the games. There are clubs now where the president is not a national of the country, the coach is not a national of the country and the players are not nationals of the country. The only ones to have any kind of identity are the supporters." – Michael Platini.
Today's overview: Forget about unemployment, health care, schools, crime, or any other of the far more important issues which the British government should be worrying about at present. Instead, football is one of the growing issues on the political map this Tuesday in Blighty, as policy over club ownership is set to be a real election issue which the beleaguered Tories and Labour squabble over.
Football Politcs: Owen Gibson details the latest developments in the fan-power policy introduced by Labour on Monday. "Labour is formulating concrete plans to allow supporters' trusts to own up to 25% of their clubs and to introduce a "change of control" clause that would give fans a window in which to buy them out… The topic looks set to become an election issue as the Tories revealed that they have been working on proposals to give fans a greater voice within football. Hugh Robertson, the shadow sports minister, said that while the subject was legitimate for debate, he thought the timing of the plans a "pre-election gimmick"… FA insiders raised the spectre of government calls for intervention potentially damaging the World Cup bid due to Fifa's longstanding antipathy to political interference."
Leading the cat-calls against Labour's proposals is Matt Dickinson. "You might think these proposals, however far-fetched, worthy of further investigation. You might even believe they have merit. Me, mostly I found myself thinking aren't they laughably late? Labour has been in office for 13 years and it expects us to set aside cynicism when it floats these ideas now?… It might not be so depressing had Labour, and particularly Brown, not loved to champion their sporting credentials. But now the party is reduced to rolling out vague, ill-considered proposals weeks before an election."
Also denouncing Labour's policies is Len Shackleton. "We surely don't need more employees at another regulator producing more rules. And if private football clubs make a hash of things, it shouldn't be the business of ministers — football is not vital to the economy. Nor are supporters' trusts any panacea. Barcelona's structure is not perfect, tied up as it is with dodgy doses of Catalan politics. Nor is Spanish football immune to debt: bankers have extended credit lines that would cause Alistair Darling to have a fit of the vapours."
Champions League: Onto analysis on tonight's Champions League meeting between Manchester United and Bayern Munich. In short, there are few silver linings for the Germans.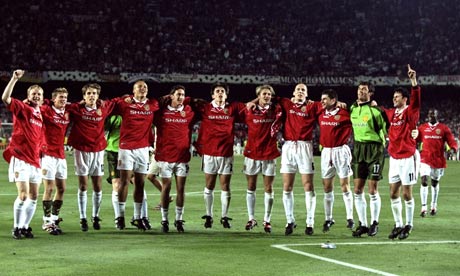 Appearing to struggle for something interesting to say, Kevin McCarra gets hung up on United's rotation policy this season. "As if Sir Alex Ferguson  did not have enough means of troubling opponents, he now enjoys the element of surprise. While squad rotation has long been taken for granted, the Manchester United whirl is particularly dizzying… So far in the Premier League, 27 players have started matches for United. The total is greater than that of the pursuing Chelsea and Arsenal."
Reflecting the air of supremacy around United, Glenn Moore believes the Red Devils are their biggest threat to themselves. "It comes to something when a team visiting Bayern Munich are guarding against complacency, but that will be the reality when Manchester United face the four-times European Cup winners in the Allianz Arena tonight. Bayern could be without four leading players for the first leg of this Champions League quarter-final and one of Sir Alex Ferguson's main concerns is ensuring his team do not underestimate them."
Martin Samuel clutches at straws arguing "why Wayne Rooney will be doing a job for England on Tuesday night." "This being World Cup year, each Champions League match is also an opportunity for players to put down a marker, the best ones in particular. Rooney does not just face Bayern Munich in the Allianz Arena on Tuesday night, he faces Germany, too. Not the whole team, just the odd player – such as Philipp Lahm, the only Germany player to be present for every minute of every World Cup qualifying game – but enough to get the word out if he does to Munich what he did to AC Milan in the previous round.  How do you think Rooney is regarded in Italy after his four goals in a 7-2 aggregate win?"
James Ducker opts to look at the problems hampering Bayern's hopes. "Van Gaal was publicly criticised yesterday by Ivica Olic, the Bayern striker, for substituting him in the 2-1 defeat at home to Stuttgart on Saturday, their second successive league defeat. And the coach could barely conceal his anger at Arjen Robben after the former Chelsea and Real Madrid winger came on as a substitute against Stuttgart and suffered a calf injury that is expected to prevent him from starting tonight."
Also looking around the Bayern team, Gabriele Marcotti argues why tonight's match is important for Franck Ribery. "His injuries, coupled with the unpredictable situation at the Bernabéu, have cooled Real's interest, while other potential suitors have turned lukewarm when it comes to offering the kind of mega-deal he could have commanded last summer. Tonight is not only about securing a place in the semi-final, it is also about auditioning for his next employers and restoring a reputation that, in the fickle world of football, has taken quite a hit."
Ian Herbert also calls on Ribery to prove his worth. "Having been nursed through most of the season for evenings like this, Ribéry will undoubtedly want to demonstrate that he is a player in the Wayne Rooney and Lionel Messi bracket, even though the course of this season has suggested he is anything but. Ferguson's pre-match observation that Ribéry is 'a fine player and I like him a lot; I'm not quite sure he's up with Lionel Messi and Wayne Rooney but he's a good player,' will certainly hurt."
With Bayern everyone's second favourite, some already begin to prepare for Arsenal's match with Barcelona on Wednesday.
For Henry Winter, the tie provides Thierry Henry which a chance to redeem his reputation. "Every diamond has a flaw. Henry's emotional return is riddled with poignancy for a player seeking to rebuild his reputation after the infamous Hand of Gaul in Paris. Having cheated the Republic of Ireland out of a chance of a place at the World Cup, the Frenchman's road to rehabilitation now swings by the Holloway Road."
England: With around 80 days until the World Cup kicks off, international news remains a hot topic.
Gabriele Marcotti reports on Fabio Capello's latest interview to the foreign press. "Fabio Capello has identified James Milner as the "most improved" England player this season while insisting that he is "quite happy" with the goalkeeping situation and that Frank Lampard and Steven Gerrard can, in fact, play together — provided that they are in good form."
Transfers: We end with the transfer guff.
According to the Daily Mail, "Eidur Gudjohnsen has been told to forget about making his loan move to Tottenham permanent" by his current employers Monaco. The pseudo-tabloid continues by linking Atletico Madrid keeper David De Gea to Manchester United.
Elsewhere, The Sun claim "United and Arsenal also look to have missed out on midfield target Steven Defour. The £15million-rated Belgian is set to sign a new deal at Standard Liege after missing a lot of the season with a broken foot and now a buttock injury." And over in the Mirror we learn "Liverpool boss Rafa Benitez has stepped up the chase for Athletic Bilbao midfielder Javi Martinez."
Lastly, Alan Nixon blabbers "West Ham want Steve McClaren to be their new boss next season – but need Gianfranco Zola to keep them up first," while Nixon also reports "millionaire Steve Parish is ready to make his move for troubled Crystal Palace this week."
---
GAMBLING CAN BE ADDICTIVE, PLEASE PLAY RESPONSIBLY