"If Manchester City had sacked Hughes to replace him with Mourinho or Hiddink, then you would have to concede that he had lost his job to a great manager. But for Hughes to make way for Mancini is a big surprise" – Alan Hansen
Comment & analysis round-up
Quote of the day: "This is not correct. This is not true. I've not watched the video. I'm not interested. I have a lot of confidence in my captain, as do the club and the other players. John Terry did nothing wrong. He was not upset before the game [at West Ham]. He was very quiet, very calm before the game. It is not a problem. I think he's done his job recently. He has not always had the best performance but he puts in a good performance every game. Also today he played a good game against West Ham." – Carlo Ancelotti.
Runner-up: "I was informed after yesterday's match against Sunderland that my contract with Manchester City was being terminated with immediate effect. Notwithstanding media coverage to the contrary, I was given no forewarning as to the club's decision. Given the speed with which my successor's appointment was announced, it would appear that the club had made its decision some considerable time ago. At the beginning of the season I sat down with the owners and it was agreed that a realistic target for the season would be sixth place in the Barclays Premier League, or in the region of 70 points. All of this was communicated to the players and we all knew where we stood. Whilst everyone at the club would obviously have wanted to see more wins, we were absolutely on target at the time of my dismissal. Only recently we had terrific victories against both Arsenal and Chelsea." – Mark Hughes.
Today's overview: The year is ended in controversy for Chelsea captain John Terry after the NOTW claimed to have caught the England centre-half receiving £10,000 in £50 notes as a fee for a secret tour of the Pensioners' training ground. (The NOTW's sting video can be seen here.)
Whether the allegations stick or not is somewhat immaterial for Dominic Fifield, who comments "senior figures within the Football Association are unimpressed that the England captain has exposed himself to another spate of potentially embarrassing accusations."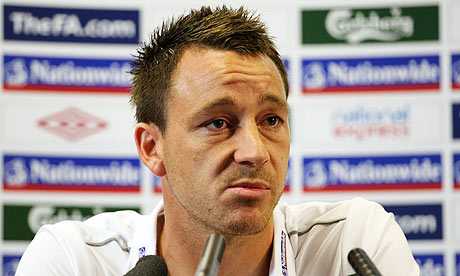 In a separate article, Dominic Fifield details how "there remains bemusement within the Chelsea hierarchy that the 29-year-old – a player of 12 years' first-team experience, approaching 300 Premier League games and 58 England caps – had allowed himself to be put in such a compromising situation… The sight of a player who signed new terms approaching £160,000 a week in the summer in the wake of Manchester City's very public pursuit of his services putting himself in a position where he might be compromised over £10,000 in cash stuffed inside a leather folder, whether it was destined for Bruce or a charity, will merely fuel that suspicion."
Moving onto Chelsea's draw with West Ham on Sunday, Oliver Kay tiptoes around chastising the Blues too heavily. "The table shows that they are four points clear of Manchester United, who lost for the second successive Saturday, and six points ahead of Arsenal, so, for now, at least, mediocrity is good enough. The danger for Chelsea is that they drift into a comfort zone, particularly with tricky assignments against two in-form teams, Birmingham City and Fulham, over the Christmas period." Adopting a similar analysis of Chelsea's recent form, Sam Wallace coughed "there is something not right about Chelsea who, in recent games, have lacked their characteristic power to sweep teams away."
Also on the Pensioners draw with the Hammers, Henry Winter observes referee Mike Dean's tendency to award penalties. "Frank Lampard and Chelsea benefited from the controversial largesse of Mike Dean, whose love of awarding penalties shows no sign of abating. The Wirral referee has now given 23 in the past two seasons, 10 clear of his closest challenger Phil Dowd. If Dean owns a dog, its name is probably Spot. "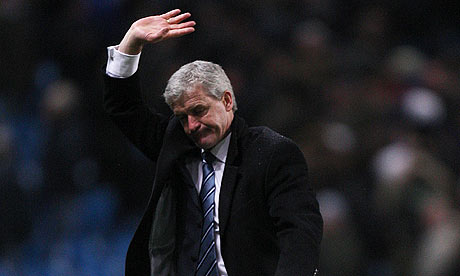 The fallout from City's unceremonious sacking of Mark Hughes for Italian Roberto Mancini continues in today's backpages, with Andy Hunter kicking things off by allaying fears that Sparky will be out of pocket after collecting his P45. "Mark Hughes is expected to leave Manchester City with a maximum £3m pay-off under the contract granted by the former owner Thaksin Shinawatra as he had not received an improved deal from the club's oil-rich backers in Abu Dhabi."
Others still find themselves coming to terms with the reasons for Hughes' sacking, with a distinct lack of consensus arguably revealing the shaky ground on which Sparky was let go.
Form was the key issue for David Conn, writing "City's Abu Dhabi owners lost confidence in Mark Hughes and his coaching staff during the run of seven straight draws." But the scribe also mentioned that "to many football people, viewing those results in the context of a season, or City's cocked up modern history, it looks like a billionaire's impatience to sack a manager, with a team having lost only two matches, sitting sixth in the Premier League."
Hughes' supposed failure in the transfer market was flagged up by Tim Rich as being the Welshman's undoing. "In the end Khaldoon and Sheikh Mansour were the only voices that mattered. Rightly or wrongly, they considered Hughes a limited manager who had made limited use of their unlimited funds. And they acted as they always had: swiftly."
Interestingly, James Ducker singles out Khaldoon al-Mubarak as the figure who was responsible for Hughes' downfall. "Al-Mubarak is understood to have been the one who drove through Mancini's appointment, despite the initial scepticism of Sheikh Mansour. But while it is unlikely that City's billionaire owner would ask his close friend to stand aside if the former Inter Milan coach fails to deliver Champions League football for next season, al-Mubarak is likely to view it as an admission of failure on his part if that happens and step down."
Spreading the blame for Hughes' sacking further, Sam Wallace calls out "City's Garry Cook and Brian Marwood – perhaps the Brian Potter and Jerry St Clair of Premier League football executives… Cook is the kind of chief exec who does not just sack managers but hangs them out to dry… [Marwood] too has played a full role in the unseemly disposal of a manager without any of the equivalent scrutiny upon himself."
Regardless of the "why," James Ducker remains bitter by the manner of Hughes' dismissal. "Not for the first time, the club presided over a PR disaster. The word was out. Hughes knew it, everyone knew it. Humiliation beckoned for the manager as the City of Manchester Stadium collectively cringed at a fate that was also suffered by Claudio Ranieri and Martin Jol at Chelsea and Tottenham respectively." A similar conclusion is reached by Henry Winter, who fingers Al-Mubarak as ballsing-up over Hughes' departure. "No class. No intelligence. No credibility. When Khaldoon al-Mubarak became chairman of one of English football's most famous footballing institutions, the feeling was that Manchester City were in good hands. No more."
Jason Burt also tries to paint City as a disorganised club by reporting "The Daily Telegraph can reveal that the Italian has taken over from Hughes knowing that he was not first choice for the job. Manchester City's chief executive, Garry Cook, flew to Amsterdam at the start of the month to offer the post formally to Guus Hiddink."
Is Mancini be any good at being a manager, and can he succeed at Eastlands?
Taking up the podium for the unconvinced is Alan Hansen. "If Manchester City had sacked Mark Hughes to replace him with Jose Mourinho or Guus Hiddink, then you would have to concede that he had lost his job to a great manager. But for Hughes to make way for Roberto Mancini is a big surprise and a lot of people will be asking the question, 'Roberto who?'"
Also feeling negative about Mancini, Ian Herbert explains how the Italian's management record, particularly his three Serie A titles at Inter, can be viewed as being fudged. "There was something decidedly predestinato about the first of them as Mancini became the prime beneficiary of the Calciopoli match-fixing scandal which meant that Milan, Fiorentina and Lazio were in Serie B and Juventus Serie C1. The second title next season was a similar procession with Juventus in Serie B and Milan starting with an eight-point handicap. Only the third consecutive title was down to Inter alone."
Countering, Gabrielle Marcotti attacks the cynics who point the Mancini's failures in Europe while at Inter Milan. "Mancini's critics point to his failure to perform in Europe, though that is perhaps harsh. He led Lazio to the semi-finals of the Uefa Cup in 2002-03 (where he was knocked out by Mourinho's Porto) and, in his first two seasons, reached the quarterfinals of the Champions League, losing the first to AC Milan after Inter supporters hit the opposing goalkeeper with a flare, then being eliminated on goal difference by Villarreal."
Oliver Kay though questions whether the former Lazio man can perform in the Premier League. "Italian coaches are the finest in the world, but that does not lessen the feeling that those who run City are taking a serious gamble in appointing, midway through the season, a manager whose only experience of English football came in an inglorious four-match spell on loan to Leicester City in 2001."
Changing tracks, Rory Smith salutes Barcelona's incredible six-trophy haul during 2009. "They will be remembered by history as the team which breathed new life into a game asphyxiated by its own tactical perfectionism, the side who conquered athleticism with aestheticism."
Onto the transfers where, unsurprisingly, City are found preparing their chequebook for the new recruits.
Jason Burt claims "Giorgio Chiellini and Maicon head a list of transfer targets drawn up by Manchester City's new manager," while Ian Herbert chimes in with "he may return to Inter for January reinforcements, with Cordoba and Maicon more likely than Juventus's Giorgio Chiellini, whom the Turin club may be reluctant to release." More Italians are linked with City in The Sun, as we learn "Mancini has been told to forget about signing Inter Milan wonderkid Mario Balotelli."
Elsewhere, the transfer gossip wouldn't be the same without the usual Tottenham nonsense, with Simon Bird farting "Tottenham are ready to revive their interest in Portsmouth full back Nadir Belhadj." And lastly Paul Jiggins claims "Everton will battle it out with Arsenal in a summer scramble for Bordeaux striker Marouane Chamakh."
---
GAMBLING CAN BE ADDICTIVE, PLEASE PLAY RESPONSIBLY