"If [Arsenal's Arsene Wenger] doesn't like English working conditions, whereby players are physical and try to win the ball, then maybe he should disappear to La Liga or Serie A" – Stan Collymore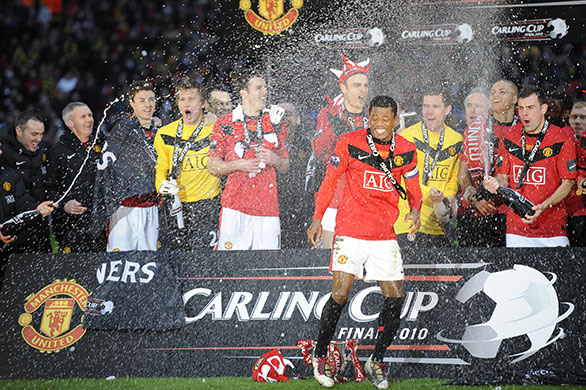 Comment & analysis round-up
Quote of the day: "It still feels as good to win trophies. I appreciate all the things we have achieved as a club and I appreciate the luck we have carried. I've lost finals and that's not easy. The only way you can enjoy Wembley is by winning." – Sir Alex Ferguson.
Runner-up: "It's an inexplicable decision [to not send Vidic off] and I really don't understand it. It was a goalscoring opportunity and the player is fouled in the area. It's straightforward from an otherwise fine referee. In a couple of days' time it's all forgotten about but it's major point in the game. I've spoken to Phil [Dowd] but what Phil and I have said will stay with me." – Martin O'Neill.
Today's overview: The main topic of conversation this Monday is Manchester United's Carling Cup victory.
Looking to touch on all the main talking points in one bit-sized paragraph, Daniel Taylor scribbled "Villa played with width and penetration. They were quick to the ball, strong in the tackle and they did something that not many teams have done over the past few seasons: they made Nemanja Vidic look ordinary. Even though Sir Alex Ferguson's men had marginally more chances, the only difference really was that United had the human force of nature otherwise known as Wayne Mark Rooney."
What of Aston Villa?
Jason Burt took up the challenge of summing up the match from the Midlanders' perspective. "That will have felt like a body-blow to O'Neill. He certainly looked winded and so did his team. This was, after all, a chance not only to defeat United and collect a trophy but to make a statement of intent, a marker for the progress they have undoubtedly made in the 3½ years since he took over."
Unsurprisingly though, Wayne Rooney scoops up the majority of the column inches following his cup final winning goal – even though it is widely reported that Wazza may withdraw from the England set-up this week after announcing he has a sore knee.
The poetic Henry Winter chanted "another day, another goal, another reminder that Wayne Rooney is head and shoulders above every other player in the country." Sam Wallace commented "this season Rooney has made it look so easy: scoring goals, winning matches and now winning trophies."
Oliver Kay waxed lyrical writing "when asked in interviews if there is an area of game he could improve, Rooney always replies: 'Me headin.' The temptation is to tell him that, at 5ft 9in, he was destined not to excel in that department, but, by transforming himself into a predator, always making the right runs into the most dangerous areas, he has become prolific in every respect."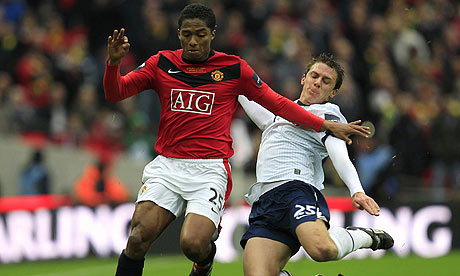 Richard Williams opted to shift the spotlight slightly away from Rooney and place it on his personal assistant for the past few weeks, Antonio Valencia. "Valencia is not being asked to do much more than destroy defences on his natural side of the pitch, and when he sent over the cross that hung in the air to await the application of Rooney's forehead, it could have been Matthews supplying Stan Mortensen in that classic encounter between Blackpool and Bolton. A gifted winger who goes about his business with a sense of focus and economy can be a priceless asset."
Moving the Manchester United conversation along, Patrick Barclay delivers a childish suggestion as to how the Glazers could be removed from power. "According to the latest estimate, Manchester United have 333 million fans across the world. So the answer to the ownership problem is simple. Everyone chips in a fiver, producing £1.665 billion… When I put this to a United supporter, he pointed out that people in some parts of the world might not be able to afford a fiver. True, but plenty can afford a tenner and some are worth millions. Dressing up in green and gold is all very well, but why don't they just get on with it?"
Sympathy for Arsenal's Aaron Ramsey continues to flow after the young midfielder had his season horribly ended at Stoke on Saturday.
Peter Landsley chugged "Arsene Wenger believes that Arsenal's great young talents are in danger of being kicked out of the game after it was confirmed that Aaron Ramsey will not play again this season." And that theory is fleshed out by Martin Samuel, who believes Wenger may have a point.
Samuel: "When Wenger dismisses the idea of coincidence in the number, and severity, of serious injuries Arsenal suffer during matches – three broken legs from foul tackles in five years – he has a point… Wenger feels that because English football believes Arsenal's largely foreign squad is excessively fancy, this creates a climate which legitimises rough tactics as a way of beating them.
Sam Wallace walks the tightrope of trying to explain why so many bad injuries have been caused to Arsenal players. "Arsenal play a wonderful brand of football, often much quicker in speed of thought and touch than their opponents. That is not an excuse to injure them but it is part of the explanation why players like Shawcross find themselves a fraction too late in tackles."
Flipping the discussion on its head, Stan Collymore spits fire as he slams Wenger's suggestion that his players are targetted by bad tackles. "If Wenger, or any Arsenal fans, think there is a connection between Abou Diaby, Eduardo and now Ramsey all getting seriously injured, they are deluded. And I think Wenger was completely out of order with his post-match comments about Shawcross. Despite the belief that Wenger is the professor, he has a real bitter and nasty streak. It is blatantly obvious the Frenchman wants to buck the trend and traditions of English football. But if he doesn't like English working conditions, whereby players are physical and try to win the ball, then maybe he should disappear to La Liga or Serie A."
Throwing a kind arm around Ryan Shawcross, Oliver Kay looks to shield the Stoke defender from future abuse. "Shawcross, the Stoke City defender, deserved to be sent off on Saturday for the tackle that left Ramsey's leg broken in two places. But that does not mean he deserves to be vilified. His offence was to mistime his challenge and to use what the laws call "excessive force" — which can constitute a sending-off offence on its own, regardless of whether contact is made, let alone intent. The punishment, a red card and a three-match ban, was the right one."
Expanding the discussion, Kevin Garside points out the culture of reckless tackles in English football. "How many times do we see players dive in from behind only to admonish the referee when the cards come out? 'Ref I got the ball,' they scream in demented defence of their stupidity. Getting the ball does not legalise the tackle. The impulse to dive in is indelibly linked to a culture in our game fostered at grass roots… This brainless urging corrupts in infancy and contributes to an attitude that fails in adulthood to distinguish between legitimate aggression and thuggery."
Countering that position, Alan Hansen argued "when players are told to 'get their foot in,' it isn't an invitation for them to break a guy's leg, however. I cannot think of any occasion during my time in the game when a player has gone out to intentionally injure an opponent… Football has cleaned itself up so much in the past 20 years, though. The bad tackles of the past have been stamped out, but you cannot blame Arsenal's players if they feel hard done by."
As standard on a Monday, The Times' Gabriele Marcotti delivers a stand-alone article flagging up points of interest from the wider footballing world, and this week the scribe highlights how Emmanuel Petit has stirred up immigration issues by claiming that France's 1998 World Cup victory was overshadowed by issues of multiculturalism. "Shortly after Petit's interview appeared on a French blog, it was republished on an anti-immigration site."
Finally, The Mirror scrape the barrel to see that we're not left without any gossip this Monday as Alan Nixon farts "Liverpool are giving 15-year-old sensation Raheem Sterling a stunning contract worth £300,000 to join them from QPR."
---
GAMBLING CAN BE ADDICTIVE, PLEASE PLAY RESPONSIBLY