"Idiot. How naive, how foolish was David Triesman in chattering unguardedly to a girl in a pub. Once again, the sport has been let down by weak leadership" – Henry Winter
Comment & analysis round-up
Quote of the day: "A private conversation with someone whom I thought to be a friend was taped without my knowledge. I commentated on speculation circulating about conspiracies. Those comments were never intended to be taken seriously."  – Lord Triesman
Runner-up: "I don't believe Lord Triesman has said something like this. Mr Triesman and the FA are excellent. We have a superb relationship with them and I just don't believe what's being reported. The idea Spain is trying to bribe World Cup referees is of course ridiculous. We like to compete and participate fairly and try always to do the best we can. As far as 2018 goes, we're trying to progress our bid to host the competition with Portugal. If we win that would be wonderful and if another country is chosen, we'd be happy as well because all the candidates are good ones." – Jorge Perez Arias, the head of Spain's 2018 World Cup bid.
Today's overview: There is nothing more enjoyable for the fourth estate than the jump all over someone who has fallen, and after Lord Triesman resigned as chairman of the Football Association after being snared claiming the Spanish and Russian federations were trying to bribe referees, the Labour peer is today taken to the cleaners.
The Fall of Triesman: Matt Scott summarised a busy Sunday at Soho Square in which it was a case of moving chairs at the FA's headquarters. "Geoff Thompson was last night appointed chairman of England's 2018 World Cup bid following the dramatic resignation of Lord Triesman amid fears that another senior member of the bid team could quit in dismay at the latest scandal to engulf the troubled campaign… England's 2018 team could be rocked by a second resignation. The influential individual had not taken his final decision late yesterday afternoon but was understood to be so disturbed by the events that led to the enforced resignation of Triesman that he has been deliberating over whether to quit."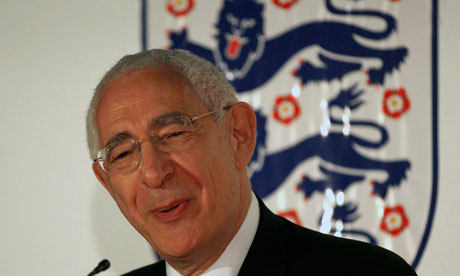 The power vacuum at the FA is muddied by Charles Sale who claims "Sebastian Coe is coming to the rescue of England's crisis-hit 2018 World Cup campaign in a global damage limitation exercise following Sunday's double resignation of Lord Triesman."
Injecting the tabloid spin, Matt Blake refuses the reveal his sources for shouting "the scandal could lose England the 2018 World Cup bid – and a £3billion payday."
With the FA in shambles, Owen Gibson fears that the English World Cup bid is now dead in the water. "The fear now is that the bid itself will go the same way after being dealt a severe blow. The fallout from today's covertly taped revelations has the potential to put the other public relations disasters that have bedevilled the bid – from rows about Mulberry handbags to boardroom infighting – in the shade. Even David Beckham may not save them this time."
Looking to redress the balance, Matt Dickinson tries to convince the public that England's bid is not over – just yet. "How many own goals can you score yet still win the match? England's 2018 World Cup bidders seem determined to find an answer. The bid is not doomed after this latest blow but, so far, England has succeeded only in convincing the rest of the world that we are home not to football but to cock-ups and conspiracies."
Also convinced that England still have a chance to win the bid was Patrick Barclay. "The controversy will not cost England the World Cup. It will enable the Spaniards and, more seriously, the Russians to make political capital. It will make England weaker favourites than before, at least temporarily. But members of Fifa's executive committee — for all the faults that have led to calls for a fair bidding fight from, among others, Triesman — are not swooning virgins."
David Conn offered a degree of sympathy for the rumbled Triesman. "Only Melissa Jacobs knows why she decided to betray Triesman to the Mail on Sunday, the paper has not said whether or how much it paid her and many football fans were more furious with the paper for damaging the 2018 World Cup bid than with Triesman for talking big with a woman in a restaurant. But, however much Triesman justifiably complained about "entrapment" in the FA's statement yesterday, he had no option but to go. England's campaign to host that tournament simply could not be led by a chairman caught, in whatever circumstances, glibly alleging that England's Spanish and Russian competitors, and Fifa members, are corrupt."
Acting as the public executioner, Henry Winter hangs Lord Triesman out to dry. "Idiot. How naive, how foolish was David Triesman in chattering unguardedly to a girl in a pub. These weren't sweet nothings. These were unfounded, offensive suggestions about England's 2018 World Cup rivals. One lord with heart a leaping has probably cost the Football Association the chance of hosting the event, certainly destroying the organisation's mantra of conducting a clean campaign. Careless talk costs votes. Once again, the sport has been let down by weak leadership."
Also unable to keep the smile off his face at the fall of Triesman was his long term critic Martin Samuel. "Bottom line: if Lord Triesman had been half as clever as he thought he was, he would still be in a job this morning. Sadly, he was never that good. How could he be?… His vanity, poor judgment and a two-bob bit of fluff conspired against him more successfully than Richard Scudamore ever could."
Oliver Kay prepares the nation for even more scandals to break in the press shortly. "Lord Triesman was braced for further embarrassment as Miss Jacobs is apparently preparing to reveal further details of their conversation. She is said to have been paid in the region of £75,000 by The Mail on Sunday in a deal brokered by Max Clifford, the celebrity publicist who is now acting as her representative. The peer is also said to have made "explosive allegations" about the workings of the FA, including criticism of other senior figures at the organisation, and labelled the behaviour of the England footballers Ashley Cole and John Terry, both of whom are alleged to have cheated on their wives, as disgusting."
Widening the focus further, The Times berates the FA for its internal politics and general structural problems. "The gravest threat to the bid was arrogance. In accusing the rest of Europe of bribery and corruption, Lord Triesman played into the hands of England's rivals. He confirmed international perceptions of English sport as a combination of complacency and conceit. English sport has not yet grasped that sports administration is a serious business in need of serious minds. It needs top-flight professionals, not middle-ranking ex-politicians."
World Cup Watch: Alan Hansen, Liverpool's legendary defender, today exposes the fears surrounding John Terry during the World Cup. "Terry has always been half-a-yard short of pace in comparison to somebody like Rio Ferdinand, but he made up for that with his positional sense and his reading of the game. This season, though, he has sometimes been found out when confronted with pace and forwards who can turn him quickly. That has been borne out by the increasing regularity of the times he has ended up on his backside. That is always a clear sign of a struggling defender. If they dive in or go to ground too easily, it exposes the frailties in their positional play and their lack of pace.  This has happened to Terry in the Premier League but, in a World Cup, the strikers are much more likely to punish you by putting the ball into the back of the net."
Turning to another Chelsea star of whom questions are being asked, Glenn Moore wonders whether Joe Cole will ever realise his potential. "Joe Cole is out of contract and negotiations towards a new deal are yet to bear fruit… As a teenager at West Ham he was hailed as a rare talent, one who would light up the English game for years, a player to build the national team around. It is a lot for anyone to live up to and, at 28, it looks as if he will never fulfill those early hopes."
Consolidation: Spurs have moved to sure up their defence ahead of next season announcing "Tottenham's captain, Ledley King, has signed a new deal which will keep him at White Hart Lane until 2012." Mike Walters fleshes out the story adding "Ledley King has
celebrated his World Cup call-up by signing a new £4million-a-year contract at Tottenham."
Staying in London, champions Chelsea are also reported to be mulling over offering coach Carlo a new contract. Matt Hughes writes "Carlo Ancelotti has urged Chelsea's board to build on his side's historic Double by offering him a new contract to secure his long-term future." Henry Winter added that "Frank Lampard will not be leaving Chelsea for Real Madrid, according to Carlo Ancelotti, who described the suggestion as 'a joke.'"
Summer Shopping: With the Pimms cracked over as the summer rolls into town, so the spurious transfer rumours continued to be shovelled on the gossip-hungry public.
Kicking off with a biggy, Everton Gayle announced "Manchester City are poised to make a £24m offer for Aston Villa's James Milner to secure the midfielder before he goes on England World Cup duty."
The Daily Mail's no-name reporter gets back to work at the start of the new week farting "West Ham are considering a move for Everton's Nigeria striker Yakubu." He also trumpets that "Manchester United have made further enquiries about Benfica winger Angel di Maria" and that "Birmingham City boss Alex McLeish has made an £8million bid for Wigan winger Charles N'Zogbia."
Faceless reporters are all the rage in The Sun too, as we learn "West Ham are set to snap up France star Sidney Govou on a free from Lyon." Elsewhere in the Mirror, Alan Nixon hurls "Bolton boss Owen Coyle is ready to make a sensational £5million bid for Real Madrid's Spanish under-20 starlets Marcos Alonso and Rodrigo Moreno."
Darren Lewis details the battle for Carlton Cole. "Liverpool and Aston Villa have joined the race for Carlton Cole after it emerged last night that West Ham rejected a £10million bid for the striker… Birmingham boss Alex McLeish has spoken directly to Hammers chief executive Karren Brady about a deal made up of £8million cash with £2million in bonuses."
---
GAMBLING CAN BE ADDICTIVE, PLEASE PLAY RESPONSIBLY