"I'd love 2010 to go down as the year Tottenham won the World Cup" – Harry Redknapp
Comment & analysis round-up
Tottenham quote of the day: "I honestly think Ledley King, Michael Dawson, Tom Huddlestone, Aaron Lennon, Peter Crouch, Jermain Defoe, David Bentley and Jermaine Jenas will be in Capello's first squad of 30. I'd love 2010 to go down as the year Tottenham won the World Cup with the amount of players they could supply for Fabio Capello's crack at the big one. I started with six England players when Tottenham clinched fourth place at Manchester City. I then brought on Bentley and I still had Jenas sitting on the bench, who has already played 21 times for his country. That would be by a long way the most players any single club will provide for Capello's search for the ultimate international honour." – Harry Redknapp.
Manchester City quote of the day: "I think he has done an excellent job, coming in mid-season and organising the team, I'm very happy with Roberto and [the owner] Sheikh Mansour is delighted with the way he has organised the team. I believe that, with a good pre-season to prepare the team, Roberto is going to do a wonderful job for many years. He is driven, committed and he has a winning mentality. He has the interests of the club at heart and he is definitely the right manager for this club for many years." – Manchester City chairman Khaldoon al-Mubarak on Roberto Mancini.
Chelsea quote of the day: "It was a key moment in our season because it corresponded with a period where we had lost points, a period where it was less good. But we stayed united, like we always do when there is a storm at the club. It is a period which cost us a lot of points. Here in England, it was enormous. It went from sport to being in the celebrity pages. The cameras were focused on all sorts of things rather than football and we lost our focus, unconsciously, which made us drop points." – Didier Drogba on the John Terry affair.
Today's overview: The "Champions League play-off" continues to dominate with Tottenham hailed and a number of pundits plotting a future path for Manchester City. The Redknapps are not short of an opinion with 'Arry in The Sun and Jamie in the Mail and outlandish predictions abound over how Spurs will fare next season. Elsewhere, Sid Lowe on Spain and Amy Lawrence on Didier Deschamps are worth a butchers. As ever, there is no shortage of transfer goss, including Steven Gerrard to Real Madrid and Joe Cole to Tottenham.
Manchester United not for sale: The big news of the day is that the Glazer family have rejected a secret 1.5 billion pound offer for Manchester United. The Guardian's Daniel Taylor has the lowdown: "A secretive Middle East consortium has bid £1.5bn for Manchester United only to be firmly rejected by the club's owners, the Glazer family, it emerged last night. According to information passed to the Guardian this was one of several covert offers which have been made for the club, all valuing United at more than £1bn and all of them rebuffed. Despite the antagonism facing them from United fans, the rejection of the bids appears to signal the Glazer family's seriousness about not selling the club – at least for the medium term. The Glazers are now talking about staying at Old Trafford for another 10 years."
Terrific Tottenham: Spurs boss Harry Redknapp gives his own thoughts in his column in The Sun. "I want to stay at White Hart Lane for the rest of my career. As long as Tottenham want me this is where I will be. I have no desire to manage any other club, no temptation to go any where else and no thought that the grass might be greener on the other side. Spurs are a fantastic club who gave me the chance to prove what I am capable of and I what we've achieved this season underlines that every one is pulling in the same direction."
Jamie Redknapp joins his dad with a column in a major national newspaper. The former Spurs midfielder writes in the Daily Mail: "I sat with Dad before the game and I thought he might play Wilson Palacios, or maybe five in midfield to give Tottenham some protection at the back. You can't allow yourself to be overrun in midfield in these games and that idea can sometimes inspire negative tactics. I should know him better. 'No Jamie, not today. This is about going for it. This is our chance. We are coming here to win. I don't want to lose this moment.'" The Mail also compare Ledley King to Bobby Moore.
With Harry Redknapp now 1 million pounds richer for leading Spurs into the Champions League, David Hytner analyses the road ahead for the Lilywhites. "Levy will not move his club on to a Champions League financial footing, in terms of player recruitment, until a coveted place in the group phase has been secured. Yet Redknapp's thoughts have inevitably begun to turn to the issue of new signings with Chelsea's Joe Cole, who could be the summer's most attractive free agent, Michael Carrick of Manchester United and City's Craig Bellamy on his wish-list. Much was read into Bellamy's high five with Redknapp after yesterdays game. Lassana Diarra of Real Madrid is also of interest, as is Ajax's Luis Suárez. Sandro, the Brazil midfielder, has already been added from Internacional."
Oliver Kay lauds the job done by Harry Redknapp. "Redknapp has taught his players to take responsibility for themselves — both on and off the pitch. Bale is unrecognisable from the cowed figure who was derided as a bad-luck charm after failing to experience a Premier League victory in his first two years at the club; Huddlestone finally looks like a player who has the mental, as well as technical, attributes to perform at the highest level; Lennon was previously dismissed as a poor man's Theo Walcott, but now you are just as likely to hear that comparison turned on its head. And then there is Heurelho Gomes. If anyone epitomised the demoralised state of the club when Redknapp took over, it was the Brazilian goalkeeper, but his form this season has been outstanding."
Steven Howard warns Arsene Wenger that Spurs are the "noisy neighbours" in north London. "Now Wenger has a real fight on his hands to maintain Arsenal's long ascendancy in their own parish as the Tottenham cockerel gets ready to rule the roost. For the first time in years, were you to select a composite side from both clubs it would feature more Spurs players. It would go something like this: Gomes, Sagna, King, Vermaelen, Clichy, Lennon, Fabregas, Modric, Bale, Van Persie, Defoe. Yet not too long ago, you would just name the Arsenal team."
Rory Smith throws his own bucket of water over the Tottenham love-in. "What do all of these teams have in common? Everton, Chievo Verona, Hearts, Toulouse, Vitoria Guimaraes and Twente? If you want to extend the point further, add Osasuna, Real Betis and Udinese to that list. Any guesses? The first six are, of course, Champions League debutants who have been unceremoniously dumped out of the competition before it has even truly begun. The other three are sides who were granted a stay of execution until the group stages in their first campaign among Europe's elite. Tottenham's players and fans may be floating on air today, but they would do well to remember that finishing fourth is not a synonym for being in the Champions League, and it is most definitely not a guarantee of being any good if you do get there."
The Sun lead with the claim that "Joe Cole wants to join Champions League qualifiers Spurs." Shaun Custis continues: "The England midfielder has been mulling over a huge offer from City themselves and knows of interest from Liverpool. But he does not want to move north and Spurs would suit him if they can come up with wages over the £100,000-a-week mark. However that could be a stumbling block as until now they have been reluctant to go above £60,000." The Daily Mail go with Spurs' consolidation with Ledley King and Gareth Bale set to sign new deals.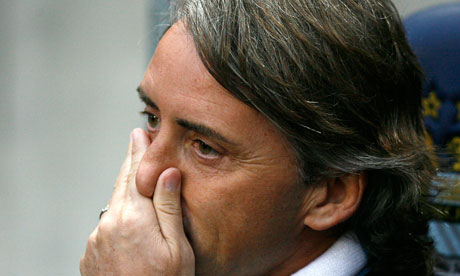 What do Manchester City do next? With dapper Italian Roberto Mancini assured of his future at Eastlands, Richard Williams urges the club to trust in their academy. "Mancini's reluctance to put his faith in the products of City's excellent academy has also been disappointing, but it was perhaps to be expected from a manager formed by an Italian system which nowadays strongly favours experience. Mancini himself first appeared in Serie A as a 16-year-old prodigy with Bologna but seems unwilling to give others the same benefit."
James Ducker feels stability is the key for City. "In the circumstances, Mancini has coped well. His first task now must be to keep Tévez, the club's top goalscorer, whom al-Mubarak described as the 'heart and soul' of the team and someone who is 'going to become the best player in the world'. He must also dispense with the dead wood and buy carefully to ensure that there is better balance in the squad and no dissenting voices in the dressing room. It promises to be an intriguing journey."
Mark Ogden backs Mancini. "On Hughes's dismissal, City had collected 29 points from 17 games, claiming an average of 1.7 points a game. Projected over a season, Hughes's team was on course to collect 65 points. Mancini, on the other hand, has delivered 37 points from 20 games in charge, an average of 1.85 a game. Projected over a season, that would bring 70.3 points. City will end the campaign on 69 points if they beat West Ham on Sunday, one short of the 70 point target. Had Mancini been recruited earlier, City might just have made it to the Champions League after all."
Robbie Savage warns that City will still attack the transfer market this summer. "If you think Man City missing out on the Champions League means them missing out on the world's top players, you're having a laugh. The lure of the Champions League might be huge, but the lure of the Abu Dhabi millions is even greater. And that is why City's narrow failure to finish in the big four won't put top players off from playing Thursday nights on Channel Five. It's a sad fact that money talks in football, but then it does in any walk of life. You might love your job but if you were offered a 50% pay rise elsewhere I bet you'd walk. And even if you're on £100,000 a week in the Champions League, I reckon you might just drop down to the Europa if the terms were £200,000 every seven days."
Sam Wallace previews the likely player exodus at Eastlands. "For a core of City players – chiefly Carlos Tevez, Craig Bellamy, Shaun Wright-Phillips and Stephen Ireland – the club's immediate and clear backing for Mancini will make them consider their futures over the summer. As he left the pitch on Wednesday night, the left-back Wayne Bridge – who has also clashed with the City manager – clearly ignored the handshake Mancini offered him."
Liverpool:Widespread reports suggest Rafa Benitez's meeting with Martin Broughton has done little to resolve the issues at Anfield. James Ducker: "Rafael Benítez emerged from crisis talks over his future as Liverpool manager last night with the club admitting that they had been unable to resolve some "issues of concern". The uncertainty over Benítez's future seems likely to drag on for some time yet after Liverpool confirmed that they would need to hold further talks with the manager despite a long-awaited first meeting with Martin Broughton, the club's new chairman. Benítez wants assurances over how much money he will have to spend in the transfer market this summer, having been given until Monday to accept the offer of a four-year contract worth £16 million from Juventus and with continuing uncertainty over the future ownership at Anfield."
The Daily Mirror, after insisting earlier this week that Fernando Torres was leaving Liverpool, report that "Real Madrid are ready to exploit the uncertainty at Anfield with a move for Liverpool skipper Steven Gerrard. The Spanish club have already made discreet enquiries about the England midfielder, and are prepared to follow up with a £30million bid to take him to the Bernabeu."
The usually sideways looking Harry Pearson casts his eye over the problems at Anfield. "while there may appear to be many important reasons why Liverpool have fallen out of love with Rafael Benítez (the 11 defeats so far this season, the failure to secure a Champions League place, the potential loss of Fernando Torres), I can't help thinking that his ridiculous goatee beard is very much the 'you never once rang out the dishcloth properly' of this apparently soured romance."
Europe: The always excellent Sid Lowe details how the final two games of La Liga could pan out."After all that, it comes to this. Three hundred and sixty games, 221 shots against the post and 968 goals later, 31 of them for Leo Messi, 26 for Gonzalo Higuaín, 25 for Cristiano Ronaldo, 21 for David Villa and one for Duda straight from a corner but only four for Manucho, the man who promised 40, we're still none the wiser. There are more questions than answers and the more we find out the less we know. Can Marca stoop any lower? Can Javier Clemente get any angrier? Has there ever been a mullet as magnificent as Nestor Gorostio's? Who's going to be celebrating come the final day? And when will the final day actually be?"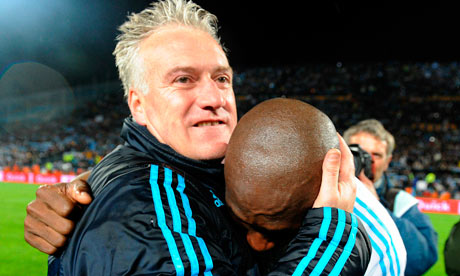 Amy Lawrence profiles Didier Deschamps who led Marseille to the Ligue 1 title on Wednesday night. "After this, it is difficult to imagine there will be too many more gaps in his managerial CV. A Champions League final with Monaco, promotion with Juventus, and now the French title to make it a delicious double with the League Cup in his debut season at the Vélodrome. The man Eric Cantona famously called the 'water carrier' continues to show he is a man of considerable worth."
England: Wednesday night's events have left Fabio Capello with another headache – Gareth Barry's participation at the World Cup is now in doubt due to an ankle injury.
The Spurs love-in continues with Andy Cole backing the England claims of Peter Crouch and Ledley King. "IÂ  wouldn't dream of telling Capello who he should select, and I don't envy him some key decisions. But an early name on my list would be Ledley King. His problems with injury are well-known, as are the limitations on his training, but he is a magnificent footballer. He's comfortable on the ball, he's got pace that's rare in a defender. You only had to look at what a great job he did against City on Wednesday to see his value. So I'd have him in."
The Sun also report on some major news: "Wayne Rooney is heading to the World Cup leaving a fearsome GURKHA guarding his £4½million mansion." Also on Rooney, Charles Sale reports that "Major issues have been raised by Nike's ambush marketing coup in having Wayne Rooney promote their boots on the front cover of FourFourTwo magazine's World Cup issue. The FA have regulations to protect the national team's official sponsors. But in shamelessly draping a pair of Nike boots around Rooney's neck when he's centre stage in a picture of five players in England shirts, the swoosh brand have pushed a grey area to the limit."
Transfer goss: Arsenal are linked with another keeper, Villarreal's Diego Lopez, Zoran Tosic wants his future sorted at Manchester United, Stephen Ireland expects to leave Manchester City and Wigan are eyeing Swansea's Darren Pratley.
The Daily Mail add that Matthew Upson is tempted by a new deal at West Ham, Steve Bruce is going to ditch eight players at Sunderland and Chris Hughton does not expect a summer spending spree at Newcastle. The Mirror also churn out the transfer guff: Aston Villa for Nathaniel Clyne, Wolves in for Hull defender Kamil Zayatte and Bolton to sign Aruna Dindane.
---
GAMBLING CAN BE ADDICTIVE, PLEASE PLAY RESPONSIBLY