"I know it's ridiculously early… but I'm convinced Spurs now have what it takes to slug it out with the so-called Big Four" – Terry Venables
Comment & analysis round-up
Quote of the day: "When I told Cristiano [Ronaldo] I was thinking of joining Blackburn he assured me I would enjoy it. He said the English league is incredible, that I would like the way of life and that it was a great chance for me to come over here. There is a theory that the weather is bad and life is boring, but he assured me that's not the reality." – Michel Salgado.
Runner-up: "This is why I didn't want him [Theo Walcott] to play for the Under-21s. I know how it works. The player comes back later than everybody else, he doesn't have a decent preparation, you are under pressure to rush him back, you play him earlier than you should, he gets an injury and you see him again in October. He has no decent preparation for the season and, in the end, England will pay the price as well. I am not angry because I knew at the start what could happen. But there is frustration because I can't see the logic in that whole process. In the end, England and Arsenal have a handicap… Once a player is already playing for the national team, what is the reason to take him with the Under-21s, whose intention is to promote players to the full team? That's what I couldn't understand. And then they put him on the bench." – Arsene Wenger.
Today's overview: Taking their opportunity to bash Manchester United one more time before the champions retake the field after their Burnley loss, the hacks tear into the Red Devils once again this Saturday.
Little Mickey's performance at Turf Moor is getting worse by the day, Daniel Taylor barking "Owen had a shocking evening at Turf Moor, substituted 63 minutes into a match in which the watching England manager Fabio Capello will have seen little reason to restore him to the national squad." Adding more criticism is Tim Rich, who simply states "both Berbatov and Owen have been plagued by poor form in front of goal."
Looking to rock the United boat further is sensationalist Ian Ladyman, who tries to stir up more trouble farting "Wayne Rooney has been told in no uncertain terms he is not yet ready to be Manchester United captain."
So much for Chelsea's new stable diamond formation.
Matt Hughes details in The Times that Ancelotti confessed "that Lampard is less effective operating in the hole, where he can be marked out of the game, and is likely to move him to the left of a midfield diamond, a role he fulfilled with such distinction under Jose Mourinho. It has not taken the manager long to begin polishing his fabled diamond."
Staying with Chelsea, Jason Burt reports that "Chelsea captain John Terry has parted company with his long-term agent Aaron Lincoln." Charles Sale offers his theories on the impact of the split, writing that JT intends to "take more personal control of his football business off the pitch… it also means Terry will not be paying a slice of his massive salary for the rest of his playing career to a football agency, preferring instead to work with PR, legal and commercial specialists when the occasion demands."
Spurs are top of the table at present, and sadly perma-tanned Terry Venables is found getting a little carried away in The Sun. "Last week I tipped Spurs to finish fifth. Now I think they can gatecrash the top four. I know it's ridiculously early in the new campaign and that Spurs have been the victims of unrealistic ambitions in the past. But I'm convinced they now have what it takes to slug it out with the so-called Big Four."
Rumours of a West Ham takeover are gathering momentum, with Jason Burt detailing how "David Gold has indicated to West Ham United that he is interested in buying the club – but is prepared to offer only £40 million. Such a bid will be firmly rejected by West Ham's owners, who insist they will not accept less than £120 million."
Cynical Barry Glendenning picks up on the latest punditry trend of flagging up the notion of "strength in depth "In the past week, Glenn Hoddle, Jamie Redknapp, Alan Hansen and Paul Merson have presented a weirdly united front in parroting its importance, with the Tottenham bench acting as the, um, benchmark by which all others shall be judged… The worry now is that the more pundits focus on the importance of a strong bench, the more managers will sit up, take notice and line up their teams accordingly: strong players in the dugout, dirt-trackers on the field."
The Saturday's carry the staple weekend interviews, with Dominic Fifield speaking to Gael Clichy about Arsenal's title hopes this year, and Nick Szczepanik found chatting with Portsmouth's David James about the troubles facing the south coasters. Peter Crouch speaks to Daniel Taylor in The Guardian about re-joining Tottenham and Harry Redknapp is featured in the Daily Mail.
Nick Szczepanik met Matt Le Tissier to chew the fat over the ex-pro's career on the pitch as well how he nearly became Saints chairman. While in the Independent, Chris McGrath listened to Dave Whelan's story of how the chairman took over Wigan and made them a stable top flight side.

This weekend sees the big kick-off in Italy as Serie A rolls back into town, although Paolo Bandini exposes the black clouds hanging over the league. "First came denial, then anger, bargaining and depression. Now, at last, acceptance: Serie A has reached the end of an era. No Italian sides reached the quarter-finals of last year's Champions League, and there is a strong possibility that one of the country's four places in that competition will soon be lost to Germany. More troubling still, Serie A's 20 teams now boast a collective debt of close to €2bn. More painful still, two of the league's most gifted players – Ricky Kaka and Zlatan Ibrahimovic – have left for Spain's La Liga. Three of its most iconic – Paolo Maldini, Pavel Nedved and Luis Figo – have retired."
Taking a more positive outlook on the return of Calcio is Pete Jenson. "Ronaldinho against his old Barcelona team-mate Samuel Eto'o, a well organised Juventus against an Internazionale side going for their fifth successive Scudetto… and Jose Mourinho against the world – Italian football returns this weekend with the departures of Kaka and Zlatan Ibrahimovic having detracted something from the football but nothing from the soap opera."
Onto the transfers.
Sol Campbell is in the middle of a tug-of-war according to Gary Jacob as the out of contract defender weighs up options from Notts County and Newcastle, while Fulham are said to be tracking Philippe Senderos and Steven Taylor.
The Daily Express report that Aston Villa's "billionaire owner Randy Lerner has the chequebook at the ready and could spend up to £20million to kick-start the club's season. Martin O'Neill has assured grumbling supporters they can expect new faces in before the window shuts."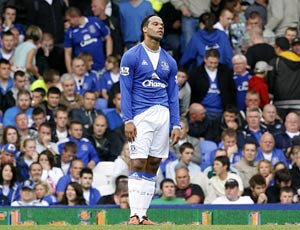 Just in case anyone was in doubt, Mark Ogden notes how "Mark Hughes has admitted that Manchester City will continue to pursue the Everton defender Joleon Lescott after claiming he is 'not bothered at all' by criticism directed at City." Tim Rich adds that "City will not improve on their £20m offer for Joleon Lescott and are confident that, having dropped him from his squad, David Moyes now has no option but to do business." While the Daily Mail confidently try to draw a line under the saga announcing "Everton last night gave up the fight to keep England defender Joleon Lescott and agreed to sell him to Manchester City for £22million."
Staying on the Lescott tangent, James Lawton swoops in with a harsh critique of how the defender has been all too easily led astray by the promise of a fat cheque. "It is a stinging commentary on football's current value system that a player… can apparently become so swiftly separated from the need to get on with his job at the first sniff of a dramatically improved contract."
Lastly, John Cross spreads the rumour that "Arsene Wenger last night admitted he still has not given up on bringing Patrick Vieira back to Arsenal."
Click here for more Premier League betting tips
---