"I don't see how a player can play at an average team and be great and go to Liverpool and be not as great. It should be a lot easier" – Jermaine Pennant
Comment & analysis round-up
Quote of the day: "The main thing going into these games is that you stay calm. You cannot afford to think too much about if you win or lose before you've even played the game. That doesn't help. It is very important when you play against the top sides to show character and belief. That is what we must do on Sunday against United. It's really important to stay calm and think about one game at a time. That has always been the message and always has to be. This season, the top sides will lose more games, I'm sure of that. We will see more teams losing points against teams that they have perhaps been used to winning against. This is why I always talk about taking things one game at a time. You can't start planning too far ahead. Yes, our position could be better at this stage of the season but it is too early to be worried about it. The main thing is to keep working to improve the team. That is the priority now while not thinking too much about the table. We can learn from the experience of last year. We have talked about the games we drew but also know that United lost more games than us and still won the league." – Rafa Benitez.
Runner-up: "This year I am convinced we will win a trophy, it will come down to how resilient, consistent, intelligent and united we are until the end because there will be tough times. There will be periods when it will be difficult, but we have to show our strengths that have always made this club special. This team is now ready to go for it and I am convinced we will perform throughout the season." – Arsene Wenger.
Today's overview: Liverpool's woes continue to be dissected with Manchester United's visit to Anfield on the horizon. Elsewhere it is a mixed bag this Friday morning with a few columnists expressing shock at any number of happenings in the football world over the past few days.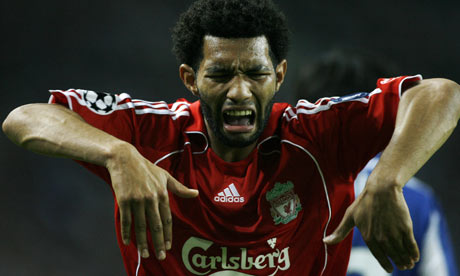 He may be plying his trade in Spain with Real Zaragoza these days, but Jermaine Pennant has found time to stick the boot into Rafa Benitez. "I don't see how a player can play at an average team and be great and go to Liverpool and be not as great. It should be a lot easier, Liverpool have had some great strikers come and go – Robbie Keane is scoring goals at Tottenham, Peter Crouch is scoring now. It didn't happen at Liverpool: it must be about how the manager relates to players, how the tactics are and how he restricts players. The coach plays a big part when you arrive at a new team. If he restricts you, it's going to make you play differently." In a seperate article, Pennant tells Sid Lowe that he hopes to impress Fabio Capello and secure a place in South Africa.
Tony Evans weighs in on Liverpool's recent struggles. "Benítez is no Shankly, but he has connected with the fans. In 2005, he turned up at a bar in Cologne the night before the Champions League tie with Bayer Leverkusen and drank with supporters. This sort of thing has not made him immune from criticism, however. A substantial proportion of the crowd at Anfield are irritated by his transfer policy and his perceived innate caution. They are irked by his inability to deliver the title. However, all but his most irrational critics will concede it is impossible to judge his performance against a background of dreadful ownership and political chaos at the club. Boos rang around Anfield when Benítez replaced Yossi Benayoun with Andriy Voronin against Lyons but this does not mean that Benítez has lost the Kop. Even Bob Paisley was booed for taking off Craig Johnston in the early 1980s."
Rory Smith in the Daily Telegraph slams Benitez for building a Liverpool squad that is not good enough. "Regardless of whether Benitez deserves more time at Liverpool or not, a successful transfer strategy is, essentially, the key requirement of his job. There are doubts that he is fulfilling it. Of the current crop, Andrea Dossena was, essentially, £7 million wasted. Philipp Degen was a seven-figure signing-on fee thrown away, as was Voronin. Lucas and Ryan Babel, two players who are criticised more than most, cost around £20 million and are often held up as examples of the Liverpool manager's shortcomings. It is an unfair assessment: Lucas is developing nicely and is a perfectly good third-choice midfielder, his designated role, while Babel was rated as one of the most exciting prospects in Europe when he joined. Benitez must accept some of the blame for his failure to develop, but much of it lies with the player himself. More may be attached, though, to the litany of squad players who have passed through Anfield's doors in Benitez's five years at the helm, from the likes of Josemi, Jan Kromkamp, Fernando Morientes and Antonio Nunez to the more expensive error of Jermaine Pennant, probably the only time Benitez has erred significantly when laying out a substantial fee."
John Edwards in the Mail reports that "Angry Liverpool fans are planning a 10,000-strong protest march on Sunday in a renewed attempt to drive co-owners Tom Hicks and George Gillett out of Anfield. As the crisis at the club grows, supporters group Spirit of Shankly have reacted to the Americans' expected presence at the crunch Barclays Premier League clash with Manchester United by organising a demonstration against them." Also in the Daily Mail, Sami Hyypia says he has no regrets at leaving Anfield but is worried about their fall from grace.
Also looking ahead towards Sunday's crunch clash with Manchester United, Tony Barrett claims Torres is fit, but Gerrard is out. US tycoon Robert Kraft, long linked with a takeover at Anfield has ruled out taking over a Premier League club unless spending caps are brought in.
Ahead of the Liverpool-United clash on Sunday, Rio Ferdinand has come out all guns blazing: "People are allowed to criticise and make comments. Every time I get criticism I come out in the end a better player. I'm sure it will happen again." And Gary Neville informs that he would accept defeat at Anfield if it meant winning the league at the end of the season.
Steven Howard in The Sun celebrates the season that makes "no sense." "The season that makes no sense continues to enthral and baffle us. And it's not just the Premier League, where Manchester United somehow lead the way despite a series of unconvincing performances. A league in which Sunderland, Stoke and Burnley are in the top 10. No, the mania has spread to Europe where this week mighty Barcelona were beaten at home by Rubin Kazan, who sound more like a Hollywood film producer than Russian champions."
James Lawton also looks back on a Champions League shock: AC Milan's win in the Bernabeu. "Pato apart, Milan inhabited the shadows of greatness. Ronaldinho, who with Barça, had once dazzled the great stadium so brilliantly he was applauded through gritted teeth, but applauded nonetheless, had a few minutes of virtuosity and then relapsed, poignantly for all those who still remember the extent of his talent. Seedorf showed a flash of stunning vision. But on this occasion at least it was quite enough to embarrass a team who were proving, if nothing else, that ready-made teams do not come over the counter, and that sometimes great ones are beyond price."
Jim White is also struggling to come to terms with a football decision this week, the sacking of Gareth Southgate. "Dwindling crowds were a critique too far of his tenure. Except, what else was Southgate supposed to do? In a recession, in an economically deprived area, after he had been charged with bringing a bit of reality to the wage bill and thus removing the debt-fuelled sprinkling of stardust that had settled on the Riverside, they were hardly likely to be flocking there in droves. Selling the club's best players in the summer is hardly the best advertising campaign to flog season tickets. If Southgate was the man to trust after he had presided over relegation last season, how had he suddenly lost that trust when obliged to wrestle with the necessary consequences of the drop?"
The lead story in The Times this morning comes from Matt Hughes: "Chelsea are preparing to launch an unexpected January spending spree after submitting an appeal against Fifa's transfer ban. The club have asked the Court of Arbitration for Sport (CAS) in Lausanne to suspend the sanction by world football's governing body while their appeal is held. As revealed by The Times last month, Chelsea intend to try to delay the appeal for as long as possible to enable them to sign several new players in the next transfer window and have already begun to identify potential targets."
Frank Lampard backs Manchester City to last the course. Frank Lampard: "The top four is more under threat this year with the emergence of Man City and the money they have got, normally the four rise to the top. I think Man City will be different, I think they will stay the course. If you spend £150m then you should stay the course.
Following John Barnes' declaration of bankruptcy, Alyson Rudd points out that not all footballers are millionaires. "The tax problems of John Barnes have thrown into the spotlight an issue that was supposed to be dead and buried. Footballers are rich beyond the wildest dreams of most, so surely debt or insolvency must be beyond them also? Sadly not. Only two weeks ago Bobo Baldé, the former Celtic defender, was declared bankrupt. The Guinea international said that the declaration was the result of a misunderstanding and he would be able to pay his debts. John Arne Riise managed to be declared bankrupt at Liverpool County Court two years ago while earning £50,000 a week at Anfield."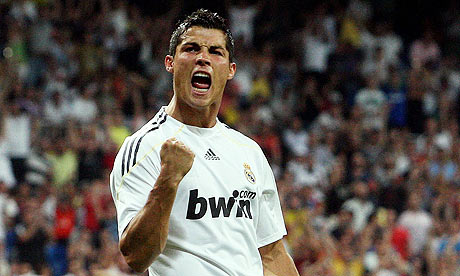 On a similar theme, Harry Pearson delves into the story that a horse could earn more money than Cristiano Ronaldo. "Sea The Stars, winner of the Derby and the 2,000 Guineas and widely regarded as one of the greatest horses of all time, is being put out to stud. This means he could earn an estimated £653,000 a week by having sex with thousands of females specially selected for their fine breeding. Ronaldo, meanwhile, will earn less than half that being whacked on the shins by blokes such as Carles Puyol."
Will Buckley in The Guardian recalls the forgotten story of East Germany's DDR-Oberliga. "Football was bigger in East Germany than many sports in which the country traditionally excelled (swimming and bobsleigh come to mind). There were two national football papers, Fussballwoche and Deutsches Sportecho, both, as the titles suggest, cracking reads. And when the national team played against the West in the 1974 World Cup in a match billed as an example of 'the triumphal march of GDR sport and the certainty of victory in the class struggle with West German imperialism', more than 70% of the country tuned in. The match finished FRG 0 GDR 1 (Sparwasser 77) and was the undoubted high point in the 40-year life of East German football. Cannily, they knocked back imperialist requests for a rematch." The Daily Mail also go slightly off topic and look back on the days when football comics were de riguer for every youngster.
The big (never gonna happen) transfer rumour of the day is that Arsene Wenger is eyeing (Super) Mario Balotelli. The Mirror also link the Gunners with Eden Hazard (a tired old rumour if ever there was one) and Sporting Braga are linked with Leeds striker Jermaine Beckford (and use a picture on their article of another Leeds striker, not Beckford but Luciano Becchio).
---
GAMBLING CAN BE ADDICTIVE, PLEASE PLAY RESPONSIBLY