"Huddlestone, 23, could end up being the surprise package and, at 6ft 3in and more than 13 stone, he is a useful man to have around when a hole needs plugging" – Matt Dickinson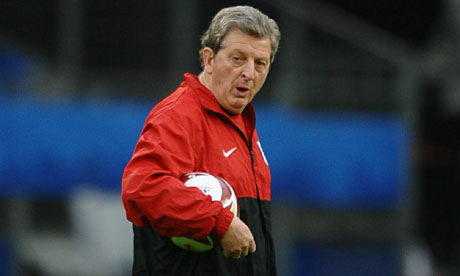 Comment & analysis round-up
Quote of the day: "I think the support we've received, or I've been getting – phone calls, meeting people in the street – has just been amazing, phenomenal really. It's kind of everybody's second favourite club at the moment because of maybe our spirit, our unusual position this season, that we've overcome the odds and beaten so many good teams. I think people enjoy watching us – the spirit and also the way we play. I think supporters appreciate good football and over the course of the competition we've certainly tried to play the right way. It's nice to have the encouragement because it gives you the extra incentive to take the trophy home…We've all been surprised and overwhelmed really, with all the support we've had." – Danny Murphy.
Runner-up: "I am extremely disappointed to be leaving West Ham United. Over recent weeks, I have been the subject of various adverse comments, from within the club, which have been widely reported in the media. Despite what has been a very difficult period for me, I have thoroughly enjoyed my time at West Ham." – Gianfranco Zola.
Today's overview: World Cup fever grips today after the England-30 was made public on Tuesday afternoon..
The Provisional 30: With the negative always the juiciest angle for the fourth estate, Dominic Fifield looked at how Fabio Capello's provisional 30-man England squad announcement fell into a difficult day for the England manager.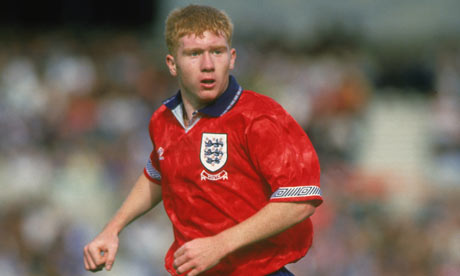 Fifield: "Fabio Capello has endured his most turbulent 24 hours as England manager after the Football Association forced him to shelve the controversial Capello Index project, and the make-up of his provisional World Cup squad was disrupted by a late rejection from Paul Scholes… If the late and unexpected courting of [Paul] Scholes, who has long insisted he had no desire to represent his country again, lent the selection process an air of desperation, then the disappointment at his rejection of a return maintained Capello's troubled day. The England coach declined to speak at length about the ill-advised Capello Index, launched publicly 24 hours previously much to the FA's surprise, which would have seen ratings for his players appearing within two hours of a World Cup game this summer."
Also looking give a broad-brush summary of the England-30 was Robert Dineen. "Joe Cole is one of several surprise inclusions in England's provisional squad for the World Cup. Fabio Capello, the manager, has also confounded expectations by selecting Gareth Barry, Scott Parker and Darren Bent. As expected, Capello has broken his rules about selection by also drafting Ledley King and Jamie Carragher, the central defenders who have not played for their country in three years, due to injury and international retirement respectively."
Also looking at the wider picture, Henry Winter went for the jugular as he tabled his concerns on the provisional England squad. "It is impossible to escape the reality that if this had been an Eriksson 30, the critics would have had a field day, pointing out the presence of a lame midfielder (Barry), a defender who cannot train (Ledley King), six men who have played left-back (Ashley Cole, Leighton Baines, Warnock, Jamie Carragher, James Milner and even Glen Johnson), more wingmen than the Red Arrows (Aaron Lennon, Theo Walcott, Milner, Wright-Phillips and Johnson) and three goalkeepers (Joe Hart, David James and Robert Green), none of which the manager yet knows will be his No 1."
Richard Williams celebrated the inclusion of Joe Cole. "Capello is not so laden with creative resources that he can afford to ignore one of the few English players blessed with the gift of imagination. It is his job to bring the best out of the player by showing trust and instilling confidence. But Capello's
insistence on discipline and rigour seemed to have turned him against a player who, in Germany four years ago, was the only credible rival to Owen Hargreaves as England's player of the tournament and who surely had much more to give."
Also applauding the inclusion of Joe Cole was Mark Fleming. "His statistics show two goals from 38 games in all competitions for Chelsea this season. More worryingly perhaps, his club manager Ancelotti has allowed him to play the full 90 minutes of a Premier League game only three times. Yet that touch of class at Manchester United was enough to convince Capello that he cannot afford to be without possibly the most talented player at his disposal. Wayne Rooney is the jewel in England's crown but last November he was only too happy to admit that Cole, 28, is a far more skilful player."
Matt Dickinson delivers a standout article this Wednesday as the scribe flags up the issue of working out who England's defensive midfielder will be alongside Frank Lampard. "It is enough to make Capello wonder if he should tear up the 4-4-2 construction that has been bedded in through the course of his reign, and go with Wayne Rooney on his own up front and a packed midfield. There is a solid case for such a switch, and the manpower given James Milner's fine season. Or he could always try Lampard and Gerrard together as a central pair. Now there's an original idea… Which brings us to Tom Huddlestone… Capello likes his physical presence and he has a decent pass… Huddlestone, 23, could end up being the surprise package and, at 6ft 3in and more than 13 stone, he is a useful man to have around when a hole needs plugging."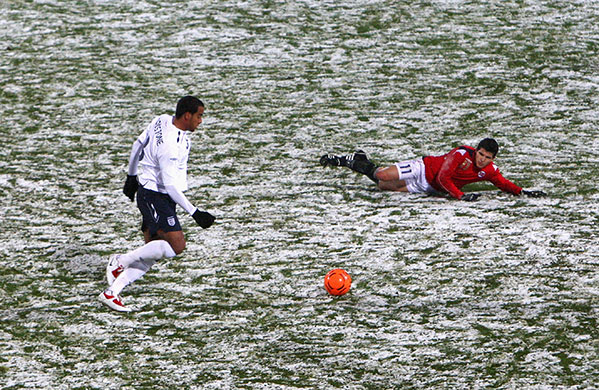 Singing from the same hymn-sheet, Ian Herbert also talked up the possibility of Tom Huddlestone making the England final-23. "Tom Huddlestone is not a player Capello has ever seemed to have much faith in and the manager's zealous pursuit of alternative central midfielders in the past few weeks – Paul Scholes and Owen Hargreaves – illustrates that he does not consider him the best. But with the prospect of Barry overcoming his ankle ligament trouble looking a remote one, a decisive holding midfield position could be there for the taking. Scott Parker looks third-best in the race for it and Huddlestone has grounds to believe that he can force out United's Michael Carrick."
Spewing pure speculation, Tony Cascarino believes that Jamie Carragher knows he'll be called upon during the World Cup. "That Capello has pursued Jamie Carragher as he has done suggests that Glen Johnson is probably not going to be spot-on by the time we get to South Africa. I can't think why a guy would come out of three years' retirement, in which he was not prepared to sacrifice his Liverpool career, if he does not already know that he has a great chance of playing. He won't want to sit on the bench. I believe he's been told that he is going to play and that it is going to be at right back."
Capello's Index Dives: The day after Fleet Street collectively bashed the unveiling of the controversial website. the "Capello Index," many are quick to detail how Don Fabio was forced to backtrack on Tuesday.
With the issue still simmering in the background, Matt Hughes chugged "the furore will lead inevitably to questions being asked about Capello's business dealings. Apart from the potential for embarrassment in lending his name to a system that would rate his players' performance within two hours of each game, the most damning allegation against him is his apparent willingness to hold a business meeting at a squad get-together at the team hotel."
Worsening the situation, Matt Hughes went on the flag up a legal challenge to the Capello Index too. "Within 24 hours of the Italian launching his "Capello Index", not only had the FA stepped in to have its start delayed until after the World Cup finals but a threat of legal action came from the Norwegian entrepreneur who claimed to have come up with the idea almost two years ago. Baard Dahl is now consulting lawyers about bringing a legal action for a breach of intellectual property rights against Chicco Merighi, Capello's partner, who launched the Index in London on Monday."
The World Cup 30s: Looking at other World Cup participants, Oliver Kay picked up on controversial absences in both the French and Argentinean 30-man squads. "In France, Raymond Domenech, the coach of the 2006 finalists, was inviting fresh accusations of madness after leaving Samir Nasri and, more controversially, Karim Benzema out of his World Cup squad. More glaring still, it was only in the minutes before the midnight deadline at Fifa's Zurich headquarters that the Argentine football association sent the list of 30 players picked by Diego Maradona. And when it arrived there was no sign of Javier Zanetti or Esteban Cambiasso."
The Telegraph also take a gander at some of the other World Cup squad to report on the surprise inclusion of Atalanta midfielder Jaime Valdes in the Chile squad, while also flagging up how Charlie Davies and Freddy Adu failed to make the cut for the United States' squad.
The Daily Mail flag up the absentees from Dunga's Brazil squad. "Ronaldinho and Adriano will both miss the World Cup in South Africa… The coach also opted to leave out Santos duo Paulo Henrique and Neymar. Dunga revealed the duo failed to impress enough while on international duty… AC Milan's Alexandre Pato has also failed to win selection."
The Europa League final: Can Fulham defeat Atletico Madrid to win the Europa League final?
Tom Dart surveys the Rojiblancos ahead of tonight's kick off in Hamburg. "How tricky are Fulham's opponents? Atlético ousted Liverpool in the semi- finals, but have played 16 matches in Europe this term and won four times. With 8,000 supporters expected to fly in today, the kings of the away-goals rule are more worried about the impact of the volcanic ash cloud over Iberia than the form of Zoltan Gera."
Changing tracks, Martin Samuel summons his best sarcasm to label Fulham as yet another Premier League in the financial mire. "Fulham, we all love Fulham, don't we? Lovely old Fulham. Good luck in the Europa League final tonight, men. And financial regulations. We all want tighter financial regulations, don't we? Stop clubs spending more than they earn. No more debacles like Portsmouth. And Fulham in the Europa League final, obviously. No more debacles like that. Oh sorry, didn't you realise? Fulham: completely skint, really. Lost £6.8million last year, £7.5m the year before, £15.2m in 2007, debt level in the region of £167.8m, much of it owed to Mohamed Al Fayed, the owner. So Fulham are precisely the sort of the club which, when UEFA president Michel Platini gets his way, will be banned from European competition."
The Hammers Hotseat: Tuesday witnessed the first Premier League managerial casualty of the summer as West Ham moved quickly to dismiss Gianfranco Zola. But who'll step into the breach next season?
Catching the latest whispers, David Hytner reports "West Ham United want to talk to Avram Grant after Saturday's FA Cup final… The east London club have placed Grant, the Portsmouth manager, at the top of their shortlist, which also includes Glenn Hoddle, the former England coach, whose previous post was at Wolverhampton Wanderers four years ago… Other names to have been discussed but apparently discounted include Mark Hughes, Steve McClaren and Slaven Bilic."
Jason Burt fleshed out the story further, writing "the expectation at the club, however, is that Grant, who is understood to be keen to succeed Zola, will get the job. West Ham are already considering moves for players such as Jamie O'Hara and Kevin-Prince Boateng, who have played under the Israeli at Portsmouth. Another option would be to promote Zola's assistant, Steve Clarke, but his future, and that of coach Kevin Keen, remained unclear on Tuesday night."
On Zola though, Nick Szczepanik reports that the lovable Italian could now face a battle to receive his compensation for his dismissal. "The Times understands that the club's position is that Zola breached his contract by publicly criticising David Sullivan, the co-owner, after he suggested in April that the club would listen to offers for all their players, apart from Scott Parker."
Adams in Azerbaijan: A managerial appointment from left0field is announced by the Daily Mail today, as it is made public that "former England captain Tony Adams has agreed a three-year contract to manage Azerbaijan side Gabala FC… Former Tottenham player Gary Stevens will be Adams' assistant."
The Independent's Shaun Walker then gets the inside information in an exclusive interview with Adams. "This obscure outpost is where Adams says he wants to spend the next 10 years of his life, using the vast funds of a mysterious local oligarch to build a team that is capable of challenging for the Champions League. He will be unveiled this morning at a press conference in Baku, and will take charge of FC Gabala from the start of next season. Adams has signed an initial three-year contract at the club, which was founded just five years ago… FC Gabala are currently sixth in the Azerbaijan Premier League and play their games on an Astroturf pitch with just one small stand that seats 1,080 spectators. A nearby training pitch is muddy, with rusty goalposts and stones strewn along the touchlines, and the town itself is quiet and run-down, with a population of less than 100,000. The club needs to win the Azerbaijani League to gain entry to the Champions League qualifying stages, and would then need to negotiate three rounds before making it to the group stages. "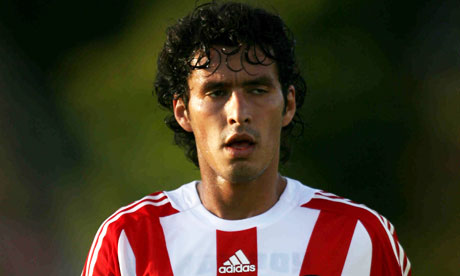 Done Deals & Pure Speculation: Shoving the guff to one side, the Guardian pen "Steve Bruce today made his first summer signing when Sunderland completed a deal to bring the Paraguay international midfielder Cristian Riveros to Wearside." George Caulkin added "Bruce's next priority is to open negotiations with Tottenham Hotspur over Alan Hutton."
As if advertising in the classifieds, Matt Hughes lists the Chelsea players deemed surplus to requirements at the Bridge. "Chelsea are planning a summer clear-out to raise funds for new signings. Ricardo Carvalho, Deco, Juliano Belletti and Paulo Ferreira will all be allowed to leave as the club seek to reduce their wage bill and create space in the squad for new players and emerging talent from the youth team."
Onto the longer shots, and Manchester City's latest targets are revealed by Oliver Kay. "City are planning to steal a march on Chelsea with moves to sign Marek Hamsik, the Napoli midfield player, and Mario Balotelli, the Inter Milan forward and "bad boy" of Italian football."
As standard, the hardest work hack on Fleet Street – the Daily Mail's no-name reporter – again spews a series of transfer lies beginning with news that "Arsenal are keen on Everton midfielder Mikel Arteta as they draw up contingency plans for the possible departure of Cesc Fabregas." Next, the well-informed ghost farts "Chelsea are the latest club to show interest in goalkeeper Kasper Schmeichel,"
Mr. No-Name also lends his services to The Sun as he reports "Alberto Aquilani may find his Liverpool career is over after just 12 months… Juventus have previously expressed an interest in taking him back to Serie A – and believe they could get him for a cut-price £10m." David Maddock is also under the impression that Aqualani could be on his way out of Anfield, announcing "Fiorentina are interested in the player, but the Tuscan side will not go above £7million, and his wages are also thought to be a major barrier to the Italian club's attempts to bring him back home."
Lastly, James Nursey reports in the Mirror that "Birmingham have made an official enquiry for Carlton Cole as West Ham prepare to sell the striker."
---