How Drogba can lead Chelsea to victory, Nani is set for the United axe as Man City, Spurs & Chelsea all battle for Samuel Eto'o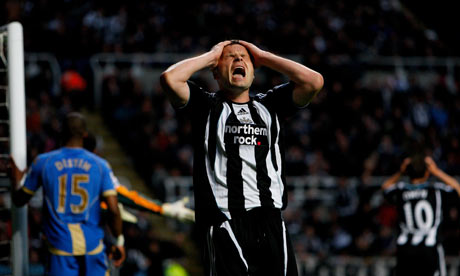 Comment & analysis round-up
Quote of the day: "Anyone got any Strepsils. I'm disappointed and we're relying on other people's results now but at least we're still creating chances. We've four games left and four games in football is a hell of a long time. There'll be more twists and turns; this might be a good point. It's going to be a tense end to the season but I absolutely believe we can still stay up. We've got to keep fighting." – Alan Shearer.
Runner-up: "It is not problem marking Messi. I'm prepared for the challenge. Messi is a big star world wide but it is possible to stop him – with patience and calm. You need to keep him under pressure. I have experience playing with Porto and Portugal against big players and now with Chelsea. I do not fear the Argentine." – Jose Bosingwa.
Today's overview: With mouths watering, hacks across the paper-divide today focus their energies on working out a plan for Chelsea to succeed tonight in Barcelona.
Dominic Fifield pins his hope on one Ivorian. "If Chelsea's most impressive quality is their power, then Drogba is their battering ram… Barcelona may be a scintillating attacking force but they are vulnerable at the back… Drogba must rise to the occasion." On a similar note David Pleat suggests how the Blues should play through Drogba. "If Drogba can peel away off Puyol's back and look to run behind, he can exploit this area and unnerve the hosts. Alternatively, if he can assert himself aerially then watch out for Michael Ballack and either Salomon Kalou or Nicolas Anelka coming in off the right touchline in search of knockdowns."
In order for Drogba to be effective though, Matt Hughes points out "maintaining his supply line is equally important. Florent Malouda enjoyed two of the best games of his Chelsea career against Liverpool, but the Frenchman's claim yesterday that he is coming into form at the right time was also a damning indictment. The very best players do not pick and choose their games."
Gabriele Marcotti offers are alternative tactic for the Blues, arguing that set-plays could be the key. "In Didier Drogba, Branislav Ivanovic, John Terry and Alex, Chelsea have some outstanding headers of a ball. Apart from the central defenders Rafael Marquez and Gerard Pique, and Yaya Toure, Barcelona have few aerial threats." While Pete Jensen offers five pearls of wisdom for how Barca can be beaten including "exploit the attacking instincts of Alves" and "don't concentrate too much on Messi."
Others, like Kevin McCarra, try to play down the Barca threat. "It could be that Guardiola's team are destined to go down in history, but they have not achieved so very much yet." While on the flip-side, Matt Dickinson explains why many neutrals want Barca to shine. "There may be three Barclays Premier League clubs in the last four but, even among neutral English fans, there is a groundswell of support for Barcelona, who represent the exotic among an all-too familiar cast list."
From the Spanish viewpoint, Rory Smith claims "Barcelona will face the club who best represent their antithesis. Where they are a democracy, owned by their fans, Chelsea are an oligarch's plaything. Where they prize artistry and romance, Chelsea crave silverware and glory." Sid Lowe writes a feature article on Barca's rising coach. "Guardiola has not just emulated the Dream Team; according to Josep Lluis Nunez, president between 1978 and 2000, he has "bettered" it. The declaration is premature but it speaks volumes. In the Catalan capital there is no greater compliment. Guardiola knows that better than anyone else."
James Lawton salutes Leo Messi. "Messi is plainly utterly crucial to Barcelona's hopes, and not least in the remarkable statistic that now accompanies his every appearance: it says that for every three shots he takes on goal, Messi scores once. In the arithmetic of football this amounts to serial assassination."
Having seen Newcastle only pick up a point with Portsmouth, Louise Taylor comments "it really will take a great escape to save Shearer's side from Championship football now." Tim Rich jumps on the bandwagon bleating "that is the problem with winnable games; they have to be won." While a despondent George Caulkin wrote "if Newcastle United's chances of avoiding relegation were previously limited, they can now be characterised as minimal."
Has Nani signed his P45 at Old Trafford?
Ian Herbert reports the now widely known news that the future of Nani "is in increasing doubt after he left Old Trafford before the end of Saturday's game, having been substituted at half time." Andy Hunter tears into Nani observing "in stark contrast to compatriot and fellow Sporting Lisbon product, Cristiano Ronaldo, there has been scant improvement in Nani during his two seasons with United." Oliver Clive also reports "Sir Alex Ferguson has grown increasingly frustrated with the Portuguese player and he has been substituted on the six occasions that he has started a match this term."
In other news, the Independent's Nick Harris delivers lifts the lid on the latest match-fixing allegations reporting "at least eight 'suspicious' football cases in Britain since September 2007 have been referred to the Gambling Commission for scrutiny."
The big transfer story this Tuesday is the Samuel Eto'o maybe be heading to Eastlands.
According to the Guardian, "Manchester City yesterday held talks with Barcelona about signing the striker Samuel Eto'o. City's chief executive, Garry Cook, met the Spanish club's president, Joan Laporta… with a British record fee of £40m believed to be on the table."
The price is found to be falling in the Daily Mail, who announce "Eto'o, 28, would fetch around £30million in the summer and could be the sort of high profile player City want." And even further sales are reported by The Times' Gary Jacob and Matt Hughes – "the Spanish club have also offered Eto'o, who could command a fee of up to £15 million, to Chelsea and Tottenham Hotspur."
Jason Burt brings the story to the attention of Telegraph readers adding "Chelsea and Tottenham Hotspur are also aware that Eto'o may finally leave the Nou Camp this summer and have again registered their interest, but City are favourites to sign the 28-year-old Cameroonian striker, who will demand wages of £150,000 a week."
The Guardian continue to push transfer stories, David Hytner claiming that Spurs, Manchester City, Liverpool and Arsenal are all vying for the signature of Blackburn's Roque Santa Cruz.
Lastly, we heading to Germany where Raphael Honigstein reacts to Bayern's dismissal of Jurgen Klinsmann. "With his reformist agenda dead, an embarrassing over-dependence on Frank Ribery and a public falling-out with key players, Klinsmann leaves with his credibility irreparably damaged." On who will fill the Bayern hot-seat, Nick Szczepanik claims that Martin Jol is the favourite.
---