Heurelho Gomes is the fall guy again, the Ramos revival at Madrid & the Untouchables v the Invincibles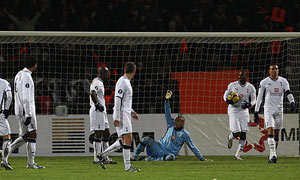 Comment & analysis round-up
Quote of the day: "When you manage a team like Chelsea, you need to unite the team when things are rough — not divide them. Chelsea is a family — and a family needs to be together. When Scolari started blaming individuals, then that was bad. To name one player as to blame for what happened in a squad of 24 is wrong… I was shocked he said that. How can one player be responsible for not winning for so many weeks and losing points? This is not an individual sport. When you win games everyone is happy and enjoys it together. But when we lose we have to lose together too. And if I had as much power with the owner as has been said, then Mourinho would still be here, no? If I had that power!" – Didier Drogba.
Runner-up: "Clearly we don't want to lose points so we will try to win every single game, you never know what's going to happen. You can lose points one day and then a few weeks later the other teams lose points. We just have to keep going, think about the next game and winning three points. We had been playing too many games in a row so it was important for the players to rest and enjoy some time with their families," he said. We need to be ready for the important weeks ahead. We know the City game is massive for us and that's why we have to concentrate totally on it and prepare properly." – Rafa Benitez.
Today's overview: It is a mixed bag this Friday morning, including reaction to last night's UEFA Cup games, analysis of how good this Manchester United squad really is and the revival of Real Madrid under Juande Ramos.
It must feel like deja vu for Spurs keeper Heurelho Gomes who is on the end of a whole heap of criticsm following Shakhtar's first goal last night. Simon Cass (Daily Mail) claims: "Harry Redknapp is certainly no fan of the UEFA Cup, and if he secretly harbours hopes of going out of the competition in the last 32, then Heurelho Gomes is the man he should be thanking."
Gary Jacob (The Times) added: "Harry Redknapp promised his Shakhtar Donetsk counterpart some wine when his team arrive in North London next week, but it was the Tottenham Hotspur players who were bearing gifts last night. The worst excesses of Heurelho Gomes returned to haunt Redknapp's team."
On City's draw in Copenhagen, Ken Gaut of The Independent felt the late equaliser "was cruel luck on City, who seemed to be heading to a morale-boosting victory thanks to Stephen Ireland's 10th goal of the season. However, they will take some consolation in that they have the benefit of two away goals in the return leg." James Ducker points out in The Times: "Robinho had been heavily criticised for his abject display against Portsmouth, along with Elano, who was dropped, but the Brazilian certainly raised his workrate last night and at one point was even spotted making a covering tackle for Bridge at left back."
With Manchester United running away with the league, Ian Herbert (Independent) asks "Is this the Premier League's greatest ever squad?" Matt Lawton in the Daily Mail compares the current Manchester United team with the 2003/2004 Arsenal (Invincibles) side. Frank Praverman (The Game) also looks at the Untouchables and the Invincibles.
Looking ahead to the Aston Villa-Chelsea clash, Steven Howard in The Sun argues that "An intriguing fixture is made even more interesting by remarks from CSKA boss Zico on Wednesday night. The Brazilian legend crowed: 'Villa always play in the same manner — very seldom through the middle. It's always Ashley Young's passes from the flank and we were ready for it.'… Now it will be interesting to see how Hiddink copes with Young — especially as he will probably have to draft in Paulo Ferreira at right-back and move  Jose Bosingwa left to cover for the banned Ashley Cole."
Ahead of the Liverpool-Real Madrid Champions League tie, Sid Lowe (Guardian) focuses on Juande Ramos and how he has revived his new club. "Any suggestion then that Ramos, the 'bumbling boss' who had set a White Hart Lane record by recording the worst start in Tottenham's history, might return to the Premier League would have been drowned in laughter. Yet as he smilingly insists that he would welcome the opportunity to go back to England it no longer seems so absurd."
The main transfer gossip thread this morning comes in The Sun who claim that "David Moyes is still keeping tabs on CSKA Moscow's Vagner Love — despite the Brazilian banking on a summer move to Manchester City.  Everton boss Moyes watched the striker score in Wednesday's 1-1 UEFA Cup draw at Aston Villa."
Charles Sale (Daily Mail) reports that the "BBC Sport have put their full support behind radio football commentator Alan Green over the latest furore surrounding the highly controversial broadcaster." After he was highly critical of Fulham's performance at Old Trafford on Wednesday night, including lines such as: "Fulham should not have bothered to turn up."
With World Cup tickets going on sale today, Tom Dart in The Times looks ahead. "Ticket touting is as common at world cups as English penalty shoot-out heartbreak and there are fears that illegal sales will be rampant next year given the disparity in average earnings between South Africans and visitors and Fifa's ticketing policy."
Finally, with many of the papers heavily criticising the people that run English cricket for receiving money from Allen Stanford, Matt Hughes writes that football must avoid its own Allen Stanford.
---
GAMBLING CAN BE ADDICTIVE, PLEASE PLAY RESPONSIBLY