Has John Terry suffered enough, can Brazil win the World Cup, and the Glazers hold firm as the Red Knights swing into action
Comment & analysis round-up
Quote of the day: "The private life is a big problem for some players, but also a big problem for their clubs and, in the end, for me. It'll be really important that the players, in this last period [before the World Cup], are careful in their own private lives at every moment. These are important players and they have to be an example to the children and all the fans. For that reason, they have to stay careful and sacrifice something in their lives… I remember in Spain, players would go to the disco and sometimes drink something, but they did not have big problems with different players, different girls, different women. These are young players, young boys, but rich boys. This is the problem." – Fabio Capello.
Runner-up: "I think in a few months [Wayne Bridge] will come back [and play for England], definitely. Everyone is proud to play for their country, but it has been a difficult situation for him. Family life is so important, and if you are happy in your family life then you can play better in your football. Wayne is honest. When you do something you need to do it with your heart, and if your heart is not there you need to think about it. I think first he just needs some time to forget about this whole difficult period. And of course he is a good left-back, he has shown that with Manchester City and he will show that again." – Kolo Toure.
Today's overview: Very few look to discuss the tactical side of England's match-up with Egypt on Wednesday night, as the backpages continue to do what they do best and stir up trouble.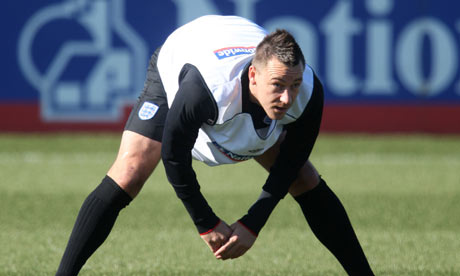 First to hock a loogie was Richard Williams, who almost positions himself as the boo-boy band-leader by refusing to accept that England fans can resist taunting John Terry. "England's supporters have a history of restive behaviour, and tonight's crowd would be unusual if it did not contain a faction who derive enjoyment from expressing dissatisfaction with one of their own."
Countering, Martin Samuel takes up the role as the defender of Terry by arguing that the multi-million pound footballer has suffered enough. "Terry has erred; but nobody can argue that he has not been punished. Professionally, his career is in ruins because he has lost what many regard as the highest individual honour in the game, the captaincy of his national team."
Kevin McCarra clutches at straws by focusing on Steven Gerrard's captaincy, tooting inane lines about "there is nothing to distract Gerrard from the truth that this is a season of hard toil," and "Gerrard may not control matches but he can decide them and that will always be a precious quality."
Turning to Wayne Rooney, Rob Bagchi escapes the usual cliches surrounding the forward to offer a tongue-in-cheek suggest for how Wazza can improve his game further. "Given his unrelenting quest for improvement one can only speculate what he will turn to next – cultivating scoring with his thighs and knees or, like Ian Rush towards the end of his career, polishing his ability to bundle the ball over the line with his arse. Now, that would really make him the complete player."
Sam Wallace picks on Theo Walcott, voicing his concerns that Arsenal forward needs to step up his game pronto. "The promise that Walcott demonstrated in Zagreb, which seemed to herald his coming of age on the international stage, has not materialised. That is due in part to the injuries, but even Arsene Wenger's explanation that he needs to be eased back in after his most recent absence is starting to wear thin: sooner or later, Walcott needs to sparkle for England."
Plonker Terry Venables uses warped logic to contend that Carlton Cole could be England's "saviour." "With no goals from his first six appearances, the West Ham striker may seem an unlikely candidate to be England's saviour this summer. But you can never tell. If you had said 12 months ago that Carlton would be the only Cole in the England squad for tonight's friendly, you would have been laughed out of town. But that is the case. Football is fickle and you never know which way the hand of fate is going to point." (Surely such a lame argument to be applied to any footballer?!)
Staying on an international footing, several scribes commented on Brazil's victory over Ireland on Tuesday night. And, sadly for all Citizens, it is Robinho who has scooped much of the praise.
Matt Dickinson scribbled "to the consternation of all Manchester City supporters, and the dismay of the Sheikh who paid out the massive wages, Robinho ran off with the match-winning honours. He had forced the opening goal, a cross deflected in by Andrews with more than a hint of offside in the build-up, but the second was a move and finish to be proud of."
Looking a Brazil in a larger context, David Hytner argued that Dunga has created a very functional and impressive side. "The balance of the team is more important to Dunga than stereotypical Brazilian fantasy. Many commentators in Brazil feel that he has the finest back four in recent memory, in which Lucio calls the tune, while Gilberto Silva and Felipe Melo offer reassurance in front of them. And any team which has Kaka can never be considered dull… Brazil showed their menace in the second half and Robinho was central to the cut and thrust."
Appearing to have watched a different game, Mark Ogden played down Brazil's World Cup chances. "On a night when the Manchester City outcast and his illustrious strike partners, Kaka and Adriano, fluctuated between awesome and awful, Fabio Capello would have left the Emirates in the knowledge that the World Cup 2010 favourites will be anything but invincible in South Africa."
Changing tracks, Paul Doyle opted to focus on those Brazilians left out of the current squad. "Whether [Brazil have] enough to beat Spain, for one, is far from certain. Dani Alves thrilled when he came on in midfield, and perhaps that represents an evolution towards adventure. Even so it is difficult to credit that Brazil's chances in the summer would not be enhanced by having Ronaldinho or Diego on the bench at least."
It's day two of the Red Knights versus the Glazers, and its time for an economics lesson.
Owen Gibson updates readers on the recent posturing between the two factions, noting that "the Glazers, who yesterday released quarterly results showing that revenues had risen by 19% to £144.7m in the six months to 31 December 2009, compared to the previous year, are understood to have vowed to remain for the full term of their recently issued bond until 2017. Yet O'Neill and his fellow Red Knights are believed to have been encouraged by soundings from within the club and sources close to the talks said they would not have put their name to the scheme if they did not think it had a serious chance of success. Analysts believe the group will have to put together a bid of around £1.2bn to force the Glazers to consider selling."
Delving deeper into the Red Knights plans for Manchester United, David Conn explains the financial structure being chewed over the wrestle control back away from the Glazers. "The Red Knights are understood to have an affiliation of around 50 United supporters rich enough to contribute £10m-£15m each. The publicity yesterday prompted many more, apparently from all over the world, to get in touch… Their ideal solution is to make the Glazers an offer large enough to give them a profit palatable to both sides on the £272m the family paid to buy the club in 2005."
Ian Herbert believes that supporters will have to dip into their pockets to help support the Red Knights. "As many as 100,000 Manchester United fans will be asked to contribute £2,500 each to the Red Knight fund to buy out the club from the Glazer family, under initial costings drawn up by those leading the audacious project. The need to raise £250m from grassroots level reflects how challenging it will be for the buyout to succeed, despite the presence of Goldman Sachs chief economist Jim O'Neill and hedge fund owner Paul Marshall among the leading contributors to the likely £1.3bn fund needed to oust the Glazers."
Helen Power reveals that a byproduct of the Red Knights is that more bonds issued by the Glazers are being snapped up. "Speculators have begun to buy bonds in Manchester United in a gamble that the Red Knights will be able to launch an offer to buy the club from the Glazer family… The falling value of the bond could create an opportunity for speculators to make a quick profit if a bid by the Knights — which is still a long shot — ever emerges."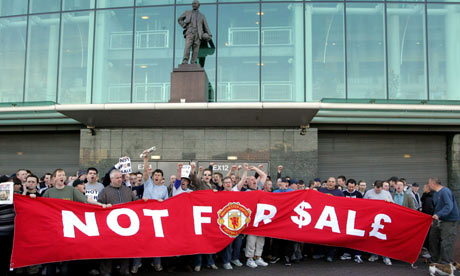 But Paul Kelso reveals that these bonds purchases are part of the Knights tactics to use the Glazers' debt against them. "The Red Knights consortium plotting a takeover at Manchester United may attempt to use the £709 million of debt loaded on to the club by the Glazer family as a means to oust them from Old Trafford… The debt is split into two portions. Around £202 million of expensive payment-in-kind (PIK) loans reside with a group of New York hedge funds at interest rates of 14.25 per cent rising to more than 16 per cent, with the remaining £507 million owed to investors who took up the recent bond issue.  One option being considered by the Red Knights is to buy up the PIK loans, making them among the Glazer's principal creditors. They could also target the bonds, giving them influence over the family."
Economics were also the subject for UEFA yesterday, as they announced an important new rule about governing football's finances. As reported by Steve Tongue, "the European Clubs' Association, which represents 144 clubs, has agreed new licensing rules with Uefa, under which clubs cannot spend more money than they receive; but figures will be worked out over a three-year period, not a single season, and no sanctions will be brought in until 2015."
Staying with football's dodgy finances, Alan Nixon EXCLUSIVELY reveals today that "crisis club Portsmouth will be offered a staggering £32million rescue deal from the Premier League to pay their tax bill and avoid going bust this season… The Premier League are poised to step in and advance them their parachute payments plus TV cash to give them the funds to stop the taxman from shutting them down."
After yesterday's transfer guff that Chelsea could be targeting Liverpool's number one, The Times today announce that "Pepe Reina has agreed terms on a new deal that would tie his long-term future to Liverpool until 2015."
Once again showing their transfer rumour turrets, the Daily Mail appears to invent a story writing "Real Madrid striker Gonzalo Higuain has turned down a new contract offer amid reputed interest from Manchester City." In a similarly nonsense article, Tony Little in The Sun farts "United midfielder Nani has urged Alex Ferguson to press ahead with his bid for Sporting Lisbon star Miguel Veloso. Midfielder Veloso has been one of the most sought-after players in Europe since last summer, with Manchester City, Chelsea and Arsenal all interested in him."
Lastly, Alan Nixon writes "Bolton boss Owen Coyle wants to sign United States midfield star Stuart Holden on a full-time deal after his impressive start."
---
GAMBLING CAN BE ADDICTIVE, PLEASE PLAY RESPONSIBLY