Hart praised & Rodwell slammed as Man City's CL hopes fade, Arsenal's defence gets dissected & should Man United have replaced Evra
Comment & analysis round-up
Quote of the day: "I know the problem and I will resolve it very quickly. It's my problem and my job and I will solve this problem. I think Joe saved us. He saved everything so we should say 'thank you' to him. We deserved to concede three or four goals. We didn't play well. Dortmund probably at this moment are a better team than us. If we want to play in the Champions League we have to play better than this. We have to run and fight. It's not enough to just pass." – Roberto Mancini.
Runner-up: "I can't understand the connection, why [Marseille] looked at [Joey Barton]. Unless someone's built him up into being Zinedine Zidane, I don't know how he got that move. He'll do well to get in the team. Normally when you strengthen your team you bring in a player who's different from what you have but Marseille have got a lot of players like Joey. If they think he's going to make a difference by dribbling or scoring goals or making goals… I don't think they'll see that. They'll see a player who passes it and plays simple football, and Marseille fans, who like clever players, will wonder what the reason for signing him was. I think it is a strange move for both parties." – Chris Waddle.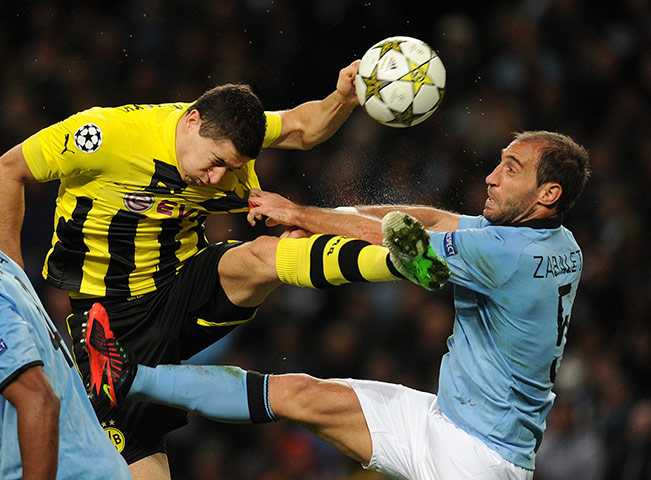 Man City 1 – Dortmund 1
Manchester City have to step up or the Champions League dream is over (Martin Samuel, Mail) Even as it is – and bookmakers still have them odds-on to qualify, inexplicably – they face a tough task. City must play Ajax home and away next but even if they were to win both matches, which is far from guaranteed, it does not make a whole lot of difference. Dortmund have already beaten Ajax at home, Real Madrid pulverised them away, so qualification in this group is likely to come down to the results of matches between the big beasts: the title winners from England, Spain and Germany. A real Champions League. And City look the weakest of the three.
Hart heroics save the day after Rodwell error (Matt Lawton, Mail) Inside the mind of Jack Rodwell it was still acceptable to deliver a blind pass across the City defence in the vain hope that nobody representing the Germans would be quick enough to exploit his stupidity.
Roberto Mancini hails 'incredible' Joe Hart after stunning display (Mark Odgen, Telegraph) Two weeks after urging Joe Hart to "stay in goal and make some saves" following Manchester City's dramatic loss against Real Madrid, Roberto Mancini was left thanking the goalkeeper for saving his team from an "incredible defeat" at home to Borussia Dortmund.
Manchester City 1 Borussia Dortmund 1: match report (Henry Winter, Telegraph) City's manager, Roberto Mancini, was furious with his players after this painfully laboured performance; he hinted darkly at an unspecified deep-seated problem which he would deal with. Barring the particular lethargy seizing Samir Nasri, and a lack of concentration from Jack Rodwell, City's main malaise appears defensively where they have yet to manage a clean sheet this term. Yet it is Mancini who has broken up the Vincent Kompany-Joleon Lescott axis that was so successful last season. It was Mancini who experimented with three at the back in pre-season, using up valuable preparation time.
Composed Balotelli keeps City's European dream alive (Ian Herbert, Independent) Jack Rodwell has only played 311 minutes since his £15m transfer from Everton but has already been directly responsible for City conceding three goals. On his City debut, on 19 August, the 21-year-old gave the ball away allowing Southampton to counter attack sharply and for Steven Davis to score. A week later, Rodwell handled the ball to concede a free-kick which Liverpool's Luis Suarez put in. And last night Rodwell passed the ball straight to Marco Reus to give Borussia Dortmund the lead.
Joe Hart's brilliance saves Manchester City from embarrassment (Paul Wilson, Guardian)  If City barely merited a draw, their outstanding goalkeeper most certainly did. A point is better than nothing, and given their outrageous luck in this game it is still possible City might salvage something from the group, but to do that they must learn to live up to their promises. Not to mention pacify Balotelli and keep an eye on an unused and mutinous-looking Carlos Tevez.
Arsenal 3 – Olympiakos 1
Gervinho on target again but Gunners are far from convincing (Mirror) Had Olympiacos arrived with a belief to match their neat football, especially in the first half, they would have taken something back to Athens. Fortunately for the Gunners, they did not, yet Wenger's side look nothing like potential champions of Europe, nothing like a side that could be running out under that giant Arch in May.
Gunners run into form… but win only masks more back woes (Mail) The Arsenal manager will be all too aware that his centre halves rarely seemed in control and that better opposition would have punished his team's sloppy defending. The steadying influence of Per Mertesacker, absent with a virus, becomes more obvious with each game he misses.
Steve Bould blames Chelsea defeat for defensive frailties in Champions League (Telegraph) Steve Bould, the Arsenal assistant manager, has accepted the blame for the team's sudden defensive frailty over the past week and admitted they had suffered something of a hangover in Wednesday's performance following the defeat against Chelsea.
Hodgson Axes Rio On The Train
End of the line, Rio: Hodgson tells fellow Tube travellers it's over for Ferdinand (Mirror) Roy Hodgson has told fans on a London Tube train that Rio Ferdinand's England career had reached "the end of the road". England boss Hodgson opened up to commuters when asked whether he would include the Manchester United defender on Thursday, when he names his squad for World Cup qualifiers against San Marino next Friday and Poland four days later. "I very much doubt it. He hasn't played for England for quite a while," revealed Hodgson.
Rio's England career is at end of the line… the astonishing tube announcement Hodgson told his fellow passengers to Arsenal (Mail) Roy Hodgson is facing major embarrassment over claims he announced the end of Rio Ferdinand's international career to passengers on a London tube train.
Rio faces new England snub (Sun) England boss Hodgson is set to bring Ferdinand's career to an abrupt end when he names his World Cup qualifying squad for the games against San Marino and Poland this morning… Joleon Lescott, Gary Cahill and Phil Jagielka are Hodgson's only experienced defensive options.
Liverpool
If the Liverpool fans can trust Rodgers – even after a tricky start – why can't the owners? (David Maddock, Mirror) [Rodgers] has already created a bond with the fans. They have shown they believe in him, they trust him to do right by their club. They admire the way he will pick a kid who shows balls ahead of a big-money star living on reputation. They admire the way he will insist on playing in the right way, even if it costs results in the short term. With his passion, with his honesty, he seems a good fit for Liverpool. That trust is something the owners themselves could do well to follow, if only for one very simple reason. They have run out of alternatives now at Anfield. If Rodgers fails, there is nowhere else to go, so he HAS to succeed.
Agger dough: Liverpool defender set to agree new four-year contract (Mirror) [Daniel Agger] has been involved in lengthy talks to keep him at Anfield for what should be the prime of his career, and negotiations are all but concluded on a new four-year contract worth around £75,000 a week.
The Problem With Patrice Evra
Ferguson obsession with goals ruled out replacing fading Evra (Ian Herbert, Independent) Robin van Persie's arrival was a huge statement of intent on United's part, but was another striker really more important to United than a world-class left-back?… This is a very pale imitation of the left back who three years ago stood among the world's best. Laurent Blanc dropped him from most of France's European Championship games this summer, declaring simply that Gaël Clichy was better.
Tottenham
Poison pens? Why the idea that Redknapp's mates in the press are hell bent on bringing AVB down is simply ludicrous (Darren Lewis, Mirror) I said it last week and I'll say it again: AVB is already proving his doubters wrong and is actually being applauded for it. To suggest that his doubters are hatching a fiendish plot to discredit him is simply ludicrous.
Europa League is no punishment! AVB slams English attitude towards tournament (Mail) Former Tottenham chief Harry Redknapp described the Europa League as 'a nightmare' but Villas-Boas feels it deserves more respect. He said: 'I aim to field the strongest team possible. We want to progress in this competition – the overall objective is to win it – and I respect it."
Keane on Rovers
We should not be too surprised by the idea of a Venky's-Roy Keane double act at Blackburn (Jim White, Telegraph) A group of chicken pluckers so detached from the realities of football that they were under the impression that there was no such thing as relegation from the Premier League are flirting with the engagement of a man whose apparent contempt for those who do not share his single-minded vision (i.e. the rest of the known world) is so withering it ought to be classified by the United Nations as a weapon of mass destruction. So bizarre is the thought of such an association that if the Venky mob really want to fulfil their ambition of making money out of Rovers they really ought to sell tickets to the interview process.
Transfer Lies
Harry Redknapp is the Cherry pick (Star) Harry Redknapp is in the frame for a return to management at Bournemouth after the League One club fired Paul Groves and assistant Shaun Brooks.
Ollie ups the Ince ante (Sun) Alex Ferguson has been told by Blackpool boss Ian Holloway that Tom Ince will not be sold on the cheap… the Pool boss values Ince, 20, at more than £10m.
Everton eye Vadis Odjidja-Ofoe again (Sun) Everton are lining up a fresh bid for Belgium midfield ace Vadis Odjidja-Ofoe… Moyes now hopes to sign £5million-rated Odjidja-Ofoe in January.
---