Half-fit Messi hailed, Chelsea bound Mourinho wants Hulk, Falcao to Man United with Chicharito & Rooney possible sales
Comment & analysis round-up
Quote of the day: "Messi is the best player in the world, simple as that. He came on when we were 1-0 up and they scored. A player like him, 100 per cent fit or not, will always make the difference." – David Beckham.
Runner-up: "It's a terrible thing to speak ill of the dead, I know, because it happened to my son and all the Hillsborough victims for 23 years. But if they do hold a minute's silence for Margaret Thatcher, I think they are making a big mistake. Somebody fed those lies, I think she was part of it and she knew about it. That's why I feel the way I do." – Margaret Aspinall, Hillsborough Family Support Group.
Half-Fit Messi Saves Barca
Barcelona hail half-fit Lionel Messi for changing game against PSG (Sid Lowe, Guardian) Lionel Messi was hailed as "irreplaceable" by his Barcelona team-mates after the half-fit forward came off the substitutes' bench to inspire the team to victory over Paris St-Germain and a place in the Champions League semi-finals. Messi did not start the match because of a hamstring injury sustained in the first leg but was summoned with Barcelona trailing 1-0 on the night, and 3-2 on aggregate, with just over an hour gone. Nine minutes later the Argentinian played a major role in constructing the equaliser, lashed in by Pedro Rodríguez, which gave the Catalan club a place in the last four on away goals. Afterwards everyone agreed on one thing: the four-times Ballon d'Or winner had changed the game. Before he came on Barcelona had not managed a single shot on target.
Struggling Barca rescued by Lionel Messi magic as they reach semis (Henry Winter, Telegraph) Barcelona's main problem lay in attack; David Villa, Pedro and particularly Cesc Fabregas, playing the false No 9 role in Messi's initial absence, buzzed about without bringing pain to the PSG defence. Barcelona's coach, Tito Vilanova, had to gamble. Messi was required… He arrived in the 62nd minute, and immediately Barcelona played with greater tempo. He made his most telling contribution within nine minutes, involving six touches of that special left foot.
Mourinho To Chelsea, Part XXVI
Jose cleared for return to Chelsea (Mark Irwin, Sun) Jose Mourinho has got the green light to return to Chelsea. Chairman Bruce Buck is 'open' to the Special One taking charge at Stamford Bridge for a second time. Mourinho is set to quit Real Madrid in the summer and Buck insists Chelsea have still to decide who will replace interim boss Rafa Benitez at the end of the season. When asked about Mourinho, he said: "I'm completely open-minded about it. We haven't really started the search yet. We all have some ideas and certainly Roman Abramovich is thinking about it. But at the moment we are concentrating on the end of the season."
Hulk tops Mourinho's wishlist (David Woods Star) Jose Mourinho has already drawn up a transfer shopping list for Chelsea – with striker Hulk at the top of it… Starsport can confirm Mourinho has verbally agreed his Stamford Bridge comeback on a salary understood to match the £12m a year he is paid in Spain. He is expected to resign his Bernabeu position at the end of the season, with his dream scenario to quit after winning the Champions League at Wembley on May 25.
Bale-less Spurs Face Big Basel Test
Tottenham have stood silently against Basel despite missing star names (David Hytner, Guardian) The majority of their domestic victories have come by the slenderest of margins and it has been cagey regularly and, too often, fraught. Release has tended to come on their travels, where they have scored more goals, looked more dangerous and have the second-best record in the Premier League. The way did Villas-Boas sets his team up, probing into possession yet quick and incisive on the counter, seems tailor-made for away games, when opponents carry the fight rather than camping with men behind the ball.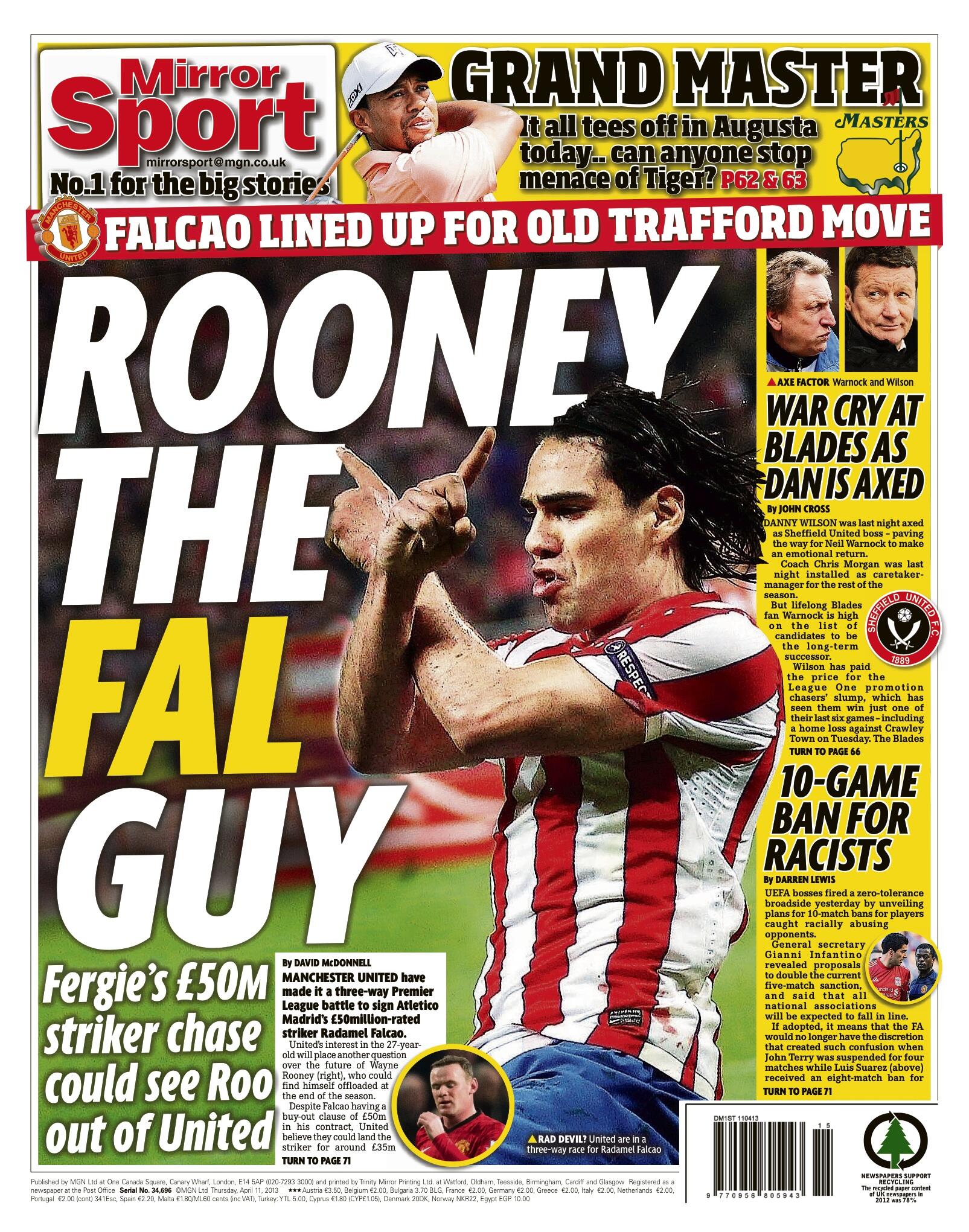 Falcao To Man United, Chicharito Or Rooney Out?
Fergie set to rival City for £47m Falcao as United manager prepares cash-plus Hernandez swoop for Atletico Madrid star (Chris Wheeler, Mail) It is understood that United have now joined the bidding for the 27-year-old Colombian and are prepared to let Javier Hernandez move to Madrid as part of the deal. The Premier League leaders are ready to meet the £47m buyout clause in Falcao's contract by offering the Spaniards £27m cash plus Hernandez who they value at £20m. Although reports in Spain yesterday suggested that a downpayment has already been made, it is believed that United's interest is still in its early stages.
Fal guy? Manchester United's move for Radamel Falcao places Rooney's future in fresh doubt (David McDonnell, Mirror) Manchester United have made it a three-way Premier League battle to sign Atletico Madrid's £50million-rated striker Radamel Falcao. United's interest in the 27-year-old will place another question over the future of Wayne Rooney, who could find himself offloaded at the end of the season.
Manchester United watching Real Madrid star Raphael Varane (Paul Brown, Star) United scouts have watched the youngster several times since then and sources close to the player claim their interest is genuine. Varane is under contract until June 2017 and has a release clause worth around £26m. But Real are so worried about United's interest that talks are already under way over a new deal which would tie him to the club until 2019 and vastly increase his release clause.
Thatcher, Football, Hate
Why it's wrong to blame Baroness Thatcher for shameful cover-up which followed Hillsborough tragedy (Jeff Powell, Mail) The various attempts to blame Hillsborough on Thatcher are an unwarranted extension of the class warfare which erupted during her time in office… The genesis of that awful day had nothing to do with her. In their utterly comprehensible agony and anger over the loss of their loved ones, the people of Liverpool can be forgiven for viewing the shabby events which followed through the prism of that era's roots of social unrest. But Thatcher had nothing to do with the shameful cover-up which they fought so long and hard to expose. Hillsborough happened in 1989. Thatcher left office in 1990.
Ban all minutes of silence and allow fans to formulate their own respects (Marina Hyde, Guardian) Is there a more tedious sporting micro-economy than the debate over whether a minute's silence should or should not be held at some venue for someone? Little more than a surefire way for the back pages to involve themselves in the events of the front ones, this endlessly dull 'row' breaks out with ever more frequency these days. Its latest incarnation has seen the Premier League and the Football Association let it be known that they will not be asking clubs to hold a minute's silence for Margaret Thatcher this weekend – a move which has distilled both their misplaced sense of self-importance and the increasingly hilarious pretence that people see them as guardians of anything other than revenue streams and their own skins.
Portsmouth: A Fan's Club
Fans snap up Pompey for £3m (Tony Little, Sun) The Portsmouth Supporters Trust yesterday sealed a deal to buy Fratton Park from former owner Balram Chainrai for £3million. And the club will come out of administration on April 22.
Leeds Eye McDermott
Leeds turn to former Reading boss McDermott to stave off relegation worries (Neil Ashton, Mail) Owners GFH Capital are under pressure to make an appointment and McDermott, 52 — who led Reading to the Barclays Premier League last season — is desperate for a speedy return to management. GFH want to sell the club to a consortium from Saudi Arabia, but that is unlikely to happen in the near future. Leeds have a tough run of fixtures, starting against Sheffield Wednesday at Elland Road on Saturday before Tuesday's trip to Burnley.
---
GAMBLING CAN BE ADDICTIVE, PLEASE PLAY RESPONSIBLY