"Guardiola was out-thought by the man who used to put down the cones for him during Barcelona training sessions. Mourinho produced not one but two game plans and both worked a treat" – Matt Hughes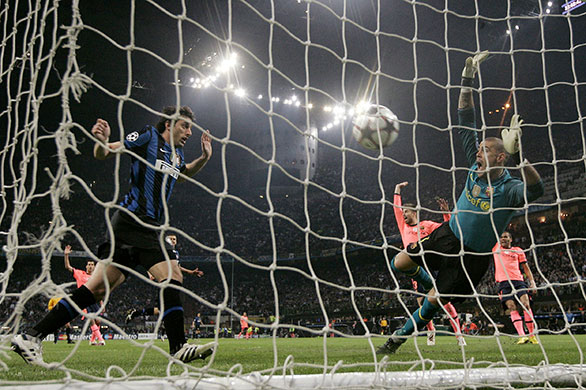 Comment & analysis round-up
Quote of the day: "[When I came] I had a team that was frightened of playing. Now we have won against the best team in the world. If we don't win it this year, then we will win it next year. Or another year. Inter has changed… Barcelona are truly a school of football. I want Inter to improve and to learn from them, and to be like them… Two things can happen [in the second leg]. We can go there and play and get through to the final. Or we can play and lose and return with our heads held high." – Jose Mourinho.
Runner-up: "When I was younger, I played for Gremio in Porto Alegre. My home town was 1300km [800 miles] away in Dourados and I used to go back by coach quite a lot on holiday. That was 24 hours, sometimes more. Even now, when I go to Brazil it takes 24 hours to get there. You just have to relax. It will not be easy but we will have plenty of movies, PSP, books, whatever, and a lot of things to talk about, so we have to enjoy it. We cannot complain because it is the only option. We have to accept it and not think too much about the trip." – Lucas Leiva.
Today's overview: Although all the English are out, the Champions League take centre-stage across the backpages of the British fourth estate after Inter Milan put on a tremendous performance to sink Barcelona 3-1 in their semi-final, first-leg.
Inter vs Barca: Richard Williams is first to point out that, despite some dodgy decisions, Inter were well worth their win. "To some, the idea of Inter beating Barcelona 3-1 might evoke visions of José Mourinho scrawling a moustache on the Mona Lisa – and, indeed, the visitors were denied three plausible penalty claims and were the victims of a poor decision for their opponents' third goal, which was scored from an offside position. But this was never as simple as free-spirited Catalan forwards thwarted by the ironclad defence of Lombardy. If Barcelona could have been two goals up within the first six minutes, Inter were not long in replying with missed chances of their own."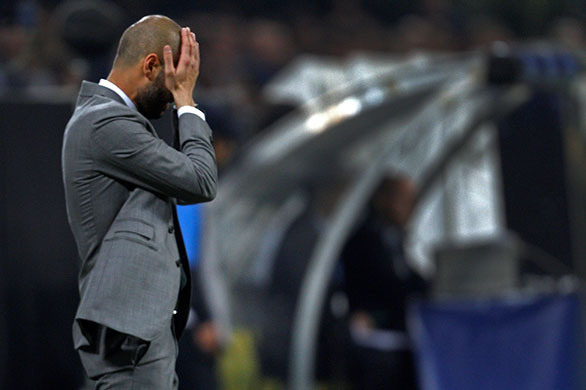 Also happy to praise Inter was Matt Hughes, who commented "Guardiola was out-thought by the man who used to put down the cones for him during Barcelona training sessions. Mourinho produced not one but two game plans and both worked a treat, with Inter soaking up huge amounts of pressure before striking on the break in the first half and then pressing high up the pitch as they sensed their opponents' vulnerability after the interval. Lionel Messi and Xavi cannot have had many quieter nights this season, with two of Inter's goalscorers, Wesley Sneijder and Milito, the stand-out players."
Oliver Brown was next to jump on the Inter and Mourinho bandwagon. "This was a stunning result for Mourinho, all the more so given that his players had failed to score against Barcelona in three previous attempts and had gone a goal down again last night. But galvanised by dynamos including Diego Milito, Maicon and the irrepressible Wesley Sneijder, they not only cancelled out Pedro Rodriguez's opener but glimpsed an opportunity to complete the task at the Nou Camp and advance to the most unlikely final in Madrid."
Taking the somewhat smart-after-the-event approach, Gabriele Marcotti argues that no-one should be to9o shocked by Inter's victory. "Because Jose Mourinho's outsized personality dominates whichever club he's with, Inter's 3-1 win over Barcelona will be depicted as his personal triumph, taking a rag-tag team of cast-offs past one of the greatest sides in history. But, in fact, in terms of personnel, I'm not sure the gap between these two sides is quite as massive as some would have us believe. Yes, Barca are clearly the better team and their football is, generally, better and more effective… But look at the individuals and you see that Inter aren't that shabby."
French sex scandal: After a news broke at the end of last week that several French international stars were involved in illegal prostitution, today Franck Ribery is named and shamed while other big names are also linked to the affair.
Lizzie Davies delivers the skinny. "France's national football team was further drawn into the sex scandal involving Franck Ribéry yesterday after two more players' names were cited in connection with an investigation into underage prostitution. Unnamed judicial sources told the French media that Karim Benzema, the Real Madrid forward, and Hatem Ben Arfa, a striker for Marseille, are expected to be questioned in coming days as "witnesses" in the inquiry… 27-year-old [Ribery] had admitted having sex with a 17-year-old prostitute but denied having known she was underage. In France it is illegal to buy sex from someone under 18."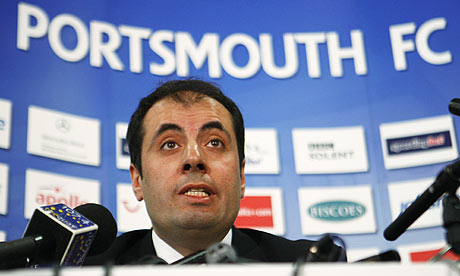 Penniless Pompey: Finally the financials have been fully tallied and Owen Gibson is able to reveal the true horror extent of Portsmouth's financial plight. "The full extent of the mismanagement that left Portsmouth owing £119m and on the brink of ruin will this week be revealed in an administrator's report that will disclose that the club were left owing more than £9m to agents, including £2.3m for a single deal."
As is often the case though, Nick Harris comes along with a slightly different set of numbers. "The full scale of Portsmouth's financial crisis was laid bare last night in extraordinary, unprecedented detail when the club's administrator admitted that Pompey's true debts are £105m and published a document detailing every last penny owed."
Transfer season is really starting to motor: So it looks like we have our first major transfer battle of the summer is getting under way, as Manchester City try and prise James Milner from Aston Villa.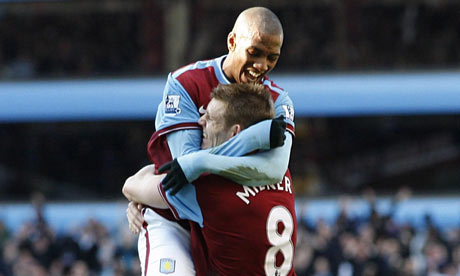 Stuart James gives the latest, detailing that "Martin O'Neill last night vowed to resist any bids for James Milner as Manchester City prepare to test Aston Villa's resolve in the summer. The manager claimed that the club are under no pressure to sell any of their most valuable assets and believes that keeping Milner, who has been in outstanding form this season and is certain to go to the World Cup finals with England, is crucial if Villa are to continue to progress."
Adding fuel on the fire, The Mirror chip in with news that "Ashley Young is a target for Manchester City as Villa manager Martin O'Neill battles to hold on to his top stars."
After weeks of reading tens of names being attached to Manchester City, James Ducker does a great service this Wednesday by getting to the bottom of the Citizens' transfer policy this summer. "City have two transfer strategies, one for if they qualify for the Champions League, the other in the event that they miss out on fourth place in the Barclays Premier League… Two lists of potential signings have been drawn up and are being modified, with a number of players featuring on both… About a dozen players could leave to make way for arrivals, with the futures of Robinho, Stephen Ireland, Martin Petrov, Shaun Wright-Phillips, Roque Santa Cruz, Patrick Vieira, Javier Garrido, Sylvinho, Felipe Caicedo, Benjani Mwaruwari and Michael Johnson all under threat."
Continuing the thread, Mark Ogden cast his eye over potential incomings at Eastlands. "City are already close to finalising an £11 million deal for Hamburg's Germany defender Jerome Boateng and, while no firm moves have yet been made to lure Di Maria and Cardozo from Benfica, City's technical director, Mike Rigg, has admitted that the two players are under observation at Eastlands." Martin Blackburn added "Manchester City are looking at a £40million swoop for Benfica's highly-rated pair Angel di Maria and Oscar Cardozo."
And what of the original Premier League big-spenders, Chelsea. Matt Hughes reports "Chelsea are in danger of losing several of their biggest names for nothing this summer after being instructed by Roman Abramovich to suspend all contract talks until the end of the season. Abramovich, the owner, is adamant that Joe Cole, Michael Ballack and Deco must prove they deserve new deals… Inter Milan have made a tentative approach via a third party for Ballack."
As standard though, the gutter-press continue to fuel the rumour-mill with a string of unbelievable stories.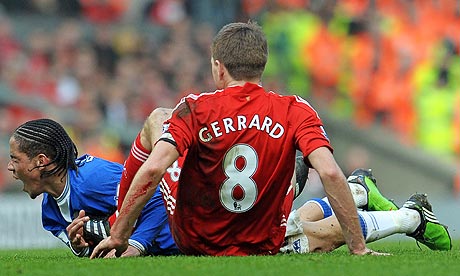 David Kent, ignoring the money problems at Anfield, barked "Liverpool are ready to risk the wrath of neighbours Everton with a move for influential midfielder Steven Pienaar." Perhaps that story was sparked by a stinging criticism of Liverpool from captain Steven Gerrard, as Christopher Davies chugged "Gerrard has told Liverpool  to sign four 'quality' players as they attempt to reignite a title challenge next season."
The Sun report that "Birmingham and Premier League rivals Blackburn face competition from Roma for Mauro Boselli," the Mirror splutter that "Newcastle boss Chris Hughton is preparing a £1.5million bid for Blackpool schemer Charlie Adam," while John Percy farts "Liverpool and Arsenal have been told it could take a whopping £17m to sign Bolton's Gary Cahill."
Replacing Fergie: Lastly, The Sun continue their quest to snuff out Sir Alex Ferguson's rpelacement at Old Trafford after announcing yesterday that the Scot will walk away from the job at the end of next season.
According to without-evidence Neil Custis, "Ferguson believes David Moyes is the man to succeed him at Old Trafford… Ferguson, 68, is convinced that Everton boss Moyes can provide the continuity United crave to keep them challenging for the top honours."
---