"Green-and-Goldenballs," Real Madrid target Mourinho, West Ham eye Brum threesome & Manchester United want Chelsea's Joe Cole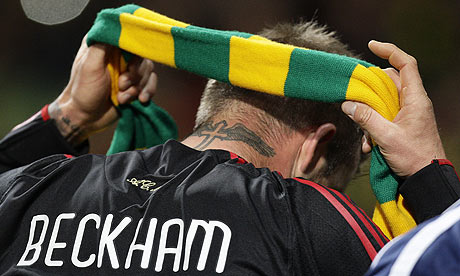 Comment & analysis round-up
Quote of the day: "I'm a Manchester United fan and when I saw the scarf I wanted to put it round my neck. It's the old colours of United but, to be honest, it's not my business. I'm a United fan and I support the club. I always will, but it's got nothing to do with me how it's run. That's all to do with other people. I just support the team. I will always support the team." – David Beckham.
Runner-up: "Adios Champions League, adios Pellegrini – Madrid complete yet another European failure, again in the last 16… six years of saying goodbye at the first hurdle… prestige in the old continent is lost, and it will not be easy to recover." – The reaction of leading Spanish newspaper Marca to Real Madrid's Champions League exit.
Today's overview: There is almost a feeling that Manchester United's 4-nil drumming of AC Milan was nothing too special this Thursday, as the former Italians giants are roundly dismissed in today's backpages. Fans of Serie A should probably look away now.
Kicking off the analysis, Kevin McCarra scribbled "this evening needed every square inch of football heritage to conceal the drabness of the match. Manchester United overwhelmed inept and ageing visitors… United were never confronted by that sort of risk and the sheer energy in their ranks prevented Milan from disguising the elderliness of some and the mediocrity of others in their line-up."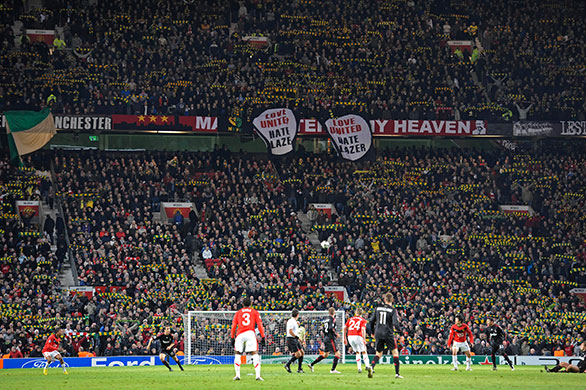 Continuing the arguably over-simplistic ageist commentary against Milan was David Pleat. "The visitors' ageing pedestrians were knocked down by their hosts' energetic pressure… Milan's lack of tempo was shocking. They looked polite in the tackle at times, so athletic were United in comparison, and those two long passes were exceptions as Milan were reluctant to hit longer balls in order to bypass the industrious, five-man home midfield… This felt like a game too far for the Rossoneri – it certainly appeared to be the end of an era."
Looking to debunk the age theory somewhat, Oliver Kay made the case the United is now the home of the successful thirty-somethings. "It was all about United — not only Rooney, Park and Fletcher but Gary Neville and Paul Scholes, two of Beckham's contemporaries and former team-mates, who suggested that, contrary to popular belief, Milan might not be the experts in preserving players in their mid-30s."
Paul Wilson was at pains to stress how badly the Rossoneri failed to contain the irrepressible Wayne Rooney. "The Italians defended with surprising naivety, and missed good chances, but the encouraging news for United, England and anyone else with an interest in goalscorers at the top of their profession was that no one could match Rooney for quality of movement or decisiveness of finish. He settled the tie as early as the 13th minute."
In one swift pen movement Henry Winter used Manchester United's victory to chastise both Cristiano Ronaldo and AC Milan. "On a night when United showed what a well-balanced force they are in Europe, Ronaldo and Real Madrid slumped out of the Champions League. The irony. Ronaldo may head the European scoring lists with seven but Rooney hurtles upwards, all his four goals coming against Milan. If Juventus are La Vecchia Signora, Milan are the Old Man. However many anti-ageing miracles they perform in that famous Milan Lab, they cannot escape the reality that the team urgently need rejuvenating, looking towards the Pato generation not the Beckham."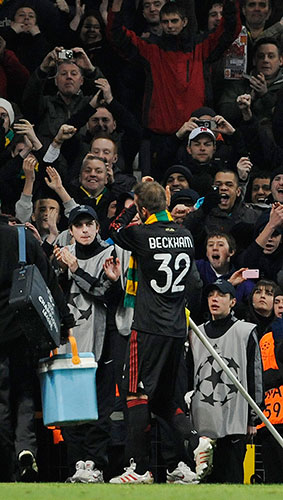 Did David Beckham know what he was doing when he put on a green and gold scarf as he exited the Old Trafford pitch?
James Ducker was reluctant to place Beckham in the anti-Glazer camp per se, but the impact of Goldenballs' actions were undeniable. "His cult status will have soared farther as he grabbed the scarf handed to him by a supporter before going down the tunnel… There is every chance that supporters will view him as some sort of poster boy for their campaign."
For Matt Dickinson, Beckham is a "PR genius." "His skill at diplomacy ensured that a scarf was as far as he would go. Afterwards he sidestepped an invitation to criticise the Glazers, the loathed owners who have saddled the club with vast debts. Fellowship with the fans who acclaimed him is one thing, but he is not about to apply for leadership of the green-and-gold movement… Beckham had at least given the protest publicity that normally only a large advertising budget can buy."
Teetering on the brink of hyperbole, Sam Wallace scoffed "you could argue that it was the most radical thing Beckham has ever done. He is by instinct a fence-sitter, a man whose corporate sponsors have demanded over the years a certain level of blandness. Speaking after the game he tried to distance himself from the anti-Glazer cause, claiming he was simply a fan of the club, but the deed was already done… Needless to say, United's loyal in-house channel MUTV stopped playing the footage of Beckham leaving the pitch before he picked the scarf up from the pitch."
Tongue-in-cheek on scarf-gate, Bill Edgar commented that "the scarf has been available for £6.99, but perhaps Beckham's association with the garment will push up the price and transform it from a sporting protest symbol into a must-have fashion accessory for the cognoscenti."
It's not all good news for Manchester United though, as Daniel Taylor announces that "Owen Hargreaves, Manchester United's injury-plagued midfielder, has suffered another setback after being pulled out of his comeback match in a move that significantly damages his already slender and rapidly diminishing hopes of a late call-up to England's World Cup squad… United say his withdrawal is because the match does not fit into the player's fitness programme."
But Manchester United were only the sideshow in the Champions League on Wednesday, as Lyon pulled off the result of the competition so far by dumping mega-spending Real Madrid out on their ear.
Spanish supermo Sid Lowe delivered the harsh truth to all Madridistas. "Florentino Perez did not spend £240m for this. The second galácticos era has opened as the first closed – with failure. This season was always going to be defined by the European Cup, the tournament Real Madrid consider their own. The final will be held at the Bernabéu but Madrid will not be there, except as frustrated hosts at someone else's party. For the sixth successive season they have been eliminated at the first knockout stage. 'We'll be back,' declared the banner at the south end of the stadium. Not this season they won't. When it comes to European competition it turns out that the biggest club of them all is not really a big club at all."
Looking forward, Matt Hughes believes that Los Blancos will go out and get the Spacial One to turn round their fortunes. "Jose Mourinho is top of Perez's managerial shopping list, with the Inter Milan coach's discipline and tactical acumen precisely what is needed to turn the club's expensive raw materials into silverware… What the club really need is a manager capable of making their existing players function as a team. He will not come cheap, but that man is Mourinho."
Taking both Wednesday night Champions League matches together, Rob Kelly makes the case that Ronaldo's departure from Old Trafford has now blown up in his face. "What odds on Ronaldo sending a few more of those 'miss you so much' texts to Sir Alex Ferguson over the coming days?… [Wayne Rooney] has been the main beneficiary of Ronaldo's Old Trafford exit, and has blossomed into the most feared striker in world football… By the end of 2010 he may very well assume Ronaldo's former mantle, too: that of the World Footballer of the Year."
Martin Samuel also harks on the the departure of Ronaldo has turned Rooney into the world's finest. "Losing Ronaldo has, strangely, given Manchester United a new player. On nights like this, Rooney would once have been consigned to the wide channels, with Ronaldo played down the centre. Sir Alex Ferguson could not trust Ronaldo to perform the first duty of the high, wide player, which is to stop the full back coming out. Rooney, he knew, was dutiful. Yet freed of these responsibilities — and Rooney still expounds more energy, even in his new role — Rooney has taken flight this season."
What else is news?
Dipping into domestic issues, Ian Herbert leaps on his high horse to begrudge Portsmouth players after the club axed a large chunk of their workforce on Wednesday. "The reputation of football's playing fraternity was not enhanced yesterday when it emerged that 85 people had been shown the door by financially stricken Portsmouth while only two players had offered to take pay cuts to save the fate of the less well-off."
The Sun opted to turn on Pompey chief executive Peter Storrie. "Portsmouth wielded the axe last night – but chief executive Peter Storrie survived the cull of 85 staff. Storrie agreed a 40 per cent cut, leaving him on £10,000 a week as administrator Andrew Andronikou confirmed that more than a quarter of staff were made redundant by the crisis club."
We finish with the tabloid transfer nonsense.
In a complete non-story, Ashley Gray reports that "Fluminense are pleading" to keep hold of Arsenal's new 17-year-old signing Wellington Silva who is set to join the club in January 2011. Similarly hardly-breaking-news, Phil Thomas announces that Landon Donovan will return to the LA Galaxy after his final match for Everton this weekend.
What happened the West Ham being cash-strapped? According to James Nursey, "Hammers' duo Sullivan and Gold are willing to risk upsetting Yeung further with a triple swoop for Liam Ridgewell, Sebastian Larsson and Christian Benitez."
Elsewhere, Alan Nixon bleats "Tottenham boss Harry Redknapp is trying to find a club in Belgium for Zambian left-back Emmanuel Mbola – after setting up a £1million move to White Hart Lane." John Cross farts that "Brazilian whizzkid Sandro Ranieri is preparing himself for his £6milion summer move to Tottenham – by learning English," and in a secondary article Cross also reports that "Roma are stepping up their attempts to sign Arsenal defender William Gallas."
The Mirror claim that "Birmingham City and Wolves are both trailing the Crystal Palace full-back Nathaniel Clyne," while in a seemingly far too concrete style Duncan White barks "Joe Cole will quit Chelsea on a free transfer this summer… United boss Sir Alex Ferguson has rated Cole ever since he burst on to the scene as a teenager at West Ham. Starsport understands United would be ready to offer a three-year deal."
Lastly, in the managerial merry-go-round Ashley Gray reveals that "Guus Hiddink has agreed to lead the Ivory Coast at the World Cup after being backed for the post by star striker Didier Drogba.  The former Chelsea boss will sign a short-term contract worth more than £650,000 – subject to difficult negotiations over an early release from his Russia contract, which runs until mid-July."
---