Grant linked with Chelsea return, Bould blasts Arsenal flops, Bale hints at Spurs exit & Fergie backs Mourinho for United job
Comment & analysis round-up
Quote of the day: "It would be nice to experience other leagues and other cultures. I'm not afraid to go abroad. If the time comes and a team that's right comes in for me, then I'll look at it seriously. I'll see what happens." – Gareth Bale.
Runner-up: "He can manage anywhere, absolutely. I would never think a guy who hasn't played a game could be a top coach but then you've got to look at his personality. He's got a marvellous, strong personality and that bridges that gap. I remember his first press conference [at Chelsea] and I thought, "Christ, he's a cocky b*****, him". He was telling the players, "Look, I'm the special one, we don't lose games". 'Bloody hell, coming to England, he is only a young man and saying he is the special one! But it told all the players to have the belief they were going to win the league. When he comes into my office he can take a joke against himself, that is what I like about him. I give him a lot of stick and he laughs it off. I don't think it bothers Jose [having a controversial image]. He knows it is results that count." – Sir Alex Ferguson on Jose Mourinho.
Is Avram Grant heading back to Chelsea?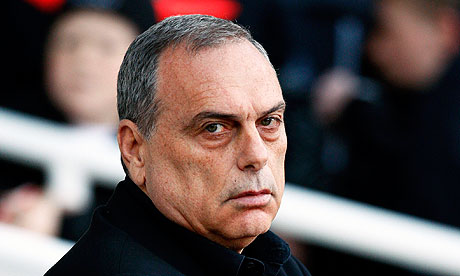 Get me Avram! Now Roman wants to bring back Grant to work with under-fire Benitez (Matt Barlow & Neil Ashton) Roman Abramovich is considering a shock move that would see Avram Grant return to Chelsea. The Russian fears he has made a mistake bringing in Rafa Benitez and sees the re-appointment of Grant as an adviser to the Spaniard as a possible solution. Benitez has been interim manager for only three games but is yet to win, and fans are fiercely against him.
Avram Grant could be offered consultancy role with Chelsea (Dominic Fifield, Guardian) While there is no great desire to instigate further upheaval within the coaching set-up following the abrupt dismissal of Roberto Di Matteo less than a fortnight ago, Chelsea will consider more changes to their staff if results do not improve swiftly. To that end the possible reappointment of Grant – who had briefly been considered as an alternative to Benítez when the board deemed Di Matteo's time to be up – in an advisory role to assist the Spaniard has been discussed by the hierarchy.
Panic Rom: Abramovich fury as Chelsea register worst run of form since 1995 (Martin Lipton, Daily Mirror) Roman Abramovich was left furious by Chelsea's Upton Park capitulation. And new Blues boss Rafa Benitez is already coming under huge board pressure to turn things around quickly or pay the price for being judged a failure. Benitez was again subjected to a bile-filled backlash from the travelling Chelsea fans as the club's worst top flight run since 1995 saw them drop 10 points off pacesetters Manchester United. But as West Ham boss Sam Allardyce stirred the pot by telling Benitez he has to accept the reality of his job at Stamford Bridge, the Spaniard is aware of the board unhappiness.
Interim boss Rafa has no clout in dressing room(Alan Shearer, Sun) Is there a more bizarre football club than Chelsea?
If anyone ever needs reminding that this game is mad just look their way. Only Chelsea, it seems, could have the potential to implode so dramatically from what was undoubtedly the greatest day in their history. Who could have predicted that from that marvellous night in May in Munich they could be here? A club fighting with itself. A club constantly in the news for the wrong reasons. From the John Terry racism case to the unseemly treatment of Premier League referee Mark Clattenburg. The man who masterminded their finest achievement gone and his replacement booed before he has heard the first whistle. Jeers now ring round a stadium which has previously enjoyed so many highs.
Arsenal in crisis
Wenger used to solve Arsenal's problems… now he helps his rivals solve theirs (Martin Samuel, Daily Mail) If Arsene Wenger genuinely had £70million to spend, do you know who his striker would be? Robin van Persie. Still. Van Persie would never have left  Arsenal if, in his talks with Wenger, he had been  convinced that lavish funds were available and would be spent on the team. If Wenger could have given Van Persie any form of guarantee that £70m was coming his way, he might not have been so eager to sign for Manchester United. The figure of £70m is the latest jam tomorrow bulletin from Arsenal's money men, following the sealing of a shirt deal worth £150m with Emirates. This windfall is Wenger's to spend, apparently, except  he never does.
You've let us down all year! Wenger's No.2 Steve Bould slams Arsenal flops (John Cross, Daily Mirror) Steve Bould branded Arsenal's under-performing flops a big "let down" in a furious dressing room inquest. Arsenal No.2 Bould tore into the players after their defeat to Swansea as he questioned their commitment and responsibility after a string of bad results. Bould shouted: "You've let us down and you've been letting us down all season." And Bould also roared: "None of you are taking responsibility." The dressing room inquest lasted more than 40 minutes as Bould's patience finally snapped after defeat left Arsenal floundering in mid-table after the worst start to a campaign in Arsene Wenger's 16-year reign. Arsenal's players have complained they have been left shattered by a gruelling fixture programme but, crucially, some players have complained that training levels have not been scaled back as they are at other clubs in the Champions League.
Wenger to take European gamble in effort to stop rot (Nick Szczepanik, Independent) Arsène Wenger is prepared to sacrifice the chance to win Champions League Group B in order to improve the club's worrying domestic form. With Arsenal in 10th place after the 2-0 home defeat by Swansea City on Saturday, the worst start to a Premier League season since Wenger became manager in 1996, he will not take a full-strength squad to Greece for tomorrow's match against Olympiakos, which Arsenal must win if they are to have a chance to finish as group leaders and – in theory – secure an easier draw in the first knockout round.
Now is the time for Arsène Wenger and Arsenal to change their transfer policy before it is too late (Alan Hansen, Daily Telegraph) The problem with having a philosophy is that, when it is clearly not working, there comes a time when you have to recognise the fatal flaw and for Arsène Wenger and Arsenal, that time is now. We have been here before with Arsenal, of course. When their trophy drought stretched to three years, the club's approach was questioned. The same happened after five years and now, when we are approaching an eighth year without a trophy, fingers are being pointed again. The supporters who became accustomed to winning Premier League titles, FA Cups and playing in the latter stages of the Champions League have now lost patience with the lack of success and the annual departure of their best players. That is why there were protests outside the Emirates following Saturday's defeat against Swansea and why they will only become more regular unless there is a fundamental change in the way Arsenal and Wenger do business.
Gareth Bale hints at quitting Spurs
Gareth Bale ready to quit Tottenham Hotspur for Spain (Jeremy Wilson, Daily Telegraph) The 23 year-old, who is a long-standing transfer target of Real Madrid and Barcelona, has also spoken of an interest in living outside the United Kingdom and playing in another league. The timing of Bale's remarks, which were made after Tottenham Hotspur's 3-0 win against Fulham on Saturday, is especially significant given that Andre Villas-Boas, the Spurs manager, appeared to hint last week that he could leave if a sufficient offer was forthcoming. Villas-Boas did then release a further statement on Thursday, saying that the club had "no intention" of selling their star player. Bale, though, has opened the door to a possible move. "It would be nice to experience other leagues and other cultures," he said. "I'm not afraid to go abroad. If the time comes and a team that's right comes in for me, then I'll look at it seriously. I'll see what happens."
Does Gareth Bale dive?
Bale is not yet in Ronaldo's class (for diving) but he should have been sent off at Fulham (Graham Poll, Daily Mail) Gareth Bale is unquestionably a brilliant player. He is a superb athlete who makes and scores goals for Tottenham and Wales. As a result he is understandably a marked man – but by opponents or referees? His fourth caution for simulation in two seasons makes him the worst offender in the eyes of referees but his manager claims he is being unfairly victimised as his reputation is going before him.
Ferguson backs Mourinho for United job
Fergie: Jose can be next United boss (Mike McGrath, Sun) Alex Ferguso insists Jose Mourinho can manage any club in the world — including Manchester United. The Special One fancies another spell in England after Real Madrid and is keen on the Manchester City job next summer. But Ferguson has opened up the possibility of the Portuguese coach succeeding him after he calls time on his stunning 26-year reign at Old Trafford. Fergie, 70, said: "He can manage anywhere, absolutely. "I'm not going to put any forecasts on what is going to happen at this club. "I won't last forever but Jose can manage anywhere."
What's Really going on at Madrid (Antony Kastrinakis, Sun) You wouldn't have thought Cristiano Ronaldo wants to quit Real Madrid judging by the way he inspired his team's triumph against Atletico. Nor that Jose Mourinho is counting down his last season at the Bernabeu as 80,000 fans cheered him to the rafters. And yet. Before and after Real's 2-0 derby win on Saturday, top sources at the club told me the two are on their way. Categorically. Well, as categorical as anyone can be, about the Bernabeu soap opera. Mourinho stole the show before the game, Ronaldo during it.
Norwich 2 – Sunderland 1
Norwich's Anthony Pilkington exploits Sunderland's high defensive line (Michael Cox, Guardian) But Norwich exploited Sunderland's high line excellently for Anthony Pilkington's strike, which mixed good possession play with a sudden, quick forward pass from Johnson in midfield. The key was the combination of the two approaches; after more than a minute with the ball the unexpected directness came as a surprise to the Sunderland backline. More specifically, Norwich had worked the ball backwards from the opposition third to their own defence, which meant Sunderland's back four were gradually edging up the pitch, trying to squeeze the play – they were abruptly forced to turn round by Johnson's pass. When combined with Matthew Kilgallon loitering behind the rest of the defence, it resulted in Norwich's crucial second goal.
Transfer gossip
Oscar season: Fergie back on trail of Bilbao schemer Oscar de Marcos (Alan Nixon, Daily Mirror) Manchester United boss Sir Alex Ferguson is back on the trail of Athletic Bilbao midfield dynamo Oscar de Marcos. Ferguson sent brother Martin, his top European scout, to watch de Marcos against Barcelona as he re-opens his file on the dynamic 23-year-old who dazzled against the Reds last season. De Marcos was wanted by United in the summer but his high valuation – £25million at the time – put Fergie off the deal and he ploughed his cash into signing Robin van Persie. Now Ferguson is looking for fresh midfield legs again, with Paul Scholes and Ryan Giggs coming towards the end of their careers, and Bilbao may lower the price on de Marcos after a poor season.
Beckham bows out of the MLS with another title
Brand Beckham stars in LA Galaxy farewell after earning his stripes (Graham Parker, Guardian) At one point, as the Beckham Experiment threatened to implode, Donovan might have reasonably expected to outlast the Englishman at the club and he may yet do so after a break in the game. They are differing characters who have clashed at times but who have reached a rapprochement on the field. Donovan took pains to credit Beckham's role in the club's turnaround after a disastrous start to the year – "David's demeanour was influencing everybody and he decided at that point that he was going to take control." Beckham now takes his playing leave of America as a reigning champion, having taken a final round of applause while being subbed in injury time: "It was always going to be an emotional day. So yeah, coming off was tough – but I enjoyed the win."
David Beckham makes gracious exit as he finishes his career with LA Galaxy in typical fashion (Duncan White, Daily Telegraph) But this is Los Angeles, where the sun always shines and it only ever rains champagne. Beckham had just celebrated his ideal farewell in a rowdy locker room with his LA Galaxy team-mates, who made sure he was thoroughly doused in congratulatory bubbly. This was classic Beckham: he has always had the knack of making the perfect exit. He won the Premier League in his last season with United, La Liga in his last season with Real Madrid and now he was leaving America in style too. It was unthinkable that it could have ended any other way. This was also football California-style. The Home Depot Center (a bit like being named after B&Q) was surrounded by palm trees and tequila stands.
Changes to the Champions & Europa Leagues
Why Platini should go back to future and lose expansion (Sam Wallace, Independent) Expansion is always the least original idea. The simplistic notion that more of a good thing is always better shows a basic unwillingness to grasp what makes a competition so interesting. The Champions League has never been perfect – especially given you do not even have to be a champion to get into it – but part of its attraction has been its exclusivity. Uefa is certainly right when it frets that the Europa League is boring – that much has been obvious long before it was re-marketed in 2009. But it is boring because Uefa has made it that way. The great monolith begins properly at the first group stages with 48 teams, eliminates half of them and then sucks up the reluctant eight third-place losers from the Champions League to start again with 32 in February.
Javier Hernandez cuts crime in Mexico
Let's be Jav-in you (Gordon Smart & Caroline McGuire, Sun)  Man United star Javier Hernandez is so popular in his native Mexico that crime there drops when he plays. And more pregnant women get excited and go into LABOUR when the goal-grabbing striker pulls on a red shirt. Mexico City top cop Jorge Carlos Martinez said: "Crimes like car jacking, muggings and robberies go down. "It seems even the criminals want to take time off to see our hero play. Also the birth rates go up."
---
GAMBLING CAN BE ADDICTIVE, PLEASE PLAY RESPONSIBLY