Forget Mancini v Moyes, there were other incidents at Eastlands during Manchester City's defeat to Everton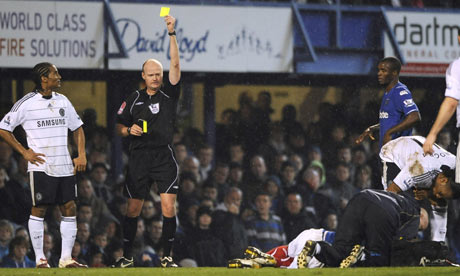 Comment & analysis round-up
Quote of the day: "I think it was a bad one from Malouda. He just hit me and did not try to get the ball. The pain was so great I thought something was badly damaged. That is why I went to the hospital. These kind of actions are dangerous and it should have been a red card. But he just got a yellow." – Ricardo Rocha on Florent Malouda's challenge in Portsmouth's 5-0 defeat to Chelsea.
Runner-up: "It's something I would have to talk about with John Toshack and [Manchester United manager] Sir Alex Ferguson. But at this stage I wouldn't dismiss the idea. If I had the call I would have to think hard about it. I wouldn't rule it out." – Ryan Giggs on a return to international football with Wales.
Today's overview: The Mancini-Moyes touchline scuffle, described by Ian Herbert in The Independent, as "Gucci v Glasgow" is the main topic of discussion. The race for fourth and Tony Mowbray's departure from Celtic also take up some column inches. We start with the other scuffles at Eastlands on Wednesday night.
The other incidents at Eastlands: Forget Mancini v Moyes, there were other scuffles at Eastlands on Wednesday night. Jamie Jackson reports: "Everton have written to Garry Cook, the Manchester City chief executive, to demand an explanation following an incident in which he had a stand-up row with a guest of the Goodison Park club who was watching the 2-0 victory of David Moyes' team from the directors' box at Eastlands on Wednesday. George Downing, a successful businessman who is well respected on Merseyside, is understood to be furious at his treatment by Cook."
And Ian Ladyman in the Mail brings yet another incident. "Craig Bellamy is involved in another Manchester City investigation after allegations of an incident in the players' tunnel at the end of his team's 2-0 defeat by Everton at Eastlands on Wednesday night. Sportsmail understands City striker Bellamy will be spoken to today by the club's football administrator Brian Marwood about comments he is alleged to have made as he left the field. One story leaked to Sportsmail last night was that Bellamy may have made audible comments in support of David Moyes in the wake of the touchline bust-up between the Everton manager and City boss Roberto Mancini towards the end of the Barclays Premier League match."
Mancini v Moyes: Robbie Savage celebrates the Mancini-Moyes dust-up. "I did fear for Roberto going up against a big Glaswegian. If things had escalated, my friend's good looks might have been affected. Moyesie, on the other hand, had a bit less to lose on that score! But seriously, I was delighted to hear that they'd made up afterwards and I hope the FA don't get involved in an incident which only showed how passionate even the coolest people can get about this game."
Ian Ladyman, in a separate article, writes that the pressure has got to Mancini. "City's official line is that fourth is not the be all and end all for their boss. And, they say, he is not really expected to hit 70 points, the figure that proved so costly for predecessor Mark Hughes before Christmas when it was adjudged he would not reach the target. However, if Mancini is to fail and retain his job then he must miss out narrowly and, perhaps, gloriously. If his team fail due to their own shortcomings then patience will be in short supply."
Ian Herbert adds that Mancini's actions were not out of character. "Mancini's life in Italian technical areas has brought him battles far more intense than Wednesday night's handbags with Moyes and the most memorable of them were with one Fabio Capello. Those who have followed Mancini's managerial career remember, in particular, his Fiorentina side entertaining Capello's Roma nine years ago and the reaction when the Viola failed to stop playing when Francesco Totti was injured. 'What the fuck do you want?' Mancini screamed at Capello before he told the Roma coach: 'You're big-headed and lack manners.'"
Jim White was surprised Mancini picked on Moyes. "The problem for Mancini – and his chances should the idea of managerial combat catch on – was that he emerged with about as much success from his fracas as his team were doing out on the pitch. Hair flying, eyes clamped shut, hands loose-waisted and flapping, he looked someone whose street fighting days were long behind him. Not that any of that mattered: he would have been in trouble however he proceeded given that the man he chose to attack was Everton's David Moyes. While Mancini flapped and blinked, Moyes kept his icy blue gaze unwaveringly focused on the City manager's chin, a slight smile playing on his lips as he considered momentarily whether it would be worth the lengthy touchline ban that would ensue from administering a warning slap."
The race for fourth: The race for the coveted fourth spot in the Premier League focuses minds this Friday morning. Harry Redknapp reveals that he is feeling the strain: "This job of professional football management takes it toll no matter what level the game is played at as it doesn't show any favouritism on who it can affect. About a year ago, I needed to take heart pills and I am still taking them regularly – although I must admit my wife Sandra has to remind me because I get so wrapped up in the game that I'm capable of forgetting just about everything else. I am absolutely fine and have no worries about my health but this game can make the most mild mannered of people explode as when you are sitting on the bench you get eaten up inside from first to last whistle."
Stuart James backs Spurs: "Against Fulham, Redknapp brought on David Bentley, Tom Huddlestone and Roman Pavlyuchenko to turn the game in Spurs' favour while on Saturday, at Stoke, Eidur Gudjohnsen scored one goal and set up another after stepping off the bench. That strength in depth not only allows Redknapp to freshen things up but also lets him rotate his players when Tottenham's lengthy injury-list eases."
Steven Howard in The Sun wonders how Aston Villa seem to have blown it. "it's Aston Villa who appear more determined than the rest to throw away fourth place. Sure, they are unbeaten in 10 but SEVEN of those have been draws. What is it about Martin O'Neill's side? They blew up on the run-in last season with just two wins in their last dozen matches. The season before it was two wins in the final 11. Or does this tell us more about O'Neill's ability to handle the pressure?"
Tony Barrett in The Times believes Everton can take fourth. "It could be argued that the injuries that plagued them earlier in the season may be giving them an advantage over their competitors, although Moyes would argue that even if this is the case, it is a high price to pay. What is not in question, however, is that Everton have belatedly joined the battle to finish fourth and although they trail Liverpool, Aston Villa, City and Tottenham Hotspur, their form and remaining fixtures are such that they should not be ruled out. Only four months have passed since November, but Everton are a different proposition now the gloom that was threatening to sink their season has lifted."
On the race for the title, Matt Hughes assesses the problems Chelsea are facing following Ricardo Carvalho's month long lay-off. "Terry's form has been indifferent lately leading to suspicions that a long-standing back problem is troubling him, but Ancelotti will have little choice but to play the pair of them in each of the seven league games that remain this season. Chelsea do not have the option to recall Michael Mancienne, who has agreed a loan deal with Wolverhampton Wanderers until the end of the season, and Jeffrey Bruma, the 19-year-old Dutchman, is the only other centre back in the squad."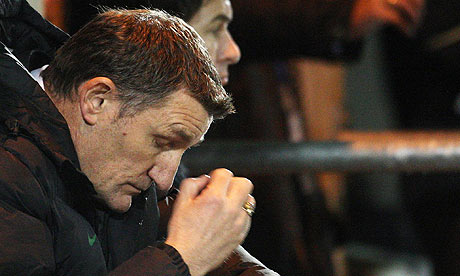 Celtic sack Tony Mowbray: Celtc's sacking of Tony Mowbray provides a fair amount of comment in the papers. Ewan Murray summed up the situation: "Mowbray could be forgiven a Champions League qualifying exit at the hands of Arsenal and even the inauspicious Europa League campaign which followed. However, falling further behind a Rangers team which hasn't been reinforced by purchases since August 2008 would always prove too much for Celtic's support to take."
Graham Spiers also lays into Mogga in The Times. "The defeat to St Mirren not only fatally injured Mowbray, it also exposed him for what he is: an imaginative but flawed football manager. Mowbray himself even condemned his own tactics in his post-match interview on Wednesday, pointing out that his team 'finished the match with six strikers on the field, which left us pretty exposed'. He had also, he said, gone to St Mirren as usual 'trying to be attack-minded'. This dreamy, high-minded notion of a cavalier Celtic bristling with attacking principles is a parody which has proved Mowbray's downfall. In the Clydesdale Bank Premier League his team has played 30 matches, of which they have won 17, drawn six and lost seven. So much for lauded football." With Neil Lennon now in temporary charge, The Times link Celtic with a potential move for Henrik Larsson and Paul Lambert to take over permanently. The Telegraph link Giovanni Trapattoni with the job.
European & world comment: From a week of frenzied European action, Sid Lowe rounds up why Manolo Jimenez was sacked as Sevilla boss and Paolo Bandini looks ahead to Roma-Inter Milan on Saturday night. The Guardian also have Small Talk with Peter Shilton. Woolly haired Jeff Powell adds to the praise being heaped on Lionel Messi, comparing him to Maradona.
With the MLS season starting last night, Simon Hart describes what a crucial year it is for American soccer. "As it enters its 15th season, the MLS now boasts 16 clubs with the addition of the Philadelphia franchise. More than half the teams are now in specific football stadiums, with New York Red Bulls – linked with a move for Thierry Henry – leaving Giants Stadium behind for the impressive 25,189-seat Red Bull Arena. One side in particular provide a notable success story, Seattle Sounders achieving an average home crowd of 30,942 in their first MLS campaign last year when, with Freddie Ljungberg in their ranks, they reached the quarter-finals."
Transfer gossip:Â Transfer twaddle is fairly thin on the ground. Former Aston Villa midfielder Thomas Hitzlsperger is linked with Spurs in The Sun who also make connections between Birmingham and Matty Taylor and Pompey pair Aaron Mokeona and Tommy Smith with Wolves. Following his bust-up with Andy Carroll, Steven Taylor is also tipped to leave Newcastle with Everton and Aston Villa keeping tabs.
The Daily Mail have their usual round-up of transfer guff, stolen from the foreign press who are given no credit and then written by no-name "Sportsmail Reporter." Today, we learn that Manchester City are chasing Hamburg's Jerome Boateng and Osasuna's Cesar Azpilicueta and that Arsenal have been rebuffed in a £1m bid for young Stuttgart goalkeeper Odesseas Vlachidimos." The Daily Mirror add that Everton have targeted Bristol City starlet Christian Ribeiro.
---
GAMBLING CAN BE ADDICTIVE, PLEASE PLAY RESPONSIBLY