"For the first time in modern history, Tottenham have a squad that is more than the sum of its parts" – Oliver Kay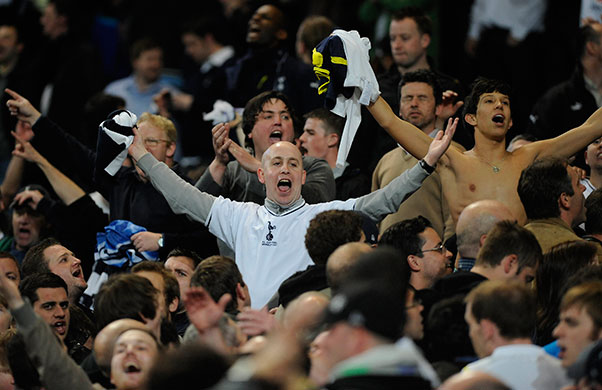 Comment & analysis round-up
Quote of the day: "It's even better than winning the Cup [in 2008]. The Cup you can win with some lucky draws. You all know that if you can get some nice draws, three or four wins and you are there. But I think this a better achievement. I just wanted to finish fourth but the chairman has just asked me who Arsenal are playing on Sunday and I think he wants to see if we can finish above them. I'm just happy with fourth. But I didn't get here because I'm a mug. I know I'm a good manager and I wouldn't have lasted 1,100 games if it was just because the chairmen at my clubs liked me. Most of them probably didn't like me but I had to be doing something right… We will have go in the Champions League. What else can you do but have a go." – Harry Redknapp.
Runner-up: "I'm confident. I think I will stay here. I have worked here five months and you don't start from the roof but the basement. We have worked very well and we are near the roof now. But I am not a magician and I don't have a magic wand. We wanted this [fourth] place, just like Liverpool and Aston Villa, but this is football." – Roberto Mancini.
Today's overview: It doesn't get better than this Tottenham fans. All the hurt. All the disappointment. All of Manchester City's millions. It's all forgotten as the Lilywhites beat the Citizens 1-nil to sensationally qualify for the Champions League.
Tottenham Best: Allowing all English football to get in on the Spurs party, Richard Williams viewed Tottenham's success in boarder British terms. "So there will be an English manager in next season's Champions League, at the head of an English team. An English team, moreover, that may well, if it follows night's triumphant pattern, contain a majority of English players. You don't have to be a member of some right-wing nationalist party to celebrate that possibility."
Zeroing in on Spurs's squad was Oliver Kay, who makes the case that the Lilywhites have spent the cash wisely when compared to City. "For the first time in modern history, Tottenham have a squad that is more than the sum of its parts. Some of those parts are expensive — Luka Modric, Jermain Defoe and Crouch did not come cheap and nor did Wilson Palacios, a late substitute last night, or Robbie Keane, at present on loan to Celtic — but their transfer business over the past 18 months looks far more inspired than City's, which, for all the success of Shay Given and Carlos Tévez and the early promise of Adam Johnson, seemed to be characterised here by the languid figure of Emmanuel Adebayor."
Ben Smith talks up Harry Redknapp as the manager of the season. "Last week, we asked you if Fulham's improbable odyssey to the Europa Cup Final had made Roy Hodgson the obvious choice for manager of the year. However, last night Harry Redknapp reminded us all that he deserves genuine recognition for the way he has resurrected Tottenham Hotspur as he led them to the Champions League for the first time in their history – arguably the more significant achievement."
More praise was poured on the north Londoners from Henry Winter. "Playing with this sort of panache, and always assuming they are not ambushed by dodgy lasagne or dynamic opponents in qualifying, Spurs will be welcomed at Camp Nou, Bernabeu and San Siro. Their supporters' summer has a golden glow to it now… Out on their feet before Redknapp arrived 18 months, they have been spectacularly revived. Redknapp's success, echoing Roy Hodgson's at Fulham, provides a welcome reminder that English managers can work wonders with Premier League teams – if given the chance."
Keeping the Spurs love-in going, Sam Wallace showered praise on Tottenham's star defender. "[Ledley King] turned in a stunning performance in defence. Fabio Capello in the crowd will have recognised what was clear to everyone else in the stadium – when he is fit, King is as good as any defender in the country and the England manager will have to do everything to get him in his World Cup squad."
Man City Worst: Opting to focus on the losers, Kevin McCarra speculates about what this defeat will mean to Manchester City. "The ramifications for Manchester City are extensive, but purely because of the far-reaching disappointment. Another spree in the transfer market is to be anticipated, despite the £200m or so spent to date, but it is hard to say who the managerial beneficiary will be… City, for their part, were prone to futile individualism and too many basic tasks were neglected. There was no patience and barely any pattern. In consequence they contrived to exhaust themselves without taxing their opponents all that much. The pair of exciting runs that almost carried Carlos Tevez clear early in the evening were sources of false hope."
With a hint of enjoyment at their failure, Daniel Taylor is at pains to stress the implications of Man City's loss to Spurs. "Can we seriously imagine that category-A targets such as Fernando Torres will be expected to hold them up as a club of competitive strength and genuine achievement now they find themselves among the Thursday-night, Channel Five brigade? The answer is almost certainly not. A Champions League club is a whole lot more desirable than a Europa League one."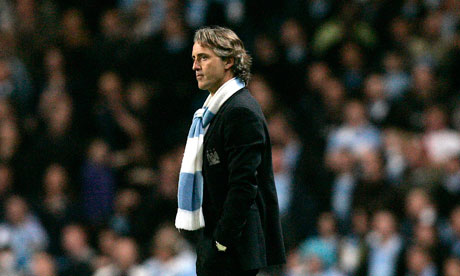 Matt Hughes picks up the baton on whether Roberto Mancini will be City manager at the start of next season. "City's insistence for the past few days has been that Mancini's future is not an issue, but they made similar sounds before Mark Hughes was surprisingly sacked before Christmas and so it should not be taken at face value. The phone lines between Abu Dhabi and Manchester will be humming with activity over the next few days."
However, according to Mark Ogden, the suave Italian will continue to occupy the City hotseat come the start of next season. "Mancini has not yet had the advantage of Sheikh Mansour's transfer market muscle, but he will be given that this summer. And that is why the Eastlands clear-out will be masterminded by Mancini rather than the sheikh. The faces need to change, but only on the pitch… Mancini… has delivered 37 points from 20 games in charge, an average of 1.85 a game. Projected over a season, that would bring 70.3 points. City will end the campaign on 69 points if they beat West Ham on Sunday, one short of the 70 point target. Had Mancini been recruited earlier, City might just have made it to the Champions League after all."
Ian Herbert hangs a handful of City players out to dry as the scribe forecasts big changes at Eastland sthis summer. "There could be no illusion about the defensive weaknesses which have been there all along the road. Wayne Bridge was second in the contest with Aaron Lennon. Kolo Touré was a shadow of the presence Ledley King provided for Tottenham. The only headers Touré won were in the Tottenham box, where he diverted two Bellamy corners – supreme goalscoring chances – wide of goal… Mancini also needs some guile and powers of creation in midfield; skills which will be harder to find now. The diminution of Ireland and Shaun Wright-Phillips is one of the aspects of his era which should give Abu Dhabi genuine cause for concern."
It gets worse and worse for Liverpool: All Liverpool fans want to do is to turn the page to a brighter future, however that dream is torpedoed by Tony Barrett who reports that the much unloved Yank owners could remain at Anfield for a long time yet.
Barrett: "Tom Hicks has intimated that it could take anything up to two years for his tenure as Liverpool co-owner to be brought to an end, an admission that will give further credence to suggestions that there will be no quick sale of the club."
Staying on Merseyside Simon Jones chugs "Rafa Benitez will hold crunch talks with Liverpool chairman Martin Broughton today with his tenure as manager in the balance and the club reeling from Chelsea's bold move for Fernando Torres. As Chelsea prepare to offer £70million for Liverpool's star striker, Benitez will meet Broughton in London and demand written assurances that all money raised from player sales can be used to sign new ones." However Phil Thomas spins the same story more positively for Reds fans, claiming "Benitez may stun Liverpool and stay after Juventus started to waver in their bid to lure him."
Hemorrhaging Hammers: It's been a few days since the financial plight of English football has been plastered across the backpages, but Jason Burt redresses the balance by exposing West Ham's wage bill in the Telegraph. "Kieron Dyer is paid an astonishing £83,000 a week by West Ham United, according to figures obtained by Telegraph Sport… The fourth-highest earner is striker Benni McCarthy, who arrived in January and has failed to make an impact. The other players earning more than £30,000-a-week are Julien Faubert, Herita Ilunga, Luis Boa Morte – who is out of contract this summer – and England international Carlton Cole."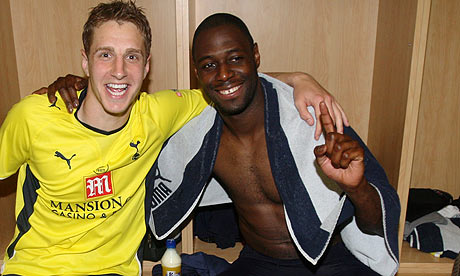 England Updates: With 35 days until the World Cup starts interest in who Fabio Capello will pick on the plane for England continues to intensify.
Dominic Fifield delivers the latest updates, shouting "Capello will disregard Sunday's title finale in favour of assessing the World Cup credentials of Theo Walcott, Bobby Zamora and, perhaps most significantly, Sol Campbell at the Emirates Stadium… The Tottenham Hotspur pair of Ledley King and the uncapped Michael Dawson should gain inclusion despite the former's well-documented knee condition, with Everton's Phil Jagielka also under consideration."
Elsewhere, while some may question if he deserves a place in the squad, James Ducker reports "Gareth Barry, the England midfield player, was substituted with an ankle injury during the second half, but City moved to allay fears that the problem could jeopardise his involvement in the World Cup finals this summer."
Consolidation: England's top clubs find themselves working on keeping their assets under contract this Thursday.
According to Daniel Taylor, "Manchester United have taken a calculated gamble by delaying contract talks with Wayne Rooney until after the World Cup. The club runs the risk of the striker increasing his wage demands if he impresses with England in South Africa." Carrying on the trend Dominic Fifield reports that "Nicolas Anelka is to sign a two-year contract extension with Chelsea that will tie him to the Premier League leaders until the summer of 2013. The deal is expected to be announced some time after Chelsea meet Portsmouth in the FA Cup final on 15 May."
Arsenal also find themselves applying the same policy to their management, with Jeremy Wilson shouting "Arsene Wenger has held preliminary talks over extending his contract, with the Arsenal board expected to offer a new three-year deal until 2014."
And the consolidation policy is also applied at Ewood Park, with the Daily Mail spouting "Sam Allardyce is determined Blackburn  will get rewarded by what Phil Jones does on the pitch rather than what they could get in the transfer market after the defender penned a new five-year deal with the club."
Recruitment Drive: Manchester United's search for a long term replacement for Edwin van der Sar takes an interesting twist today, as once again doubts about the finances at Old Trafford are inferred to a transfer target whom few will have heard of. Oliver Kay details that "reports in Bulgaria yesterday said that United have invited Raïs M'Bohli, the Slavia Sofia and former Heart of Midlothian goalkeeper, for a trial. M'Bohli, 24, hopes to be in the Algeria squad for the World Cup."
In more glamorous news, Jason Burt claims that Chelsea could splash £34 million on Real Madrid forward Gonzalo Higuain if their pursuit of Fernando Torres flops.
As usual the Daily Mail spew out a host of transfer lies that need to be read with a large pinch of salt.
First we learn that Bayern Munich are planning to snare Ji Sung Park from Manchester United for £7million while also claiming "United have their own targets in mind including Everton's Steven Pienaar, Valencia's David Silva and Sotiris Ninis of Panathinaikos but are still to determine their budget." Next the Mail fart "Sunderland have joined the chase for highly-rated Argentina striker Mauro Boselli… Sunderland are also looking to pip neighbours Newcastle to Egypt international Ahmed Al-Muhammadi."
Elsewhere in the DM we're informed that "West Ham want Shrewsbury wonderkid striker Tom Bradshaw," Ashely Gray claims "Manchester City set their sights on £20m Fiorentina striker Alberto Gilardino," while "Chelsea to battle Valencia, Galatasaray and Juventus for Argentina star Fabian Rinaudo." Wrapping up the lies, Ashley Gray farts "Fiorentina are ready to offer Alberto Aquilani a route back to Italy following a disappointing first season at Liverpool."
The Sun also show that they can spread the transfer gossip linking Crystal Palace's Darren Ambrose with a £1.5million move to Wolves while also repeating the rumour that "Kasper Schmeichel is eyeing a deal with Champions League finalists Bayern Munich."
The Daily Mirror close out the transfer lies, beginning with Darren Lewis's report that "Arsene Wenger is set to make £10million defender Pape Malickou Diakhate the first new signing of his Arsenal revolution. The experienced Dinamo Kiev centre-back is the Senegalese vice-captain and a player that the Arsenal boss has tracked for more than two years."
That is followed up by never-gonna-happen story that "Juventus are hoping to strike a player swap deal with Arsenal, with Gianluigi Buffon moving to The Emirates in exchange for one of the Gunners top stars, according to reports in Italy this morning. Italian daily Tuttosport reports that Juve would be keen to sign either Cesc Fabregas, Robin van Persie or Bacary Sagna in exchange for Buffon."
---
GAMBLING CAN BE ADDICTIVE, PLEASE PLAY RESPONSIBLY