"For both Manchester City and Tottenham Hotspur there is a sense that, following years of underachievement, ridicule, agony, they can be the bride rather than the bridesmaid" – Jason Burt
Comment & analysis round-up
Quote of the day: "They [Manchester City] came in and said: 'If you don't drop out of Bellamy, we'll sign Palacios as well and you won't get either of them.' So we had no choice, really. They just said: 'We'll blow you out of the water.' Did they want Palacios? Not really, I don't think, no. They were half-interested. What can you do? It's difficult. You've got a difficult decision, haven't you? And then, obviously, the money that they offered Bellamy, we couldn't compete with anyway… People talk about players wanting Champions League football… If you offer them £200,000 a week, I don't think they'll worry about the Champions League too much. They know they will get in the Champions League eventually. That is the difference in what they can do. With the players that people tell me they're trying to bring in over the summer, they're going to put a team together that could win the championship. They probably will win it. If you bring enough world-class players in, you're going to have a chance. If you can persuade a player to come to your club for football reasons, then you've still got a chance. If you talk about five grand a week [difference], it's possible. But when you talk about 20 grand a week more, it's very hard; 99.9% of players will go where the extra 20 grand is. It's natural, human nature. That's the problem." – Harry Redknapp.
Runner-up: "Tottenham have been a big club for many years. They have played in Europe for many years. We are now building a new time and must have time. Our position is different to Tottenham's. I can see how much people here want this… But I don't think the players have pressure at this moment. I don't have pressure at this moment. We have a great chance to finish in fourth position and it's important we do. It is a chance to make history. We have worked very hard for this and that is a good thing. We want to change the history of the club. When the Sheikh [Mansour] bought the club I think he wanted to change its history and the future. We also want to achieve this." – Roberto Mancini.
Today's overview: For Tottenham and Manchester City, both their seasons come to a head tonight at the City of Manchester Stadium as the battle for fourth reaches its final conclusion.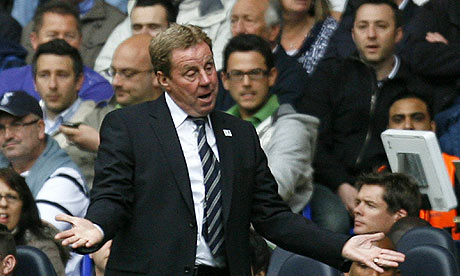 The race for the Champions League: But before the match is even considered, David Hytner stirs the pot by drawing attention to a feud between the two factions that is only now being revealed in the backpages. "Harry Redknapp has accused Manchester City of adopting bullying tactics in the transfer market, claiming that they forced him to drop his interest in Craig Bellamy in January last year. The Tottenham Hotspur manager, who takes his team to Eastlands tomorrow for what amounts to a showdown for the final Champions League berth, said he wanted to sign Bellamy from West Ham United at the same time as taking Wilson Palacios from Wigan Athletic. According to Redknapp, however, City, who also wanted Bellamy, issued a threat that forced him to back off."
Picking up the story from a City perspective, Gary Jacob fights back with news that "Manchester City are considering legal action against Harry Redknapp after he claimed that the world's richest club used their financial muscle to warn off Tottenham Hotspur from signing Craig Bellamy last season."
Looking at the differences between what Champions League football means for Spurs and City is Oliver Kay. "For Tottenham, it would be a fabulous boost as they look towards a brighter future at a new 56,000-capacity stadium that would generate the funds to help them to threaten the London hegemony of Arsenal and Chelsea. For City, whose owners expect their riches to produce a dominant club on the pitch, fourth place would represent not a landing platform but a launchpad."
Jason Burt spins tonight's match as "Manchester City v Tottenham: great underachievers finally have chance of glory." "For both Manchester City and Tottenham Hotspur there is a sense that, following years of underachievement, ridicule, agony, they can be the bride rather than the bridesmaid… Champions League football will propel City and Spurs into a new stratosphere and one from which, given their contrasting approaches, they may be difficult to dislodge. This is a play-off, a cup final, in a different dimension."
Kevin McCarra spends his time looking at Harry Redknapp and waffling on how the wheeler-dealer can achieve his goal of fourth place. "Although his reputation as a trader in footballers is well-preserved, his main achievement has been to get more out of the men he inherited… Tottenham are engaged in nothing less than a bid to achieve a status they have not enjoyed in modern times. Redknapp will have to call upon every scrap of know-how he has collected over 27 years in management."
Diving into forecasts for the match, James Ducker suggests where tonight's match may be won and lost. "The likes of Tevez and Adam Johnson, who has been a revelation since he joined the club in January, will be key players for City as will Defoe and Peter Crouch for Spurs. But with injuries to Shay Given and Heurelho Gomes, it could well be that a mistake, rather than one of the big names, decides the game. If Gomes doesn't recover for Spurs, they are likely to go with Ben Alnwick, who is unproven. Equally, Marton Fulop looked very jittery in the City goal against Aston Villa and so both clubs should be looking to shoot on sight."
A mocking Alyson Rudd pokes fun at Spurs' long history of underachievement. "The joke is always on Tottenham Hotspur; the big club who are not really that big a club. Four years ago they were within touching distance of finishing fourth but fell short when a vomiting outbreak wrongly blamed on dodgy lasagne spoilt the dream. So, as Harry Redknapp's team prepare to travel to the City of Manchester Stadium for what is effectively a Champions League play-off decider, what, if not food poisoning, will kill it this time?"
Getting into the nitty gritty of the likely line-ups at Eastlands, John Ley speculates over the Tottenham team. "Redknapp will give late fitness tests to central defender Ledley King and goalkeeper Heurelho Gomes, with Sebastien Bassong and Ben Alnwick on stand-by. He may also make changes in attack, with Peter Crouch tipped to return after four games as a substitute. That could leave Jermain Defoe on the bench and Redknapp admitted it was time for the England striker to regain his form from the first half of the season."
Benitez Bye-Back?: After days of speculation that Rafa Benitez is set to leave Liverpool, today the idea that the Spaniard could stay at Anfield is tabled.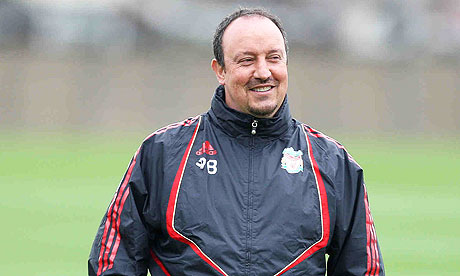 Andy Hunter lays down Rafa's demands to keep him on Merseyside. "Benítez's agent, Manuel García Quilón, has confirmed his client wants to remain as Liverpool's manager but that the onus is on the Anfield board to convince him the club has the means to compete in the transfer market. That will include a guarantee that all income raised by sales, including from Fernando Torres should the striker decide he wishes to leave Liverpool, will be reinvested in the playing staff."
Doubting the suggestion that Benitez will stay at Liverpool was Tony Barrett. "Despite the insistence of Benítez's agent, Manuel García Quilon, that his client intends to continue as Liverpool manager and that no agreement with Juventus is in place, it is looking increasingly likely, unless there is a sudden and unexpected improvement in relations between Benítez and his employers, that the Barclays Premier League match away to Hull City on Sunday will be the last of his six-year tenure."
Injecting the tabloid twist, David Maddock spews "Kenny Dalglish could make a dramatic return to Liverpool if Rafa Benitez quits the club this week… Dalglish looks likely to step into the breach on a temporary basis, with fellow Liverpool legend Ian Rush, to provide stability and breathing space in the search for a permanent successor."
Glazers vs Green & Gold: The mistrust and hatred between the anti-Glazer faction and the American owners of Manchester United appears to have plunged even deeper this Wednesday with reports that Old Trafford staff banned Green & Gold members from entering the stadium to watch the reserves play.
Owen Gibson delivers the skinny, writing "the supporters' groups said a party of teenagers had been ejected from Old Trafford yesterday by police without a valid reason. One supporter, who did not want to be named, said that he and his friends were told they would not be able to bring their anti-Glazer banner into the ground because it contravened rules on the size of banner that would be permitted. Having returned it to their car, he said the group was twice approached by the same group of police officers and told they had been recognised from YouTube footage of a Must stunt when "Love United Hate Glazer" messages were projected on to Old Trafford."
Success Can Be Instant: In a standout article from Gabriele Marcotti the scribe expunges that myth that time is needed to gain success in football. "We hear it everywhere. 'It takes time to build success.' 'You need a five-year plan.' 'You've got to back the manager and be patient.' Blah blah blah… Actually, events in Europe this summer suggest that you can come in and win trophies in your first season. Just take a look at who is winning – or is likely to win – the title in the Continent's top leagues. Louis Van Gaal is in his first season at Bayern, Didier Deschamps is in his first season at Marseille, Jorge Jesus is in his first season at Benfica, Christoph Daum is in his first season in charge at Fenerbache and Nikos Nioplias is in his first season in charge at Panathinaikos. Manuel Pellegrini at Real Madrid and Claudio Ranieri at Roma could yet win the league titles in Spain and Italy. Guess what? Both are in their first season in charge. Of course, so is Carlo Ancelotti at Chelsea, who is 90 minutes away. Does anyone see a pattern here?"
Reacting to the Riots: After the riots at Sheffield Wednesday and Luton in recent days, Martin Samuel gets hot under the collar about football's tame response to football violence. "What is it going to take for the FA to realise this is bigger than boosting their balance sheet? It concerns the right to play without fear of assault. Most of the culprits will get away. Clubs always talk of life bans for offenders, but police arrested seven at Luton and eight in Sheffield, when anyone could see there were hundreds involved, whose only punishment will be a fine awarded to a distant figure in a suit, watching impotently from the directors' box. If clubs are to pay, at least spread the pain, so the next time some thug is feeling tough in the company of 500 mates, there might be 30,000 surrounding him who are moved to object."
Football & the Election: Topical David Conn asks "Will Labour or Tories make the deeper cuts in sport?… It is a measure of how much the government has achieved in its 13 years, with £5.5bn invested in community sport and £2.3bn in school sport since 2003, that the Conservatives arrive at tomorrow's election admitting their past mistakes and promising they have changed. Their sports manifesto largely pledges to continue the Labour government's good work, with some gimmicky-looking twists."
Going Shopping: Are Arsenal finally about to splash the cash and admit that they have a goalkeeping problem?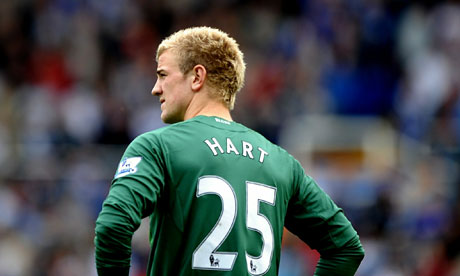 According to Dominic Fifield, "Arsenal's long-standing interest in the Manchester City goalkeeper Joe Hart will prompt a formal bid once the transfer window reopens this month, with Arsène Wenger having recognised the shortcomings of both Manuel Almunia and Lukasz Fabianski at the Emirates." However Jeremy Wilson rebuffs, arguing "[Joe] Hart is among a list of potential targets under consideration by Arsène Wenger but, while Shay Given is still recovering from surgery on his shoulder, City would not risk allowing the England goalkeeper to leave without finding a replacement. However, with Gianluigi Buffon, a previous City target, opening the door on Tuesday to a move to the Premier League, significant transfer activity appears likely this summer among some of the world's best goalkeepers."
Looking at other goalie options for the Gunners, John Cross claims that Arsenal "are scouting several keepers with AZ Alkmaar's Sergio Romero and Shakhtar Donetsk's Ukrainian keeper Andriy Pyatov on their list."
Keeping focus on Wengers transfer policy to boost his defence in the summer, Matt Hughes claims "Arsène Wenger is planning to reward Sol Campbell for his outstanding recent performances by handing him a new one-year contract… Wenger remains hopeful that William Gallas will sign a contract extension, but will sign at least one more central defender even if the France international does stay at the club, with Brede Hangeland, Jack Rodwell, Gary Cahill and Neven Subotic his primary targets."
Turning to their north London neighbours, Gary Jacob announces that "[Harry] Redknapp is planning changes to his squad for next season and has offered Robbie Keane, the Ireland forward who is on loan to Celtic, to Everton in exchange for Steven Pienaar, the South Africa midfield player."
Laying the foundations for a summer battle between Manchester City and Liverpool, James Ducker reports "Roberto Mancini has thrown down the gauntlet to Fernando Torres, Steven Gerrard and other potential signings by warning them not to make a 'big mistake' by shunning Manchester City if the club are unable to offer them Champions League football next season." And tensions between the Scousers and Citizens is ramped up by Matt Lawton barking "Chelsea have made a dramatic move for Fernando Torres that they hope will catch Manchester City cold and take the Liverpool striker to Stamford Bridge for a British record transfer fee that could reach £70million."
And continuing the massive spending spree at the Bridge, the Daily Mail fart "Chelsea are ready to tempt AC Milan with a £70million double bid for Alexandre Pato and Thiago Silva. The Serie A giants have insisted their star players are not for sale but Milan's financial situation will make it difficult to resist serious bids."
On Manchester United Mark Ogden reports that "Sir Alex Ferguson is close to securing the services of defender Jonny Evans on a four-year contract at Manchester United."
The Daily Mail spread their usual gossip claiming "West Ham are preparing to make an improved bid of £5m for West Brom midfielder Graham Dorrans – despite Albion valuing him at £10m." And The Sun join in with the unlikely-to-happen stories barking "Nice striker Loic Remy has issued a come-and-get-me plea to Arsenal boss Arsene Wenger. The £11million rated hitman wants to quit French football in favour of a move to the Premier League and has set his sights on a switch to the Emirates Stadium."
Simon Bird charges in with news that "Newcastle are eyeing Reading sensation Gylfi Sigurdsson" as well as reporting that "Newcastle United are monitoring Norwegian starlet Marcus Pedersen." While lastly John Cross links "Chilean wonder kid Alexis Sanchez" with Manchester United, Liverpool, Real Madrid and Lyon.
Click here for more Premier League betting tips
---