"For all the commendable loyalty of the travelling support, it is impossible to avoid the verdict that Liverpool need a more inspirational leader" – Henry Winter
Comment & analysis round-up
Quote of the day: "We know about the influence of Sir Alex in everything. I've seen three replays [of the penalty decision from different angles] and the last one was suspicious. See the replay for yourself and how he fell to the ground… I think [Valencia dived]. There is contact but the way he fell down – it was strange."
Runner-up: "I thought the penalty kick was a red card. There was no way [Jamie] Carragher could have got across to stop Valencia from shooting, absolutely no way. He [Valencia] is too quick for Carragher to get across. It was a penalty but the law of the game is that if you stop a player from a goalscoring opportunity it's a red card, but not today it wasn't." – Sir Alex Ferguson.
Today's overview: There is only one real story this Monday after Manchester United claimed the bragging rights over fierce rivals Liverpool in the Premier League on Sunday.
Happy to get Liverpool fans backs up acting as the mouthpiece of Fergie, Sam Wallace will no doubt have irked Scousers with his article titled "Ferguson condemns Liverpool to irrelevance." "After three straight defeats to the old enemy he has them back exactly where he wants them: with Rafael Benitez ranting about the referee, Fernando Torres trying to talk himself into a red card and Steven Gerrard in the blackest of moods. This is the version of Liverpool that Ferguson much prefers as opposed to the awkward, relentless, united Liverpool of previous encounters."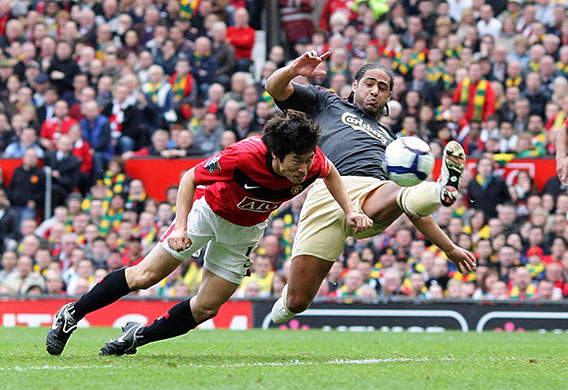 After scoring the winner on Sunday, Oliver Kay lauds Park Ji-Sung and his tireless work ethic. "If perspiration is really the secret of United's success, it is little wonder that Park crops up so often in the big games, having also scored against Arsenal and AC Milan in recent weeks… Whatever the commercial motivations behind Park's signing in 2005, in the summer of the Glazers' takeover, he is contributing fully for United — and if inspiration is scarce, his perspiration is proving invaluable."
Jacker Ducker butts in to note, though, how Park is still coming to the fore at Old Trafford. "United supporters sing, to the tune of Achy Breaky Heart, that "If you sell my Park, my lovely Ji Sung Park, you're gonna have a riot on your hands", but the reality is that he still divides opinion among many fans. A lack of consistency and cutting edge in the final third are two of the main criticisms directed at him, although the signs in more recent weeks have been of a player beginning to address those shortcomings."
For David Pleat, Manchester United's backline was at the root of the Mancunians victory. "Torres became isolated and, although a threat when he got the ball, he was superbly marshalled by Nemanja Vidic, who showed no signs of last year's errors. United used the switch ball across the field to good effect, Rooney changing direction and hitting Nani, and Rio Ferdinand and Gary Neville looking to change the play and disturb Liverpool's cover as early as possible. As a consequence Rodríguez and Kuyt became more concerned with intercepting the crossfield pass and helping Glen Johnson and Insúa to cut out this danger at source."
Following a similar thought-pattern, Daniel Taylor flagged up Liverpool's lack of support for El Nino. "In the end, Manchester United won because they passed the ball with more authority and provided greater support for Wayne Rooney in attacking positions than Liverpool did for Fernando Torres. There were parts of this game when Torres looked as though he would terrorise Old Trafford single-handedly but he was an isolated, pouting and aggravated figure for most of the second half, muttering under his breath and making those little hand gestures that Iberian footballers are so fond of."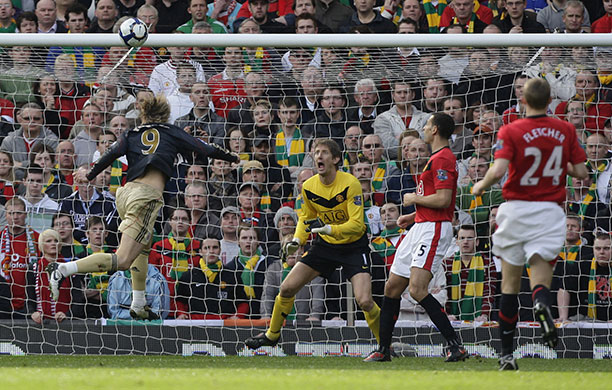 Turning on Torres, Ian Herbert criticised the Spaniard's performance at Old Trafford. "Torres cut a sorry sight: scuffing up the penalty spot before Rooney's penalty, booked for the fourth time in five matches after a hack at Park Ji-sung, clapping ironically so frequently that he generated the most animated of responses you will see from Howard Webb. Ball control disappeared with his self-control and he was mentally unequipped to stroke home the ball Gerrard levelled for him in the 89th minute."
Henry Winter uses Liverpool's defeat to call for Rafa Benitez to be sacked. "This defeat wounds Rafael Benítez deeply. For all the commendable loyalty of the travelling support, it is impossible to avoid the verdict that Liverpool need a more inspirational leader, somebody to set the players' adrenalin flowing again. Liverpool may not be a sinking ship but they are undeniably becalmed in domestic waters. Only the Europa League offers consolation now."
Raising the noise against Benitez was Martin Samuel. "Liverpool are now nearer on points to Sunderland in 13th place than to Manchester United in first. They have lost as many League matches as Birmingham City (10) and as many away from home as Wolverhampton Wanderers (eight). They have  lost more away games than any team in the top eight, and have been outscored away by Wigan Athletic and Bolton Wanderers. It is increasingly difficult to gloss over this season at Liverpool as a temporary aberration, a blip. If it is a blip it is one that sounds increasingly like the Morse code distress signal, SOS."
Taking a different angle on Sunday's United-Liverpool match, Tony Barrett bemoans the missed opportunity for both sets of supporters to protest against their American owners. "There is no such thing as a common enemy when the two most successful clubs in English football collide, much to the relief, no doubt, of Messrs Hicks, Gillett and Glazer. Mutual loathing is too deeply entrenched for vitriol to be aimed anywhere else than at one another."
What about Chelsea? After drawing at Blackburn there is little belief in the backpages that the Pensioners can win the Premier League this year as the gloom settles over the Bridge.
Leading the Chelsea-bashing is Alan Hansen, who berates the Blues for a lack of desire. "Chelsea should be home and hosed by now but, for whatever reason, they have not shown the desire required to win the league. Why has that happened? It could be down to a host of reasons, but biggest question is do they really want it? If you look at Arsenal and United in recent weeks, their performances tell you categorically that they desperately want to win the league. That's why I believe that the title race is now between those two. Chelsea are not out of it, but they don't appear to want it enough."
Oliver Kay wonders how the Blues will be able to shake up their squad this summer. "Abramovich planned to raise funds for reinforcements this summer by selling a key player or two. But who is there to sell? The time to cash in on Terry, Ricardo Carvalho, Frank Lampard, Deco, Didier Drogba or Nicolas Anelka has gone, with their market value — and in certain cases their performance level — now in decline… Abramovich accepts that to rejuvenate the squad he will have to spend, but he is loath to throw good money after bad. Joe Cole, out of contract this summer, seems destined to be the first victim of a purge of the older players, but he might not be the only one."
Are Arsenal now favourites to win the league?
Dodging that issues somewhat, Simon Barnes hopes the Gunners scoop the title this season. "Arsenal took another step forward in their game of grandmother's footsteps with the Premier League title, one every neutral wants them to win. Why? Because they are beautiful, obviously. Because they play the Right Way. So their victory over West Ham on Saturday had the now-traditional Arsenal command of the moral high ground…  Beauty has its own agenda. Beauty has a morality all of its own."
Shifting focus, Kevin Gardside picks up the baton of calling for the return of British managers in England's top jobs. "How long before a British manager is called to fill the next vacancy at the top of the English club game? Jose Mourinho can't manage them all. Besides the myth of the foreign guru is eroding. With the obvious exceptions of Arsène Wenger and Mourinho, imported expertise appears no better than the domestic alternative. Carlo Ancelotti is roasted by Roman Abramovich and Roberto Mancini's stock dives at Manchester City  with every point surrendered."
Off on a Monday tangent, Patrick Barclay laments calls for Beckham to be part of England's squad for the World Cup. "Fabio Capello is supposed to be a hard and practical man. So how could he come up with an idea as soft and stupid as that of adding David Beckham to his World Cup staff?… He has no qualifications for a staff job. All he could be is a nuisance."
There are only limited transfer lies this Monday.
The Sun report that "Celtic and Roma head the queue for Portsmouth's Algerian World Cup left-back Nadir Belhadj," while Alan Nixon coughs "Derby boss Nigel Clough wants to sign old boy Tommy Smith from crisis club Portsmouth on loan for the rest of the season."
Finally, The Sun promote a brilliant rumour today that "Vinnie Jones is planning a remake of the cult football war film Escape To Victory – with David Beckham in the Bobby Moore role. The 45-year-old ex-Wimbledon defender turned Hollywood actor is in talks with LA producers to star in an updated version of the 1981 flick."
---
GAMBLING CAN BE ADDICTIVE, PLEASE PLAY RESPONSIBLY