Footballer comes out, then quits; FA Cup 5th round previews
Quote of the day: "I always thought I could hide this secret. Football was my escape, my purpose, my identity. Football hid my secret, gave me more joy than I could have ever imagined… I will always be thankful for my career. Now is my time to step away. It's time to discover myself away from football.  It's 1 A.M. in London as I write this and I could not be happier with my decision. Life is so full of amazing things. I realized I could only truly enjoy my life once I was honest.  Honesty is a bitch but makes life so simple and clear.  My secret is gone, I am a free man, I can move on and live my life as my creator intended." – Robbie Rogers on his difficult decision to come out
Runner-up: "I understand that this is big because of the history. You can't be annoyed at that. I was there in 1985. It is very much a part of my memories and I can't forget it. I don't see why the media should either. But we have moved on and this match gives us an opportunity to show that…We didn't quite realise the scale of the event until the days that followed and the political fallout. That was one of the events that year that created a lot of attention. There were other matches that arguably had bigger trouble but did not attract the same attention. It became a political pawn. And that is not dumbing it down. The fact that it was the FA Cup probably had something to do with it." – Gary Sweet, Luton Chief Executive
FA Cup 5th Round
Luton Town v Milwall 1985 – the night football died a slow death (Sean Ingle, The Guardian)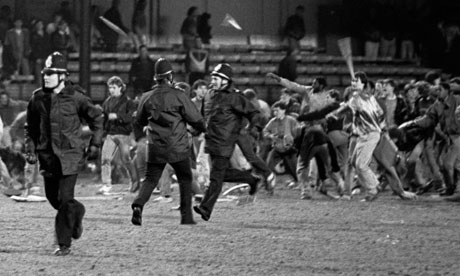 Wednesday 13 March was, said the Guardian, "a night football died a slow death", but a fatality was the only thing missing from the roll call of ultraviolence. Luton's stadium was stripped, houses and cars smashed, and the image of the national game – already bruised by a battery of hooligan incidents – given another going over. The following day England, who had been favourites to host the 1988 European Championship, lost out to West Germany. The Football Association chairman, Bert Millichip, blamed the violence, adding: "The scenes at Luton were the most disgraceful I have seen – and I have seen a lot."
Crock of gold remains a mirage for Leeds United (David Conn, The Guardian) After almost eight largely depressing years under Ken Bates' control the Leeds hard core at a half-empty Elland Road hoped the takeover by GFH Capital, based in Dubai, owned in Bahrain, would be their version of City's Sheikh Mansour: multimillion-pound deliverance by a Middle East benefactor. Instead, eight weeks on, that optimism has crumpled for many into further disillusionment. Responding to the revelation by BBC Radio Leeds last week that they had turned down an offer from local businessmen – still unnamed – to buy a majority stake, GFH issued a statement professing they were "thrilled" with their January transfer window and "delighted with the progress made".
Michael Appleton settles in after ejecting circus from Blackburn tent (Dominic Fifield, The Guardian) He had initially believed he was being offered those assurances at Pompey, and quickly concluded they would elude him at Bloomfield Road, but there is still an irony that it is Rovers, the Venky's plaything, who are offering him a platform. The hope is that this is a more stable Blackburn, run on a daily basis by the managing director in situ, Derek Shaw, rather than on the whim of absentee owners in distant Pune. Shebby Singh's name still adorns the car park space nearest the main reception at the club's Brockhall training complex, complete with the grand title "global adviser", though the bay is occupied by a white painter and decorator's van from Clitheroe. "We've not had any contact from Shebby since I've been here," Appleton says. "He knows my number. He knows where I am. I'm not sure what he's doing at the moment but, if he's global advising, he's certainly not advising me."
Colin Kazim-Richards interview: Rover completes his quest (Henry Winter, The Telegraph) A forthright individual, Kazim-Richards had a disagreement with his own fans during a Fenerbahce match. "I appreciate fans booing – it's their club – but if I've given everything don't disrespect us. The Fenerbahce fan was talking about my mum. I'm not going to have that. A lot of people in life don't like direct people and I'm very direct. Neil Warnock was cool with that. Fatih Terim was very cool with it, very strong and direct.
Michael Brown interview: 'I've regretted some tackles but I won't change my desire to win' (John Edwards, Mail Online)  Michael Brown cannot be sure Leeds will add to this season's catalogue of FA Cup shocks at the Etihad on Sunday, but he has a shrewd idea Neil Warnock will find a way of making them believe they can. He is just as certain it will be anything but orthodox. Warnock has form for springing cup upsets, and Brown has a vivid memory of the inimitable way he made it work in their days together at Sheffield United.
The brains of Oldham's run: Matt Smith the bilingual Uni graduate with friends in high places (Mark Ogden, The Telegraph) In a sport which is not exactly renowned for its tolerance of well-heeled intellectuals, Smith is a rarity. The Oldham striker has Jack Whitehall – the self-professed poshest man in stand-up comedy – in his address book and flirted with the notion of a career in the City, his degree in international business studies earning interviews with blue-chip companies such as Deloitte, Bain and Company and Boston Consulting Group.
Opinion/Analysis
Cristiano Ronaldo's leap an inadvertent tribute to outlaw art of heading (Barney Ronay, The Guardian) Headers: they're so hot right now. It has in many ways been a week of headers, the domestic Champions League fixtures garnished with two brilliant headed goals in Manchester United's draw at the Bernabéu, and beyond that by the cultural misunderstandings of the "grapple defence" system employed by Juventus at Celtic Park. It was as if an anti‑header measure had got the entire home bench on its feet convinced some horribly intrusive Euro-wrong was being visited upon them, as though rather than simply permitting a little close-quarter wrestling the referee had instead been caught hurling skip‑fulls of non‑metric shortbread into a quarry or remorselessly pulping our un-bent bananas.
Coming Out, Retiring 
US international and former Leeds United player Robbie Rodgers comes out as gay and quits football (The Independent) In a blog titled The Next Chapter, Rogers wrote: "Secrets can cause so much internal damage. People love to preach about honesty, how honesty is so plain and simple. Try explaining to your loved ones after 25 years you are gay. Try convincing yourself that your creator has the most wonderful purpose for you even though you were taught differently."
---
GAMBLING CAN BE ADDICTIVE, PLEASE PLAY RESPONSIBLY