"Football is ridiculous, and England is ridiculous about football. England have a smidgin of a scrap of a ghost of a chance. So let's go f***in' mental" – Simon Barnes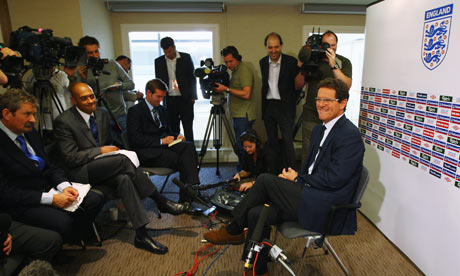 Comment & analysis round-up
Quote of the day: "We are a good team, we are playing well, but we must keep our feet on the floor. We made the first step but we must work hard because to win the World Cup would be a really strong moment." – Fabio Capello.
Runner-up: "If you ban players from moving before the age of 18 the players will be sold to agents, at 13 or 14, Where will they go? Not to clubs with top-level education, but clubs who have been bought by businessmen of a very low level. If a player goes to Man United, Chelsea or Arsenal it's all clear and he gets a good education. Fifa can come here and immediately I open the door for inspection to show them what we do and how we treat the boys. That's not the case everywhere. There are some places in Brazil where the boys do not have the same conditions or treatment we have here. If you have a child who's gifted at football, what is his best opportunity to develop as a player? If you have a child who's very gifted for music, you try to put him in a good music school, not in an average one. Why should that not happen in football? I've been long enough in the game to be convinced that the best must play with the best — there's no better education." – Arsene Wenger.
Today's overview: England's qualification for South Africa 2010 dominates this Friday morning and the hacks are falling over themselves to praise Fabio Capello, with just a few of them laying out what the Italian has to do before the World Cup.
Simon Barnes ponders what World Cup qualification means for the nation. "A World Cup with England in it is a rare — quadrennial at best — national indulgence in the deliberate abnegation of rational thought. We sweep from hope to despair and back to gloatsville once again, all in the space of a match, or during a brief passage of that match. We experience all the extremes of emotions, we share them, and those who normally shy away from football and its madness get swept along; a nation briefly united in folly. Football is ridiculous, and England is ridiculous about football. England have a smidgin of a scrap of a ghost of a chance. So let's go f***in' mental."
Henry Winter writes that England's Italian manager has unfinished business at the World Cup. "The last time Fabio Capello returned home from a World Cup, rotten tomatoes whistled around his head as the Italian public reacted angrily to the Azzurri's group-stage collapse in 1974. The last time Capello tried to make a World Cup squad, for 1978 in Argentina, the midfielder was omitted at the last moment. Rather like England, Capello has more than 30 years of hurt to heal."
Kevin McCarra praises Fabio Capello's formation of a "band of brothers." "Capello also has a bond with the group he leads. The aloofness was set aside when he winked at the people on the bench after Frank Lampard had scored the third on Wednesday night. The footballers are enjoying life even if the England environment is now a strict one. The manager has recreated the ambition and professionalism expected by the many players who take it for granted each year that their teams will be genuine challengers in the Champions League. For them, the transition from club to country is now seamless."
Jamie Redknapp in the Daily Mail provides the secrets of the England dressing room. "The England players who work with him compare him to Jose Mourinho. With Jose, a small tactical change that resulted in a victory earned him respect from the dressing room. When a change was made the players believed in him and believed it would win them the game. It's the same now with Capello. England have their own Special One."
Oliver Kay reports on what Don Fabio can earn if England are victorious at the World Cup. "The Times has learnt that, in the negotiations that preceded his appointment, Capello was offered a deal in which his bonus payments would go up incrementally for each stage that England reached in South Africa. The Italian, however, dismissed the idea of being rewarded for reaching the knockout round, the quarter-finals or the semi-finals and settled instead for a revised package where his basic salary went up to £4.8 million, with a bonus for qualifying, but further bonuses would come into effect only if England reached the final."
The lead story in The Sun also relates to Capello's potential earnings. "Fabio Capello is laughing all the way to the bank after England qualified for the World Cup. Capello, who is already on £6million-a-year, pocketed a £1m bonus by reaching South Africa. And the Italian will bag another £1m if England win the World Cup."
Matt Lawton proves how Capello has earned his money so far. "When it comes to how Fabio Capello solved the one selection conundrum that so baffled his more immediate predecessors, he makes it sound ridiculously simple. Creating a team that drew the best out of Steven Gerrard, Frank Lampard and Wayne Rooney proved beyond Steve McClaren and Sven Goran Eriksson. But Capello? Not a problem. 'I spoke with them and I said you are a fantastic player, you are a fantastic player and you are another fantastic player. I then explain the movement I want them to do during the game and the players did this.'"
A number of hacks look at who will make the England plane to South Africa. Matt Hughes: "Much of the nationwide debate will centre on the inclusion or not of two of the biggest names of the Premier League era, David Beckham and Owen, even if Capello's mind appears all but made up. The Italian values Beckham's experience, free kicks and ability to slow the play and would love to take him if his fitness permits."
Shaun Custis seems certain that Goldenballs will make it following comments yesterday from Don Fabio. "David Beckham has been given a massive World Cup boost by Fabio Capello. But the England boss is giving up hope of having Ledley King in his squad for South Africa. Capello said: 'Beckham is always with us because, for me, he is an important player. He is good in the group and is good at every moment in training.'"
Dominic Fifield pinpoints ten questions Capello has to answer. "8) How does Capello use the friendlies to come? The temptation will be to experiment and fine tune his options, addressing the key selection issues and, perhaps, developing a new system away from his 4-2-3-1 should England be reduced to chasing a game once the tournament proper begins. One suspects that the opponents chosen – Brazil in November, for example – will be of the quality to offer real answers to nagging questions."
Alan Hansen is one pundit who does not seem overcome with jingoistic optimism and asks where England's natural predator is. " Capello has two huge issues to address – goalkeeper and goalscorer – and I just cannot see any genuine options that could improve the situation at present. I have spoken before about the doubts over England's goalkeeping alternatives and that is a problem that won't go away. But perhaps the most difficult issue for Capello to solve is who will score the goals when it gets tight at the World Cup?"
Richard Williams pinpoints Wayne Rooney as England's key man. "If he can sustain such mature behaviour, England's chances of doing well in South Africa will be immeasurably improved, along with his own chance of being accepted into the ranks of the truly great players. And there were plenty of times on Wednesday when he looked exactly that, most of them coming when he put himself at the service of the collective effort, acting as a distributor and director."
Tongue firmly in cheek, Harry Pearson looks at what won't happen as England prepare for the World Cup. "December: At the World Cup draw in Cape Town England are put into the same group as North Korea. "It's perhaps – heh‑heh – ironic," says John Motson, "that our Italian manager should find himself up against the country that heaped their greatest World Cup humiliation on his homeland. Let's hope it's not an omen." Motty is immediately seized by MI6 as a danger to public confidence and beaten."
Steven Howard brings examples of the bad luck that has been inflicted on the England national team and hopes Capello can break the "jinx." "When Spain triumphed at Euro 2008, it was 44 years since they last won a major tournament. Next year will be 44 years since England, the other great global under-performers, won the big one. We have certainly paid our dues for that third controversial goal in the '66 final. C'mon, give us a break."
The Sun also spin another angle on England's bid for World Cup glory: Fabio Capello's ban on WAGS. "DETERMINED Fabio Capello has laid down the law to the WAGs as England plot their challenge for World Cup glory in South Africa next year. He has insisted his stars will not go to the tournament for a "holiday" – and warned their wives and girlfriends: 'If you don't like it, don't come.'"
A host of pundits are lining up to advise Maradona how to guide Argentina out of their World Cup qualifying mess.
Bill Edgar sets out the situation: "The absence of Diego Maradona's Argentina side would leave a gaping hole at the World Cup but, on present form, the man who claimed that the 'Hand of God' helped his country to beat England en route to their 1986 triumph may require more divine assistance simply to reach the finals this time. They stand fifth in South America's qualifying group — a position that would earn a play-off against Concacaf's fourth team, at present Costa Rica — but three sides lie within two points of them. Argentina last failed to qualify for the finals in 1970."
Marcela Mora y Araujo argues that "ditching Maradona will not help." "It might be too much to ask, sadly. But anyone replacing him will have to deal with the Argentinian game's rotten structure. Impossible as it sounds, it makes more sense for Diego to stay and adapt than to appoint someone new. If he stays it will be trouble. But if he goes, it could be double."
Amy Lawrence looks at France's bid for WC qualification and how Thierry Henry runs the France team. "Despite having the attacking prowess of Henry, Anelka, Franck Ribéry and Yoann Gourcuff at their disposal, Les Bleus are not scoring enough goals. Of the top two teams in the nine European qualifying groups, only Sweden and Norway – with nine goals – have scored fewer than France's 10. So, it is over to Henry to see what can be done. 'The team has soul,' he said after scoring his 50th international goal in Belgrade. 'We had a group of warriors.' It is also a group with a new leader. So let's see if he can take his country into another World Cup."
There is scant transfer gossip, presumably because the hacks are too busy praising England to make up stories. However, West Ham seem to have signed Mexico striker Guillermo Franco, Russian goalkeeper Igor Akinfeev says he could never "Igor" Manchester United and Hull have given a trial to Manchester City reject Glauber Berti.
---
GAMBLING CAN BE ADDICTIVE, PLEASE PLAY RESPONSIBLY