Football in the Smut Gutter: Reports link Vanessa Perroncel to seven Chelsea players as Gudjohnsen & Mutu are named, while Avram Grant is shamed for visiting a brothel
Comment & analysis round-up
Quote of the day: "Eidur became a regular visitor. They always disappeared to her bedroom together. It was my grown-up son's old bedroom – and he's a huge Chelsea fan. It was clear what they got up to, you could hear them – he appeared quite energetic. On three or four occasions Eidur actually stayed the night, but always left in the early hours around 5am. I used to hear the stairs creaking as he crept down them. I used to be giggling to myself – here is this millionaire footballer sneaking away from a tryst in my humble council flat! Eidur was always wary of being spotted. The funny thing is my neighbours saw him one day and asked me if it was him. If his wife was away she would go around there and stay in his house – Vanessa used to adore it because it was so luxurious. Vanessa is not the type of girl averse to nicking someone's husband. She once said her ambition was to marry a top footballer. I said, 'Good for you, love'. But I had to sit her down and say, 'This Eidur seems like a nice fellow, but he is not going to leave her for you'. Vanessa said Eidur told her, 'I would leave her, but I'm terrified of losing my kids'. Vanessa told me that one night at the club where she worked she was practically sitting on Gudjohnsen's lap, and his wife came in. The wife was not at all happy and was well suspicious. She kept giving Vanessa dirty looks – but I think Vanessa was really enjoying it." – Landlady Linda Wardley.
Runner-up: "When I get back to full strength, I'll be able to make a major impact [in the title race]. We [Arsenal] have different types of striker who can do different things, and I think the team has missed a type like me." – the ever arrogant Nicklas Bendtner.
Today's overview: The shamble that is Portsmouth FC took another twist last night as, while the team were losing 1-nil away at Fulham, in the boardroom the south coasters once again saw the club changes hands.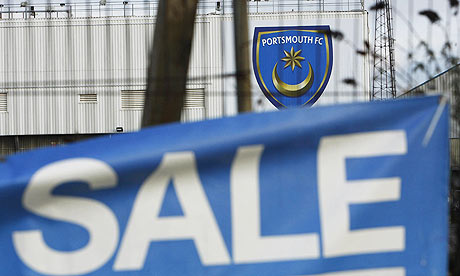 Jamie Jackson delivers the skinny announcing "Portsmouth's troubled season took another dramatic twist last night when Balram Chainrai seized control of the club from Ali al-Faraj, making the Hong Kong businessman the fourth owner at Fratton Park this season, following Sacha Gaydamak, Sulaiman al-Fahim and Faraj. Chainrai has taken over the 90% shareholding in Portsmouth that was held by Faraj after becoming frustrated that the club had missed deadlines to repay money he was due for substantial loans he gave to them earlier this season."
Amazingly, Mark Fleming then immediately talks up the possibility of Portsmouth being sold on again in the near future. "It is understood that Chainrai has no desire to own Portsmouth permanently, but only wishes to secure its immediate future with a view to selling it as soon as is feasible."
Turning to other clubs in Premier League peril, Paul Wilson focuses on Wigan and Sunderland to flag up similarities in the two clubs as they battle for survival. "Not only do Sunderland and Wigan possess players who possibly did not imagine they would be in for a relegation scrap at the start of the season, they also have players who thought they could escape through the transfer window and are now disappointed."
One game, one defeat for Robbie Keane at Celtic, and Ewan Murray traces the how the Irishman is already getting it in the neck north of the boarder. "The text-message jokes have started already: 'Robbie Keane signed for Celtic on loan for the rest of their season. He went home this morning.' The uncanny resemblance of Keane's Celtic debut to that of his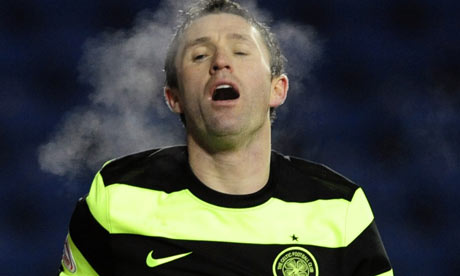 namesake, Roy, in green and white is as striking as the amount of pressure now heaped upon Tony Mowbray… if this is the peak of Keane's career, one is entitled to ask what he is up to spending it at Kilmarnock and, as will be the case for a Scottish Cup tie on Sunday, Dunfermline, rather than England's Premier League."
Gabrielle Marcotti also focuses in on Robbie Keane's future, with the scribe fearful for the Irishman's longevity in top flight football. "Keane turns 30 next summer. Unless he turns into the second coming of Henrik Larsson, Spurs will have a tricky time selling him. Once you factor in his wages you realize that, while selling him to Liverpool was a great bit of business, buying him back most definitely was not. But I'll bet you won't find too much criticism of the man who decided to take him back to White Hart Lane."
More sad news in the sorry career of Owen Hargreaves. James Ducker reveals that "Capello's hopes of having Owen Hargreaves fit for the World Cup finals have suffered another huge blow after Sir Alex Ferguson removed the Manchester United midfield player from his Champions League squad. Ferguson's decision raises fresh doubts about the player's chances of returning to action this season."
Staying with bad investments at Old Trafford, Ben Smith delivers an economics essay to explain how the recent Manchester United bond issue could worryingly fall flat on its face. "United's first bond issue, launched barely a fortnight ago, is in danger of falling flat after analysts confirmed it has become one of the market's worst performers this year… The price of United's £250 million sterling denominated bonds has tumbled to just 93 per cent of their original face value, while the value of the $425 million of dollar-denominated bonds has fallen to 94.5 per cent of their face value."
Heading south to Arsenal, Matt Hughes berates Arsene Wenger for not buying a striker in the transfer window. "Given the problems experienced by Chelsea, Manchester United and Liverpool Arsenal may never get a better opportunity to win the Premier League for another generation, but their hopes have founded on the rock of good housekeeping. To remain in the title race without a genuine centre-forward for several months was a great achievement, but to win it in such circumstances would have been a miracle. Not even Wenger can produce those."
Obviously the papers refuse to leave the John Terry story alone, with today's updates mostly speculation and guess-work over how Fabio Capello will react.
The standout article of the day comes from former England cricket captain Mike Atherton, who asks "what exactly the England football captain does, apart from shake hands with the opposition at the toss and decide which way to kick off. One said he organises 'things.' What, exactly? 'Laser shoots, and the like. You know, team spirit things.' Another talked of understanding the game — although one hopes that is a minimum requirement of any international footballer. Another talked of leading by example and of his symbolic importance. If symbolic is too strong a word, then it gets closer to the point than most. If not a symbol then he is a reflection, mainly upon Fabio Capello, and to a lesser degree on us. This is why "Il Capo" has to act."
Fearing for society's moral compass, James Lawton believes John terry must be removed as the national captain. "What is most dispiriting about the reaction to Terry's latest transgression is the widespread acceptance that he can hardly be criticised for falling beneath standards that have ceased to exist. Who then is entrusted to set a standard? Is this a team capable of growth, even redemption, a team susceptible to a new and superior example, or is it simply Sleaze-bucket United?"
Yet former Manchester United star Andy Cole challenges the moral argument head-on with the observation "if we didn't let people who make serial errors in their private lives near a pitch, we'd never have had George Best, Maradona, Gazza and umpteen more."
A pragmatic Matt Hughes makes a logical case why Terry has to stay on wearing the Engand armband. "Capello is also understood to have reservations about who could take Terry's place. Rio Ferdinand made only four international appearances last year because of injury, Steven Gerrard has been passed over and Wayne Rooney is already shouldering the burden of being the side's most important player."
Away from the football talk, Vanessa Perroncel takes a battering in the Daily Mail today as Paul Bracchi reveals that "We have now been given the names of another two Stamford Bridge stars who allegedly succumbed to Miss Perroncel's charms, bringing the grand total to seven – four of whom were named publicly in a red-top newspaper yesterday… One of the stars, it is claimed, was Eidur Gudjohnsen… Sources also claim she slept with shamed Romanian star Adrian Mutu."
But John Terry is not the only Premier Leaguer facing sleaze stories this Thursday, as Pompey boss Avram Grant is publicly named and shamed as having been caught in a Thai brothel several weeks back.
Gordon Rayner explains the hot water the Israeli finds himself occupying. "[Grant] faces being questioned by vice squad officers after he was seen visiting a brothel which is the subject of a police investigation. Police sources confirmed that they were pursuing an active investigation into the brothel, where… prostitutes charge up to £130 for intercourse.
Unable to stop themselves farting transfer gossip, the Daily Mail claim "Manchester United are still interested in Racing Santander's Sergio Canales, 18, who has yet to sign for Real Madrid." The Sun also spread unsubstantial transfer gossip claiming "Barcelona now want to lure Cesc Fabregas AND Emmanuel Eboue from Arsenal."
---
GAMBLING CAN BE ADDICTIVE, PLEASE PLAY RESPONSIBLY