Fleet Street still obsessed with Rio Ferdinand, John Terry now an injury doubt & Does 4-4-2 work for England?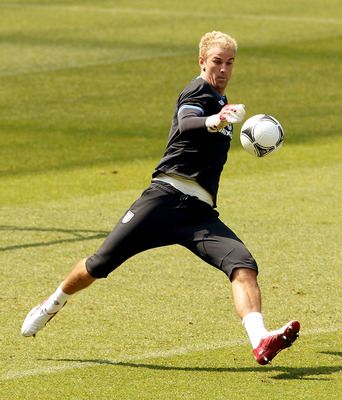 Comment & analysis round-up
Quote of the day: "If you look at the top England teams of the past we have often had a goalkeeper that people have suggested is one of the best in Europe or, in the case of Gordon Banks, one of the best in the world. Joe Hart will be vital. His form for Manchester City has been superb. When he has played for England he has done very well. If we are to do well there is no doubt we will need Joe in top form. He produces the saves a normal keeper wouldn't. That lifts your team higher up. It also gives confidence. I agree 100 per cent with Brian Clough's view; he always placed great faith in goalkeepers. Brian felt they got you a lot of points every year." – Roy Hodgson.
Runner-up: "I don't think we are in a situation where, as a country, we can go out there and outplay too many teams. We rarely outpossess other countries, so we've got to think logically about how we set up and the best way to get results. That's not negative. How did we beat Spain [under Fabio Capello in November]? How did Chelsea get through against Barcelona? In certain games you have to accept the opposition might get more of the ball, so that tends to dictate what you do with your selection. While certainly you want to win the first game in the tournament, if you lose it you have a mountain to climb." – Gareth Southgate.
And still the Rio Ferdinand furore rumbles on
It is exactly for 'football reasons' that Rio can't go (Martin Samuel, Daily Mail) "Start with the obvious. Martin Kelly is not the replacement for Gary Cahill. Phil Jones is. Right or wrong, it is Jones who is preferred to Rio Ferdinand in Roy Hodgson's England squad, not Kelly. Let's go from there. Jones is the utility defender. Before Saturday, he was first reserve right back, first reserve holding midfield player and fifth-choice centre half, demoted from fourth following Phil Jagielka's elevation from the stand-by list. Once Cahill was ruled out, Jones returned to his original place in the squad. His status is as it was on May 16. So Kelly is included in case Jones is required to cover full-back duties, in the event of Glen Johnson's absence. For Kelly to play, England would have to lose Johnson, John Terry and Joleon Lescott in one match, leaving a back four of Kelly, Jones, Jagielka and Ashley Cole, although the way England's luck is going it can only be a matter of time before Cole falls down an open manhole, his last despairing act being a frantic grab for a hand-hold that succeeds only in taking Leighton Baines with him."
'It's a smear campaign': Sven backs "good friend" Hodgson in Rio row (Martin Lipton, Daily Mirror)
Roy Hodgson is just trying to pull the wool over our eyes about Rio Ferdinand (Paul Ince, Daily Telegraph)
John Terry now an injury doubt
John Terry misses training in race to be fit for England's opener against France (Jeremy Wilson, Daily Telegraph) "The Chelsea defender suffered a tight hamstring during Saturday's 1-0 win against Belgium and, although a scan on Sunday revealed no serious damage, he was not risked on Tuesday during training and instead continued his recovery work. England's caution is understandable given the defensive injury problems over the past week but Terry has still to kick a ball or sprint fully since Saturday."
England
The Question: Does 4-4-2 work for England?(Jonathan Wilson, Guardian) "It is legitimate to ask why England need to play a containing game but at least there seems to be a recognition that this is their best approach. For once a sense of realism reigns and, while it does, Hodgson's prosaic 4‑4‑2, simple, unfussy and solid, is its logical tactical manifestation."
Graham Taylor: 'Do I not like that' – it's Euro 92 all over again (Simon Hart, Independent)
Flight of no fancy (Steven Howard, Sun)
Shinji Kagawa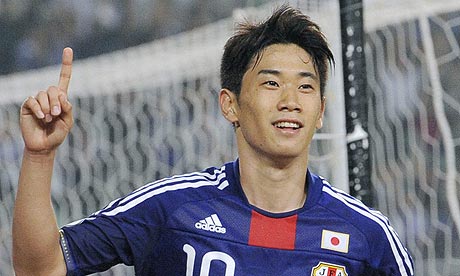 United get shirty (Phil Thomas, Sun) "Manchester United  have blasted claims new-boy Shinji Kagawa has been signed only as a cynical money-making manoeuvre. The Japanese playmaker will next month complete a move worth up to £17million to Borussia Dortmund, once he passes a medical and obtains a work permit. The signing of Kagawa, 23, comes less than a week after United revealed they had doubled their global fan base to 659 million — with almost half of those in Asia."
Shinji Kagawa can take Manchester United back into the third dimension (Louise Taylor, Guardian)
Forget shirt sales – United new boy Shinji Kagawa is the real deal (Ross Dunbar, Daily Mirror)
Harry Redknapp comes out fighting his corner
Harry Redknapp urges Tottenham Hotspur to extend his contract (Guardian)
Gossip
Arsenal will not be rushed into making an announcement on captain Robin van Persie's future, chief executive Ivan Gazidis insists. (Daily Mail)
---