Fleet Street in outrage over Harry Redknapp's departure from Spurs
Comment & analysis round-up
Quote of the day: "This is not a decision the Board and I have taken lightly. Harry arrived at the Club at a time when his experience and approach was exactly what was needed. This decision in no way detracts from the excellent work Harry has done during his time with the Club and I should like to thank him for his achievements and contribution. Harry will always be welcome at the Lane." – Daniel Levy.
Runner-up: "I have thoroughly enjoyed my time at Spurs and am proud of my achievements. I have had a fantastic four years with the Club, at times the football has been breathtaking. I am sad to be leaving but wish to thank the players, staff and fans for their terrific support during my time there." – Harry Redknapp.
Euro 2012 quote of the day: "This time last year Messi was eliminated from the Copa America which they were playing at home. That's worse right? I'm here fighting to move on to the next round of the Euros." – Cristiano Ronaldo.
Euro 2012 runner-up: "It's like Muhammad Ali fighting a dwarf." – former Republic of Ireland & now Spanish TV presenter Michael Robinson on Spain v Ireland.
Harry Redknapp leaves Spurs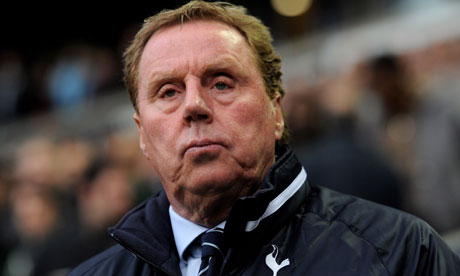 Redknapp's amazing transformation of Spurs is airbrushed out of history (Martin Samuel, Daily Mail) "The celebrations greeting Redknapp's impending departure from White Hart Lane – this reaction is not universal but it is certainly not a minority, either – appear to wilfully disregard almost four years, focusing instead on a highly unusual four months. From appearing on the steps of Southwark Crown Court an innocent man, through the intense speculation surrounding his candidacy as England manager, to the collapse of Tottenham's league form resulting in a fourth-place finish, to the final kick in the guts of Chelsea's win in Munich to deny Tottenham Champions League football next season – this is a passage of time quite unlike that endured by any manager in English football. Yet it is Redknapp's performance in such unique circumstances that has become the focus of attention rather than the evidence of what the man achieved with life on an even keel. Tottenham's capitulation is the stick with which to beat Redknapp, as if no other club have ever surrendered a position of advantage."
Harry axed for being fourth (Pat Sheehan, Sun) "Harry Redknapp is the latest victim in billionaire owner Joe Lewis' ruthless pursuit to establish Spurs where he believes they belong. Redknapp has become the Londoners' EIGHTH ex-manager in 11 years after Lewis decided that finishing fourth in the Premier League was just not good enough. He has bankrolled Tottenham's rise in recent seasons but wanted more than fourth place for an outlay of more than £100million on players. Along with executive chairman Daniel Levy, the power behind the White Hart Lane throne insists the team under-performed last season. Now the duo want to bring in a younger manager with new ideas to take Tottenham in a new upward direction."
Modric to join Redknapp heading out the Tottenham exit? Corluka backs team-mate to leave (Daily Mail)
'Arry out, Moyes in: Everton boss targeted to replace Redknapp at Spurs (John Cross, Daily Mirror)
Doomed from the start: It's always been a matter of time before Harry left Spurs (Martin Lipton, Daily Mirror) "The fact Spurs' form changed again the instant Redknapp lost out to Roy Hodgson only intensified those feelings – 10 points out of 12, not quite enough; the manager's inability to beat a relegation-threatened Aston Villa on the ­penultimate weekend another stick with which he was beaten. It was not the time for Redknapp to ­effectively demand a new deal. Nor to say that the players were being distracted by the uncertainty over his own future, a claim he had denied when he believed England wanted him. Appointing combative agent Paul Stretford, who was never going to play soft-ball, brought the issue to a head. In the battle of wills, there was only going to be one winner."
Harry Redknapp's dream turns to dust after departure from Tottenham (Sachin Nakrani, Guardian) 
Redknapp departs Tottenham as Levy relationship turns sour (Sam Wallace, Independent)
Harry out as owner wants younger boss like Martinez (Rob Beasley, Sun) "Redknapp wanted a new long-term deal but was stunned when Levy informed him owner Joe Lewis was after a younger boss — with Wigan's Roberto Martinez rated the No1 target by White Hart Lane insiders. The club axed 'Arry for failing to finish higher than fourth in the Premier League. SunSport can reveal Levy told Redknapp it was the wish of billionaire Lewis that he departed."
The mega Premier League TV deal
High-fiving at bloated new Premier League TV deal would be a mistake (David Conn, Guardian) "Before gasping at the dazzling lucre of the Premier League's £3bn TV contract from 2013 to 2016, and high-fiving the league's chief executive, Richard Scudamore, it is important to understand what the deal actually represents. Of course, as Scudamore himself beamed when announcing it, this does reward football's transfixing appeal, the jackpot arriving a month after the extraordinary finish to the Premier League's 20th season. This money is 10 times the £305m first TV deal struck by the breakaway league, over five years from 1992, which at the time was itself a whole new ball game. The £3bn is vast for the clubs, their owners, the players – whose wages currently swallow around 70% of the clubs' total earnings – and their agents. Yet it is not coming from the generosity of Rupert Murdoch's BSkyB and ambitious BT, as a wide-eyed endorsement of the entertainment served up by the 20 clubs. As Mohamed Al Fayed, the Fulham owner, memorably grumbled, BSkyB are the ones who go off and make a huge profit themselves."
Forget the financial crisis – BT joins the Premier League party and football lands an incredible £3BILLION (Charles Sale, Daily Mail) "The Premier League has secured its status as world football's richest competition with an astonishing £3.018billion deal for domestic TV rights for three years. The agreements, which start from the 2013-14 campaign, are a remarkable 70 per cent increase on the current contract. Long-term partners Sky will show 116 games a season – the maximum allowed for one station – and newcomers BT have gained a 38-game foothold."
Di Matteo signs on for two more years at Chelsea
Di Matteo's first buy: New Chelsea boss snaps up 'Why transfers fail' book (Darren Lewis, Daily Mirror)
Euro 2012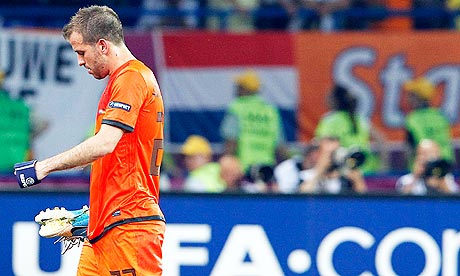 Holland's latest bout of rancour makes it easy for Germany (Richard Williams, Guardian) "As Holland took themselves to the brink of elimination from Euro 2012, on Wednesday picked off by Germany's precise counterattacks and the suddenly lethal finishing of Mario Gomez, it was difficult not to attach a measure of significance to the jerseys in which they played, a quartered design featuring two shades of the traditional orange. One for the starting players and the other for the moaners, presumably. On the eve of the match Wesley Sneijder had made public the existence of yet another split in the eternally fissiparous Dutch ranks, and although it was not necessarily visible in their performance, it can hardly have helped their effort to stay in the tournament."
Great on the pitch but Poland and Ukraine is chaos off it (Jonathan Wilson, Independent) "Something strange has happened in international sports administration, football in particular. Somehow, over the past decade, the idea has taken hold that what is most important about a major tournament isn't the tournament itself but its legacy: don't worry about the dry husk today, just make sure there is the promise of jam tomorrow. The result is the bizarre situation in which having the capacity to stage a major tournament is itself a reason why a country won't be given the chance to. Perhaps it is part of the marketing creep that has overwhelmed sport. It's a lot easier to avoid awkward questions about the here and now if you can point to possible future benefits that almost certainly will never be interrogated. The mentality has even seeped into football punditry; immediately after Manchester City had clinched the Premier League title by scoring two goals in injury time, Graeme Souness commented that it was 'a great advert for the Premier League'. It really wasn't; it was a great moment of sporting drama in and of itself."
Uefa is shirking its duty while players put their heart and soul into entertaining (Paul Hayward, Daily Telegraph) "Many watching from afar will exult in the high standard of the action while feeling that Poland and Ukraine were simply not ready to stage this carnival. But neither country will want lectures from England, whose fans tore up Marseille in 1998 and Charleroi and other Belgian towns at Euro 2000. The nationalism and nihilism of those times remains vivid in the memory. English hooliganism was excised by banning orders and pre-emptive policing so that now the England team leave tournaments without an accompanying burden of shame. Whatever Uefa's motives for opening up this new 'frontier' (money and power, mainly), there is no use condemning Poland and Ukraine as pariah states when the vast majority of people here just want to watch the games and meet other nationalities. The answer is to isolate the malevolence of racists and thugs and unite against it, with fierce sanction and interventionist policing of the sort we see in Premier League grounds."
Great football so far – but will there be a classic? (Marcus Christenson, Guardian)
It is not mission impossible against Spain, Ireland can avenge defeat of 2002 World Cup (Niall Quinn, Daily Telegraph)
England
Vauxhall sponsor England but stop workers from watching the Euros (Sun)
Beware the Red Dragon! (Steven Howard, Sun)
---