Fleet Street hail Valencia & De Gea as Manchester United close in on the title
Comment & analysis round-up
Quote of the day: "Coming so late in the game that goal is so important, and it perhaps typifies the history of this club in a way in that we kept going and got our reward in the end. It could be a very important moment. When he fired in that shot, the thing is, if you don't try to shoot then you never know if you can score. Whether it was a cross or a shot it doesn't matter because it was hit with such incredible power – and that is why it was so important. It was a long night, we had to persevere and persevere and we got out reward in the end, but I have to admit that I thought for a long time it wouldn't come because we didn't make many clear cut chances. The thing with Blackburn is they always possess a goal threat, and I have to admit David De Gea kept us in it, with some brilliant saves. I don't think we had enough threat going forward because we had to be solid in midfield, but Ryan Giggs and Ashley Young gave us more going forward when they came on and it made a big difference. We've still got seven games left and my experience of these situations is that it doesn't matter what points total you have got at this point, the important thing now is to win Sunday's game. It could still come down to goal difference you know, and we've scored more goals now which could be really significant. We were 18 goals behind City at one point but we are just one behind now and that is a very big thing for us." – Sir Alex Ferguson.
Manchester United close in on the title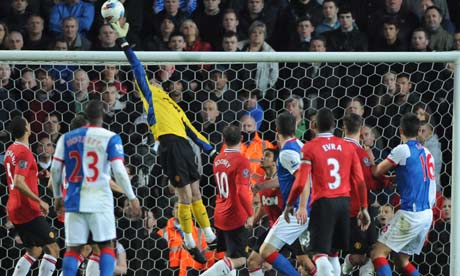 David de Gea makes a strong case for Manchester United's title defence (Kevin McCarra, Guardian) "At Ewood Park De Gea made the classic response of a goalkeeper who, in a potent side, typically has to settle for a sporadic role, denying Blackburn twice at the close of the first half. A man once in need of reassurance is now a comfort to United followers."
David De Gea proves worth after twist of fate saves his debut season (Daily Telegraph)
Wing kings Valencia and Young fire Red Devils five clear at the top with late show (Matt Lawton, Daily Mail)
Man on the wing was at centre of every threat posed by champions (Jack Pitt-Brooke, Independent)
Vallelujah (Martin Blackburn, Sun)
Where did it all go wrong for City?
Mancini job in doubt due to City's disarray (Ian Herbert & Pete Jenson, Independent) "Roberto Mancini's Manchester City future is not guaranteed beyond the end of the season and the club's chairman, Khaldoon al-Mubarak, will review whether the Italian's abrasive management style is helping to move the club forward, if they lose out to Manchester United in the title race. The relationship between Mancini and Al-Mubarak has always been a good one and the manager's more ruthless mentality than his predecessor, Mark Hughes, is perceived to have been a vital asset by the Abu Dhabis, with whom Mancini has established far closer direct relations than Hughes ever did. But Mancini's determination to stick with Mario Balotelli in a season when he has publicly challenged other players is having an increasingly divisive and toxic effect in the dressing room and damaging the manager's credibility with his squad."
I'm standing by Mario: Mancini keeping faith in Balotelli despite latest bust-up (Daily Mail)
Blame Roberto Mancini for Manchester City mess – not Mario Balotelli (Richard Williams, Guardian)
Liverpool in crisis
Time the Yanks backed Kenny (Ian Wright, Sun) "So what's the best way to close that wound? Well a few words from across the pond — and the Reds' American owners — certainly would not go amiss. After Sunday's shocker away to Newcastle, more the events surrounding the defeat than the loss itself, the forums and phone-ins have once again been flooded by those questioning whether Kenny Dalglish is up to the job. Yet all we've had from America, and Fenway Sports Group, has been the sound of silence. And going into such a crucial couple of weeks, that is doing nobody any good at all."
Where it all went wrong for Liverpool and Kenny Dalglish (Louise Taylor, Guardian)
More bad news for Dalglish – the last time Reina's deputy played a major match in England he let in SEVEN goals… (Dominic King, Daily Mail)
Why Wembley win means King Kenny won't be dethroned despite Liverpool's struggles (Martin Lipton, Daily Mirror)
Barcelona v AC Milan
Will we see a Milanese miracle? (Pete Jenson, Independent) "It is everything Pep Guardiola did not want. Milan the opponents, no away goal in last week's first leg and Zlatan Ibrahimovic the jilted striker with a point to prove. While most of Europe takes it for granted that Barcelona will reach the semi-finals of the Champions League for the fifth consecutive season tonight there is another altogether less palatable scenario for the holders. Hell hath no fury like a superstar centre-forward scorned and while Ibrahimovic has at least publicly calmed down almost two years since his departure from Camp Nou after just one season, tonight he is back for the first time, knowing his goals will count double and could dump the man he dubbed 'the philosopher' out of Europe."
Stiliyan Petrov
Pet's Fab debt (Antony Kastrinakis, Sun) "Stiliyan Petrov's acute leukaemia was uncovered when the Aston Villa squad underwent heart tests after the collapse of Fabrice Muamba."
Tactics
QPR's Mark Hughes gets it right to expose Arsenal blind spots (Michael Cox, Guardian)
European round-up
Sid Lowe predicts the end for Javier Clemente, Paolo Bandini writes about impressive Catania and Rafa Honigstein updates on the coaching changes at Bayer Leverkusen.
Croatia coach Slaven Bilic sets sights on Premier League after making success of national service (Jason Burt, Daily Telegraph)
---