Fire-sale at Portsmouth, Roman wipes clear Chelsea's debt, while Mark Hughes, Owen Coyle & Peter Reid are all "favourites" for the Bolton job
Comment & analysis round-up
Quote of the day: "It's a pity that Father Christmas does not exist, because if he did I would have asked him for a contract with another club. I'd like to go to Russia, but dreams don't always become reality. You can't even imagine how tired I am of sitting on the bench. I'd like to play football.  I have a general feeling that the coach makes fun of me. Maybe it's true, as some say, that he is taking revenge for the defeat of England two years ago." – Roman Pavlyuchenko.
Runner-up: "Most footballers are knobs. I meet a lot of them and they are so detached from real life it's untrue. But there was a stage when I was like that. Driving around in flash cars and changing them like you change your socks, wearing stupid diamond watches and spending money like it's going out of fashion in the middle of a recession when some people are struggling to put food on the table for the kids – it's not the way to do it. I was earning £20,000 a week and yet I didn't even know how to behave, I was just a child. You grow up in an environment where, as long as you're a good player, you're told that you're the best all the time. But whether you're the best footballer in the world or the best golfer or the best cricketer, you're a human being. You might be good at that [sport] but you might be crap at life." – Joey Barton.
Today's overview: The final couple of matches of 2009 in the Premier League were both hugely lopsided affairs, with Manchester United and Arsenal both laying down their markers as potential totle winners in 2010.
Beginning with the reigning champs, Joe Lovejoy waxed lyrical over an easy three points over Wigan. "Overawed by the reputation, as much as the quality of the opposition, Wigan hardly made a tackle all night, subsiding feebly to a morale-sapping defeat engineered by the player they sold to United, Antonio Valencia. The winger from Ecuador was the man of the match, his surging incursions and crosses from the right flank setting up three of the goals before he added the fifth himself."
Henry Winter heaped more praise on Fergie's charges, boasting "if the race for the Premier League title looks a three-way affair, with Arsenal confirming they are back in the hunt following victory over Portsmouth, United will feel well-placed going into the New Year, particularly with Rooney in such irresistible form."
Amazingly, James Ducker managed to find a silver lining for the Latics. "Wigan should count themselves fortunate that the scoreline did not match last month's 9-1 mauling at the hands of Tottenham Hotspur, given that United also hit the woodwork twice and had an effort cleared off the line. Only Burnley have conceded as many goals on their travels as Wigan this season — 31 — and, if this form persists, relegation is inevitable. How did Chelsea lose to this lot?"
Taking his gloves off, Tim Rich failed to mince his words in assessing Charles N'Zogbia's performance at Old Trafford. "None was more individual or selfish than Charles N'Zogbia, whom Joe Kinnear once inadvertently referred to as "Charlie Insomnia" at Newcastle. The lack of cover he gave his left-back would have given Maynor Figueroa sleepless nights – four of United's goals came from that flank. The lack of unity in this Wigan side was displayed by N'Zogbia's dash down the tunnel and his refusal to shake his replacement's hand after being substituted."
Reflecting on Arsenal's win at Fratton Park last night – the Premier League's first match in history not to feature an Englishman in either starting line-up – Dominic Fifield observed that "this degenerated into a mismatch from the moment the hosts were first breached. Pompey offered huff and puff where Arsenal were incisive and inventive… These clubs are apparently careering in very different directions."
Sadly for Pompey fans, losing to Arsenal maybe just the tip of the iceberg for the South Coasters after the club was served with a winding-up petition from Her Majesty's Revenue and Customs.
Jamie Jackson explains that "Grant, the players and fans want to concentrate only on the football, of course. But if the embargo is not lifted and the manager cannot finagle a few shrewd free transfers and loans then relegation for the league's bottom-placed club is an almost certainty." Similar sentiments were made by Matt Hughes writing
"on this evidence [the loss to Arsenal] Revenue & Customs' winding-up order could be seen as a form of mercy killing."
Looking for a reason to understand the why the winding up petition was served now, Helen Power noted "it is believed that the timing of Revenue's petition against Portsmouth is tactical. The club's only liquid assets are their players and the court application could be designed to apply pressure to sell when the transfer window opens tomorrow. Cash from player sales, including the £10 million transfer of Peter Crouch to Tottenham Hotspur in August, has previously been used to pay the club's debts to Revenue. If Portsmouth could pay all or part of their debt from player sales before the court case in February, Revenue would almost certainly drop its claim."
Nick Szczepanik investigates the impact of the winding up petition. "The move by Revenue & Customs brings closer the prospect of a Barclays Premier League club going into administration for the first time since the league's formation in 1992. The result would be a disastrous nine-point deduction and probable relegation for the club, who are four points adrift at the bottom of the table after losing 4-1 to Arsenal at Fratton Park last night."
Looking to head off heading into administration, Matt Barlow chimes "Pompey will launch a desperate fire sale to off-load David James, Younes Kaboul, David Nugent, Kevin-Prince Boateng and John Uutaka in a bid to generate funds to keep them in existence until the end of the season."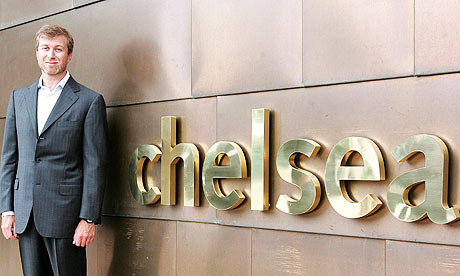 From one club with mounting debt to another who have had theirs instantly wiped out.
Dominic Fifield reports how "Chelsea have in effect drawn a line under an era of lavish benevolence from their owner, Roman Abramovich, after the Russian oligarch converted his outstanding £340m of interest-free loans into equity and technically rendered the company debt-free." Fleshing out the details further, Jason Burt added "as the sole shareholder, it means Abramovich has absorbed the debt. Chelsea also said it demonstrated his "continuing commitment", although converting debt to equity does not make the club either harder to sell or cheaper to run. It is just an alternative way of the Russian billionaire slicing his £700 million-plus investment."
The search for Bolton's new manager is on after the Trotters fired Gary Megson on Wednesday, and there is no shortage of potential candidates for the job.
Louise Taylor explains that while the post only pays £700,000 a year, "the bookmakers' favourite Mark Hughes – who is understood to be still finalising his compensation deal with Manchester City and, who, in any case may well wait for a bigger club to come calling – Paul Jewell, Peter Reid, Darren Ferguson and Alan Shearer emerged as early contenders." A different set of names are delivered by Mark Ogden writing "Bolton chairman Phil Gartside will offer Darren Ferguson the chance to keep the club in the Premier League if he fails to overcome Burnley's determination to prevent Owen Coyle succeeding the sacked Gary Megson as manager at the Reebok Stadium."
Unsurprisingly a third "favourite" is singled out by Sam Wallace for the vacant job at the Reebok, as "Peter Reid has emerged as the favourite to take the Bolton Wanderers manager's job."
With the search for Bolton's boss going on in the foreground, James Ducker slips in some home truths for the fans who helped get the Ginger Mourinho the boot. "Bolton fans must first get a grip on reality. The days when their team could finish in the top six in the Barclays Premier League are gone. Long
gone. Liverpool and Everton are not even in the top six as things stand presently. Sam Allardyce did a fine job at the Reebok, but would the teams he presided over really be capable of four successive top eight finishes now? They would do well to finish one season in the top ten or 12."
Yet David Hatfield has sympathy for the locals distaste for Megson. "Wanderers fans would have been a lot more forgiving if Megson had seemed to have any attachment to the town. Unlike Allardyce, he never lived in Bolton and, apart from his presence at the Reebok on match-days, was virtually invisible in the local community. It all added to the public relations disaster that was his time with Bolton."
Onto the transfers.
We start in the Guardian where Stuart James details the three-way battle for West Ham's Scott PArker between Aston Villa, Spurs and Liverpool. "A deal would be more likely to happen with Villa if O'Neill were able to move on one of his fringe players, although Steve Sidwell and Reo-Coker may well remain with the club until the summer."
According to a no-name article in the Daily Mail, "newly-appointed Manchester City manager Roberto Mancini has made an inquiry for Bari's £6m-rated defender Leonardo Bonucci." Elsewhere, a faceless article in The Sun reports "Phil Brown is hoping to land Manchester City flop Benjani at the second time of asking. "
According to John Cross, "Sporting Lisbon are another club to have come in for Pavlyuchenko and the Portugese side are also keen on taking Gareth Bale on loan… Sporting are trying to get Pavlyuchenko on loan until the summer and then thrash out a £9m deal but Tottenham are reluctant."
---
GAMBLING CAN BE ADDICTIVE, PLEASE PLAY RESPONSIBLY