Finding the yeti is more likely than San Marino beating England, the FA are morally bankrupt, Liverpool eye Yilmaz & Tottenham look at Herrmann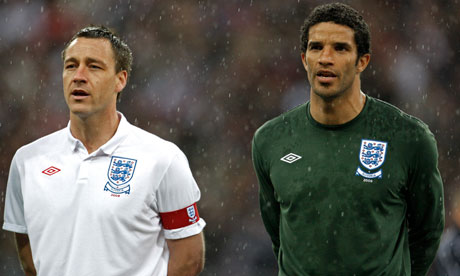 Comment & analysis round-up
Quote of the day: "The JT [John Terry] thing, it could've been dealt with quietly and done. He could've served a ban if he was going to serve a ban, rather than it being a six or eight-month thing… I struggle with the racist issue in football because I don't see it. That's not because I've got my head in the sand. In the earlier days yes, but things have changed. 'I'm not going to fly anyone's flag to join some gang that doesn't need to be joined. If you want to go on a coaching course to become a manager, give yourself a chance. If you want to moan about not having a job, well not going on the course is probably why you haven't got a job. There are some wonderful organisations. But the organisations which have done so much good are still employed looking for stuff to shout about. It's more about people driving the issue than the issue being a real focus. Some have an agenda to keep themselves in existence." – David James.
Runner-up: "I thought about what happened at Heysel [when considering a move to Anfield. Juve and Liverpool have worked hard to mend their relationship, but for a lot of people it's something that can never be forgotten." – Alessandro del Piero.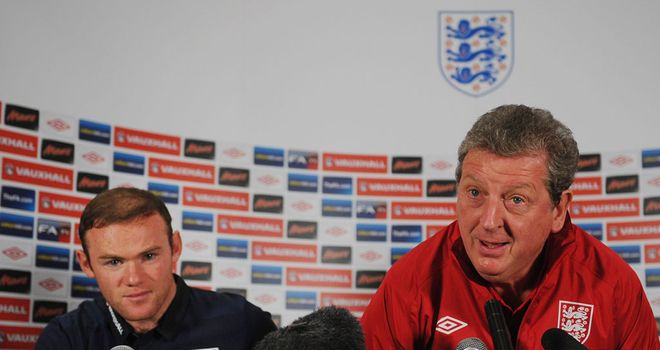 England v San Marino
The odds of San Marino beating England? Longer than finding the yeti (Sean Ingle, Guardian) Whipping boys. Serial debunkers of the myth that there are no easy games at international level. And, on Friday night, history makers. When San Marino's part-timers step out at Wembley they will be the biggest ever betting underdogs in a football match. San Marino can be backed at 150-1 with the bookies to beat England. To put that in context, William Hill offers 100-1 that scientists announce the existence of the Yeti or the Loch Ness monster in the next 12 months. Listening to San Marino's likeable manager, Giampaolo Mazza, you would be better off backing Bigfoot.
Big match dossier for World Cup qualifier (Mail) Hodgson's selection could be influenced by those on the disciplinary tightrope, with Joleon Lescott, James Milner and Jermain Defoe one booking from a ban. 'I'd be disappointed if a minor incident cost me a player against Poland,' said the England boss.
Giving the armband to Rooney is not ideal – it's pragmatic (Sam Wallace, Independent) The choice between Joe Hart and Rooney for captain was a simple one for Hodgson. If he had given it to the goalkeeper, the questions would only have been about why he had not given the captaincy to Rooney. He is that kind of figure, a controversy-in-waiting, and for all those who feel he does not deserve the captaincy the simple answer is that it was more trouble not to give it to him.
Wayne Rooney must play lead role for England against San Marino to prove he is worthy of wearing armband (Henry Winter, Telegraph) The most precious piece of apparel in English sport is tonight wrapped around the bulging left bicep of the most talented, if controversial, footballer eligible to pull on the shirt with Three Lions on it. Wayne Rooney captains England for the first time in a competitive match, if a match against San Marino can truly be called competitive, promising that he has "matured", that the red mist and red card against Montenegro last year "will never happen again".
Wayne Rooney can use San Marino game as a chance to prepare for Poland (Dominic Fifield, Guardian) It would take something freakish in the extreme for England not to prevail against San Marino on Friday. The visitors are ranked alongside Bhutan and the Turks and Caicos Islands as the worst international side on the planet, their record a dismal 108 defeats in 114 games, and for once the figures really do tell their own story. They have scored 19 and shipped 473 goals in that time and would presumably consider a thumping to the tune of defeat by six this evening something of a triumph.
All we are saying is give us a goal… the cry from world's worst team ahead of Wembley clash (Jonathan Liew, Telegraph) San Marino will lose. Everybody knows that. "All national team matches are very busy for me," says Aldo Simoncini, a goalkeeper and accountant. "We want to make as good an impression as we can, but we know who we have in front of us."
Other News Ahead Of The International Weekend
End of an era arrives as Ireland's famous four pass the baton (Independent) The national team has been supported for a generation by Shay Given, Richard Dunne, Damien Duff and Robbie Keane. But tonight's game will include none of them, the first competitive match without one of that quartet for almost precisely 15 years.
Giovanni Trapattoni's side aim to capitalise on 'friction' in Joachim Löw's squad (Mark Odgen, Telegraph) The Germans, who will defend an incredible record of never having lost a World Cup qualifier away from home when they face the Irish in Dublin, rarely offer glimpses of disharmony within the team, often instead promoting an image of resolute togetherness. But recent comments by Bayern midfielder Schweinsteiger, claiming that club factions were evident during Euro 2012 and that "the whole bench didn't jump up [to celebrate a goal] at the Euros" have exposed tensions within the German camp.
Wales and Scotland seek salvation in critical contest for managers (Guardian) It is early in the World Cup qualifiers, yet the shadows must be lengthening for some managers. Wales have no points at all and Chris Coleman's line-up has conceded a total of eight goals during two matches. The plight of Scotland, their opponents in Cardiff on Friday, is less severe but a pair of draws at Hampden did not suggest that Craig Levein's men are surging towards the finals in Brazil.
Portugal winger Ronaldo set to join 100 club against Northern Ireland (Mail) Cristiano Ronaldo is on course to win his 100th international cap against Northern Ireland on Tuesday after training with his Portugal team-mates and declaring himself fit to face Russia.
Fabio Capello finds no escape from captaincy controversies in Russia (Amy Lawrence, Guardian) John Terry is now someone else's problem but, as Russia prepare for a key qualifier against Portugal, their captain Igor Denisov is in dispute with his club, Zenit St Petersburg.
Football: Morally Bankrupt
Compromised FA can't lecture us on booze and betting (Martin Samuel, Mail) This morning's starter for 10. Who is the Premier League's gambling partner? Bad luck, it's a trick question. They haven't got one. OK, double or quits. Who is the Premier League's alcohol partner? Got you again, they haven't one of those either. Guess who has both? That's right. Those noble folk at the FA. They recommend Carlsberg beer and a punt with William Hill. Indeed, if you saw England manager Roy Hodgson speak on Thursday, the name of the FA's bookie of choice was clearly visible on the screen behind him. That should play out well when Horne calls the leagues in for a Wonga-related lecture on Friday. How long before the FA's compromised position is raised? One imagines dissent might come through a lot quicker than a Wonga loan. There is no organisation in football more hell-bent on the pursuit of filthy lucre than the FA.
Liverpool
'Inside these envelopes are names of 3 players… one will let us down!'(Sun) Brendan Rodgers has left himself wide open to ridicule by ripping off a mind game Alex Ferguson used nearly TWENTY years ago! Liverpool boss Rodgers went down the Fergie route by holding up three envelopes during a team-talk — and claiming they contained the names of three players who will "let us down this year"… It is one thing for an established manager to use that trick to keep his players focused. But for a relative newcomer to copy it with a bunch of experienced players is a bizarre move.
Liverpool face striker crisis as Borini breaks his foot leaving Rodgers left with just Suarez leading the attack (Mail) Liverpool's stuttering season has been dealt a fresh blow after Fabio Borini broke his right foot during training with Italy's Under 21s. The 21-year-old was preparing for his country's Euro 2013 play-off with Sweden in Pescara when he suffered the injury to his scafoide bone and taken to hospital for X-rays.
Twitter & Football
Ryan Bertrand proves that only constant Twitter usage can save football (Alan Tyers, Telegraph) What did footballers do before the invention of Twitter? It feels that barely an hour can now pass without a player making a berk of himself on the inescapable social media site. As I write, Chelsea's sore throat denier Ryan Bertrand is the punchbag of the hour, although I'm sure a new contender will have entered the fray by the time you get to the bottom of the page… Chelsea's PR wonks may be sighing at the prospect of another afternoon dealing with the fallout of their latest player's latest microblogging mindfart, but at least Ryan isn't out there shooting at the youth team with an air-rifle, racially abusing an opponent, laughing at terrorist incidents or any other number of real world boo-boos.
Money Talks
Lucre who's talking, Ivan (Dan King, Sun) Arsenal supremo Ivan Gazidis admits ever-increasing TV money risks alienating highly-paid players from fans ever further… Gazidis said: "The introduction of money and the extraordinary growth of revenues that we see in the game is a fantastic success story. But it clearly creates a lot of issues in terms of how our fans are able to feel that they're still connected with those players who are earning enormous amounts of money."
Managers On The Move
Prise guys (Sun) Blackburn will offer Tim Sherwood a £1million bonus to get the club promoted. That is on top of a £2m-a-year two-year rolling contract.
Bolton eye Solskjaer (Sun) Bolton plan to speak to Manchester United legend Ole Gunnar Solskjaer about their vacant manager's job… Portsmouth chief Michael Appleton and Crystal Palace boss Dougie Freedman are also under consideration, along with Roy Keane.
Man United legend Solskjaer in the frame for Bolton job after skipping talk in London (Mail) Ole Gunnar Solskjaer mysteriously went to ground after emerging as Bolton's first-choice to become their new manager… The official reason was that Solskjaer is recuperating from illness at home in Norway, but the former Manchester United striker is known to have been in England during the international break and was spotted at a United Under 21s game on Monday night.
Transfer Lies
Liverpool to solve striker shortage with £14m Burak Yilmaz bid (Star) Former Trabzonspor star Yilmaz was linked to both Tottenham and Fulham over the summer, but ended up staying in Turkey after completing a £4million move to Galatasaray… Liverpool will have to dig deep for Yilmaz, with Galatasaray likely to demand a sizeable increase on the fee they paid for him. But the Merseysiders are confident of convincing the hit-man with a significant increase on his current £35,000-per-week wage packet.
Tottenham are ready to battle Italians Inter Milan for £7.5million-rated German midfielder Patrick Herrmann (Sun) The Under-21 star has 10 goals in 56 games for Bundesliga outfit Borussia Monchengladbach.
Dutch legend Edgar Davids is returning to English football — with struggling Barnet (Sun)
---
GAMBLING CAN BE ADDICTIVE, PLEASE PLAY RESPONSIBLY