Fight Clubs: Adebayor vs Fabregas & O'Neill vs Reo-Coker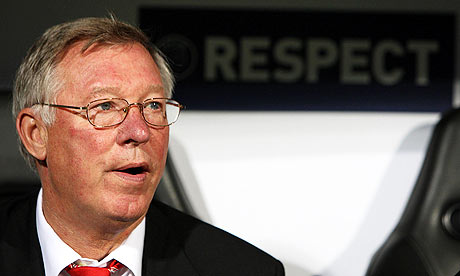 Comment & analysis round-up
Quote of the day: "The rivalry has gone up a notch in the last few months, with them signing all those players and then coming up with that advert and all their posters. They've been a bit, how can I put it, cocky – yes, a bit cocky. It's going to be very difficult for them to win the league when you see the likes of ourselves, Liverpool, Chelsea and Arsenal because they've got to beat the four of us at some point this season to get the league. It's very difficult to get into the top four and it's even more difficult to get into the top one, and that's what this league is all about – being No1." – Sir Alex Ferguson.
Runner-up: "I could accept the argument if we were artificially building up the club through debt. That produces a destructive end result; we have seen that happen. But in our case, the club will be in the healthiest position because there is no debt. We have funded it through equity [permanent investment], including the signing of the players. I believe what we are doing is a fair way to inject competition into football, without debt. The argument that this is unhealthy suggests that the big clubs, which make the most money, must remain the big clubs, that the status quo must remain. Is Mr Platini saying that only Real Madrid and Barcelona have the right to be competitive in La Liga?" – Manchester City's chairman, Khaldoon al-Mubarak, speaking exclusively to the Guardian's David Conn.
Today's overview: A week on, Emmanuel Adebayor's conduct against Arsenal continues to dominate the thinking of the fourth estate, with The Sun splash with an EXCLUSIVE interview with the striker in which he confesses all.
Speaking to Neil Custis, Adebayor said "people talk about us as being football players and the money we earn, but just because we are fortunate it does not mean we need to take abuse. If you were to abuse a man in the street for over an hour he would react and it would be a worse reaction than a goal celebration! There is only so much abuse a man can take until he reaches breaking point. I was being abused by people who six months ago were singing my name and the abuse was for no reason. I scored and I wanted to show people it is not a good idea to abuse me. I really didn't understand it at all… There were players from Arsenal who refused to shake my hand before the match. I don't want to give you their names – that is not my style – but there's more than one of them."
Making sure to ratchet up as much ill-feeling as possible, Antony Kastrinakis then allows Cesc Fabregas to vent against Adebayor as the war of words builds and builds. "Fabregas last night led a scathing Arsenal backlash on former team-mate Emmanuel Adebayor. Speaking for the first time about Adebayor's antics during last weekend's defeat at Manchester City, the Arsenal skipper lifted his tracksuit bottom to reveal a nasty three-inch gash across his right calf."
The Sun continue to deliver headline grabbing stories as Vic Holly reports on "Martin O'Neill and Nigel Reo-Coker grappled each other to the ground in an amazing training-ground bust-up yesterday. It followed a heated exchange between the Aston Villa manager and his midfielder and the pair eventually had to be separated by shocked players."
The Mirror also have an EXCLUSIVE of their own as Danny Fullbrook reveals that "Wayne Rooney's dug-out strop was caused by spitting Turkish fans and not because boss Sir Alex Ferguson substituted him… Now the truth behind the angry outburst is out it seems Rooney showed great restraint by only throwing down his boot. But no official complaint has been made to UEFA."
Everton's 4-nil battering of AEK Athens is widely praised across the paper-divide, with one name continuallt being held up in lights. Step forward newbie Diniyar Bilyaletdinov.
For Tony Barrett, "one of the main reasons for Everton's comfort was the performance of Diniyar Bilyaletdinov, their tongue-twistingly named new signing, already known as "Billy" on Merseyside. The Russian was at the heart of all the home side's best work." Similarly, Andy Hunter wrote "Everton were too skilled, too strong and too committed for a woeful Greek team and, in Diniyar Bilyaletdinov, had a debutant of rich promise."
Was the first trial of the new goal-line referees a success or failure?
Taking the no news is good news approach, Russell Kempson barked "what is Uefa getting for its extra outlay of £1.5 million over the 144 matches of the Europa League group stage. Not a lot, to judge by the experience of the English clubs, Fulham and Everton, involved on the first night of the radical experiment." Graham Poll offers a qualified thumbs-up for the new assistant referee observing "Did it work? Yes, but at a cost of £1.6 million, is it just a case of using a sledgehammer to crack a nut?"
Changing tracks to focus on Chelsea since Peter Kenyon's departure, Matt Lawton attempts to trumpet up controversy by hinting at a power struggle at the Bridge. "Frank Arnesen's power and influence will be reduced as part of a Chelsea shake-up that has resulted in Ron Gourlay replacing Peter Kenyon as chief executive… [Arsesen's] future remains in doubt but he will now report directly to Gourlay, 46, who has been promoted from chief operating officer."
Pot. Kettle. Black.
The Independent's Ian Herbert turns the child-poaching furore on its head by today announcing "The French club who want a transfer window ban imposed on Manchester City for signing an Under-16 international have been found guilty of the same poaching offence they are accusing the Premier League club of committing, The Independent can reveal today. Rennes, who have reported City's conduct in the signing of Jeremy Hélan to Fifa, face a fine from France's Ligue de Football Professionnel (LFP) after taking Tongo Hamed Doumbia from Chateauroux, a Ligue 2 side, on a three-year deal in June."
With the bit between their teeth, The Independent's Kevin Rawlinson goes on to expose how French clubs are being accused of exploiting children as young as 11-years-old. "Culture Foot Solidaire, set up by the former Cameroon international Jean-Claude Mbvoumin, works to help players, some as young as 11 who have been 'exploited from the very start by the clubs.'… 'Is it the right way to grow up, to be thousands of miles from home at 11 years old?' Mbvoumin said to The Independent yesterday. 'To be trying to make a professional career at 11 years old? To be on the streets at 11 years old? Because at that age, youngsters are being trafficked from their homes in Africa to play for European clubs.'"
Neither a transfer embargo nor the threat of being labelled child snatchers has stopped Chelsea from signing up a new 17-year-old goalie.
As reported in the Guardian, "Inter Zapresic claim they have come to an agreement with Chelsea which will lead to their young goalkeeper Matej Delac moving to Stamford Bridge in 2011. The Croatian club released a statement on their website in which they confirmed Delac will remain with them for the next two years, during which period Chelsea will pay his wages."
Hooliganism is back on football's radar this Friday as the Telegraph reveal that a record number of football hooligans were arrested on trains last year. "A total of 838 people were arrested during the last financial year, British Transport Police said. The number of football fans held was an increase of 40 per cent on the 601 arrests recorded during the previous period."
In an offbeat article looking at football comic books, Will Buckley remembers "the exploits of the Chelsey brothers made Scorcher and Score top of the football comics table."
Lastly, unable to not spew up transfer lies, the Daily Mail cough "Marouane Chamakh's representatives are pushing for further talks with West Ham and Arsenal after they held a meeting with Juventus in Turin on Wednesday." The Mail continue to spread gossip by reporting that "former Chelsea coach Avram Grant is being lined up as the new coach of Poland."
Click here for more Premier League betting tips
---