"Fernando Torres for £50m to Chelsea. And they say January is the dullest month… Carroll can be described as a punt" – Paul Hayward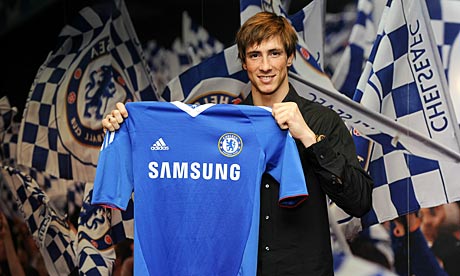 Comment & analysis round-up
Quote of the day: "I'm so, so happy and so, so proud to be here, finally, after these 12 days of conversations. But, at the end of the day, I can say I'm a Chelsea player and I'm really, really happy. This is the kind of team I like to play against because that motivates me, but it's the kind of team I want to play for. It's always very tough playing against Chelsea, it's one of the biggest teams in Europe, always fighting for everything. So, after this, there are no more steps forward. This is the top level. The target for every footballer is to try and play at one of the top-level clubs in the world, and I can do it now. I have to be very, very happy as I am. The last three or four days have been very hard for me, especially after everything I have lived in Liverpool. But, as I said before, I can say I'm a Chelsea player now. I'm really happy and I'm sure I am doing one big step forward in my career joining a club like Chelsea. This is a great club, a real responsibility and everyone is expecting great things about me and I'm prepared and ready for the challenge." – Fernando Torres.
Runner-up: "I'm gutted to be leaving my hometown club, I was told to go. I didn't want to leave that's why I signed a five-year deal [with Newcastle in October]. I was pushed out of the door." – Andy Carroll.
Zing of the day: "We have had an offer from Tottenham of £250,000 [for Phil Neville] which we received on Saturday afternoon. Then it was upped to £500,000 on Monday morning. I think that is insulting… That was £250,000 now and £250,000 paid in a year's time. There is no reaction to that. I think an offer like that for Everton's captain is a disrespectful offer to the club and I think it is a disrespectful offer for a player of Phil's qualities. I could understand it if he had six months to go on his contract, but he has 18 months to go and he has played more or less every game for Everton this season." – David Moyes.
Today's overview: That. Was. Crazy.
The day after the final day of the January transfer window, and we begin February by surveying the new football landscape which appears to have been turned on it's head in one 24 hour period.
Looking at the big picture Jason Burt calls out Roman Abramovich's impact in ending the recession in England, Ian Chadbrand mocks "austerity in Britain," while David Sullivan turns the tables by explaining the Irons' difficulties in doing deals in January.
Fernando Torres then takes over. Kevin McCarra, Alan Smith and Mark Fleming all wonder how Chelsea will now line-up, while James Lawton wonders whether the signing of El Nino has undermined coach Ancelotti again.
There is also ample discussion of Andy Carroll's move to Anfield, with Sam Wallace delivering the standout article over whether the deal makes sense.
Other topics include how Charlie Adam stayed put, how Spurs failed in all their last minute bids, while we round up all the other loan and transfer deals from Monday.
Jan 31st, 201/aka Manic Monday: Several scribes attempt to summarise a frantic day of activity in England.
Martin Lipton also whips out his calculator this Tuesday. "Football went cash crazy in a final day of transfer-window dealing which saw the British record smashed twice in a matter of hours… The January window topped the £200m mark."
Jason Burt singled out Chelsea's owner as the catalyst for manic Monday. "The trigger for it all was a decision by one man: Roman Abramovich. The Russian billionaire decided to take the initiative and, as one well-placed source said, "get things sorted" as he tried to instantly make Chelsea competitive again and ensure they finish in the top four."
Ian Chadbrand mocks "a new version of austerity Britain." "Utterly shameless but what the hell. Bury the bad news and just roll up, roll up to enjoy the carnival! The recession is officially over. Wasn't it only on this equivalent deadline day last year that the English game was congratulating itself for its supposed restraint in mirroring the harsh realities of the wider economy by making these same 24 hours pass off with ne'er a whimper? That's pre-history. Through the rest of Europe on Monday, the biggest fee paid anywhere was, as of writing, £12m."
One of the more interesting opinions on the transfer window arrives from West Ham chairman David Sullivan who wrote an op-ed in the the Daily Mail. "The transfer window has taken over my life this month. Every phone call or email from an agent is offering another player and fees are high again. Buys in the closing stages of the window are often desperation buys and clubs overspend. Look at Fernando Torres, Andy Carroll and Darren Bent; those deals are driven by rich, foreign owners, whose wealth is not subjected to the same UK tax demands we are. This is a crazy time of year for doing business and only the needy step into the market. You can sense Arsene Wenger and Sir Alex Ferguson sitting back and watching it all unfold with a sense of calm, in the knowledge their squads are fully prepared for the months ahead. The rest of us have to get into the bear pit and fight for our lives. I was glad when 11pm arrived last night. Now we can get on with the football again."
Fernando Torres: £50m. To Chelsea. Mad.
Kevin McCarra gets the balls rolling on the biggest transfer deal of the season. "The £50m price is a measure of his ability, but also of the expectations that await him… Torres, it is true, will not be treated as a man capable of turning back time single-handed… Chelsea will revert to a 4-4-2 system, regardless of the fact that such a formation is rare among prominent teams. Given his relative youth, it should be Torres who is preferred if and when it becomes essential to choose a single striker. The fee indicates just how much the club is counting on him."
Alan Smith questions how a 4-4-2 formation will work. "Ancelotti will surely be forced to turn to a version of 4-4-2 in order to fit Torres and Drogba into the same team. That, however, is going to require a bit of thought because Ancelotti doesn't have orthodox wingers in his squad, those comfortable working the line and providing crosses. Malouda, in fairness, could do a job on the left but the opposite flank offers up very few contenders."
A different future formation for Chelsea is posited by Mark Fleming. "One formation could be a 4-1-3-2 system, with Michael Essien deployed deepest in midfield, behind a line of three including Ramires on the right, Florent Malouda on the left, and Lampard in the middle. Torres would then play as the main striker, with Drogba in support, drifting deeper or wide to help provide support to his colleague."
David Woods goes about trying to justify Torres' massive price tag. "It was perhaps no surprise, as Torres opened his goal-scoring account against Chelsea in his third appearance for the Merseysiders. And his record against Chelsea stands at seven goals in eight appearances. If Abramovich needed any reminding of the hitman's talents it came at Anfield nine weeks ago when he claimed both goals in the 2-0 victory. Maybe that was the day the secretive Chelsea owner decided he wanted to get serious and start spending big again."
Also wading into the debate was Martin Keown. "Chelsea have gone stale and Fernando Torres is the signing that can galvanise the club. Something looked wrong in that dressing room, but the calibre of the Spain striker will refocus and re-energise them… Torres is a World Cup winner and a European champion. None of his new team-mates can put those medals on the table."
Michael Walker advise Torres to avoid kissing the Chelsea badge. "When Torres speaks in Chelsea blue it would probably be best if he refrained from mentioning love or passion or Chopper Harris and addressed the motives of money – he is not alone – medals and his age. He will be 27 in March. He is a changing man and the change will be vivid when Chelsea host Liverpool on Sunday."
Injecting some needle was James Lawton, who argued that the Torres deal has undermined coach Ancelotti. "If Ancelotti, a man who has brilliantly occupied the game's high ground as both a player and a coach, doesn't know now that working for Abramovich requires the abandonment of any belief that your accumulated knowledge and experience count for much more than the dregs at the bottom of the samovar, he never will… Again he has looked like a peripheral figure. And then how might Didier Drogba, the pulverising force at Bolton the other night and still one of the world's most intimidating forwards, be affected? These properly are the considerations of a manager who is paid to know how players think and the game works. Maybe the positives promised by a reactivated Torres outweighed all other considerations, in the mind of the coach as well as the owner, but it is still impossible to separate this from the vision of an oligarch in an ivory tower."
And what about David Luiz?
Mark Irwin wraps up the details of that deal. "It was not until two hours before last night's 11pm deadline that Benfica finally accepted Chelsea's offer of £21.5m plus Serbian midfielder Nemanja Matic. That left the Blues with little more than an hour to agree an £80,000-a-week contract to 2016 and submit the necessary paperwork to the Premier League. Now Luiz will fly to London this morning for a medical at Chelsea's Cobham training ground."
Looking at the wider picture, Martin Lipton (who stops short of saying Chelsea will actually win anything this year) claims Chelsea have now "change the game." "While the official statement about the club believing it is now "well positioned to meet UEFA's financial fair play rules" was inevitable, Abramovich is playing by his own rules again .It is a statement of determination and intent just when it seemed the Russian tycoon had been cowed by the arrival on the scene of the Manchester City money-men from the Middle East. Chelsea have changed the game all over again."
Money, Chelsea & Uefa: Stepping away from the details of all the transfers on Monday, Matt Scott argues that the wild spending in Blighty comes at the expense of Ueda's attempts to curb outlandish spending. "Roman Abramovich's preparedness to spend £50m on Fernando Torres has come as a surprise and as a blow to Uefa… Chelsea yesterday released a set of highlights of their 2010 accounts, showing losses had risen from £47.4m in 2009 to £70.9m in the 2009-10 season. This is problematic for Uefa, since Chelsea are not the only club whose finances are in need of repair and there has been a trend across Europe for big-money transfers this January… [Platini] warned three weeks ago that such clubs face being banned from Europe."
Mark Fleming also shines the spotlight on Chelsea finances. "Chelsea yesterday announced huge losses of £70.9m despite winning the Double last season, on the same day they agreed to break the British transfer record with the £48m capture of Liverpool striker Fernando Torres… The results make a mockery of the claim by former chief executive Peter Kenyon that Chelsea would break even by 2010… The club, however, contend they are on course to meet the Uefa Financial Fair Play rules which come into effect in 2013 and insist that all clubs must be solvent before they are permitted to enter European competitions such as the Champions League."
Andy Carroll: Madness personified or £35m well spent by Liverpool?
With his mouth clearly wide-open when typing, Paul Hayward commented "seventy-two minutes into his England career Andrew Thomas Carroll is a £35m striker who now walks the path of Ian Rush, Robbie Fowler, Michael Owen and Kenny Dalglish, who broke the British transfer record for him to soften the blow of losing Fernando Torres for £50m to Chelsea. And they say January is the dullest month… Carroll can be described as a punt… The Kop will awake to a whole new age… with Carroll frightening the lunch out of opposing centre-halves and Suárez applying more subtle virtues around the edges."
Matt Lawton singles out King Kenny's role on transfer deadline day, before assessing the Reds new strike-force. "Central to it all was Dalglish, no longer a managerial stand-in but the man once again in charge of Liverpool's destiny, even if the club now have Damien Comolli to recruit players. Dalglish once beat Alex Ferguson to the signature of Alan Shearer. Now he has landed another exciting young North-East striker with massive potential. The Scot also gave Suarez the No 7 shirt he once wore himself with such distinction. Carroll will presumably wear No 9 but he is still something of a panic buy as well as an extremely expensive gamble."
According to the Mirror, Andy Carroll was ordered to move to Merseyside. "Andy Carroll broke the transfer record for a British player – then claimed he was forced out of Newcastle. Liverpool boss Kenny Dalglish paid £35million for him despite Toon turning down an earlier offer and saying they had tried to keep their star striker. But Carroll arrived on Merseyside last night and took ­Fernando Torres's No.9 shirt having already told Toon Talk fanzine he was told to go as Newcastle wanted the money." The Star's Ian Murtagh added "the England international has QUADRUPLED his wages after agreeing an £80,000-a-week deal at Anfield."
Henry Winter advises readers though to ignore Carroll's fee. "Ignore, if possible, the inflated fee. English players are invariably overpriced. But Carroll has a swagger that should make him thrive the higher he climbs. Unlike the £24 million Bent, Carroll contributes even when not scoring. He closes down, he links, he creates, he clears when back for corners."
Turning the tables, Sam Wallace looks at the Magpies reaction to Carroll's departure. "There were the makings of an ugly public relations battle over Carroll's departure with the club claiming earlier that the player himself had put in a transfer request. There was further dismay among Newcastle fans last night when it emerged that the club had attempted a £12m bid to sign former player Charles N'Zogbia from Wigan Athletic. Sold for £6m two years ago, N'Zogbia was unpopular with fans… Tottenham's Peter Crouch and Cardiff City's Jay Bothroyd were both suggested [as replacements for Carroll] but the window closed last night without Newcastle spending any of the Carroll funds."
In a second article from Sam Wallace the scribe questions whether Carroll's move makes sense. "£35m was one of those quirks of modern football. They are seized as soon as possible, usually from the academy, and thrust into the limelight often long before they are ready… Sadly, there is no longer any time for a player to develop quietly in a game in such a rush. One minute they are scoring against Plymouth, the next they are more expensive than two Alan Shearers. It makes for a lot of excitement but it does not necessarily make it right."
Charlie Adam: After being the hottest topic for much of the transfer window, Blackpool rebuffed all approaches for Charlie Adam to keep the influential midfielder at Bloomfield Park. But it may not be a happy situation for the parties.
Ewan Murray explains "Charlie Adam has been left distraught by Blackpool's unwillingness to sell him to Liverpool… That matter will leave the Blackpool manager, Ian Holloway, with at best a frustrated, and at worst disgruntled, player for the remainder of this campaign at least. Tottenham also made a last-ditch attempt to take Adam to White Hart Lane… Blackpool are understood to have rejected offers from Liverpool of £8.5m and £10m for the Scotland international – the latter bid arriving as late as 8pm. Blackpool have valued Adam at £14m, despite paying just £500,000 to sign him from Rangers in 2009."
The Sun's Phil Thomas teases out the story further. "An 11th-hour bid from Tottenham also failed – by just TWO MINUTES. Spurs' £6.5million deal collapsed because a couple of Blackpool shareholders failed to sign the necessary paperwork until 11.02pm. Earlier, Liverpool had twice seen efforts to land Adam knocked back, most recently with a £6.5m offer. Blackpool were originally holding out for around £10m."
Spurs Stifled: Were the Lilywhites the big losers?
David Hytner wrap up a day of frustration in north London. "[Spurs] found themselves under fire from Everton for their "disrespectful" attempt to snatch Phil Neville on the cheap… hey offered €15m for the Atlético Madrid striker Diego Forlán late in the afternoon, only to see the bid rejected… They went to Villarreal for Giuseppe Rossi, the former Manchester United striker who was rated by his club at £30m, which felt like a polite way of saying that he was not for sale… Carroll was the striker that the Tottenham manager, Harry Redknapp, really wanted… Tottenham had also made moves to sign Sevilla's Luís Fabiano and Athletic Bilbao's Fernando Llorente, bidding £25m for the latter only to be turned down flat by the Spanish club."
The Transfers: Who else moved on transfer deadline day?
In a move that suggests Steve McClaren is in mega-trouble, Tuncay joined Wolfsburg in £4.5m move from Stoke. Elsewhere, Blackburn signed the Argentinian midfielder Mauro Formica on a three-and-a-half-year deal, with Rovers also snapped up Barcelona striker Ruben Rochina for an undisclosed fee.

The Loans: Stephen Ireland completed a loan move to Newcastle until the end of the season, US midfielder Michael Bradley (top signing!) joined Aston Villa on loan, Chelsea striker Daniel Sturridge signed for Bolton on loan (while Carlos Vela stayed at Arsenal), El Hadji Diouf has joined Rangers in the SPL along with Arsenal's Kyle Bartley, Eidur Gudjohnsen has joined Fulham on loan, and Obafemi Martins joined Birmingham on a six-month loan.
Moving on, Blackpool completed loan deals for Zenit St Petersburg striker Sergei Kornilenko, Rangers hitman James Beattie, Sunderland midfielder Andy Reid and Southampton winger Jason Puncheon.
On The Continent: The Independent doff their hat to Europe to record that AC Milan signed defender Nicola Legrottaglie from Juventus, while the Bianconeri snapped up Alessandro Matri as Amuari moved to Parma.
The Gossip: Amazingly the Daily Mail already gear up for the next transfer window announcing "Gabriel Obertan has stunned Manchester United by handing in a transfer request."
Click here for more Premier League betting tips
---