Ferguson, Mancini & Rooney to all leave Manchester, debate rages over Pellegrini's virtues & Lamps to stay on at Chelsea
Comment & analysis round-up
Quote of the day: "I decided I was going to retire last Christmas. Things changed when my wife Cathy's sister died. For 47 years she's been the leader of the family, looked after our three sons and sacrificed for me. Now she's got all the grandchildren and they all dote on her. She's lost her best friend, her sister Bridget, so I think that was important. To go out as a winner was also important… We nearly blurted it out to the family but we told our sons about March and my brother didn't even know until Tuesday night because I wanted to tell the players first. Unfortunately, there were rumours going around Tuesday and you never know – our club's a sieve. Stuff leaks out and it shouldn't leak out. So we then started to speed things up a bit." – Sir Alex Ferguson.
Runner-up: "I don't really care if Arsenal win 4-0 [next weekend], if I'm honest. I'm sure Spurs will, but I only care that our fans enjoy themselves." – Alan Pardew.
Sir Alex Retires From Old Trafford
Haircryer: For 47yrs my Cathy sacrificed for me…so I think I owe her time now (Richard Moirarty, Sun) Sir Alex Ferguson yesterday revealed he decided to retire so he could devote time to grieving wife Cathy. The Manchester United legend said he started planning to step down around Christmas when Cathy was coming to terms with the October death of her sister Bridget. Fergie, 71 — speaking after an amazing emotional farewell to a 76,000 crowd at Old Trafford — said: "Things changed when Cathy's sister died. She's isolated a lot now and I think I owe her a lot of my own time."
The long goodbye day: Fergie time draws to a happy close (Daniel Taylor, Guardian) When Ferguson took over in 1986 his first photoshoot had been in the centre-circle and the stand behind him was a tired old concrete terrace with ugly spiked gates. He leaves Old Trafford a very different place: gleaming, happy, just a little anxious about life without him but bearing up well. The mosaic of red, black and white coloured cards spelt out "Champions" in the most vertiginous of the four stands.
Alex Ferguson given fitting finale as Manchester United celebrate title with 2-1 victory over Swansea City (Henry Winter, Telegraph) He left in style. Sir Alex Ferguson left Old Trafford with a Premier League medal, with an adoring audience chanting "we love you, Fergie" and, typically, he left with a decisive late goal. He left a winner.
End of the Rood (Neil Custis, Sun) Alex Ferguson axed Wayne Rooney from his Old Trafford farewell then ordered the striker to sort his head out. Rooney was left to watch Manchester United's 2-1 win over Swansea from his private box after asking to quit the club for a second time. He was then booed by a section of fans when he went up to get his medal after the game.
The end for Wayne? (Jamie Redknapp, Mail) Leaving out Wayne Rooney yesterday seemed like one final swipe by United.  Maybe Sir Alex was helping out David Moyes by sending a message. If Rooney is finished at Old Trafford at the age of 27, I hope he isn't lost to English football, but who will take him?
Giggs outlasts fellow United legends (Ralph Ellis, Mail) Sir Alex Ferguson is going, Paul Scholes is going, Rio Ferdinand's future remains unclear – but Ryan Giggs rolls on. The 39-year-old who has scored in every Premier League season has already signed a new contract to keep playing next year, and his cameo appearance against Swansea showed he still has plenty to offer.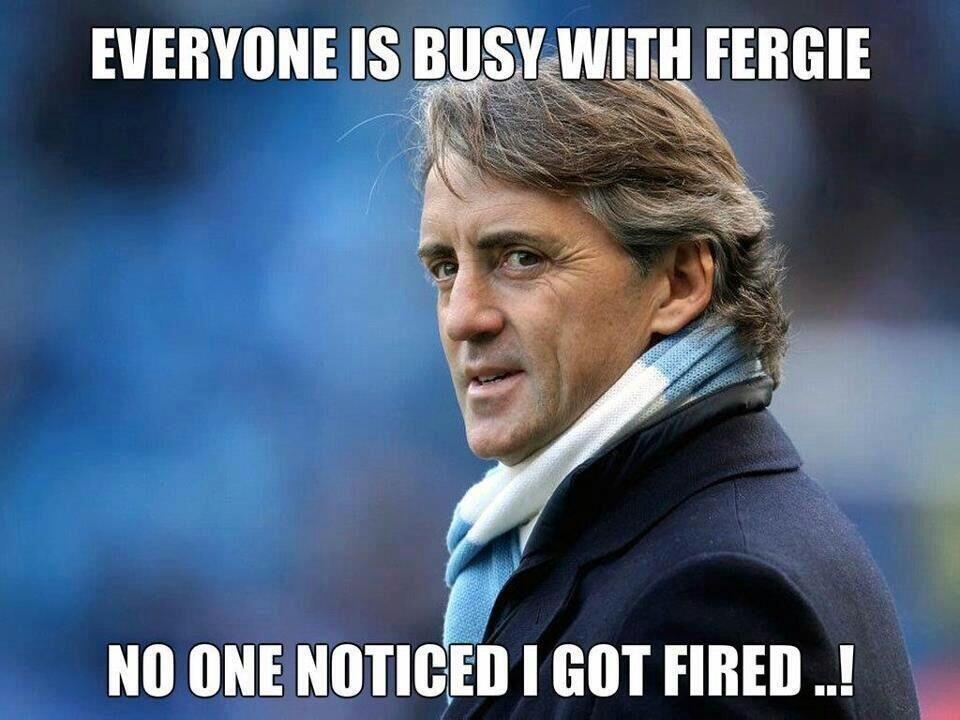 Mancini: It's Over 
Mancini set for City chop (Neil Custis, Sun) Furious Roberto Mancini is heading for the Manchester City exit door claiming he has been knifed in the back. The Italian boss found out he is being moved aside just a year after delivering the club's first title in 44 years… Soriano and director of football Txiki Begiristain have secretly been negotiating with Malaga boss Manuel Pellegrini behind Mancini's back for weeks.
Roberto Mancini will pay ultimate price for failing to build on Manchester City's title success (Alan Hansen, Telegraph) Roberto Mancini had a golden opportunity to blow Manchester United out of the water and dominate the Premier League for years and years – but has not done it, and that is why he will be out of a job this week.
Manchester City will replace Roberto Mancini with Manuel Pellegrini this week (David McDonnel, Mirror) Although Mancini is on £7million a year and is under contract until 2017, it is understood there is a break-clause in his contract that will cap any pay-off at a year's money.
Typical Mancini blamed everyone but himself (Steven Howard, Sun) After his zillionaires were outplayed by a Wigan side cobbled together with players costing peanuts, the £7million-a-year Manchester City boss was asked what had gone wrong. "We didn't play very well," was his lame excuse. And why didn't they play very well? "I don't know," he said. Oh, dear. If the manager doesn't know, who does?
City lost it in build-up (Alan Shearer, Sun) Overnight reports that Manuel Pellegrini was going to replace him had cast a shadow over Manchester City's FA Cup build-up. If Pellegrini was not being lined up, City needed to come out with a strong, bold statement in support of their manager. The fact that they did not seemed to say it all. And Mancini's team responded like one playing for a lame duck manager. But aren't City shooting themselves in the foot here? With Alex Ferguson going there will be an awful lot of change and upheaval across town. I believe David Moyes is a good appointment and I applaud Manchester United for going British.But it is still a huge task and a lot for him to take in. At City, however, everything is in place, with new signings already identified and Mancini is ready to go again. City have a manager who has delivered one title for them. Why shouldn't he do it again?
Manchester City are getting Roberto Mancini's exit all sorts of wrong (Mark Lawrenson, Mirror) Manchester United really did handle Sir Alex Ferguson's farewell with a touch of class yesterday. Their neighbours City, however, are handling Roberto Mancini's exit like a dog's dinner. And I found myself agreeing with what Mancini said on Saturday – If the City hierarchy were thinking of making a change and replacing him with the Malaga boss Manuel Pellegrini, then they should have been honest before Saturday and said so. What we are seeing now is echoes of the way Mark Hughes left the club four years ago.
Pellegrini spent £200m at Real and won nothing… Surely we have better managers here (Martin Samuel, Mail) Manuel Pellegrini is going to be the new manager of Manchester City. And right there is the reason why Manchester United's appointment of David Moyes was so important for English football. A coach who has won nothing in Europe, not even in the season when he spent £200million on four players at Real Madrid, will now occupy one of the prime jobs in the Premier League. And as one door opens, another slams in the face of our home-schooled managers. And not just British coaches, in fact, but those like Roberto Martinez or Gus Poyet who came to the game in this country, embraced it and stayed. Could Pellegrini have won the FA Cup with Wigan, as Martinez did on Saturday? Could he have got Wigan playing better football than Manchester City?'
Manuel Pellegrini is next best thing for Manchester City after Guardiola (Sid Lowe, Guardian) City fans have pointed out that Pellegrini has won nothing in the nine years he has spent coaching in Spain. That is true but it fails to take into consideration the level of the teams he managed, the circumstances he encountered and the teams he faced. At Real, he found a club where two key players were sold against his wishes and though he broke the club's points record, but missed out to the Guardiola-led Barcelona team who won a unique treble in 2009. Beguiristain's team. Either side of that, he took Villarreal and Málaga to the Champions League for the first time. He led Villarreal to the semi-final, beating Roberto Mancini's Internazionale en route, and led Málaga to the quarter-finals. No debutant side have ever gone as far as either of them.
He Barely Played, But Becks Get Praised After PSG Title
Becks is just four-some (Sun) David Beckham last night became the first Englishman to claim a league medal in four different countries. Becks, 38, helped Paris Saint-Germain to a first Ligue 1 title in 19 years — to follow his success in the Premier League, Spain and the US.
Beckham claims league title No 10 as PSG win Ligue 1 crown with victory over Lyon (Graeme Yorke, Mail) Beckham, who has now become the first Englishman to claim a league medal in four separate countries, came on as a substitute, while Jeremy Menez scored the only goal of the game for Carlo Ancelotti's side.
Jose Keeps Lamps On
Jose Mourinho persuades Chelsea to keep Frank Lampard (David Woods, Star) Frank Lampard is STAYING at Chelsea and talks continued yesterday to seal a one-year deal. Manager-in-waiting Jose Mourinho has persuaded owner Roman Abramovich to reward the club's record scorer with a new contract, similar to the one fellow England star Ashley Cole signed earlier in the season.
---
GAMBLING CAN BE ADDICTIVE, PLEASE PLAY RESPONSIBLY