"Ferguson and his players will take some comfort from the fact that many of United's title rivals are struggling to hit top form, too, but they are wrong if they think it is reassuring" – James Ducker
Comment & analysis round-up
Quote of the day: "Was it a gamble [to bring on Fabregas]? You never know. If you can prove to me we would have won the game without him coming on the pitch I was wrong. But we'll never check that. I feel I did the right thing. Of course he adds some creativity in your game and at that moment I felt that was needed. Had we been 1-0 up I would not have done it. But at the end of the day you do what you think will win the game. I would do it again… In midfield we could become short if we lose players. I may have to look maybe at midfielders [in the transfer window], depending on how big the damage is." – Arsene Wenger. (Wenger's full post-match interview after Aston Villa can be seen here.)
Runner-up: "I want to stay and I am going to stay. I am committed to that. I am committed to Man City. I have bought into the idea of where Man City is going to go and I am a huge part of where it is at this stage. I have no problem with Mancini. None at all. It's not his problem he's here. What happened to Mark Hughes has got nothing to do with him… I hope Mancini will stay for a long time because I think stability is the key to success. I hope he gets a number of years to do it and, as long as I last, I will give my all for him. I will take legal action over the stories this week that said I had a row with Mancini. I understand it is easy to write that kind of thing because people out there think I will actually do this kind of stuff, so it's easy to stick my name in there. But it was absolutely not true." – Craig Bellamy. (The full interview can be read here.)
Today's overview: Manchester United, despite moving to within two points of Premier League leaders Chelsea, receive only a lukewarm applause for their 3-1 win away at Hull on Sunday, with Wayne Rooney snatching the lion's share of the plaudits.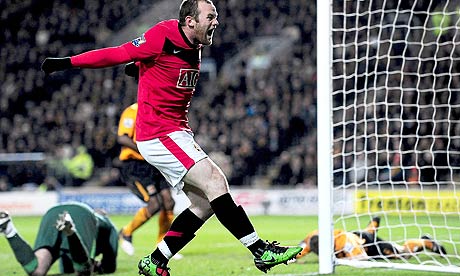 Detailing the post-match United schism, Kevin McCarra identified that "Wayne Rooney was so irrepressible that he insisted on paving the way for Hull City's goal in the few moments he took off from winning the match for Manchester United… This, all the same, did not have the feel of an irresistible charge for glory… Without the exceptional Rooney, this would have been a tight contest."
A similar conclusion was drawn by James Ducker, who waits to be convinced that United can retain their Premier League crown. "There is no sign yet of the Barclays Premier League champions gathering momentum. Ferguson and his players will take some comfort from the fact that many of United's title rivals are struggling to hit top form, too, but they are wrong if they think it is reassuring."
Sam Wallace though, while giving Rooney his dues, also spread the love around the United team for their win over the Tigers. "This was not United at full throttle but there are signs that a new sense of order has been imposed since that defeat to Fulham before Christmas. Nemanja Vidic returned to lend the defence new authority and, crucially, that allowed Darren Fletcher to play in central midfield. Rather than go to pieces when Hull drew level, United picked them off in vintage style."
A superb second half performance by Arsenal against Aston Villa may have intensified the title race further, but the win came at a cost for the North Londoners.
The price of victory is assessed by Amy Lawrence, who details that Cesc Fabregas "suffered a recurrence of a hamstring injury which could rule him out for three weeks… The manager's frustration over Fabregas's fitness is compounded by an injury suffered by Denilson, whose back problem cost him a two-month absence this season, and the impending departure of Alex Song to the African Cup of Nations."
Sidestepping the walking wounded issue, Richard Williams basks in Cesc Fabregas' cameo performance against the Villains. "When Fabregas came on to replace the toiling but largely ineffective Denilson, the change in mood was complete… This was a seasonal present from a remarkable player to his fans: a glittering cameo that instantly etched itself into the collective memory." Also found gushing over Cesc was Russell Kempson. "Absolutely. Fabulous. Two words to describe the two goals and titanic impact that Cesc FÃ bregas had at the Emirates Stadium yesterday. It was a 28-minute cameo as explosive as any witnessed in the Barclays Premier League for many a season."
For Mark Fleming, Arsenal's victory brought into sharp focus the Gunner's need for a new striker. "The contribution of Fabregas demonstrated just how much Arsenal have come to rely on their most valuable asset. What is more, the first hour of the game also highlighted just how much Arsenal could do with a new striker in the January transfer window. In the prolonged absence of Robin van Persie through injury, Arsenal simply need someone to score a goal, to provide the edge that ensures their consummate football does not go without its just reward."
Flipping analysis onto Martin O'Neill's charges, Patrick Barclay runs this risk of knee-jerking in his criticism of the Midlanders performance at the Emirates. "While there is much to commend in Martin O'Neill's team, not least the assertiveness they displayed against United, they do lack a player who can regularly turn matches as Fabregas did yesterday."
Changing tracks, as the new year ticks over Patrick Barclay crows against football's rejection of video technology. "Video assistance is a concept whose time has come. The year 2009, with the Thierry Henry incident in Paris, shouted down all resistance and, as far as this particular conservative is concerned, the sooner it becomes just another part of the game the better. The World Cup cries out for it. The tournament will seem strangely time-warped without it."
Its a case of sweet and sour for West Ham fans this Monday.
Could Santa Claus be Malaysian for West Ham fans this year? With the east Londoners desperate to find a new owner, Jason Burt announces that "Malaysian entrepreneur Tony Fernandes (pictured) attended West Ham United's Premier League victory over Portsmouth and later met manager Gianfranco Zola, which may fuel fresh hope that he could eventually get involved in the club." At the same time as a new potential owner sniffs around Upton Park, Paul Jiggins crashes in with news that David Gold and David Sullivan were at West Ham on Saturday – as they tried to salvage their Boleyn buyout. The former Birmingham owners have given the East End strugglers until January 7 to agree their £46million take-it-or-leave-it offer."
With no takeover imminent, Ivan Speck analyises how the superb form of Scott Parker raises specific problems for the Hammers' management. "If Parker has another stormer against [Spurs]… Zola will surely find happy shoppers prepared to camp outside his door in a bid to beat the rush to sign the 29-year-old.  If he doesn't, the likelihood is that West Ham will be beaten at White Hart Lane and slip back towards the trapdoor that leads to the Championship and an uncertain future. Accepting a £10million cheque next month would ease the financial concerns in east London, but if that means foregoing the £60m dished out to next season's Premier League clubs, it would be the falsest of economies."
Alistair Grant raises the subject of back-handers in football in the Daily Express after announcing "Sepp Blatter is under pressure to come clean after it emerged he oversaw the award of a World Cup contract worth £342million to a company part-owned by the firm his nephew runs."
Moving on to Manchester City, Gary Lineker sets himself up for a fall by refusing to believe that Mancini could be a critical factor in getting to Citizens to gatecrash the Top Four. "You might have understood Manchester City sacking Mark Hughes if a proven managerial giant like Guus Hiddink or Jose Mourinho had walked through the door at Eastlands. But to have gone through all that to bring in Roberto Mancini makes no sense… To bring him in for Hughes was absurd. The bottom line is: are Manchester City more likely to finish in the top four because Mancini is now the manager? The answer is No."
With just hours to go until the transfer window opens, the scramble for transfer gossip goes on across the backpages. And unsurprisingly much of the news revolves around activities at Eastlands.
Jon Brodkin begins by quashing yet another fabricated rumour floated by the gutter-press, flatly denying reports that Bellamy is looking for a new employers. "Craig Bellamy has strongly rejected suggestions of a fall-out with Roberto Mancini and has said he will not leave Manchester City in next month's transfer window." Next, Ian Ladyman farts "Manchester City are on the brink of signing Inter Milan defender Ivan Cordoba."
In an article that carries with it almost zero credibility, The Mirror's John Cross coughs up the news that "Real Madrid president Florentino Perez has got Rooney, Atletico Madrid striker Sergio Aguero and Valencia's David Villa on his hit-list as next summer's superstar signing, according to reports in Spain." Staying in the Mirror, Alan Nixon then chimes in with a much more believable rumour that "Bolton boss Gary Megson is making a sensational bid to sign Real Madrid legend Guti on loan for the rest of the season."
In the managerial-merry-go-round, the Independent report that "Luiz Felipe Scolari claims he has turned down an offer to coach Juventus in favour of remaining at Bunyodkor. Speculation has been rife that Scolari is set to replace the under-fire Ciro Ferrara at the helm of the Bianconeri, who have lost five of their last six matches. " Lastly, Sami Mokbel trumpets that "Darren Ferguson has set his sights on becoming Reading's new boss."
---
GAMBLING CAN BE ADDICTIVE, PLEASE PLAY RESPONSIBLY