Fergie's phone call, RVP V Suarez, & Chelsea fans 'in turmoil'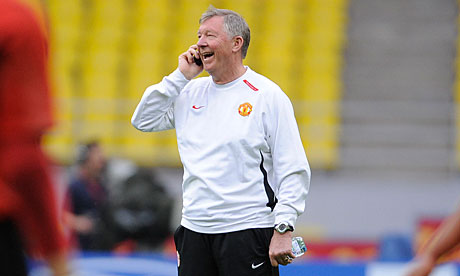 Comment & analysis round-up
Quote of the day: "It is painful to see Manchester United so far in front of us. You know when you sell Robin van Persie to United that will be the case (that he will win you the league. He is one of the best strikers in the world and you know he will score goals. He got 30 for us in the league last year. He is at the peak of his game, 29 going 30. He has gone through difficult moments in his career, he knows his game." – Arsene Wenger
Runner-up: It is not my business what Chelsea do but, if they don't renew Frank's contract, someone else is going to get a really good player for a few years. Once your Terrys and your Lampards are gone I think they'll be appreciated even more. That's the way football is. It's a bit similar at United when Scholes and Giggs eventually move on. That's the reason Alex Ferguson is holding on to them. If someone of his calibre -– someone who's achieved what he has in the game and with his knowledge – knows how important it is to keep those players it tells you how important experience and top pros are." – Steven Gerrard
RVP to United : The phone call that got the ball rolling 
The phone call that sent United to the top of the table (Amy Lawrence, The Guardian) Back in August, Sir Alex Ferguson picked up the phone and dialled Arsène Wenger's number. It was a pivotal moment. Both managers agree on that, and so, too, does Roberto Mancini. That dialogue provided the revs needed for United to go the "extra mile" that Ferguson deemed necessary to swing the deal for Robin van Persie. The two men talked. Conversations of this nature are not always entirely comfortable, especially in this particular situation. One of them was in the business of helping himself while weakening the other. And both knew it. Nobody could pull the wool over anyone's eyes over the significance of this deal.
Man United V Liverpool
Big interview : Steven Gerrard – 'I disagree with Liverpool's youth-only policy' (Andy Hunter, The Guardian) "I disagree with the policy to be honest," Gerrard says. "I've seen many signings throughout the world who have gone to clubs at the age of 28, 29 or even older and done fantastic jobs. Gary McAllister when he came here, for one. The main example at the moment is, if Chelsea don't keep Frank Lampard and another big club comes in and gets him and he produces top attacking midfield performances for the next two years. Someone is going to get a bargain. What is he, 34?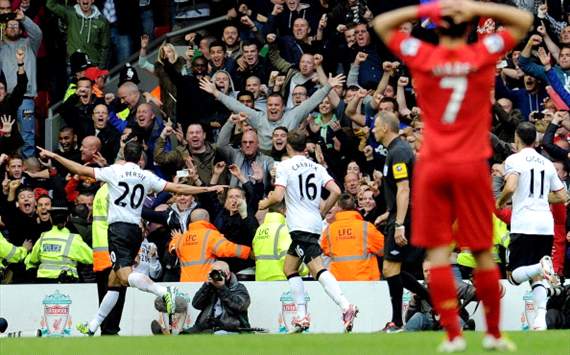 Van Persie V Suarez, a perfect 'shoot-out' (Henry Winter, The Telegraph) Van Persie is more two-footed, more cerebral in his movement than Suárez. "They're the two best players in the league on form,'' added Gerrard. "Michu's surprised a few and he's flying at the moment but they're the two hottest centre-forwards in the league by a long way. Van Persie has done it for years at Arsenal, he's a top player. I love watching him but Luis is the best centre-forward I've played with."
Fergie: "It's a long road back to the top for Liverpool" (Ian Herbert, The Independent) The wise heads around L4 have long since reached this conclusion. Jamie Carragher posited the notion five years ago that it might take Ferguson's retirement to allow Liverpool to challenge Manchester United, triggering the same slump that Kenny Dalglish's first departure did at Anfield.
Dirty tricks: Alex Ferguson urges refs to watch out for Luis Suarez on Sunday  (David Maddock, The Mirror) Sir Alex Ferguson fears his Manchester United side could fall victim to Luis Suarez's 'dirty tricks' on Sunday. Manchester United take on Liverpool at Old Trafford and Ferguson warned referee Howard Webb and his officials to be on their guard for striker Suarez. The Uruguay international is already a hate figure among United fans following his racist abuse of Patrice Evra, and subsequent refusal to shake the United defender's hand before last season's Old Trafford game.
Chelsea fans 'in turmoil'
Chelsea's soul rebels will endure a long wait for a bus called happiness to arrive (James Lawton, The Independent) The big issue, of course, goes a lot wider than the current agonies of Chelsea and the appalling situation of Benitez, who, whatever you think of his operating style, is probably now out on his own as a victim of football mob emotion. It is wrapped around a question that comes into the sharpest focus when you consider the two big matches, and the latest Benitez ordeal at Stoke today, of a weekend which might well have a huge effect on the Premier League title race.
Chelsea channel David Bowie, but they're beating the wrong guy (Barney Ronay, The Guardian) You probably think you could do better than Torres, but you couldn't. In fact one of the remaining measures of distance between our relentlessly over-exposed elite footballers and those who pay to watch them is the enduring and unbridgeable gulf in basic physicality. This is particularly the case with footballers of the last 10 years, who have generally coalesced into a single highly specialised ideal of unattainable athleticism.
QPR V Spurs  
It was a political sacking but Harry holds no grudge (Paul Hayward, The Telegraph) Informed opinion suggests the impetus to get rid of a manager who had taken Spurs to the Champions League for the first time came from the top of the company: from higher, even, than the office of Daniel Levy, the notoriously tough executive chairman, with whom Redknapp spoke this week about possible transfer trades.
January Transfer Window
Big Sam's window pain: 'I'll get the sack if transfer window goes wrong  (The Sun)  The West Ham boss reckons the club will have been offered THOUSANDS of players during the window he regards as a nightmare. Allardyce explained: "I will be able to tell you exactly how many players West Ham have been offered when the window closes at the end of the month because I keep a note of everything. Right now I can tell you that it will run into the thousands but the window has always been out of control since it started 10 years ago. It has never been in control. It has never been an ideal situation in any way, shape or form during the season.
Chelsea eye Luka swoop  (The Sun) CHELSEA are ready for another crack at landing Luka Modric. Blues owner Roman Abramovich will dangle £22million in front of Real Madrid in a bid to tempt the little Croatian back to England this summer. And their resolve will be strengthened after they missed out on Metalist Kharkiv's Brazilian midfielder Taison, 24, who yesterday opted to sign for Shakhtar Donetsk.
Premier League transfer talk (Telegraph Sport) Spurs are interested in signing Hamburg's 20-year-old South Korean winger Son Heung-Min. (Bild)
---
GAMBLING CAN BE ADDICTIVE, PLEASE PLAY RESPONSIBLY