Fergie hails Championship performance, Sir Alex faces a touchline ban & are Chelsea title contenders?
Comment & analysis round-up
Quote of the day: "The statement was the performance, never mind where we are at this moment in time. That was a championship [winning] performance. Once again the players have proved their courage. They never gave in. They were down three times, but they kept making chances and eventually they deserved to win the game. It's only the courage of the team that's got us out of the mire again, and because of the attacking play we've got in the team… The linesman correctly whistled for offside because Cisse was in an offside position when cross was made," said Ferguson. He also pulled Jonny Evans' arm. If that's not interference, then what is? That was the point I was making to Mike Dean. He said it was an own goal, so it didn't matter that the player was offside. But when you see the video replay he is certainly interfering with the play." – Sir Alex Ferguson.
Runner-up: "We deserved to win, we had a lot of chances, we played well but we didn't score and this is our problem. Last year we scored one, two or three goals every game, but now when we have chances we are too soft. We are too soft in attack. We know United is a fantastic team and probably they can win every game, but the season is long and it's not important . . . six or seven points. Sunderland are really lucky against us at home. We created 15 to 20 chances, this year, last year and the year before and then we lose the game… The referee, he ate too much for Christmas. I do not know how he could miss this [Craig Gardner foul on Pablo Zabaleta in build up to goal]. He was not in good form. Him and the linesman, I think after Christmas it can happen, they can do a bad performance like today." – Roberto Mancini.
Manchester United come from behind 3 times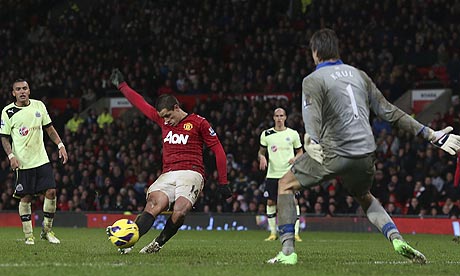 Escape to victory: United fall behind three times but still beat Newcastle in Old Trafford thriller (David McDonnell, Daily Mirror) There were 94 minutes on the clock when Sir Alex Ferguson turned around and gave a victorious fist-pump to the crowd. He had just witnessed his side stage another epic comeback to open up a seven-point lead at the top of table over Manchester City, but you sensed this win meant more to him than most. Rarely in recent times has Ferguson, who these days prefers to sit in the dugout but spent almost the entire second-half prowling the touchline like a man possessed, been so pumped-up. He may be 71 on New Year's Eve, but that did not stop the Manchester United boss leaping into the arms of assistant Mike Phelan when Javier Hernandez scored the 90th minute winner. There is growing belief this could be Ferguson's last season in charge at Old Trafford and, if so, it is easy to see why the United boss greeted this potentially seismic win with such fervour.
Javier Hernández seals Manchester United comeback against Newcastle (Jamie Jackson, Guardian) From start to finish this was a breathless afternoon at Old Trafford. Manchester United were staring at dropping four points in three days when up stepped Javier Hernández on 90 minutes to slide home a Michael Carrick ball to make it 4-3 and cause a joyous Sir Alex Ferguson to jump into the arms of Mike Phelan, his assistant. Controversy was a key ingredient of this Boxing Day affair after Mike Dean overruled himself having initially agreed with his assistant that Newcastle's second was offside when it had, in fact, been a Jonny Evans own goal. At the close there was also a disagreement involving Fabricio Coloccini, Rio Ferdinand and John Carver, the Newcastle assistant manager, in which Patrice Evra acted as peace-broker.
But Wayne Rooney is out
Rooney sidelined for up to three weeks in blow for title-chasing United boss Ferguson (Rik Sharma, Daily Mail) Manchester United striker Wayne Rooney will be sidelined for between two and three weeks after sustaining knee ligament damage in training. The England forward was missing from the line up for the Red Devils' 4-3 victory over Newcastle today. After his poor performance against Swansea on Sunday, Ferguson would have loved the hitman to come out swinging against Newcastle, but could not select him due to injury.
And Fergie could be banned
Manchester United manager Sir Alex Ferguson faces FA ban following on-field confrontation with Mike Dean (Henry Winter, Daily Telegraph) Sir Alex Ferguson, the Manchester United manager, is facing a possible touchline ban after remonstrating with the referee, Mike Dean, at Old Trafford.The Football Association will consider the nature of any disciplinary action when it has received Dean's report. Ferguson was incensed that Dean awarded Newcastle United's second goal. When Danny Simpson shot goalwards, Papiss Cissé appeared to be in an offside position as the ball deflected in off Manchester United defender Jonny Evans past David de Gea. The assistant referee, Jake Collin, initially signalled an offside against Cissé. Dean ran over to consult Collin, eventually ruling that Cissé was not interfering with play.
Are Chelsea in the title race?
Chelsea's Juan Mata makes winning difference against Norwich City (Richard Rae, Guardian) There may have been only one goal in it instead of eight, but in many respects this was a win which should please and encourage Chelsea supporters almost as much as the drubbing of a callow Aston Villa side a few days earlier. For the interim manager Rafael Benítez, the manner in which his players comfortably contained Chris Hughton's determined, organised Norwich side, while always carrying the greater threat going forward, was a continued demonstration of their all-round improvement in recent matches. "It is important to see the team working hard and defending well," said Benítez, after watching the outstanding Juan Mata win the game with a 20-yard shot seven minutes before half-time. "Against Villa we were playing very offensive football, today we could manage and could control against a good team. They were quite dangerous on the counter-attack, but we were doing our job as a team."
David Luiz carries off Frank Lampard impression with aplomb (Aidan Semmens, Independent) The conversion of David Luiz from an error-prone central defender to a free-running midfielder capable of causing, and preying on, others' errors may prove as valuable a part of Rafael Benitez's achievement for Chelsea as the much-vaunted restoration of Fernando Torres's powers as a striker. It may also be a crucial factor in a change less to the taste of Chelsea's fans, namely the ending of Frank Lampard's days in their colours. Torres, perhaps cowed by suggestions of David Villa's possible arrival as competition for his place, was so ineffective at Norwich yesterday that one had to check the team sheet at half-time to confirm that he was indeed on it.
As Frank Lampard is told to do one
Your time's up, Lamps (Shaun Custis, Sun) Frank Lampard was dumped on Chelsea's bench after we revealed he is being dumped by the club he has loyally served for 12 years. Lamps, 34, has been told to "find another club" in January. And he was not in the Blues' XI at Norwich, despite his heroic role in Sunday's 8-0 mauling of Aston Villa. Lampard's contract is up in the summer but an insider said: "All Frank wants to do is carry on playing for the club and the fans he adores."
Manchester City lose at Sunderland, again
Adam Johnson's joy is Manchester City's woe as seven point gap is built (Simon Turnbull, Independent) This time Manchester City got their seasonal woe in early on Wearside. Last season they were beaten on New Year's Day by a 93rd-minute sucker punch of a goal by  Sunderland's South Korean substitute Ji Dong-won. Yesterday the Premier League champions were floored by a 53rd-minute Boxing Day strike by the £10m winger they sold to Sunderland in August. Whether City can recover from a blow inflicted by Adam Johnson, and compounded by Manchester United's Houdini act against Newcastle, only time and the tide of the New Year title race will tell. But Roberto Mancini's men go into the final weekend of 2012 with a seven-point gap to close on their swanky neighbours.
Bunch of Softies (Ian Gordon, Sun) Roberto Mancini branded his Manchester City stars a bunch of softies as they crashed to a shock defeat at Sunderland. He blasted his misfits as their unbeaten away record was left in tatters when old boy Adam Johnson's strike fooled fumbling Joe Hart. Mancini was furious as the reigning champs slumped SEVEN points behind Manchester United after their rivals' amazing comeback win over Newcastle in what could be a crucial day in the title battle. The under-pressure Italian fumed: "We are too soft. "We are too soft in attack, too soft when we get chances, too soft when we shoot. "Sometimes we don't shoot. We want one touch more and that is no good. "If we had scored with the early chances, the game would have been different. "When you play against a team like Sunderland, who defend with all players behind the ball, if you get a chance you need to score."
Gareth Bale scores his first Premier League hat-trick
Gareth Bale scores hat-trick as Tottenham crush hapless Aston Villa (Stuart James, Guardian) The most alarming aspect of this thumping defeat for Aston Villa was that they got off lightly. Gareth Bale's first Premier League hat-trick lifted Tottenham Hotspur into the top four and condemned Paul Lambert's side to a second chastening loss in the space of four days, although the scoreline could, and arguably should, have been much more emphatic. Tottenham were superior in every department against a team desperately short of confidence in the wake of their mauling at Stamford Bridge on Sunday, when Chelsea scored eight times to inflict Villa's worst top-flight result in their history. If that felt like a freakish defeat, the sobering reality is that Spurs could have inflicted similar damage here but for Brad Guzan's fine goalkeeping in the first half.
Gareth Bale among the best in the world after hat-trick against Aston Villa, says Tottenham's Andre Villas-Boas (Daily Telegraph) Asked if he thought Bale could get even better, Villas-Boas said: "I think so. You always expect that the team can make an individual even better. "The team changes so much from one year to another, and as he keeps learning, he will feel even better and probably his performances will improve. "His finishing is very accurate. He has been prolific in front of goal this season and I think he is enjoying getting into those positions. "His left foot is wonderful and the power and direction he applies on the ball is wonderful too."
Liverpool want Franco Di Santo
Santo clause: Liverpool eyeing January move for Argentina striker (John Cross, Daily Mirror) Liverpool boss Brendan Rodgers could be set to sign another striker as he is keeping tabs on Wigan's Franco Di Santo. Wigan boss Roberto Martinez publicly insists they are hopeful of keeping the 23-year-old Argentina international. But privately the Wigan hierarchy fear he will leave when his contract expires at the end of the season. That has alerted Rodgers who knows Di Santo from their days together as young player and coach at Chelsea. Rodgers remains an admirer and if it is a deal he can get done for free next summer to bolster his squad then it will appeal.
Arshavin heading to Reading
Arshavin heading to Reading as Royals' Russian owner looks to bolster survival bid (Sami Mokbel, Daily Mail) Arsenal outcast Andrey Arshavin is close to sealing a January move to relegation-threatened Reading. The Gunners signed him for £15million in 2009 but he has held talks over a switch to the Madejski Stadium, where billionaire Russian owner Anton Zingarevich wants the 31-year-old – a superstar in their homeland – to bolster his struggling squad. Arsenal are listening to offers for Arshavin, out of contract at the end of the season, as they try to shift his £85,000-a-week contract off the wage bill. Arsenal, who are willing to take a hefty loss on the forward, could offload him for as little as £2m.
Roy Keane set to take over at Nottingham Forest
Former Forest star Keane favourite to take over after O'Driscoll sacked (Janine Self, Daily Mail) Sean O'Driscoll was rewarded for Forest's Boxing Day thrashing of Leeds with the sack, leaving the Championship club looking for their fifth manager in four years. The Kuwaiti owners, who appointed O'Driscoll in July, just 25 games ago, have decided that he is no longer the man for the job. Forest are one point off the play-offs but that is not good enough for the Al Hasawi family, who may now look to former City Ground favourite Roy Keane. Keane was a spectator as in-form Leeds were put to the sword and is available for employment after his failures at Ipswich and Sunderland.
Keane in shock Forest return (Neil O'Riordan, Sun) Roy Keane is in line for a shock return to Nottingham Forest as their new manager. Keane was at the City Ground yesterday as his old club beat Neil Warnock's in-form Leeds 4-2. But Forest stunned their fans hours after the win — which moved them to within a point of the play-off zone — by sacking boss Sean O'Driscoll, who was appointed in July. A statement from Forest owners Abdulaziz Al Hasawi and Fawaz Al Hasawi said: "We are looking for an ambitious manager with Premier League experience.
Or is Di Matteo in the frame?
Roberto Di Matteo and Roy Keane in frame after Nottingham Forest axe manager Sean O'Driscoll (John Percy, Daily Telegraph) Di Matteo is another option, and would represent a significant coup for Forest's owners if they can persuade him to take a job in the Championship. He also won the FA Cup last season with Chelsea and achieved promotion to the Premier League with West Bromwich Albion two years ago. Neil Warnock, who was beaten by O'Driscoll on Boxing Day, could be an outsider.
---
GAMBLING CAN BE ADDICTIVE, PLEASE PLAY RESPONSIBLY