Ferdinand to launch Kick It Out campaign rival, Real Madrid chase 'unhappy' Man United keeper De Gea & Liverpool linked with 3 strikers
Comment & analysis round-up
Quote of the day: "As the manager, when you lay down policy you don't want to see it being ignored and that's where my anger came from on Saturday. We have resolved the problem — there's no ongoing problems and we move on, that is the end of the matter. We will carry on with the football side of it. He is not as quick as he was but that is not a big issue for me. His experience is important and there is no reason he can't stay on. I didn't even realise his contract was up. You are making me panic! We have always adopted that policy of offering one-year contracts, and also at 34, I think Rio can play for two or three years." – Sir Alex Ferguson.
Runner-up: "I haven't really had a fair chance at Liverpool. I was really told that I should move on to keep playing regular football, and obviously then Sam wanted me here and told me I would be playing regular games. So, for me it was a no-brainer coming here and to play. Obviously, I didn't really get a chance there. A new manager came in and I wasn't part of his plans. For me to play football, that was my chance to do that. That is why I am here at Upton Park. I think I could fit into every system. I believe in what I can do. Obviously he [Rodgers] has his beliefs and he didn't think that." – Andy Carroll.
Rio Gets Fergie Reprieve
Anger at John Terry's lenient ban led to Kick It Out T-shirt protest (Guardian) The motivation for players refusing to wear the Kick It Out T-shirt during the weekend's matches has been revealed for the first time, with Cyrille Regis stating that disquiet at the four-match ban given to John Terry by the Football Association caused his nephew Jason Roberts, Rio Ferdinand and others to take the stance. Regis said: "There is a feeling that John Terry has been let off lightly. You are not going to stamp out racism with laws – it is intrinsic to some people. But where it rears its ugly head the authorities have to stamp down and, if they don't do it with the right force, it gives the impression that it's OK. Black players have been voicing their opinion for a long time but feel it hasn't been listened to. They were unhappy at the time it took for the FA to sort things out, a whole year in the John Terry case. Then Luis Suárez got eight games, while Terry got four – what is the difference? The panel's assessment was that Suárez said the word several times while John Terry only said it once? Come on, do we have zero tolerance or not?"
The day we did not think would come: Fergie eats humble pie (Independent) The image of Ferguson is of an utterly inflexible, almost Stalinist character, who once he had made a decision could never be swayed from it. Were that true, he would have never adapted to football's constantly changing rhythms.
Rio's tee break (Sun) Alex Ferguson has done a U-turn on his decision to discipline Rio Ferdinand. And he will even offer the Manchester United star a new contract.
Fergie blames 'communication problem' for Kick It Out T-shirt row with Rio (Mirror) Although Ferguson initially felt Ferdinand had undermined him by not wearing the 'Kick It Out' T-shirt, the United boss ultimately accepted that no-one can be forced to support something they do not have faith in.
Sir Alex Ferguson's grudging respect for Rio Ferdinand, the Manchester United rebel with a cause (Telegraph) Oddly, there is little warmth towards Ferdinand from the terraces, despite the success he has enjoyed at Old Trafford.
Kick It Out: How To Fix It
Gordon Taylor: if we are not careful this racism row will set us back years (Henry Winter, Telegraph) Gordon Taylor, the chief executive of the Professional Footballers' Association, has called on two of his senior members, Rio Ferdinand and Jason Roberts, to work with him to unite a sport struggling to tackle racism collectively.
Kick It Out is caught in the crossfire of toxic John Terry affair (David Conn, Guardian) The union has been criticised for not progressing sufficiently quickly with moves to open up coaching and management to black players and there is some unhappiness at the widening of Kick It Out's role from anti-racism to general diversity.
Battling on a budget: how Kick It Out fights on a shoestring (David Conn, Guardian) The organisation is now funded by the Football Association, Premier League and PFA, who contribute just £115,000 each annually. So, a little over two weeks of Terry's wages stretches to the rent, the campaigns, and the salaries of just six staff.
Kick out the Kick It Out chief (Ian Wright, Sun) Kick It Out is funded by the PFA, FA and Premier League. Yet it is an organisation without teeth. I was also disgusted to hear the comments from Kick It Out chairman Herman Ouseley when saying "I am not here to represent rich black players." Does it make any difference that the black players are rich? What has money got to do with it? Nothing. What chance have you got when the main man comes out with rubbish like that. Ouseley should resign immediately.
Breakaway? Split from PFA could follow Kick It Out shirt rebellion for rebel stars (Mirror) Frustrated black players are stepping up their efforts to form a breakaway group in the wake of the Kick It Out T-shirts affair.
Rebel Ferdinand setting up breakaway Federation of Black Players union to fight racism (Mail) Rio Ferdinand is planning to revolutionise English football with the launch of a breakaway union to protect the interests of black footballers… The union — which has a working name of The Federation of Black Players but will be open to players from all ethnic backgrounds who share a desire to combat racism in English football — will be self-funded by professionals at every level.
Terry & Standing Up Against Racism (Chelsea v Shakhtar) 
Look what Blues skipper JT will have to wear tonight…(Sun) Chelsea's John Terry will be expected to wear an anti-racist armband tonight against Shakhtar Donetsk. UEFA want all team captains to don the logo 'United Against Racism' in this week's European matches — which is unfortunate timing for Chelsea's Terry, 31.
'JT is still our leader': Di Matteo happy to pick skipper despite domestic racism ban (Mirror) John Terry will mark the anniversary of the day that destroyed his reputation by wearing an anti-racism armband, and with Roberto Di Matteo insisting: "He's still our leader."
Fernandinho: I'd go wild at racist (Sun) Shakhtar vice-captain Fernandinho, 27, said: "If someone was ever racist towards me, I would go wild. "But I'm happy to say I've never suffered such an act in my time playing in Brazil or Ukraine. In my opinion, if someone commits such a crime, it should be very severely punished. Racism in football is one of the most unpleasant things in our time."
Disaster looms for Chelsea if they don't win at Shakhtar (Martin Lipton, Mirror) Chelsea know defeat here to Shakhtar Donetsk would leave them on the brink of being the first Champions League holders not to make the knock-out stage of their defence. There is no hiding from the realisation that all Chelsea's impressive early season form could be cast into a different light if they cannot cope with the passion of Shakhtar.
Barcelona v Celtic
Celtic have got Nou chance (Sun) Celtic are less likely to beat Barcelona tonight than President Obama is to tell the world that aliens really DO exist. Bookies are offering a whopping 45-1 on the Scottish champions winning in the Nou Camp. That is the biggest price EVER for a British side in the Champions League. Compared to that, Obama confirming ET is real looks nailed on at 20-1.
Barcelona boss worried of Celtic threat in Champions League (Express) Tito Vilanova is worried his makeshift defence will struggle against Celtic when the two sides clash in the Champions League at the Nou Camp tonight… Vilanova has lost defenders Gerard Pique, Daniel Alves, Carles Puyol and Eric Abidal to injury. Alex Song and Javier Mascherano look set to form a makeshift central defence again.
Neil Lennon knows Celtic must remain focused against Barcelona (Guardian) As career records go, Neil Lennon's at Camp Nou stands up to pretty close scrutiny. In two visits, the Northern Irishman remains undefeated.
Sick Football Songs
Poison, tribal hatred, abuse and conflict from both sides of the divide is turning the North East derby into an embarrassment (Simon Bird, Mirror) At one end Sunderland fans sang: "We wish you were dead, we wish you were dead, Steven Taylor, we wish you were dead." At the other, Newcastle fans came up with: "Jimmy Savile is Cattermole's dad, Jimmy Savile is Cattermole's dad." And about Titus Bramble.
Leeds Yob Gets Only 4 Months In Jail 
Warnock fury at yob jail term (Sun) Magistrates sentenced yob Aaron Cawley, 21, to 16 weeks with a five-year football banning order after cowardly flooring Kirkland in Friday's Yorkshire derby clash between Sheffield Wednesday and Leeds. The Elland Road club have also banned him from their ground for life. Leeds issued a statement saying: "We feel the sentence could, and should, have been considerably longer."
Jailed Leeds fan Aaron Cawley binged on lager, cider and vodka before attacking Sheffield Wednesday's Chris Kirkland (Telegraph) Cawley claimed he had no recollection of the attack until he received a text message from a friend while he was on the train home.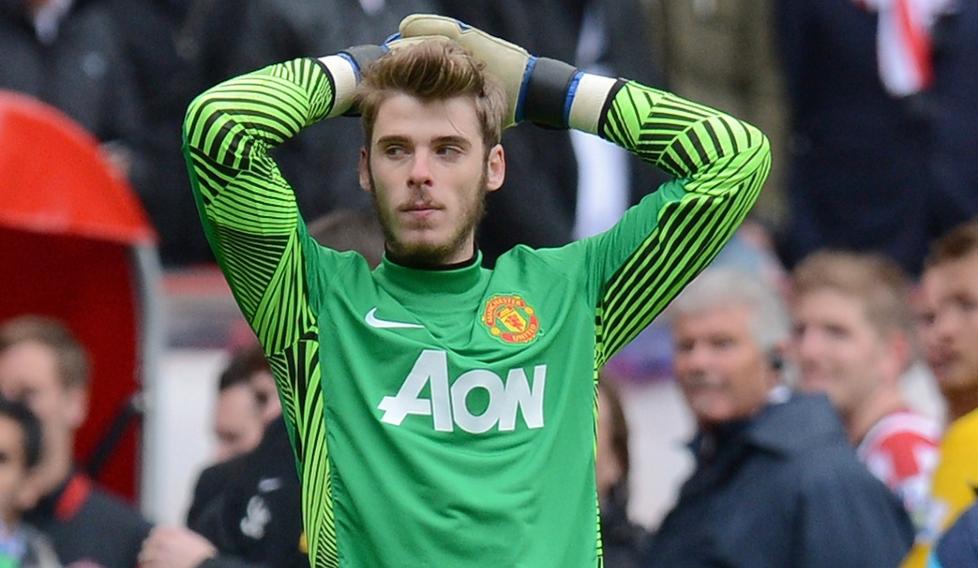 Transfer Lies
'Unhappy' David De Gea wants to go home and play for Real Madrid (Telegraph) Real Madrid have identified David de Gea as a potential long-term successor to Iker Casillas amid claims in Spain that the Manchester United goalkeeper is unhappy at Old Trafford and keen to return to La Liga.
Liverpool are checking out free-scoring Israeli ace Tomer Hemed (Sun) The Real Mallorca striker, 25, has 10 goals this season. Real are ready to talk about a January move for around £5million.
'AVB always sends me messages': Willian fancies Tottenham move in January (Mirror) Shakhtar Donetsk star Willian says he'd love a move to England – and is being bombarded with messages from Spurs boss Andre Villas-Boas.
Spurs' Dawson is £7.5m target for struggling Southampton (Mirror) Saints have conceded a worrying 24 goals in just eight Premier League matches – setting a new eight-game record for the Prem era – and boss Nigel Adkins is keen to boost his paper-thin defence with a £7.5million move for Dawson.
Liverpool boss Rodgers switches his attention to unsettled striker Huntelaar (Mail) Liverpool boss Brendan Rodgers is ready to make a January raid for Schalke striker Klaas-Jan Huntelaar.
Manchester United are battling Manchester City and Real Madrid for Croatia starlet Alen Halilovic (Mail) The midfielder, 16, is contracted to Dinamo Zagreb but has been allowed to train with Real as the Croatian side weigh up a sale. Halilovic is valued at £12million but United and City are considering offers of around £6m.
Liverpool are keen on HJK Helsinki striker Joel Pohjanpalo (Mail) Borussia Monchengladbach are also keen on the 18-year-old.
---
GAMBLING CAN BE ADDICTIVE, PLEASE PLAY RESPONSIBLY