Fear of sick songs rises ahead of Manchester United v Liverpool, Spurs stars racially abused & Arsenal target a 16-year-old striker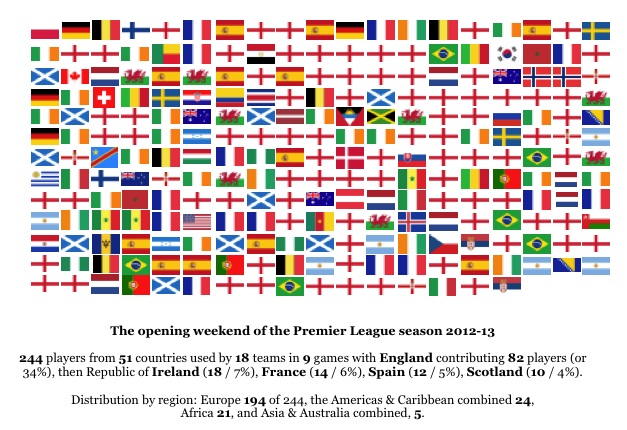 Comment & analysis round-up
Quote of the day: "You could say the [Premier] League is already wealthy and now that's going to double [with the new £1bn annual television rights deal]. You are going to get £70m, going up to £100m if you are [a] successful [team]. You won't have many English players who are going to get [a chance]. If you go to watch West Brom play, you [just] watch Liam Ridgewell. If you watch Wigan, you don't watch anyone. If you go to watch Fulham, you watch Steve Sidwell. We are talking about wanting our players to play for Premier League teams and reproduce the football our teams use in the Premier League. But they don't have many English players and that is going to be a problem." – Roy Hodgson.
Runner-up: "Only time will tell [if Oscar can be as good as Kaká] but he's on a very good way. He's settled in quickly and you can see he's worth the money the club spent. He's only 20 [sic] so let's see how he's going to develop." – Petr Cech.
Handshakes, Sick Songs Part XVI: Manchester United v Liverpool
We'll shake your hand (Sun) Every Manchester United player will shake hands with Luis Suarez on Sunday… A United insider revealed: "On a day such as Sunday, which is bound to be full of all kinds of emotion, no one wants anything to happen that will tarnish the match. Luis and Patrice will shake hands just as every other player will shake hands."
Why Evra may not be given the chance to shake Suarez's hand (Ian Ladyman, Mail) Regular United watchers will also admit that Evra has not been the same player for the last 18 months. The 31-year-old has become more prone to error in his own half of the field and less consistently dangerous moving forwards.
'We are all on trial': United skipper Vidic calls on players and fans alike to behave at Anfield (Mirror) With an estimated global TV audience of 500million expected to watch in 211 countries, Vidic knows the eyes of the world will be on Anfield, and acknowledged that the players – just as much as the fans – will be under the microscope.
Why the decent majority at Liverpool v Manchester United must drown out the morons (Robbie Savage, Mirror) If a minority of idiots do pipe up with a disgusting chant, the people in the best place to police them are the decent majority.Of the millions who attend football matches every week in this country, 99 per cent are respectable people, so I say to that 99 per cent: Drown out the morons.If they chant filth, their voices will soon be lost if the majority support their team louder.
Spurs Players Racially Abused By Lazio
Fury at Defoe monkey chants (Sun) Tottenham will decide today whether to complain to UEFA after their black stars were racially abused by Italian fans. Striker Jermain Defoe and winger Aaron Lennon were subjected to monkey chants from a large number of the 3,000 Lazio followers in this Europa League stalemate.
Racist abuse overshadows Euro stalemate (Mirror) Spurs have three goals disallowed in group-phase opener but Italians' neanderthal baiting of the hosts' black players will hog all the headlines.
Racist taunts sour Tottenham's Europa League draw against Lazio (Guardian) In front of the Uefa president, Michel Platini, Jermain Defoe, Aaron Lennon and the substitute Andros Townsend were the targets of monkey chants when they ventured in front of the enclosure containing 1,500 Lazio fans.
Young Boys 3 – Liverpool 5
Rodgers' young boys win great game for neutrals (Mirror) There was an innocence to Liverpool's play that left a smile on the face of everyone watching, and while the quality of the opposition must temper any over-enthusiasm, this was still an exhilarating performance from a delighting uninhibited young side.
Shelvey shines as young Liverpool find their range (Independent) For only the fourth time in their history the Reds scored five in a European away tie, the last occasion having been against Finnish side Haka in a 2001 Champions League qualifier. Jonjo Shelvey, a 67th-minute substitute, stood out with two strikes while 19-year-old Andre Wisdom marked his senior debut with a header and Sebastian Coates and a Juhani Ojala own goal rounded off the scoring.
Manchester City
Moody Mancini should blame himself… not have a go at Hart (Steven Howard, Sun) Mancini possesses an inflexibility that tends to lead to confrontation with players he believes should be seen and not heard. In this way, he has a side to him that is both aloof and cold. Like Jose Mourinho, he could almost be accused of being a little in love with himself. That he can do no wrong. But he would appear to have made an error with his handling of City's England keeper Joe Hart.
Why Arsenal Still Aren't All That
Wenger has no case for defence (Steven Howard, Sun) That Arsenal should have escaped from Montpellier on Tuesday with a win was not so much down to the sudden improvement of their back four but the chronic inability of the Montpellier strikers to find the net… All the old Arsenal failings were there with a customary blunder from Per Mertesacker, the sight of full-back Carl Jenkinson getting caught out of position and Abou Diaby unnecessarily giving the ball away to provide Montpellier with one chance and then desperately lucky not to concede a penalty. The miracle is that Arsenal have only conceded two goals this season.
Walcott does want to stay – but freezing him out isn't the way to persuade him to sign a new deal (John Cross, Mirror) You can see arguments on both sides. Arsenal don't want to overpay. But will it be good budgeting if they end up losing him for nothing? Walcott can't afford to push it too hard otherwise his Arsenal career will be over. And, in his heart, I don't think he wants to go. If it drags on then the likelihood of Walcott leaving will increase with every week, but nothing at this stage has been decided on either side… Don't drop him. Don't freeze him out. Certainly don't boo him. Give him some love. Give him games and he will deliver. I'm certain of that.
The Angry One
Mourinho on legal warpath after being labelled a psychopath by ex-Barca vice-president (Mail) Mourinho acted through lawyers against Spanish paper Marca's editor-in-chief Roberto Palomar following an article he wrote that was published on Monday. 'Palomar… referred to our client as "the type of person who would flee after knocking someone down",' said an extract of a letter from Mourinho's lawyers, published in Thursday's Marca.
Transfer Lies
Liverpool are in talks with Danish defender Daniel Agger, 27, on a new contract worth up to £80,000 a week (Sun)
Arsenal are tracking 16-year-old Alloa striker Noel Makombo (Sun) The 6ft 2in French kid has been with the Scottish Division Two team for only six weeks and is awaiting his Wasps debut.
Wigan still fancy Zaha but Palace want too much money (Mirror) Wigan boss Roberto Martinez still wants Crystal Palace winger Wilfried Zaha to fill the Victor Moses shaped hole in his team – but is scared off by the cost.
Liverpool and Italians eye up Croatia midfielder Brozovic (Mirror) Liverpool are tracking Dinamo Zagreb midfielder Marcelo Brozovic… Genoa and Lazio are also monitoring his progress, with Dinamo ready to sell next summer.
---