"Far from bestriding the world, the Premier League has become the nursery league for La Liga" – Jim White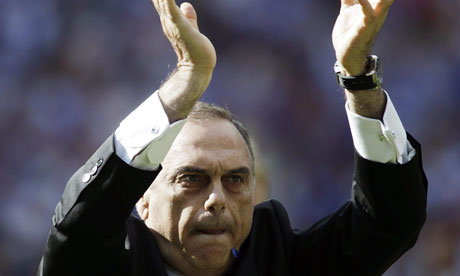 Comment & analysis round-up
Quote of the day: "After a lot of soul-searching and under the circumstances I'm taking a different direction. It's been both a difficult and complex year for us at the club, but at the same time it's been a wonderful and uplifting professional and personal experience. I have been inundated with letters and emails from fans. Many have brought tears to my eyes and take it from me; it takes a lot to do that. I will never forget you, the loyal fans of Pompey who, without a doubt, helped me protect the team under such complex circumstances. There are very few teams in the world that have fans as passionate and devoted as you are. I wish you all the possible success which you genuinely deserve." – Avram Grant.
Runner-up: "The problem with a club like Manchester United is [that] the expectation and attention is always there. There's speculation every season and some of them have you signing 100 players. You have to deal with that. There's been a lot [written] on Berbatov in terms of his future, but we know he is a good player. He is a fantastic footballer and he will be with us next year." – Sir Alex Ferguson.
Today's overview: This is a strange period for Fleet Street. The World Cup is getting ever closer and with scant actual football around, the hacks in England are churning out a huge amount of transfer gossip -Â James Milner, Cesc Fabregas and Steven Gerrard are the main protagonists today. Elsewhere, Avram Grant picks up some headlines after leaving Portsmouth. In terms of true analysis Ian Chadband's article on Jose Mourinho and Matt Barlow on England's striker problems are worth a butchers.
James Milner transfer gossip: Daniel Taylor and Stuart James team up to tell us: "Manchester City are to continue their pursuit of James Milner and have also contacted Aston Villa about the potential availability of his team-mate Ashley Young." The race for Milner has hotted up though, the lead story in The Sun claims: "Chelsea will fight Manchester City for England midfield star James Milner. City have tabled a £30million offer after Aston Villa rejected their initial £25m bid. But now Chelsea have joined the race and Blues boss Carlo Ancelotti believes the lure of Champions League football will prove a trump card."
James Nursey reports in the Daily Mirror that "James Milner wants crunch talks with Aston Villa BEFORE the World Cup to resolve his future after Man City firmed up their interest in him." Sam Wallace adds that Manchester City's "£20m offer likely to be improved before Fabio Capello's 1 June deadline on transfer deals."
Martin Lipton in the Daily Mirror attempts to explain why James Milner is such hot property. "Part of his appeal is a simple accident of birth. Not that Milner comes from Yorkshire – although we know that every inhabitant of "God's own country" thinks they are part of a tribe apart – but merely that he is English. UEFA and Premier League rules on "home-grown players", with each club having to have eight in their first team squads of 25, put a premium on English talent, especially a player who can operate in a variety of roles. That consistency of performance has also helped Milner's recent rise, coming just a year or so after his career seemed to have stalled."
Cesc Fabregas transfer gossip: The Cesc Fabregas to Barcelona story is a lot less prevalent in the press this morning compared to recent days. David Hytner reports: "Barcelona are urging Cesc Fábregas to state publicly that his seven-year Arsenal career has run its course and he wants to move to the Camp Nou in the hope of speeding up a deal for the midfielder. Fábregas has told Arsène Wenger, the Arsenal manager, that the time has come for him to return to his Catalan roots but he has not been as explicit in public. Barcelona feel that comments by the 23-year-old could help to force the issue after being informed that Wenger is ready to dig his heels in."
John Cross "exclusively reveals in the Daily Mirror" that "Barcelona president Joan Laporta will begin the desperate attempt to land Cesc Fabregas on Monday. And the Spanish giants believe they will still be able to complete the deal for Fabregas before the start of the World Cup." The Mail link Arsenal with a move for Marseille midfielder Stephane Mbia.
Jim White looks at what the Premier League will be like in a post Fabregas world. "Even more than Cristiano Ronaldo, Fabregas was schooled in this country, his talent nurtured here. Now he joins the Portuguese in seeking to progress his career in Spain. If, as is rumoured, Fernando Torres also heads home in the summer, in the space of two years the Premier League will have been stripped of three of its most valuable attractions. These days, far from bestriding the world, it has become the nursery league for La Liga."
Stevie G and the rest of the transfer goss: Probably the biggest transfer story of the day is provided by Ian Ladyman in the Daily Mail: "Liverpool fear that captain Steven Gerrard's frustration with life under Rafael Benitez will see him leave Anfield this summer if he gets the right offer. Gerrard has been a Liverpool player for more than 11 years, making more than 400 appearances for the club that he almost led to Barclays Premier League glory a year ago. But Sportsmail understands that the Anfield hierarchy are concerned by the lack of a relationship between the midfielder and manager Benitez and fear he will look at other options this summer. With Benitez's game of bluff and counter-bluff with the Liverpool board over his future at an impasse, it seems likely that the Spaniard will still be at the club next season."
The Sun roll out a bunch of transfer rumours including Aston Villa are keen on Eidur Gudjohnsen, Newcastle are aiming to bring Jermaine Jenas back to Tyneside and Valon Behrami will be the first West Ham player to leave this summer.
Avram Grant – a manager in demand: After leaving Portsmouth, Jamie Jackson weighs up some of the option for the Israeli boss. "The Guardian understands that Grant has been offered the chance to succeed Gianfranco Zola as the West Ham United manager by the co-owners, David Gold and David Sullivan, and is now at home in Israel deciding whether to do so. Grant is also considering an offer from FC Twente, the Dutch Eredivisie champions, to take over from Steve McClaren, who is now in charge at Wolfsburg in Germany. It is also understood initial contact was made by Liverpool last week when Rafael Benítez appeared to be considering a move to Juventus. However Juve's appointment of Luigi Del Neri yesterday has caused Benítez to refocus his energies at Anfield, with the Spaniard claiming that his ongoing career is still with Liverpool."
So who will take over at Pompey? Neil Martin in the Daily Star brings an interesting candidate: "Avram Grant last night quit Portsmouth – and could be replaced by England keeper David James… Pompey will now begin the search for a new manager but may not have far to look after administrator Andrew Andronikou admitted he will consider giving James the role. The 39-year-old was this week offered a new playing deal but could now be tempted by a chance to move into management."
Further on the managerial merry-go-round, Antony Kastrinakis reports: "Rafa Benitez has raised serious doubts over his Liverpool future after refusing to rule out a move to Inter. SunSport revealed last weekend that the Spaniard is wanted to replace Jose Mourinho, who is hotly tipped to take over at Real Madrid. And yesterday, asked whether he would accept an offer from Inter's president, Massimo Moratti, Reds boss Benitez gave a strange answer."
The Times highlight new statistics from the League Managers Association (LMA): "The brutality of football management was revealed yesterday with the release of record figures that illustrate the increasing demands on a precarious position. In its annual review of trends within the game, the League Managers Association (LMA) found that its dismissed members had been given an average of 1.4 years in their jobs, an all-time low. Overall, the average tenure of league managers is only two years. The prognosis is even more stark for first-time managers, with half of those who are sacked never again being entrusted with a managerial role at a league club."
Champions League final: Ian Chadband features "The Special One." "For even if Italy, beyond the adoration of the Interisti, has professed to despise the man, his methods and his morals, it cannot help but be obsessed by him and them. It seems that just as a nation is resigned to the inevitability of his departure for Real Madrid, it has suddenly dawned what it will be missing next season. Only its most volcanic and magnetic screen presence; only its biggest drama queen since La Lollobrigida. And what a way to take his leave. In the fevered build-up to Saturday's final at the Bernabeu, it has been an education to watch Mourinho deliver the bravura performance of even his theatrical footballing life."
Steven Howard lays out all the eventual possibilities for Jose Mourinho. "The hour is nigh for Jose Mourinho. Should Inter Milan beat Bayern Munich in the Bernabeu tomorrow, he will complete the Treble and win Inter's first European Cup since 1965. Mourinho has already done the groundwork for his anticipated move to Real Madrid by claiming anyone who has never worked there has an enormous hole in their CV. So, if he wins and goes, Inter will be prepared. If he wins and stays, he will be elevated to the sainthood. And if he loses? Well, Mourinho has that covered too. He'll blame ref Howard Webb. Good luck, Howard!"
Russel Kempson features Howard Webb ahead of the biggest game of the English referee's career. "Howard Webb could barely contain his excitement when he discovered that he had been appointed to referee the Champions League final, but he still had to concentrate. He was driving, on his way to take charge of a Doncaster schools under-16 match."
World Cup: Graeme Le Saux describes the importance of the Three Lions squad in The Sun. "I don't think you can rely on one player. Of course, during any particular game, Rooney could be the difference. But I think you have to win matches as a team, with a system and a game plan. If it's just about Rooney, then we won't achieve anything — and that's with no disrespect to him, quite the opposite in fact. He's a key part of how we attack and score goals, but ultimately we're going to need other players to chip in."
Sam Wallace also brings news of cheer in The Independent. "Gareth Barry yesterday gave the most optimistic indication so far that he is winning his battle to be fit in time to fly to South Africa on 1 June with the England World Cup squad. The Manchester City midfielder has stayed behind to have treatment in Manchester while the rest of the 30-man England squad train at altitude in Austria with Fabio Capello. Barry will be given up to the last minute to prove his fitness to Capello who could yet take the player even if he will not be fit in time for the opening match against the United States on 12 June."
Matt Barlow tries to make some sense of Fabio Capello's striking riddle. "It did not take long for Austria's mountain folk to pounce on a weakness. 'How can they expect to win the World Cup when they can't score against their own team?' asked the Kurier newspaper, after watching Wayne Rooney and Peter Crouch training in tandem. England's lack of alternatives to Rooney and the goalkeeping issue were England's big problems, according to the same paper."
Harry Pearson describes the futility of trying to guess the outcome of the tournament in South Africa. "Like records, predictions are there to be trampled on by history. The sporting scene is littered with men and women who have been laid out by their own back-firing prophecies."
Features: Amy Lawrence profiles a dramatic final day in Turkey. "Following in the footsteps of such sides as Rubin Kazan (Russia) and CFR Cluj (Romania), there are a couple of Champions League newcomers who have already banked their golden ticket for the group stage. Ongoing English interest in the career of Steve McClaren means we know all about FC Twente's progress at the expense of the Dutch establishment. Last week that feat was emulated by unfashionable Bursaspor, who will be the first Turkish club from outside Istanbul to play in the Champions League having claimed their first ever title."
Anna Kessel in The Guardian interviews new MOTD2 host Colin Murray. "Despite the cocky gags Murray – as he admits himself – is a 'newbie' to football presenting. Having started out fronting music shows for Radio 1, he moved on to do bits and pieces in sport including Fighting Talk on BBC Radio 5 Live, then on television co-presenting American football on Five and anchoring that channel's Uefa Cup coverage. Getting the MOTD2 job was a dream come true but one he could not have imagined would happen so fast."
---
GAMBLING CAN BE ADDICTIVE, PLEASE PLAY RESPONSIBLY